Abstract
Archaeological deposits are often complex and illustrative of an intricate interplay between geogenic and anthropogenic inputs and formation processes. Even for those archaeologists—particularly prehistorians—who consider the basic principles of natural stratigraphy to excavate their sites, they nonetheless typically underutilize the observations and data available at the microstratigraphic level. The technique of soil micromorphology—or archaeological micromorphology as referred to throughout this paper—has seen an astounding increase in its use to answer archaeological questions and archaeological sediments in the last decades. However, we consider that this tool is still quite underutilized and not as mainstream as other techniques. In this paper, we briefly reflect on what can be some of the causes underlying this situation and how we (that is, both producers and consumers of micromorphology data) can go about to change it. The main idea is that we need to establish a better and more approachable way to present micromorphological results and be better at integrating them with the macroscopic archaeological data and research questions.
Access options
Buy single article
Instant access to the full article PDF.
USD 39.95
Price excludes VAT (USA)
Tax calculation will be finalised during checkout.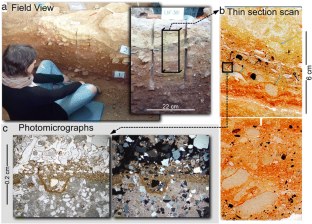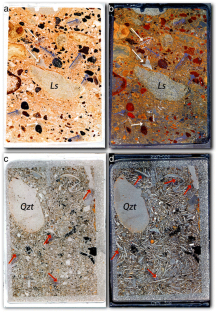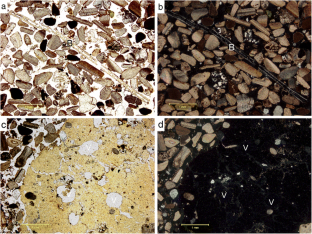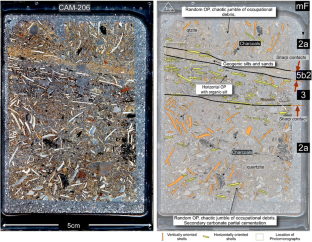 References
Aldeias V, Bicho N (2016) Embedded behavior: human activities and the construction of the Mesolithic shellmound of Cabeço da Amoreira (Muge, Portugal). Geoarchaeology. doi:10.1002/gea.21573

Aldeias V, Goldberg P, Dibble HL, El-Hajraoui M (2014) Deciphering site formation processes through soil micromorphology at Contrebandiers Cave, Morocco. J Hum Evol 69:8–30

Angelucci DE, Boschian G, Fontanals M, Pedrotti A, Vergès JM (2009) Shepherds and karst: the use of caves and rock-shelters in the Mediterranean region during the Neolithic world. Archaeology 41:191–214

Arpin TL, Mallol C, Goldberg P (2002) A new method of analyzing and documenting micromorphological thin sections using flatbed scanners: applications in geoarchaeological studies. Geoarchaeology: Int J 17:305–313

Babel U (1975) Micromorphology of soil organic matter. In: Giesking JE (ed) Soil components: organic components, vol 1. Springer-Verlag, New York, pp 369–473

Berna F et al. (2007) Sediments exposed to high temperatures: reconstructing pyrotechnological processes in Late Bronze and Iron Age strata at Tel dor (Israel). J Archaeol Sci 34:358–373

Berna F, Goldberg P, Horwitz LK, Brink J, Holt S, Bamford M, Chazan M (2012) Microstratigraphic evidence of in situ fire in the Acheulean strata of Wonderwerk cave, northern Cape province, South Africa. PNAS 109:7593–7594

Boggs S (2009) Petrology of sedimentary rocks, third edn. Cambridge University Press, Cambridge

Brewer R (1976) Fabric and mineral analysis of soils. Robert E. Krieger Publishing Co., Huntington

Bullock P, Fedoroff N, Jongerius A, Stoops G, Tursina T, Babel U (1985) Handbook for soil thin section description. Waine Research, Wolverhampton

Bullock P, Murphy CP (eds) (1983) Soil micromorphology. A B Academic Publishers, Berkhamsted

Canti MG (1998) The micromorphological identification of faecal spherulites from archaeological and modern materials. J Archaeol Sci 25:435–444

Canti MG (2003) Aspects of the chemical and microscopic characteristics of plant ashes found in archaeological soils. Catena 54:339–361

Cornwall IW (1958) Soils for the archaeologist. The Macmillan Company, New York

Courty M-A (2001) Microfacies analysis assisting archaeological stratigraphy. In: Goldberg P, Holliday VT, Ferring CR (eds) Earth sciences and archaeology. Plenum-Kluwer, New York, pp 205–239

Courty M-A, Carbonell E, Poch JV, Banerjee R (2012) Microstratigraphic and multi-analytical evidence for advanced Neanderthal pyrotechnology at Abric Romani (Capellades, Spain). Quat Int 247:294–313

Courty M-A, Fedoroff N (1982) Micromorphology of a Holocene dwelling. PACT 7:257–277

Courty M-A, Goldberg P, Macphail RI (1989) Soils and micromorphology in archaeology. Cambridge University Press, Cambridge

Courty M-A, Roux V (1995) Identification of wheel throwing on the basis of ceramic surface features and microfabrics. J Archaeol Sci 22:17–50

Crowther J (1996) Soil chemistry. In: Bell M, Fowler PJ, Hillson SW (eds) The experimental earthwork project 1960–1992, vol research report 100. Council for British Archaeology, York, pp 107–118

Dalrymple JB (1958) The application of soil micromorphology to fossil soils and other deposits from archaeological sites. J Soil Sci 9:199–209

Delgado M (ed) (1978) Micromorfología de Suelos. Soil microscopy: proceedings of the fifth International Working-Meeting on Soil Micromorphology, Granada

Douglas LA (1990) Soil micromorphology: a basic and applied science. Elsevier, Amsterdam, 716 pp

Fedoroff N, Bresson LM, Courty MA (eds) (1987) Micromorphologie des sols—soil micromorphology. Association Française pour l'Etude du Sol, Plaisir

Flügel E (2009) Microfacies of carbonate rocks: analysis, interpretation and application, 2nd edn. Springer, Berlin

Friesem D, Boaretto E, Eliyahu-Behar A, Shahack-Gross R (2011) Degradation of mud brick houses in an arid environment: a geoarchaeological model. J Archaeol Sci 38:1135–1147

Friesem DE, Karkanas P, Tsartsidou G, Shahack-Gross R (2014) Sedimentary processes involved in mud brick degradation in temperate environments: a micromorphological approach in an ethnoarchaeological context in northern Greece. J Archaeol Sci 41:556–567

Goldberg P (1979a) Geology of Late Bronze Age Mudbrick from Tel Lachish Tel Aviv. J Tel Aviv Inst Archaeol 6(1):60–71

Goldberg P (1979b) Micromorphology of Pech-de-l'Azé II sediments. J Archaeol Sci 6:1–31

Goldberg P (1979c) Micromorphology of sediments from Hayonim cave, Israel. Catena 6:167–181

Goldberg P (1980) Micromorphology in archaeology and prehistory. Paléorient 6:159–164

Goldberg P (1983) Applications of micromorphology in archaeology. In: Bullock P, Murphy CP (eds) Soil micromorphology, vol 1. A B Academic Publishers, Berkhamsted, pp 139–150

Goldberg P (2008) Raising the bar. In: Sullivan III AP (ed) Archaeological concepts for the study of the cultural past. The University of Utah Press, Salt Lake City, pp 24–39

Goldberg P, Berna F (2010) Micromorphology and context. Quat Int 214:56–62

Goldberg P, Berna F, Chazan M (2015) Deposition and diagenesis in the earlier Stone Age of Wonderwerk cave, excavation 1, South Africa African. Archaeol Rev 32:613–643

Goldberg P, Macphail RI (2006) Practical and theoretical geoarchaeology. Blackwell Publishing, Oxford

Goldberg P, Miller CE, Schiegl S, Berna F, Ligouis B, Conard NJ, Wadley L (2009) Bedding, hearths, and site maintenance in the middle stone age of Sibudu cave, KwaZulu-Natal, South Africa. Archaeol Anthropol Sci 1:95–122

Guérin G et al. (2015) A multi-method luminescence dating of the Palaeolithic sequence of La Ferrassie based on new excavations adjacent to the La Ferrassie 1 and 2 skeletons. J Archaeol Sci 58:147–166

Karkanas P, Goldberg P (2008) Micromorphology of sediments: deciphering archaeological context. Isr J Earth Sci 56:63–71

Karkanas P, Goldberg P (2010) Site formation processes at Pinnacle Point cave 13B (Mossel Bay, western Cape Province, South Africa): resolving stratigraphic and depositional complexities with micromorphology. J Hum Evol 59:256–273

Karkanas P, Kyparissi-Apostolika N, Bar-Yosef O, Weiner S (1999) Mineral assemblages in Theopetra, Greece: a framework for understanding diagenesis in a prehistoric cave. J Archaeol Sci 26:1171–1180

Karkanas P, Van de Moortel A (2014) Micromorphological analysis of sediments at the Bronze Age site of Mitrou, Central Greece: patterns of floor construction and maintenance. J Archaeol Sci 43:198–213

Kubiëna WL (1938) Micropedology. Collegiate Press, Ames

Macphail RI (1983) The micromorphology of Spodosols in catenary sequences on lowland heathlands in Surrey, England. In: Bullock P, Murphy CP (eds) Soil micromorphology, vol 2. AB Academic Publishers, Berkhamsted, pp 647–653

Macphail RI (2013a) Archaeological soil micromorphology. In: Smith C (ed) Encyclopedia of global archaeology. Springer, New York, pp 356–364

Macphail RI (2013b) Archaeological soil micromorphology working group. In: Smith C (ed) Encyclopedia of global archaeology. Springer, New York, pp 364–365

Macphail RI, Courty MA, Goldberg P (1990) Soil micromorphology in archaeology. Endeavour New Series 14:163–171

Macphail RI, Crowther J (2007) Soil micromorphology, chemistry and magnetic susceptibility studies at Huizui (Yiluo region, Henan Province, northern China), with special focus on a typical Yangshao floor sequence. Bull Indo-Pacific Prehistory Assoc 27:93–113

Macphail RI, Crowther J, Acott TG, Bell MG, Cruise JM (2003) The experimental earthwork at Wareham, Dorset after 33 years: changes to the buried LFH and Ah horizons. J Archaeol Sci 30:77–93

Macphail RI, Cruise GM (2001) The soil micromorphologist as team player: a multianalytical approach to the study of European microstratigraphy. In: Goldberg P, Holliday V, Ferring R (eds) Earth science and archaeology. Plenum, New York, pp 241–267

Macphail RI, Goldberg P (1995) Recent advances in micromorphological interpretations of soils and sediments from archaeological sites. In: Barham AJ, Macphail RI (eds) Archaeological sediments and soils: analysis, interpretation and management. Institute of Archaeology, University College London, London, pp 1–24e

Macphail RI, Goldberg P (2010) Archaeological materials. In: Stoops G, Marcelino V, Mees F (eds) Interpretation of micromorphological features of soils and Regoliths. Elsevier, Amsterdam, pp 599–622

Mallol C (2006) What's in a beach? Soil micromorphology of sediments from the lower Paleolithic site of 'Ubeidiya. Israel J Hum Evol 51:185–206

Mentzer S (2014) Microarchaeological approaches to the identification and interpretation of combustion features in prehistoric archaeological sites. J Archaeol Method Theory 21:616–668

Mentzer SM, Quade J (2012) Compositional and isotopic analytical methods in archaeological micromorphology. Geoarchaeology 28:87–97

Miller CE, Conard NJ, Goldberg P, Berna F (2010) Dumping, sweeping and trampling: experimental micromorphological analysis of anthropogenically modified combustion features. P@lethnologie: Revue francophone en Préhistoire http://www.palethnologie.org

Murphy CP (1986) Thin section preparation of soils and sediments. A B Academic Publishers, Berkhamsted

Ringrose-Voase AJ, Humphreys GS (1994) Soil micromorphology: studies in management and genesis. Developments in soil science, vol 22. Elsevier, Amsterdam

Rutherford GK (ed) (1974) Soil microscopy. The Limestone Press, Kingston, Ontario

Schiegl S, Goldberg P, Pfretzschner H-U, Conard NJ (2003) Paleolithic burnt bone horizons from the Swabian Jura: distinguishing between in situ fire places and dumping areas. Geoarchaeology 18:541–565

Schiegl S, Ligouis B, Conard NJ, Goldberg P (2004) Mineralogy, micromorphology, phytolith analysis and organic petrology of middle Palaeolithic and MSA Cave sites: comparison between Sibudu (South Africa) and the Levant. Paper presented at the Geoarchaeology of the Eastern Mediterranean, University of Tübingen, July, 2004

Shahack-Gross R, Albert R-M, Gilboa A, Nagar-Hilman O, Sharon I, Weiner S (2005) Geoarchaeology in an urban context: the uses of space in a Phoenician monumental building at Tel dor (Israel). J Archaeol Sci 32:1417–1431

Shahack-Gross R, Berna F, Karkanas P, Lemorini C, Gopher A, Barkai R (2014) Evidence for the repeated use of a central hearth at middle Pleistocene (300 ky ago) Qesem cave, Israel. J Archaeol Sci 44:12–21

Shahack-Gross R, Marshall F, Ryan K, Weiner S (2004) Reconstruction of spatial organization in abandoned Maasai settlements: implications for site structure in the pastoral Neolithic of East Africa. J Archaeol Sci 31:1395–1411

Sherwood SC, Kidder TR (2011) The DaVincis of dirt: geoarchaeological perspectives on native American mound building in the Mississippi River basin. J Anthropol Archaeol 30:69–87

Shillito L-M, Major B, Almond M, Anderson E, Pluskowski A (2014) Micromorphological and geochemical investigation of formation processes in the refectory at the castle of Margat (Qal'at al-Marqab), Syria. J Archaeol Sci 50:451–459

Stoops G (2003) Guidelines for analysis and description of soil and regolith thin sections. Soil Science Society of America, Madison

Stoops G (2014) The "fabric" of soil micromorphological research in the twentieth century—a bibliometric analysis. Geoderma 213:193–202

Stoops G, Marcelino V, Mees F (eds) (2010) Interpretation of micromorphological features of soils and Regoliths. Elesevier, Amsterdam

Tucker ME (2001) Sedimentary petrology: an introduction to the origin of sedimentary rocks, 3rd edn. Blackwell Science, Oxford

van Vliet-Lanoë B (1985) Frost effects in soils. In: Boardman J (ed) Soils and quaternary landscape evolution. John Wiley & Sons, Chichester, pp 117–158

Wattez J, Courty MA, Macphail RI (1990) Burnt organo-mineral deposits related to animal and human activities in prehistoric caves. In: Douglas LA (ed) Soil micromorphology: a basic and applied science., vol developments in soil science, vol 19. Elsevier, Amsterdam, pp 431–441

Zaidner Y, Frumkin A, Porat N, Tsatskin A, Yeshurun R, Weissbrod L (2014) A series of Mousterian occupations in a new type of site: the Nesher Ramla karst depression, Israel. J Hum Evol 66:1–17
About this article
Cite this article
Goldberg, P., Aldeias, V. Why does (archaeological) micromorphology have such little traction in (geo)archaeology?. Archaeol Anthropol Sci 10, 269–278 (2018). https://doi.org/10.1007/s12520-016-0353-9
Received:

Accepted:

Published:

Issue Date:

DOI: https://doi.org/10.1007/s12520-016-0353-9
Keywords