Abstract
The use of bone as fuel has been already documented in some sites dated to the Middle and Upper Palaeolithic. They contribute to a longer combustion time due to their durability; consequently, they are useful to reduce the need for firewood, a good advantage in open palaeoenvironmental contexts with limited arboreal vegetation. The use of bones as fuel can be identified by several lines of evidence. The main one is a large number of burned bones, with an intense cremation–charring or calcination, together with high fragmentation resulting from the long contact with the fire. Other features may be present, although they can also result from individual circumstances. They include either the presence of complete skeletal profiles–which implies using all the bones of the animal–or a selection of the anatomical parts which contribute better to combustion, i.e. epiphyses and axial elements. In this article, we argue that the faunal assemblage of level Co.B.6 of Coímbre cave fully corresponds to this model. Moreover, this level coincides with a cold palaeoclimatic event, which was correlative to the climatic deterioration that occurred at the end of MIS 3, and an open environment. Thus, we propose that this level contains the first known use of bones as fuel in the Cantabrian Gravettian.
This is a preview of subscription content, log in to check access.
Access options
Buy single article
Instant access to the full article PDF.
US$ 39.95
Price includes VAT for USA
Subscribe to journal
Immediate online access to all issues from 2019. Subscription will auto renew annually.
US$ 99
This is the net price. Taxes to be calculated in checkout.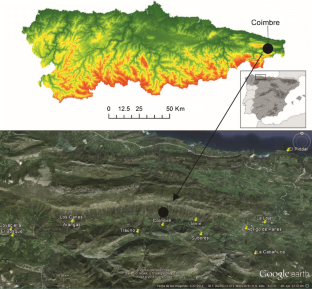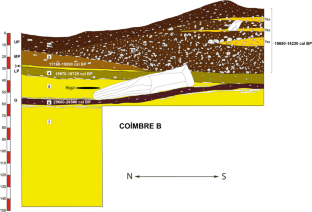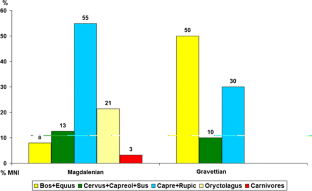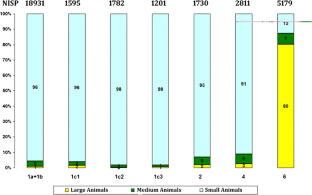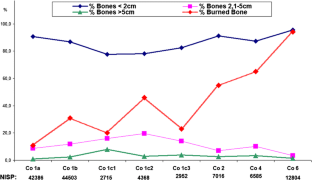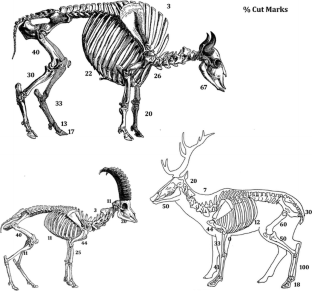 References
Altuna J, Marizezcurrena K (2013) Estudio de los macromamíferos del yacimiento de Aitzbitarte III (Excavación de la entrada). In: Altuna J, Mariezkurrena K, Ríos J (eds) Ocupaciones humanas en Aitzbitarte III (País Vasco) 33600–18400 BP (Zonade entrada a la cueva). EKOB 5. Euskal Kultura Ondare Bilfuna. Colección de Patrimonio Cultual Vasco, pp. 395–480

Álvarez-Alonso D, Yravedra J, Arrizabalaga A, Jordá Pardo JF, Heredia N (2009) La cueva de Coímbre (Peñamellera Alta, Asturias, España) su yacimiento arqueológico y su santuario rupestre. Un estado de la cuestión en 2008. Munibe 60:139–155

Álvarez-Alonso D, Arrizabalaga A, JF JP, Yravedra J (2011) La secuencia estratigráfica magdaleniense de la cueva de Coímbre (Peñamellera Alta, Asturias, España). Férvedes 7:57–64

Álvarez-Alonso D, Yravedra J, Arrizabalaga A, Jordá Pardo JF (2013) Excavaciones arqueológicas en la cueva de Coímbre (Besnes, Peñamellera Alta). Campañas (2008-2012). Excavaciones Arqueológicas en Asturias 2007-2012:109–120

Álvarez-Alonso D, Yravedra J, Arrizabalaga A, Jordá Pardo JF (2015) The Magdalenian sequence at Coímbre cave (Asturias, Northern Iberian Peninsule). Adaptative strategies of hunter-gatherer groups in montane environments. Quaternary International. doi:10.1016/j.quaint.2015.09.084

Barba R, Domínguez-Rodrigo M (2005) The taphonomic relevance of the analysis of bovid long limb bone shaft features and their application to element identification. Study of bone thickness and morphology of the medullar cavity. J Taphonomy 3:29–42

Bennett JL (1999) Thermal alteration of buried bone. J Archaeol Sci 26:1–8

Binford LR (1981) Bones ancient men, modern myths. Academic Press, New York

Blumenschine R (1986) Early hominid scavenging opportunities. Implications of carcass availability in the Serengeti and Ngrongoro ecosystems, B.A.R. International Series, vol 283. Archaeopress, Oxford

Blumenschine R (1988) An experimental model of the timing of hominid and carnivore influence on archaeological bone assemblages. J Archaeol Sci 15:483–502

Blumenschine R (1995) Percussion marks, tooth marks and the experimental determinations of the timing of hominid and carnivore access to long bones at FLK Zinjanthropus, Olduvai Gorge, Tanzania. J Hum Evol 29:21–51

Blumenschine R, Selvaggio MM (1988) Percussion marks on bone surfaces as a new diagnostic of hominid behaviour. Nature 333:763–765

Bombail C (1987) Les structures de combustion des niveaux aurignaciers du flageolet I. Université de Neuchâtel, Mémoire de Maitrise

Bon F, Gambier D, Ferrier C, Gardere P (1998) Gisement de Brassempouy (Landes) les recherches de 1995 à 1997, bilan et perspectives, vol 449, pp. 203–222

Brain CK (1969) The contribution of Namib Desert Hottentot to understanding of Australopithecus bone accumulations. Sci Pap Namibian Desert Res Station 32:1–11

Buikstra JE, Swegl M (1989) Bone modifiations due to burning experimental evidence. In: Bonnichsen R, MH S (eds) Bone modification. University of Marine, Institute for Quaternary Studies, Center for the Study of the First Americans, Orono, pp. 247–258

Bunn HT (1982) Meat-eating and human evolution studies on the diet and subsistence patterns of Plio-Pleistocene hominins in East Africa. Ph.D. thesis, Dissertation. University of California, Berkeley

Cain CR (2005) Using burned animal bone to look at Middle Stone Age occupation and behavior. J Archaeol Sci 32:873–884

Castel CC (1999) Comportements de subsistance au Solutréen et au Badegoulien d'après les faunes de Combe-Saunière (Dordogne) et du Cuzoul de Vers. Lot. Ph.D. thesis, Dissertation, University of Bordeaux I

Champagne F, Espitalié R (1981) Le Piage, site préhistorique du lot. Mémoire Société Préhistorique Française 15 288 pages

Chase PG (1999) Bison in the context of compplex utilization of faunal resources: a preliminary report on the Mousterian zooarchaeology of La Quina (France). In: Brugal JP, David F, Enloe JF, Jaubert J (eds) Le Bison gibier et moyen de subsistance des hommes du Paléolithique aux Paléoindiens des grandes plaines. Actes du Colloque international, Toulouse(1995, Antibes) APCDA. 159–184

Clattenburg G (1975) Thermal properties of cancellous bone. J Biomed Matter Res 9:169–182

Costamagno S (1999a) Strategies de chasse et fonction des sites au Magdalenian dans le Sud de la France. Ph.D. thesis, Dissertation. University of Bordeaux

Costamagno S (2000) Stratégies d'approvisionnement et traitement des carcasses au Magdalénien: l'exemple de Moulin-Neuf Gironde. Paleo 12:77–95

Costamagno S, Griggo C, Mourre V (1999) Approche expérimentale d'un problème taphonomique: utilisation de combustible osseux au Paléolithique. Préhistoire Européenne 13:167–194

Costamagno S, Théry-Parisot I, Brugal JP, Guibert R (2005) Taphonomic consequences of use of bones as fuel. experimental data and archaeological application. In: O'connor T (ed) Biosphere to lithosphere, Proceedings of the9th Conference of the International Council of Archaeozoology. Oxbow Books, Oxford, pp. 51–62

Costamagno S, Théry-Parisot I, JC C, JP B (2009) Combustible ou non? Analyse multifactorielle et modèles explicatifs sur des ossements brûlées paléolithiques. In: Théry-Parisot I, Henry A (eds) Gestion des combustibles au Paléolithique et au Mésolithique: nouveaux outils, nouvelles interprétations. UISPP, XV congress (Lisbon, 4–9 Septembre (2006)., BAR International Series 1914, vol 135. Archaeopress, Oxford, pp. 65–84

Costamagno S, Théry-Parisot I, Kuntz, D, Bon F, Mensan R. (2010). Impact taphonomique d'une combustion prolongée sur des ossements utilisés comme combustible. P@lethnologie/2010.2 http://blogs.univ-tlse2.fr/palethnologie/wp-content/files/2010/fr-FR/Palethnologie-2010-FR-14-Costamagno-etalii.pdf

David B (1990) How was this bone burned? In: Solomon S, Davidson I, Watson D (eds) Problem solving in taphonomy, Tempus, vol 2, pp. 65–79

Delpech F, Villa P (1993) Activites de chasse et boucherie dans la grotte des Eglises. In: Desse J, Audoin-Rouzeau F (eds) Exploitation des Animaux Sauvages a Travers le Temps. IV, Colloque International de l'Homme et l'Animal. Editions. APDCA, pp. 79–102

Delporte H, Delibrias G, Delpech F, Donard E, Heim JL, Laville H, Marquet L, Mourer-Chauviré C, Paquereau MM, Tuffreau A (1984) Le grand abri de la Ferrassie. Fouilles 1968–1973. Vol. Mémoire 7. Laboratoire de Paléontologie Humaine et de Préhistoire, Paris

Laloy J (1981) Recherche d'une me'thode pour l'exploitation des te'moins de combustion, vol 7. Cahiers du Centre de Recherches Pre'historiques, p. 167

Lyman RL (1994) Relative abundance of skeletal specimens and taphonomic analysis of vertebrate remains. PALAIOS 9:288–298

Marquer L, Nespoulet R, Chiotti L (2010) A new approach to study the fuel used in hearths by hunter-gatherers at the Upper Palaeolithic site of Abri Pataud Dordogne, France. J Archaeol Sci 37:2735–2746

Martínez García E (1981) La Geología y el relieve de Asturias. Enciclopedia Temática Asturiana, Silverio Cañada Ed Gijón, pp. 57–124

Morin E (2010) Taphonomic implications of the use of bone as fuel. In: Théry-Parisot I, Chabal L, Costamagno S (eds) The taphonomy of burned organic residues and combustion features in archaeological contexts, Proceedings of the round table May 27–29 2008, vol 2. P@lethnologie, Valbonne, pp. 209–217

Moure JA, Gil G (1972) Noticia preliminar sobre los nuevos yacimientos de arte rupestre descubiertos en Peñamellera Alta (Asturias). Trab Prehist 29:245–254

Nicholson RA (1994) A morphological investigation of burned animal bone and evolution of its utility in archaeology. J Archaeol Sci 20:411–428

Patou-Mathis M (1993) Etude taphonomique et paléoethnographique de la faune associé an une accumulation de Saint Cesaire. In: Leveque F, Backer AM, Guilband M (eds) Context of a late neanderthal, World Archaeology, vol 16, pp. 79–80

Perlès C (1977) Préhistoire du feu. Masson, Paris, 179 pp

Potts R, Shipman P (1981) Cut marks made by stone tools from Olduvai Gorge, Tanzania. Nature 291:577–580

Spennemann DHR, Colley S (1989) Fire in a pit) the effects of burning on faunal remains. Archaeozoologia 3:51–64

Stiner MC, Khun SL, Weimer S, Bar Yosef O (1995) Differential burning, recrystalization, and fragmentation of archaeological bone. J Archaeol Sci 22:223–237

Tavoso A (1987) Le remplissage de la grotte Tournal à Bize-Minervois (Aude). Cypsela VI 23-35

Texier PJ, Brugal JP, Lemorini C, Wilson L (1998) Fonction d'un site du Paléolithique moyen en marge d'un territoire: l'abri de la Combette (Bonnieux, Vaucluse). In: JP B, Meignen L, Patou-Mathis M (eds) Economie préhistorique: les comportements de subsistance au Paléolithique. XVIII Rencontres Internationales d'Archéologie et d'Histoire d'Antibes) APCDACNRS, pp. 325–348

Théry-Parisot I (1998) Economie du combustible et paleoecologique en contexte glaciaire et peroglaciaire, Paléolithique Moyen et Supérieur du Sud de la France (Anthracologie, expérimentation, taphonomie). PhD. thesis. Université de Paris I, Panthéon, Sorbonne

Théry-Parisot I (2001) Économie des combustibles au Paléolithique. Expérimentation, anthracologie, taphonomie, vol 20. CNRS Éditions Dossiers de documentation archéologique, Paris, p. 196 p

Théry-Parisot I (2002) Fuel management bone and wood during the lower Aurignacian in the Pataud Rock Shelter Lower Palaeolithic, Les Eyzies de Tayac, Dordogne, France. Contribution of experimentation. J Archaeol Sci 29:1415–1421

Théry-Parisot I, Costamagno S (2005) Propriétés combustibles des ossements. Données expérimentales et réflexions archéologiques sur leur emploi dans les sites paléolithiques. Gallia Préhistoire 47:235–254

Théry-Parisot I, Costamagno S, Brugal JP, Fosse P, Guilbert R (2005) The use of bone as fuel during the palaeolithic, experimental study of bone combustible properties. In: Mulville J, Outram A (eds) Proceedings of Archaeozoology 9th ICAZ Conference, The zooarchaeology of milk and fats, pp. 50–59

Uzquiano P, Yravedra J, Ruiz Zapata B, Gil MJ, Sese C, Baena J (2012) Human behaviour and adaptations to MIS 3 environmental trends (>53e30 kyrs BP) atEl Esquilleu cave (Cantabria, northern Spain). Quat Int 252:82–89

Villa P, Bon F, Castel JC (2002) Fuel, fire and fireplaces in the Palaeolithic of Western Europe. Rev Archaeol 23:33–42

Weninger B, Jöris O (2004) Glacial radiocarbon calibration. The CalPal Program. In: Higham T, CB R, Owen C (eds) Radiocarbon and archaeology. Fourth international symposium, vol 62. Oxford University School of Archaeology Monograph, Oxford, pp. 9–15

Yravedra J, Domínguez-Rodrigo M (2009) The shaft-based methodological approach to the quantification of long limb bones and its relevance to understanding hominid subsistence in the Pleistocene: application to four Palaeolithic sites. J Quat Sci 24:85–96

Yravedra J, Uzquiano P (2013) Burned bone assemblages from El Esquilleu cave (Cantabria, Northern Spain): deliberate use for fuel or systematic disposal of organic waste? Quat Sci Rev 68:175–190

Yravedra J, Baena J, Arrizabalaga A, Iriarte MJ (2005) El empleo de material óseo como combustible durante el Paleolítico medio y Superior en el Cantábrico. observaciones experimentales. In: Lasheras J, Montes R (eds) Neandertales cantábricos, Estado de la cuestión, Museo Nacional de Altamira, vol 20, pp. 369–383
Acknowledgments
This research was part of Project "Paleoecología y Poblamiento en la Cuenca Media del Río Cares durante el Pleistoceno Superior: La Cueva de Coímbre (Alles, Peñamellera Alta)", regulated by the Dirección de Patrimonio Cultural de la Consejería de Cultura of the Principado de Asturias and founded by the Research Group "Investigación de Alto Rendimiento de Prehistoria de la Universidad del País Vasco (IT-288-07)" and the project HAR2008-3976/HIST of the Ministerio de Educación for the 2008 season, "the Sociedad de Ciencias de Aranzadi" in 2009 and the M. Cristina Masaveu Peterson Foundation in the 2010–2012 fieldworks. We would like to thank the Ayuntamiento of Peñamellera Alta for their help in the archaeological works and also to the Speleological Group "l'Espertuyu Cavernícola" for their help in the different works and logistic organization. We appreciate the collaboration of M. de Andrés-Herrero, A. Calvo, J. Rojo, O. Fuente, M. A. Valles, N. García, R. Obeso, P. Obeso, D. Rueda and J. Santa Eugenia as well as, and the different students at the laboratory of the UNED and Universidad Complutense. We want to thank Aixa Vidal for the translation of the manuscript and Lucía Cobo for the end revision. This article was written in memory of our good friend Alberto Gómez Castanedo.
About this article
Cite this article
Yravedra, J., Álvarez-Alonso, D., Estaca-Gómez, V. et al. New evidence of bones used as fuel in the Gravettian level at Coímbre cave, northern Iberian Peninsula. Archaeol Anthropol Sci 9, 1153–1168 (2017). https://doi.org/10.1007/s12520-016-0317-0
Received:

Accepted:

Published:

Issue Date:
Keywords
Cantabrian region

MIS 3

Firewood availability

Bone as fuel

Coímbre cave

Gravettian