Abstract
The Palaeolithic sequence of Grotta Paglicci (Gargano promontory, Apulia, Southern Italy) is one of the most important in the Mediterranean area: It comprises the whole Upper Palaeolithic cultural sequence known for the region, as well as Early Middle Palaeolithic and Lower Palaeolithic levels. These earlier phases are best represented in a collapsed room located outside the present-day cave (the so called "external rock shelter"). In this area, a new excavation, started in 2004, brought to light Middle Palaeolithic animal remains associated with evidence of spotted hyaena (SU 64 and 53). The spatial distribution analysis of remains from SU 53 revealed the presence of a bone accumulation area and a wider dispersal of hyaena coprolites. Three main ungulate species (aurochs, fallow deer and red deer) as well as carnivores (spotted hyaena, wolf, fox, wild cat and lynx) and lagomorphs have been identified. The majority of aurochs remains are located in the main accumulation; among these specimens, a complete metatarsal connected with three tarsal bones has been found; a talus and a complete tibia, probably belonging to the same limb, have also been identified. The multidisciplinary study carried out in this paper highlights a specific bone accumulation and scattering pattern in a spotted hyaena (Crocuta crocuta) den. In addition, taphonomy of lagomorph remains indicates the presence of other depositional agents.
Access options
Buy single article
Instant access to the full article PDF.
US$ 39.95
Tax calculation will be finalised during checkout.
Subscribe to journal
Immediate online access to all issues from 2019. Subscription will auto renew annually.
US$ 79
Tax calculation will be finalised during checkout.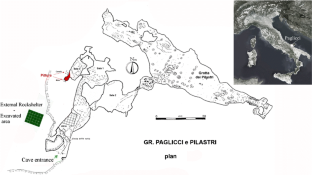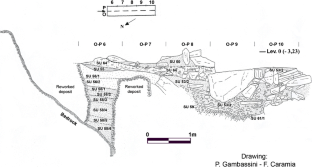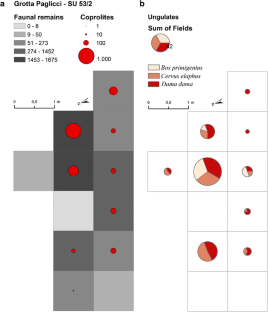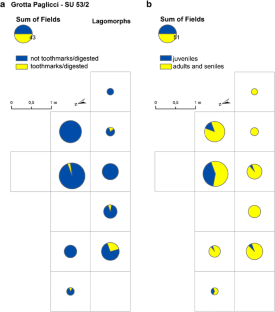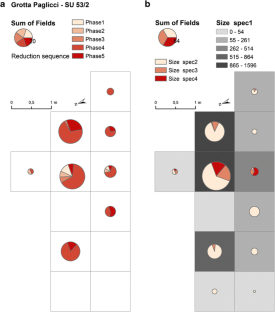 References
Arribas A, Palmqvist P (1998) Taphonomy and palaeoecology of an assemblage of large mammals: hyaenid activity in the Lower Pleistocene site at Venta Micena (Orce, Guadix-Baza, Granada, Spain). Geobios 31(3, supplément):3–47

Arrizabalaga A, Altuna J (2000) Labeko Koba (paìs Vasco). hyaenas y humanos en los albores del Paleolìtico superior. Munibe 52:107–181

Binford LR (1978) Nunamiut ethnoarchaeology. Academic Press, New York

Binford LR (1981) Bones: ancient men and modern myths. Academic Press, New York

Binford LR (1984) Faunal remains from Klasies River Mouth. Academic Press, Orlando

Binford LR, Mills MGL, Stone NM (1988) Hyaena scavenging behavior and its implications for the interpretation of faunal assemblages from FLK 22 (the Zinj Floor) at Olduvai Gorge. J Anthropol Archaeol 7:99–135

Boaz NT, Ciochon RL, Xu Q, Liu J (2000) Large mammalian carnivores as a taphonomic factor in the bone accumulation at Zhoukoudian. Acta Anthropologica Sin 19(suppl):224–234

Bocherens H, Drucker DG, Billiou D, Patou-Mathis M, Vandermeersch B (2005) Isotopic evidence for diet and subsistence pattern of the Saint-Césaire I Neanderthal: review and use of a multi-source mixing model. J Hum Evol 49:71–87

Bonfiglio L, Mangano G, Marra AC, Masini F (2001) A new late Pleistocene vertebrate faunal complex from Sicily (S. Teodoro Cave, north-eastern Sicily, Italy). Boll Soc Paleontol Ital 40:149–158

Boscato P (1994) Grotta Paglicci: la fauna a grandi mammiferi degli strati 22-24 (Gravettiano antico – Aurignaziano). Rivista di Scienze Preistoriche XLVI:145–176

Boscato P (2001) Le faune dello strato 1 dell'area esterna di Paglicci (Rignano Garganico – Fg). In: Gravina A (ed) Atti 21° Convegno Nazionale sulla Preistoria, Protostoria, Storia della Daunia (San Severo, 24-26 Nov. 2000), Archeoclub d'Italia sede di San Severo, San Severo, pp 43–56

Boscato P, Crezzini J (2005) L'uomo e la iena macchiata. Tafonomia su resti di ungulati del Gravettiano antico di Grotta Paglicci (Rignano Garganico – FG). In: Malerba G, Visentini P (eds) Atrti del 4° Convegno Nazionale di Archeozoologia, vol 6, Quaderni del Museo Archeologico del Friuli Occidentale., pp 67–74

Boscato P, Crezzini J (2012) Middle-Upper Palaeolithic transition in Southern Italy: Uluzzian macromammals from Grotta del Cavallo (Apulia). Quat Int 252:90–98

Boscato P, Palma di Cesnola A (2000) Nuovi ritrovamenti di Epigravettiano Antico "Iniziale" a Grotta Paglicci (Rignano Garganico, Foggia). Società per la Preistoria e la Protostoria della Regione Friuli-Venezia Giulia, Quaderno 8:45–60

Boscato P, Ronchitelli A (2006) La serie esterna di Paglicci. Gli scavi 2004-2005. In: Gravina A (ed) 26° Convegno sulla Preistoria – Protostoria della Daunia. San Severo 2005, Archeoclub d'Italia sede di San Severo, San Severo pp 3--16

Boydston EE, Kapheim KM, Van Horn RC, Smale L, Holekamp KE (2005) Sexually dimorphic patterns of space use throughout ontogeny in the spotted hyaena (Crocuta crocuta). J Zool 267:271–281

Boydston EE, Kapheim KM, Holekamp KE (2006) Patterns of den occupation by the spotted hyaena (Crocuta crocuta). Afr J Ecol 44:77–86

Brugal JP, Jaubert J (1991) Les gisements paléontologiques Pleistocènes à indices de fréquentation humaine: un nouveau type de comportement de prédation? Paléo 3:15–41

Clot J, Duranthon F (1990) Les Mammifères Fossiles du Quaternaire dans le Pyrénées. Museum d'Histoire naturelle de Toulouse, Toulouse

Connolly J, Lake M (2006) Geographical information system in archaeology. Cambridge University Press, Cambridge

Conti N, Coppola D, Petronio C, Petrucci P, Sardella R, Salari L (2012) La fauna del Pleistocene superiore di Tana delle Iene (Ceglie Messapica, Brindisi, Italia meridionale). In: Bollettino del Museo Civico di Storia Naturale, Verona, vol 36, Geologia Paleontologia Preistoria., pp 63–76

Cruz-Uribe K (1991) Distinguishing hyaena from hominid bone accumulations. J Field Archeol 18:467–486

Diedrich CG (2010) Specialized horse killers in Europe: Foetal horse remains in the Late Pleistocene Srbsko Chlum-Komín Cave hyaena den in the Bohemian Karst (Czech Republic) and actualistic comparisons to modern African spotted hyaenas as zebra hunters. Quat Int 220:174–187

Dodson P, Wexler D (1979) Taphonomic investigation of owl pellets. Paleobiology 5:275–284

Döppes D, Rabeder G (1997) Pliozäne und Pleistozäne Faunen Österreichs, vol 10. Verlag der Österreichischen Akademie der Wissenschaften, Wien

Egeland AG, Egeland CP, Bunn HT (2008) Taphonomic analysis of a modern spotted hyaena (Crocuta crocuta) Den From Nairobi, Kenya. J Taphonomy 6:275–299

Enloe JG, David F, Baryshnikov G (2000) hyaenas and hunters: zooarchaeological investigations at Prolom II Cave, Crimea. Int J Osteoarchaeol 10:310–324

Fernández Rodríguez C, Ramil Rego P, Martínez Cortizas A (1995) Characterization and depositional evolution of hyaena (Crocuta crocuta) coprolites from La Valiña Cave (Northwest Spain). J Archeol Sci 22:597–607

Fourvel J-B (2012) Hyénidés modernes et fossiles d'Europe et d'Afrique : taphonomie comparée de leurs assemblages osseux. Dissertation Université Toulouse le Mirail - Toulouse II

Fourvel J-B, Fosse P, Brugal J-P, Tournepiche J-F, Cregut-Bonnoure E (2012) Consumption of ungulate long bones by pleistocene hyaenas: a comparative study. J Taphonomy 10:239–263

Fourvel J-B, Fosse P, Fernandez P, Antoine P-O (2014) La grotte de Fouvent, dit l'Abri Cuvier (Fouvent-le-Bas, Haute-Saône, France): analyse taphonomique d'un repaire d'hyènes du Pléistocène supérieur (OIS 3). Paléo 25:79–99

García N, Arsuaga JL (2001) Les carnivores (Mammalia) des sites du Pléistocène ancien et moyen d'Atapuerca (Espagne). l'Anthropologie 105:83–93

Habermehl KH (1985) Altersbestimmung bei Wild- und Pelztieren. Verlag Paul Parey, Hamburg und Berlin

Hemmer H (1993) Lynx lynx (Linnaeus, 1758) Luchs-Nordluchs. In: Niethammer J, Krapp F (eds) Handbuch der Säugetiere Europas, vol 5/II, Raubsäuger (Teil II). Aula-Verlag, Wiesbaden, pp 1119–1167

Henschel JR, Tilson R, von Blottnitz F (1979) Implications of a spotted hyaena bone assemblage in the Namib Desert. S Afr Archaeol Bull 34:127–131

Hill A (1980a) Hyaena provisioning of juvenile offspring at the den. Mammalia 44:594–595

Hill A (1980b) A modern hyena den in Ambroseli National Park, Kenya. In: Leakey RE, Bethwell AO (eds) Proceeding of the 8th Panafrican Congress of Prehistory and Quaternary Studies. Nairobi 5 to 10 September 1977. The International Louis Leakey Memorial Institute for African Prehistory, Nairobi, pp. 137–138

Hill A (1984) Hyaenas and hominids: taphonomy and hypothesis testing. In: Foley R (ed) Hominid evolution and community ecology. Academic Press, London, pp 111–128

Höner O, Holekamp KE, Mills G (2008) Crocuta crocuta. In: IUCN 2012. IUCN Red List of Threatened Species. Version 2012.2. www.iucnredlist.org. Accessed 1 April 2015

Kruuk H (1972) The spotted hyaena: a study of predation and social behavior. University of Chicago Press, Chicago

Lam YM, Chen X, Pearson OM (1999) Intertaxonomic variability in patterns of bone density and the differential representationof bovid, cervid, and equid elements in the archaeological record. Am Antiq 64(2):343–362

Lloveras L, Moreno-García M, Nadal J (2008a) Taphonomic analysis of leporid remains obtained from modern Iberian Lynx (Lynx pardinus) scats. J Archaeol Sci 35:1–13

Lloveras L, Moreno-García M, Nadal J (2008b) Taphonomic study of leporid remains accumulated by Spanish Imperial Eagle (Aquila adalberti). Geobios 41:91–100

Lloveras L, Moreno-García M, Nadal J (2009) The eagle owl (Bubo bubo) as a leporid remains accumulator. Taphonomic analysis of modern rabbit remains recovered from nest of this predators. Int J Osteoarchaeol 19:573–592

Lloveras L, Moreno-García M, Nadal J (2012) Feeding the foxes: an experimental study to assess their taphonomic signature on leporid remains. Int J Osteoarchaeol 22(5):577–590

Lloveras L, Nadal J, Moreno-García M, Thomas R, Anglada J, Baucells J, Martorell C, Vilasís D (2014a) The role of the Egyptian Vulture (Neophron percnopterus) as a bone accumulator in cliff rock shelters: an analysis of modern bone nest assemblages from North-eastern Iberia. J Archaeol Sci 44:76–90

Lloveras L, Thomas R, Lourenço R, Caro J, Dias A (2014b) Understanding the taphonomic signature of Bonelli's Eagle (Aquila fasciata). J Archaeol Sci 49:455–471

Lopez Garcia JM, Berto C, Luzi E, Dalla Valle C, Baňuls-Cardona S, Sala B (2015) The genus Iberomys (Chaline, 1972) (Rodentia, Arvicolinae, Mammalia) in the Pleistocene of Italy. Ital J Geosci 134:162–169

Lüps P, Wandeler A (1993) Meles meles (Linnaeus, 1758) Dachs. In: Niethammer J, Krapp F (eds) Handbuch der Säugetiere Europas, vol 5/II, Raubsauger (Teil II). Aula-Verlag, Wiesbaden, pp 856–906

Lyman RL (1994) Relative abundances of skeletal specimens and taphonomic analysis of vertebrate remains. Palaios 9(3):288–298

Lyman RL (2008) Quantitative paleozoology. University Press, Cambridge

Mallye J-B, Cochard D, Laroulandie V (2008) Bone accumulation around small carnivores burrows: carnivores modifications. Ann Paléontol 94:187–208

Martinez-Navarro B, Belmaker M, Bar-Yosef O (2009) The large carnivores from 'Ubeidiya' (early Pleistocene, Israel): biochronological and biogeographical implications. J Hum Evol 56:514–524

Mezzena F, Palma di Cesnola A (1971) Industria acheulena "in situ" nei depositi esterni della Grotta Paglicci (Rignano Garganico – Foggia). Rivista di Scienze Preistoriche 26(1):3–30

Mills MGL (1985) Related spotted hyaenas forage together but do not cooperate in rearing young. Nature 316:61–62

Mills MGL, Mills M (1977) An analysis of bones collected at hyaena breeding dens in the Gemsbok National Parks. Ann Transv Mus 30:145–155

Moroni Lanfredini A, Freguglia M, Bernardini F, Boschian G, Cavanna C, Crezzini J, Gambogi P, Longo L, Milani L, Parenti F, Ricci S (2010) Nuove ricerche alla Grotta dei Santi (Monte Argentario, Grosseto). In: Negroni Catacchio N (ed.) L'alba dell'Etruria Fenomeni di continuità e trasformazione nei secoli XII-VIII a.C. Ricerche e scavi, Atti del nono incontro di studi. Centro Studi di Preistoria e Archeologia, Milano, pp 649–662

Moullé PE (1992) Les grands mammifères du Pléistocène inférieur de la grotte du Vallonnet (Roquebrune-Cap-Martin, Alpes-Maritimes). Etude paléontologique des Carnivores, Equidé, Suidé et Bovidés. Ph. D. Dissertation. Muséum National d'Histoire Naturelle, Paris

Outram AK (2002) Bone fracture and within-bone nutrients: an experimentally based method for investigation levels of marrow extraction. In: Miracle P, Milner N (eds) Consuming passions and patterns of consumption. McDonald Institute Monographs, Cambridge, pp 51–63

Palma di Cesnola A (1993) Il Paleolitico Superiore in Italia. Introduzione allo studio. Garlatti & Razzai Editori, Firenze

Palma di Cesnola A (2001) Notizie preliminari sugli scavi condotti dall'Università di Siena durante gli anni 1999 e 2000 nell'area esterna di Paglicci. In: Gravina A (ed) Atti 21° Convegno Nazionale sulla Preistoria, Protostoria, Storia della Daunia (San Severo, 24-26 Nov. 2000). Archeoclub d'Italia sede di San Severo, San Severo, pp 35–41

Palma di Cesnola A (2004) Storia delle ricerche. In: Palma di Cesnola A (ed) Paglicci L'Aurignaziano e il Gravettiano Antico. Claudio Grenzi Editore, Firenze, pp 15–25

Palma di Cesnola A (2006) L'Aurignacien et le Gravettien ancien de la grotte Paglicci au Mont Gargano. l'Anthropologie 110:355–370

Patrocinio Espigares M, Martínez-Navarro B, Palmqvist P, Ros-Montoya S, Toro I, Agustí J, Sala R (2013) Homo vs. Pachycrocuta: Earliest evidence of competition for an elephant carcass between scavengers at Fuente Nueva-3 (Orce, Spain). Quat Int 295:113–125

Pavao B, Stahl PW (1999) Structural density assays of leporid skeletal elements with implications for taphonomic, actualistic and archaeological research. J Archaeol Sci 26:53–66

Peters G (1993) Canis lupus (Linnaeus, 1758) Wolf. In: Niethammer J, Krapp F (eds) Handbuch der Säugetiere Europas, vol 5/I, Raubsauger (Teil I). Aula-Verlag, Wiesbaden, pp 47–106

Pickering TR (2002) Reconsideration of criteria for differentiating faunal assemblages accumulated by hyaenas and hominids. Int J Osteoarchaeol 12:127–141. doi:10.1002/oa.594

Piperno M, Giacobini G (1991) A taphonomic study of the Paleosurface of Guattari Cave (Monte Circeo, Latina, Italy). Quaternaria Nov. 1:143–161

Pitti C, Tozzi C (1971) La Grotta del Capriolo e la Buca della Iena presso Mommio (Camaiore, Lucca). Rivista di Scienze Preistoriche 26:213–258

Pokines JT, Kerbis Peterhans JC (2007) Spotted hyaena (Crocuta crocuta) den use and taphonomy in the Masai Mara National Reserve, Kenya. J Archaeol Sci 34:1914–1931

Potts R, Shipman P, Ingall E (1988) Taphonomy, paleoecology and hominids of Lainyamok, Kenya. J Hum Evol 17:597–614

Revedin A, Longo L, Mariotti Lippi M, Marconi E, Ronchitelli A, Svoboda J, Anichini E, Gennai M, Aranguren B (2015) New technologies for plant food processing in the Gravettian. Quat Int 359–360:77–88

Ricci S, Capecchi G, Boschin F, Arrighi S, Ronchitelli A, Condemi S (2015) Toothpick use among epigravettian humans from Grotta Paglicci (Italy). Int J Osteoarchaeol. doi:10.1002/oa.2420

Rodríguez-Hidalgo A, Lloveras L, Moreno-García M, Saladié P, Canals A, Nadal J (2013) Feeding behavior and taphonomic characterization of non-ingested rabbit remains produced by the Iberian Lynx (Lynx pardinus). J Archaeol Sci 40:3031–3045

Ronchitelli A, Mugnaini S, Arrighi S, Atrei A, Capecchi G, Giamello M, Longo L, Marchettini N, Viti C, Moroni A (2015) Simbology and technology during the Gravettian: Paglicci burials II and III (Rignano Garganico - Foggia - Southern Italy). Quat Int 359–360:423–441

Roper TJ, Tait AI, Fee D, Christian SF (1991) Internal structure and contents of three badger (Meles meles) setts. J Zool 225:115–124

Sala B (1983) Variations climatiques et sequences chronologiques sur la base des variations des associations fauniques a grands mammiferes. Rivista di Scienze Preistoriche 38(1–2):161–180

Salnicki J, Teichmann M, Wilson VJ, Murindagomo F (2001) Spotted hyaenas Crocuta crocuta prey on new-born elephant calves in Hwange National Park, Zimbabwe. Koedoe 44:79–83. doi:10.4102/koedoe.v44i2.177

Sardella R, Petrucci M (2012) The earliest Middle Pleistocene Crocuta crocuta (Erxleben, 1777) at Casal Selce (Rome, Italy). Quat Int 267:103–110

Skinner JD, Henschel JR, van Jaarsveld AS (1986) Bone-collecting habits of spotted hyaenas (Crocuta crocuta) in the Kruger National Park. S Afr J Zool 21:303–308

Stiner MC (1991) The faunal remains from Grotta Guattari: a taphonomic perspective. Curr Anthropol 32:103–117

Stiner MC (2004) Comparative ecology and taphonomy of spotted hyaenas, humans, and wolves in Pleistocene Italy. Rev Paléobiol 23:771–785

Stuart AJ, Lister AM (2015) New radiocarbon evidence on the extirpation of the spotted hyaena (Crocuta crocuta (Erxl.) in northern Eurasia. Quat Sci Rev. doi:10.1016/j.quascirev.2013.10.010

Villa P, Bartram L (1996) Flaked bone from a hyaena den. Paléo 8:143–159

Villa P, Sánchez Goñi MF, Cuenca Bescós G, Grün R, Ajas A, García Pimienta JC, Lees W (2010) The archaeology and paleoenvironment of an Upper Pleistocene hyaena den: An integrated approach. J Archaeol Sci 37:919–935

Wernert P (1955) Relief d'hyènes quaternaries des loess d'Achenheim. Bull Assoc Phil Alsace Lorraine 9/3:150–156

Wierer U (2013) Variability and standardization: the early Gravettian lithic complex of Grotta Paglicci, Southern Italy. Quat Int 288:215–238

Zapfe H (1942) Lebensspuren der eisenzeitlichen Höhlenhyäne. Palaeobiologica 7:111–154
Acknowledgments
We thank the Soprintendenza per i Beni Archeologici della Puglia for supporting research at Grotta Paglicci. We are also grateful to the reviewers for editing and improving the original manuscript and to Lee G. Broderick and Richard Madgwick, the organisers of Session 4 of the 12th International Conference of Archaeozoology (San Rafael, Mendoza, Argentina, September 22nd to 27th, 2014), where this research was originally presented.
Author contributions
J.C., F.B. and P.B. designed research; J.C., F.B. and P.B. performed taphonomy and zooarchaeological research; A.R., S.R. and V.S. analysed excavation data; V.S. performed spatial distribution analysis; J.C., F.B., P.B., A.R. and V.S. wrote the paper.
About this article
Cite this article
Crezzini, J., Boscato, P., Ricci, S. et al. A spotted hyaena den in the Middle Palaeolithic of Grotta Paglicci (Gargano promontory, Apulia, Southern Italy). Archaeol Anthropol Sci 8, 227–240 (2016). https://doi.org/10.1007/s12520-015-0273-0
Received:

Accepted:

Published:

Issue Date:
Keywords
Hyaena den

Taphonomy

GIS

Spatial analysis

Grotta Paglicci

Middle Palaeolithic