Abstract
Detailed petrographic and geochemical analyses of 100 sherds of greyware cooking pottery from the large Medieval kiln site of Cabrera d'Anoia have revealed the presence of several compositional groups that are correlated to different phases in the operation of the site. These appear to relate to changes in the extraction of local raw materials for pottery production concomitant with the development of the workshop over several centuries. Macroscopic, microstructural and mineralogical analyses have permitted the reconstruction of a consistent tradition of ceramic manufacture at d'Anoia. Close correspondence between the petrographic and geochemical characterisation of the sherds provides several well-defined compositional reference groups for this major production centre. This is permitting the identification of the products of Cabrera d'Anoia at other rural sites in Catalonia and will provide a firm basis with which to examine the supply and demand of utilitarian pottery vessels in this area during the Medieval period.
This is a preview of subscription content, log in to check access.
Access options
Buy single article
Instant access to the full article PDF.
US$ 39.95
Price includes VAT for USA
Subscribe to journal
Immediate online access to all issues from 2019. Subscription will auto renew annually.
US$ 99
This is the net price. Taxes to be calculated in checkout.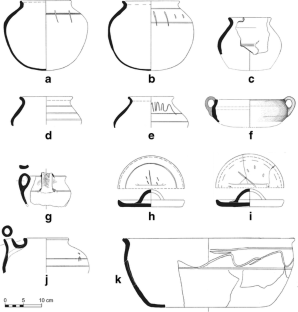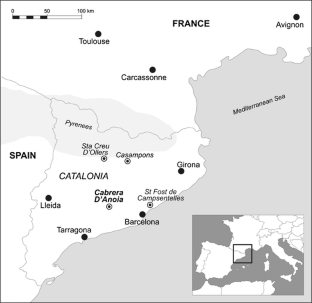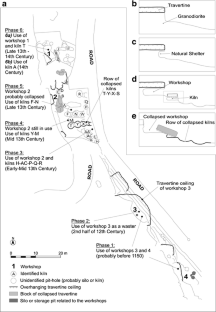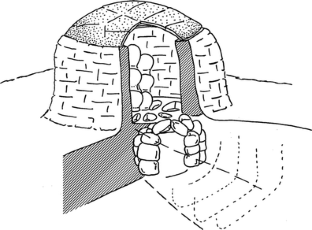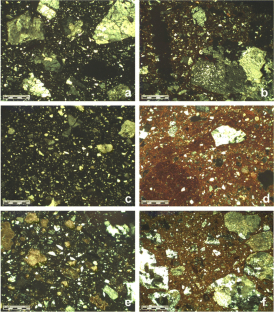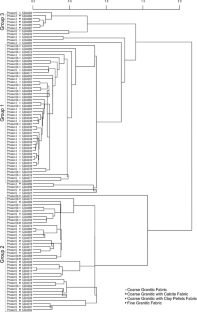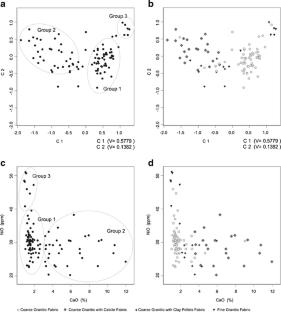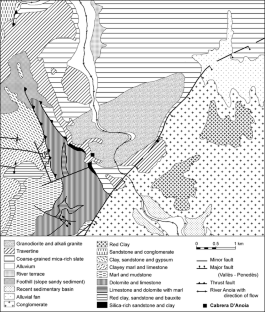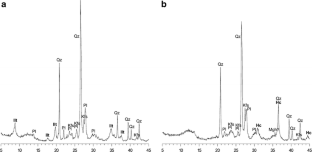 References
Amouric H, Thiriot J, Vayssettes JL (1995) Ateliers en grotte: apport contrasté des sources écrites et des dones de terrain. Actas das 1ª Jornadas de Cerâmica Medieval e Pós-Medieval, métodos e resultados para o seu estudo, Tondela, pp 263–269

Bohigas R, Gutiérrez JA (eds) (1989) La cerámica medieval en el norte y noroeste de la península ibérica. Aproximación a su studio. Universidad de León, León

Day P, Kilikoglou V (2001) Analysis of ceramics from the kiln, in A LM IA ceramic kiln, in south-central Crete: function and pottery production. (Shaw, J.W., A. Van de Moortel, P. Day, V. Kilikoglou), Hesperia Supplement 30: 111–134, Princeton

Fillieres D, Harbottle G, Sayre EV (1983) Neutron-activation study of figurines, pottery, and workshop materials from the Athenian Agora, Greece. J Field Archaeol 10:55–69

González A (ed.) (1997) Ceràmica catalana. El monument, document, Quaderns científics i tècnics, 9, Diputació de Barcelona, Barcelona

Hein A, Müller NS, Day PM, Kilikoglou V (2008) Thermal conductivity of archaeological ceramics: the effect of inclusions, porosity and firing temperature. Thermochim Acta 480:35–42

Kilikoglou V, Maniatis Y, Grimanis AP (1988) The effect of purification and firing of clays on trace element provenance studies. Archaeometry 30:37–46

Leenhardt M, Padilla JI, Thiriot J (1995) Organisation spatiale de l'atelier de potiers de Cabrera d'Anoia (Catalogne). Vème colloque international sur la céramique médiévale en Méditerranée Occidentale (Rabat, 11-17 novembre 1991), Rabat, pp 58–63

Maritan L (2004) Archaeometric study of Etruscan-Padan type pottery from the Veneto region: petrographic, mineralogical and geochemical-physical characterisation. Eur J Mineral 16:297–307

Matson F R (1965) Ceramic ecology: an approach to the study of early cultures of the Near East, in Ceramics and Man (ed. Matson, F. R.), 202–217, Chicago

Padilla JI (1984) Contribución al estudio de las cerámicas grises catalanas de época medieval: el taller, los hornos y la producción de Casampons. Ceràmica grisa i terrissa popular de la Catalunya Medieval. Acta Mediaevalia, annex 2, Barcelona, pp 99–143

Padilla JI, Vila JM (1998) Últimas intervenciones en el alfar medieval de Cabrera d'Anoia, Barcelona. Actas das 2as Jornadas de Cerâmica Medieval e Pos-Medieval. Tondela (Portugal), Tondela, pp 91–99

Padilla JI, Álvaro K, Travé E (2008) Un modelo de producción en gruta: el Alfar de Cabrera d'Anoia, Barcelona. Munibe (Antropologia – Arkeologia) 59:251–272

Padilla JI, Álvaro K, Travé E (2011a) Las cerámicas culinarias de Cabrera d'Anoia: Estrategias de producción en un alfar medieval. Arqueología y Territorio Medieval 18:117–144

Padilla JI, Álvaro K, Travé E (2011b) El alfar medieval de vajilla culinaria de Cabrera d'Anoia. Territorio, Sociedad y Poder 6:73–104

Pradell T, Martínez-Manent S, Nogués-Carulla JM, Vendrell-Saz M (1991) Cerámica gris medieval catalana: caracterización y tecnología de producción. In Actas do IV Congreso da Cerámica Medieval no Mediterraneo Occidental, Mértola, Campo Arqueológico de Mértola, pp 601–610

Py V (2001) Les potiers et la forêt a Cabrera d'Anoia (Catalogne): XIe – XIVe siècle. Anthracologie, ethnobotanique, et paléoécologie; archéologie et artisanat, Unpublished doctoral thesis, Univerity of Provence

Quinn PS (2013) Ceramic petrography: the interpretation of archaeological pottery & related artefacts in thin section. Archaeopress, Oxford

Reedy CL (2008) Thin section petrography of stone and ceramic cultural materials. Archetype Publications, London

Rice PM (1987) Pottery analysis: a sourcebook. University of Chicago Press, Chicago

Riu M (1990) Talleres y hornos de alfareros de cerámica gris en Cataluña. Fours de potiers et "testares" médiévaux en Méditarranée Occidentale. Methodes et resultats (Eds. Bazzana, A., Amigues, F.), 105–115, Publicaciones de la Casa de Velázquez, Madrid

Travé E (2009) Producció i distribució d'una terrisseria medieval: Cabrera d'Anoia, Doctoral thesis, University of Barcelona. (Published on line: http://www.tesisenxarxa.net/TDX-0112110-111917)

Travé E. Padilla J I, Quinn P S (2013) Utilitarian cooking wares in Medieval Catalonia (Spain): provenance, technology and trade in rural areas. European meeting on ancient ceramics. University of Padova, Italy, 19-21 September 2013. Conference program and abstracts, (eds. Piovesan R, Maritan L, Grifa C), 68. Department of Geosciences, University of Padova

Vendrell-Saz M, Pradell T, García-Vallès M T, Molera J (1997a) Medieval reduced pottery in Catalonia: technology and distribution, in Santoro S, Fabri B (eds.) Il contributo delle analisi archeometriche allo studio delle ceramiche grezza e comuni. Bologne, 246–250

Vendrell-Saz M, Pradell T, García-Vallès M T, Molera J (1997b) Producció i difusió de la ceràmica grisa a Catalunya durant l'Edat Mitjana, La ceràmica medieval catalana. El monument, document. Quaderns científics i tècnics 9. Barcelona, Diputació de Barcelona, 263–272

Whitbread IK (1986) The characterization of argillaceous inclusions in ceramic thin sections. Archaeometry 28:79–88
Acknowledgments
The research presented in this paper forms part of the doctoral thesis of Esther Travé at University of Barcelona, which was supervised by José Ignacio Padilla. This thesis was funded by an FI grant from the Catalan Government (2006FI-01369). Ceramic studies are one of the main topics of the Medieval and Post-medieval Archaeology Research Group (2009SGR469), and this work was part of a larger research project on Cabrera d'Anoia funded by the Spanish Ministry of Science and Technology (HUM2007-61551-HIST) between 2006 and 2009.
Jaume Buxeda and Marisol Madrid of the Material Culture and Archaeometry Research Group (ArqUB), University of Barcelona, kindly assisted with the XRF and XRD analyses of the ceramics from Cabrera d'Anoia, which were performed at the Laboratories of Scientific and Technical Services. Jordi Illa helpfully prepared the ceramic thin sections, and Miguel Angel Cau Ontiveros provided guidance on their analysis. Jacques Thiriot supervised archaeological fieldwork at Cabrera d'Anoia alongside Iñaki Padilla, in a joint French and Spanish team. Dr Padilla sadly passed away during the writing of this manuscript. Eskerrik asko, Iñaki. Hasta siempre.
Additional information
J.I. Padilla Lapuente passed away during the preparation of the study.
About this article
Cite this article
Travé Allepuz, E., Quinn, P.S., López Pérez, M.D. et al. One hundred sherds of grey: compositional and technological characterization of Medieval greyware pottery production at Cabrera d'Anoia, Catalonia, Spain. Archaeol Anthropol Sci 6, 397–410 (2014). https://doi.org/10.1007/s12520-014-0179-2
Received:

Accepted:

Published:

Issue Date:
Keywords
Medieval pottery

Petrography

Geochemistry

Kiln site

Catalonia

Spain