Abstract
A range of experiments were conducted in an attempt to create tar from the bark of Betula pubescens (downy birch) using an aceramic dry distillation process. Fire structures based on small pits and small kiln-like mounds were explored with a focus on fire intensities and differing burn times under field-based conditions. Heat penetration presented itself as an all-important factor, and the depth of the construction of the structures and features was considered to directly correlate to the impact of the heat. Single variable experiments confirmed that the necessary reducing atmosphere was achievable despite friable soil, but that heat would not penetrate a 50- to 80-mm-deep layer of grass turf. The evolution of structures from pits towards a raised type resulted in kiln-like structures which proved more successful. Though the experiments did not successfully produce tar as a finished product, they did lead to a better understanding of the dry distillation process of the established technology of birch bark tar extraction in aceramic societies.
Access options
Buy single article
Instant access to the full article PDF.
US$ 39.95
Tax calculation will be finalised during checkout.
Subscribe to journal
Immediate online access to all issues from 2019. Subscription will auto renew annually.
US$ 79
Tax calculation will be finalised during checkout.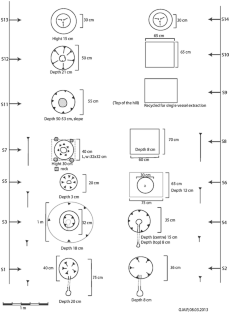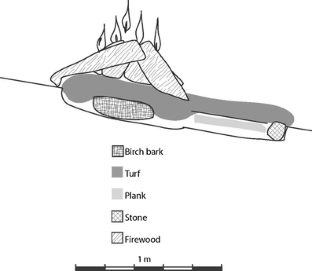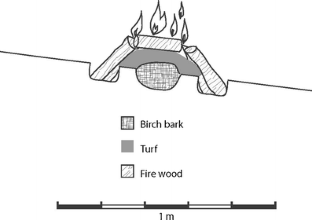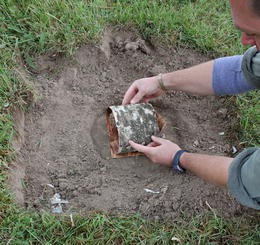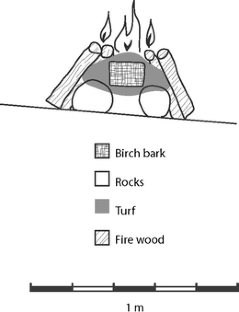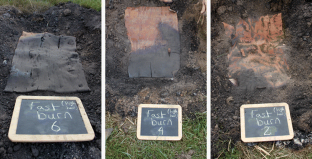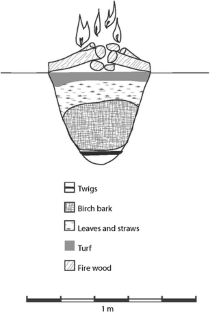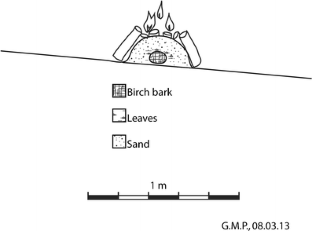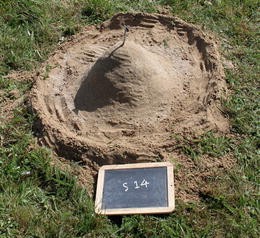 References
Aveling EM, Heron C (1999) Chewing tar in the Early Holocene. Antiquity 73:579–584

Bosquet D, Regert M, Dubois N, Jadin I (2001) Identification de brai de bouleau sur quatre vases du site rubané de Fexhe-le-Haut-Locher "Podrî l Cortri". Premiers résultats. Notae Praehistoricae 21:119–127

Charters S, Evershed RP, Goad LJ, Heron C, Blinkhorn P (1993) Identification of an adhesive used to repair a Roman jar. Archaeometry 35(1):91–101. doi:10.1111/j.1475-4754.1993.tb01025.x

Czarnowski E, Neubauer D (1992) Aspekte zu Produktion und Verarbeitung von Birkenpech. Acta Praehis Archaeol 23:11–13

Egenberg IM, Glastrup J (1999) Composition of kiln-produced tar. 12th Triennial Meeting, Lyon, 29 August–3 September 1999. Preprints, vol 2, London

Farbregd O (1989) Tjørebrenning—ein enkel, men spennande kunst. SPOR 1(1989):10–14

Grünberg JM (2002) Middle Palaeolithic birch-bark pitch. Antiquity 66:15–16

Hiltemann MA (2012) The glue that binds us together. Faculty of Archaeology, Leiden University

KGaA M (2006) Sikkerhetsdatablad i henhold til Forordning (EF) nr 1907/2006. VWR International AS, Oslo

Koller J, Ursula B, Mania D (2001) High-tech in the Middle Palaeolithic: Neanderthal-manufactured pitch identified. Eur J Archaeol 4(3):385–397

Lyford CA (1943) Ojibwa Crafts. Washington, DC

Mazza PPA, Martini F, Sala B, Magi M, Colombini MP, Giachi G, Landucci F, Lemorini C, Modugno F, Ribechini E (2006) A new Palaeolithic discovery: tar-hafted stone tools in a European Mid-Pleistocene bone-bearing bed. J Archaeol Sci 33:1310–1318

Ottaway BS (1992) The Fischergasse: a wetland site in Lower Bavaria. Antiquity 66(1992):689–701

Piotrowski W (1999) Wood-tar and pitch experiments at Biskupin Museum. In: Harding AF (ed) Experiment and design. Oxbow Books, Oxford

Pomstra D, Meijer R (2010) The production of birch pitch with hunter-gatherer technology: a possibility. Bull Primitive Technol 2010(40):69–73

Regert M, Vacher S, Moulherat C, Decavallas O (2003) Adhesive production and pottery function during the Iron Age at the site of Grand Aunay (Sarthe, France). Archaeometry 45(1):101–120. doi:10.1111/1475-4754.00098

Risbøl O, Risan T, Bjørnstad R, Fretheim S, Rygh BHE (2002) Kulturminner og kulturmiljø i Gråfjell Regionfelt Østlandet, Åmot kommune i Hedmark. NIKU publikasjoner, vol 125, Oslo

Sauter F, Graf A, Hametner C, Fröhlich J, Neugebauer JW, Preinfalk F (2002) Analysis of an organic agglutinant used to fix Iron-Age clay figurines to their base. ARKIVOC 2002:35–39

Schenck T (2011) Experimenting with the unknown. In: Petersson B, Narmo LE (eds) Experimental archaeology. Between enlightenment and experience. Lund University, Lund

Urem-Kotsou D, Stern B, Heron C, Kotsakis K (2002) Birch-bark tar at Neolithic Makriyalos, Greece. Antiquity 76(294):962–967

Wadley L (2010) Compound-adhesive manufacture as a behavioral proxy for complex cognition in the Middle Stone Age. Curr Anthropol 51(S1):111–119
Acknowledgments
We wish to thank Jens Glastrup, Nationalmuseet in Copenhagen, for guidance in the chemical process of tar distillation and Sagnlandet Lejre for funding and accommodating our experiments. We would like to thank the reviewers for their useful comments and suggestions.
About this article
Cite this article
Groom, P., Schenck, T. & Pedersen, G.M. Experimental explorations into the aceramic dry distillation of Betula pubescens (downy birch) bark tar. Archaeol Anthropol Sci 7, 47–58 (2015). https://doi.org/10.1007/s12520-013-0144-5
Received:

Accepted:

Published:

Issue Date:
Keywords
Dry distillation

Betula pubescens

Birch bark tar

Middle Palaeolithic Mesolithic

Experimental archaeology