Abstract
Background
Juvenile idiopathic arthritis (JIA) is the most common rheumatic disease in childhood driven by aberrant pathways of T-cell activation. T helper 17 (Th17)/regulatory T cell (Treg) imbalance plays critical roles in the pathogenesis of arthritis. MicroRNA-125b (miR-125b) was upregulated after the activation of the initial CD4+ T cells, and could regulate the differentiation of CD4+ T cells. However, the effects of miR-125b on Th17/Treg imbalance and differentiation of Th17/Treg cells remain unknown.
Methods
In this study, we evaluated the expression of miR-125b in the peripheral blood mononuclear cells (PBMCs) of children with JIA, and the relationship of miR-125b with Th17/Treg imbalance. Then, we used lentivirus vector-mediated overexpression technology to investigate the regulatory function of miR-125b in CD4+ T cells or dendritic cell/CD4+ T co-culture system.
Results
Decreased miR-125b expression in PBMCs and CD4+ T cells of JIA patients was negatively correlated with the ratio of Th17/Treg cells. It also correlated negatively with retinoic acid receptor-related orphan receptor γt but positively with Forkhead box protein 3 at transcriptional levels. Furthermore, we found that miR-125b overexpression inhibited Th17 cell differentiation, whereas facilitated the differentiation of Treg cells. MiR-125b upregulation led to the decrease of Th17-secreting cytokines but the increase of the Treg-secreting cytokines.
Conclusions
Our results demonstrate that miR-125b participated in regulating Th17/Treg cell differentiation and imbalance in JIA patients. These findings provide novel insight into the critical role of miR-125b in the Th17/Treg imbalance of JIA, and raise the distinct possibility that miR-125b may prove to be a potential therapeutic target for JIA.
This is a preview of subscription content, log in to check access.
Access options
Buy single article
Instant access to the full article PDF.
US$ 39.95
Price includes VAT for USA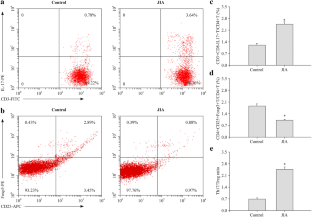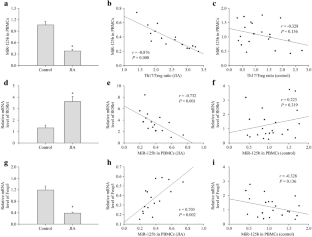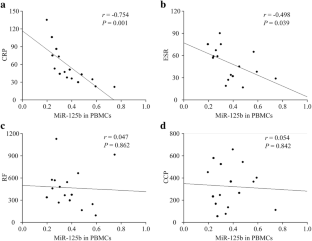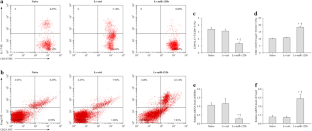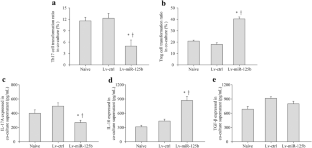 References
1.

Martini A. JIA in 2011: new takes on categorization and treatment. Nat Rev Rheumatol. 2012;8:67–8.

2.

Selvaag AM, Aulie HA, Lilleby V, Flatø B. Disease progression into adulthood and predictors of long-term active disease in juvenile idiopathic arthritis. Ann Rheum Dis. 2016;75:190–5.

3.

Hersh AO, Prahalad S. Immunogenetics of juvenile idiopathic arthritis: a comprehensive review. J Autoimmun. 2015;64:113–24.

4.

Cope AP, Schulze-Koops H, Aringer M. The central role of T cells in rheumatoid arthritis. Clin Exp Rheumatol. 2007;25(5 Suppl 46):S4–11.

5.

Prakken B, Albani S, Martini A. Juvenile idiopathic arthritis. Lancet. 2011;377:2138–49.

6.

Boissier MC, Assier E, Falgarone G, Bessis N. Shifting the imbalance from Th1/Th2 to Th17/treg: the changing rheumatoid arthritis paradigm. Jt Bone Spine. 2008;75:373–5.

7.

Li Z, Rana TM. Therapeutic targeting of microRNAs: current status and future challenges. Nat Rev Drug Discov. 2014;13:622–38.

8.

O'Connell RM, Rao DS, Chaudhuri AA, Baltimore D. Physiological and pathological roles for microRNAs in the immune system. Nat Rev Immunol. 2010;10:111–22.

9.

Eissa S, Matboli M, Sharawy A, El-Sharkawi F. Prognostic and biological significance of microRNA-221 in breast cancer. Gene. 2015;574:163–7.

10.

Eskandari E, Mahjoubi F, Motalebzadeh J. An integrated study on TFs and miRNAs in colorectal cancer metastasis and evaluation of three co-regulated candidate genes as prognostic markers. Gene. 2018;679:150–9.

11.

Sun YM, Lin KY, Chen YQ. Diverse functions of miR-125 family in different cell contexts. J Hematol Oncol. 2013;6:6.

12.

Wei B, Pei G. MicroRNAs: critical regulators in Th17 cells and players in diseases. Cell Mol Immunol. 2010;7:175–81.

13.

Duroux-Richard I, Pers YM, Fabre S, Ammari M, Baeten D, Cartron G, et al. Circulating miRNA-125b is a potential biomarker predicting response to rituximab in rheumatoid arthritis. Mediat Inflamm. 2014;2014:342524.

14.

Rossi RL, Rossetti G, Wenandy L, Curti S, Ripamonti A, Bonnal RJ, et al. Distinct microRNA signatures in human lymphocyte subsets and enforcement of the naive state in CD4+ T cells by the microRNA miR-125b. Nat Immunol. 2011;12:796–803.

15.

Gururajan M, Haga CL, Das S, Leu CM, Hodson D, Josson S, et al. MicroRNA-125b inhibition of B cell differentiation in germinal centers. Int Immunol. 2010;22:583–92.

16.

Petty RE, Southwood TR, Manners P, Baum J, Glass DN, Goldenberg J, et al. International League of Associations for Rheumatology classification of juvenile idiopathic arthritis: second revision, Edmonton, 2001. J Rheumatol. 2004;31:390–2.

17.

Vittecoq O, Pouplin S, Krzanowska K, Jouen-Beades F, Menard JF, Gayet A, et al. Rheumatoid factor is the strongest predictor of radiological progression of rheumatoid arthritis in a 3-year prospective study in community-recruited patients. Rheumatology (Oxford). 2003;42:939–46.

18.

Hinks A, Marion MC, Cobb J, Comeau ME, Sudman M, Ainsworth HC, et al. The genetic profile of rheumatoid factor-positive polyarticular juvenile idiopathic arthritis resembles that of adult rheumatoid arthritis. Arthritis Rheumatol. 2018;70:957–62.

19.

Fazal N. OX62 + OX6 + OX35 + rat dendritic cells are unable to prime CD4 + T cells for an effective immune response following acute burn injury. Results Immunol. 2013;3:64–72.

20.

Niu Q, Cai B, Huang ZC, Shi YY, Wang LL. Disturbed Th17/Treg balance in patients with rheumatoid arthritis. Rheumatol Int. 2012;32:2731–6.

21.

Ahmadi H, Mahmoudi M, Gharibdoost F, Vojdanian M, Jamshidi AR, Fattahi MJ, et al. Targeting of circulating Th17 cells by β-d-mannuronic acid (M2000) as a novel medication in patients with rheumatoid arthritis. Inflammopharmacology. 2018;26:57–65.

22.

Lawson CA, Brown AK, Bejarano V, Douglas SH, Burgoyne CH, Greenstein AS, et al. Early rheumatoid arthritis is associated with a deficit in the CD4 + CD25 high regulatory T cell population in peripheral blood. Rheumatology (Oxford). 2006;45:1210–7.

23.

Wu SA, Yeh KW, Lee WI, Yao TC, Huang JL. Persistent improper upregulation of Th17 and TReg cells in patients with juvenile idiopathic arthritis. J Microbiol Immunol Infect. 2016;49:402–8.

24.

de Kleer IM, Wedderburn LR, Taams LS, Patel A, Varsani H, Klein M, et al. CD4 + CD25bright regulatory T cells actively regulate inflammation in the joints of patients with the remitting form of juvenile idiopathic arthritis. J Immunol. 2004;172:6435–43.

25.

Miyara M, Ito Y, Sakaguchi S. TREG-cell therapies for autoimmune rheumatic diseases. Nat Rev Rheumatol. 2014;10:543–51.

26.

Grose RH, Millard DJ, Mavrangelos C, Barry SC, Zola H, Nicholson IC, et al. Comparison of blood and synovial fluid Th17 and novel peptidase inhibitor 16 Treg cell subsets in juvenile idiopathic arthritis. J Rheumatol. 2012;39:2021–31.

27.

Lamas M, Sanz E, Martin-Parras L, Espel E, Sperisen P, Collins M, et al. Glucocorticoid hormones upregulate interleukin 2 receptor alpha gene expression. Cell Immunol. 1993;151:437–50.

28.

Evans HG, Gullick NJ, Kelly S, Pitzalis C, Lord GM, Kirkham BW, et al. In vivo activated monocytes from the site of inflammation in humans specifically promote Th17 responses. Proc Natl Acad Sci USA. 2009;106:6232–7.

29.

Kim JK, Jang SW, Suk K, Lee WH. Fascin regulates TLR4/PKC-mediated translational activation through miR-155 and miR-125b, which targets the 3′ untranslated region of TNF-α mRNA. Immunol Invest. 2015;44:309–20.

30.

Chaudhuri AA, So AY, Sinha N, Gibson WS, Taganov KD, O'Connell RM, et al. MicroRNA-125b potentiates macrophage activation. J Immunol. 2011;187:5062–8.

31.

Hruskova V, Jandova R, Vernerova L, Mann H, Pecha O, Prajzlerova K, et al. MicroRNA-125b: association with disease activity and the treatment response of patients with early rheumatoid arthritis. Arthritis Res Ther. 2016;18:124.

32.

Nakae S, Nambu A, Sudo K, Iwakura Y. Suppression of immune induction of collagen-induced arthritis in IL-17-deficient mice. J Immunol. 2003;171:6173–7.

33.

Liu C, Yang H, Shi W, Wang T, Ruan Q. MicroRNA-mediated regulation of T helper type 17/regulatory T-cell balance in autoimmune disease. Immunology. 2018;155:427–34.

34.

Lubberts E, Koenders MI, Oppers-Walgreen B, van den Bersselaar L, Coenen-de Roo CJ, Joosten LA, et al. Treatment with a neutralizing anti-murine interleukin-17 antibody after the onset of collagen-induced arthritis reduces joint inflammation, cartilage destruction, and bone erosion. Arthritis Rheum. 2004;50:650–9.

35.

Travis MA, Sheppard D. TGF-β activation and function in immunity. Annu Rev Immunol. 2014;32:51–82.

36.

Ruan Q, Chen YH. Nuclear factor-κB in immunity and inflammation: the Treg and Th17 connection. Adv Exp Med Biol. 2012;946:207–21.

37.

Yang Y, Wang JK. The functional analysis of MicroRNAs involved in NF-κB signaling. Eur Rev Med Pharmacol Sci. 2016;20:1764–74.

38.

Wang Y, Tang P, Chen Y, Chen J, Ma R, Sun L. Overexpression of microRNA-125b inhibits human acute myeloid leukemia cells invasion, proliferation and promotes cells apoptosis by targeting NF-κB signaling pathway. Biochem Biophys Res Commun. 2017;488:60–6.

39.

Zhao P, Li J, Tian Y, Mao J, Liu X, Feng S, et al. Restoring Th17/Treg balance via modulation of STAT3 and STAT5 activation contributes to the amelioration of chronic obstructive pulmonary disease by Bufei Yishen formula. J Ethnopharmacol. 2018;217:152–62.

40.

Liu LH, Li H, Li JP, Zhong H, Zhang HC, Chen J, et al. MiR-125b suppresses the proliferation and migration of osteosarcoma cells through down-regulation of STAT3. Biochem Biophys Res Commun. 2011;416:31–8.
Acknowledgements
We are grateful to Lei Zhang from Nanjing Medical University for his support on this project.
Funding
This study was supported by National Natural Science Foundation of China (Nos. 81202345, 81771762, 81170661 and 31640048), Nanjing Science and Technology Development Program (No. 201503003) and a project funded by the Priority Academic Program Development of Jiangsu Higher Education Institutions.
Ethics declarations
Ethical approval
All procedures performed in studies involving human participants were in accordance with the ethical standards of the institutional and/or national research committee and with the 1964 Helsinki Declaration and its later amendments or comparable ethical standards. A statement to confirm all methods was carried out in accordance with relevant guidelines and regulations. A statement to confirm that all experimental protocols were approved by the Ethics Committee of the Hospital, and all patients signed the informed consent.
Conflict of interest
No financial or nonfinancial benefits have been received or will be received from any party related directly or indirectly to the subject of this article.
Additional information
Publisher's Note
Springer Nature remains neutral with regard to jurisdictional claims in published maps and institutional affiliations.
Electronic supplementary material
Below is the link to the electronic supplementary material.
About this article
Cite this article
Fan, Z., Cao, Q., Huang, N. et al. MicroRNA-125b regulates Th17/Treg cell differentiation and is associated with juvenile idiopathic arthritis. World J Pediatr 16, 99–110 (2020). https://doi.org/10.1007/s12519-019-00265-z
Received:

Accepted:

Published:

Issue Date:
Keywords
CD4+ T-cell differentiation

Juvenile idiopathic arthritis

MicroRNA-125b

Th17 cells

Treg cells