Abstract
Upgrading slum settlements has been a priority for President Joko Widodo since he took office in 2014. The government's national slum-upgrading programme, announced in 2015, aims to provide access to clean water, sanitation, and better housing in at least 38,000 ha of slums across Indonesian cities. Data collection for this project currently involves using paper forms to complete neighbourhood and household surveys in slums to develop baseline data. Aside from the laborious processing involved, paper-based survey data also lack positional accuracy and comprehensive information and cannot be integrated with community and government data. Ineffective data collection and mapping hinders the optimum use of slum baseline data. Improving data accuracy and tool usability is essential for effective and efficient programme implementation. This research utilised a digital survey app known as ODK and collaborative mapping to validate the results of surveys in the slums in Yogyakarta, Palu, and Malang. Field survey results were plotted into the following three different mapping platforms: a combination of Google Fusion Tables and Google Maps API for Yogyakarta, storytelling maps with ArcGIS Online for Palu, and OpenLayers API for Malang. Usability interviews revealed that community facilitators agreed on the effectiveness, efficiency, learnability, and utility of the digital survey app and the corresponding online map. The combination of field validation with ODK and collaborative mapping enables usable data flow to support the national slum-upgrading project.
Access options
Buy single article
Instant access to the full article PDF.
US$ 39.95
Tax calculation will be finalised during checkout.
Subscribe to journal
Immediate online access to all issues from 2019. Subscription will auto renew annually.
US$ 79
Tax calculation will be finalised during checkout.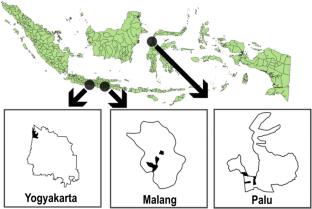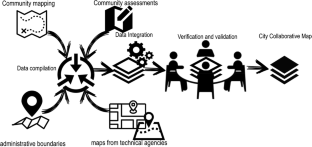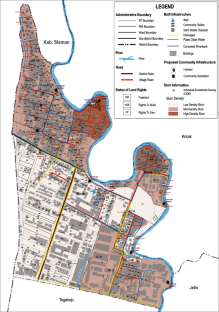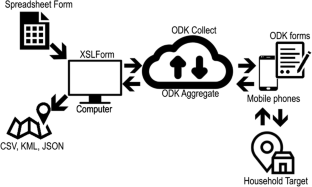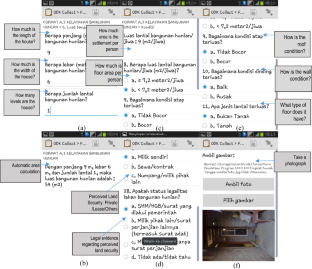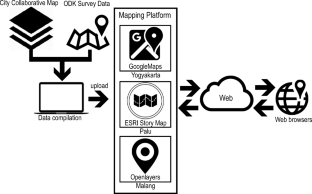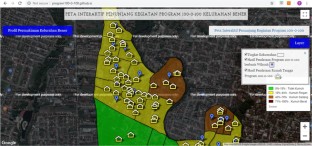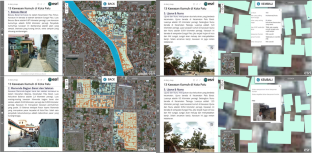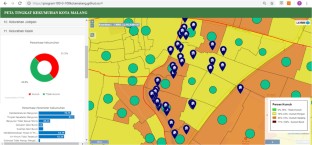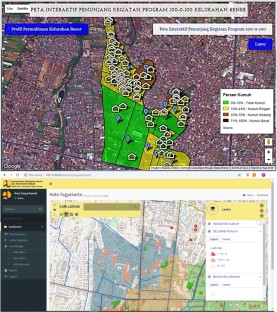 References
Aditya T (2010) Usability issues in applying participatory mapping for neighborhood infrastructure planning. Trans GIS 14(2):119–147. https://doi.org/10.1111/j.1467-9671.2010.01206.x

Aditya T, Gunawan I, Amin S, Zawani H, Mangunsong R (2017) Collaborative mapping of detailed geospatial data for disaster and climate resilience in Indonesia. English. World Bank Group, Washington D.C. http://documents.worldbank.org/curated/en/793811497964065228/Collaborativemapping-of-detailed-geospatial-data-for-disaster-and-climate-resilience-in-Indonesia. Accessed 1 Feb 2019

Adubofour K, Obiri-Danso K, Quansah C (2013) Sanitation survey of two urban slum Muslim communities in the Kumasi Metropolis, Ghana. Environ Urban 25(1):189–207. https://doi.org/10.1177/0956247812468255

Anokwa Y, Hartung C, Brunette W, Borriello G, Lerer A (2009) Open source data collection in the developing world. Computer 42(10):97–99. https://doi.org/10.1109/MC.2009.328

Archer D, Luansang C, Boonmahathanakorn S (2012) Facilitating community mapping and planning for citywide upgrading: the role of community architects. Environ Urban 24(1):115–129. https://doi.org/10.1177/0956247812437132

Curtis A, Blackburn JK, Widmer JM, Glenn Morris J (2013) A ubiquitous method for street scale spatial data collection and analysis in challenging urban environments: mapping health risks using spatial video in Haiti. Int J Health Geogr 12:21. https://doi.org/10.1186/1476-072X-12-21

Du Plessis J (2014) The continuum of land rights approach. In: The FIG director generals forum 2014. UN-HABITAT & FIG, Kuala Lumpur, Malaysia

Foulser-Piggott R, Spence R, Eguchi R, King A (2016) Using remote sensing for building damage assessment: GEOCAN study and validation for 2011 Christchurch earthquake. Earthquake Spectra 32(1):611–631. https://doi.org/10.1193/051214EQS067M

Gutwin C, Greenberg S (2000) The mechanics of collaboration: developing low cost usability evaluation methods for shared workspaces. In proceedings of the 9th IEEE international workshops on enabling technologies: Infrastructure for collaborative enterprises (pp. 98–103). Washington, DC, USA: IEEE Computer Society. Retrieved from http://dl.acm.org/citation.cfm?id=647068.715651. Accessed 20 Nov 2018

Hachmann S, Arsanjani JJ, Vaz E (2018) Spatial data for slum upgrading: volunteered geographic information and the role of citizen science. In: Habitat international, vol 72. Elsevier Ltd, pp 18–26. https://doi.org/10.1016/j.habitatint.2017.04.011

Idris NH, Osman MJ, Kanniah KD, Idris NH, Ishak MHI (2017) Engaging indigenous people as geo-crowdsourcing sensors for ecotourism mapping via mobile data collection: a case study of the Royal Belum State Park. Cartogr Geogr Inf Sci 44(2):113–127. https://doi.org/10.1080/15230406.2016.1195285

International Organization for Standardization (2018) "ISO 9241-11:2018 Ergonomics of human–system interaction—part 11: usability: definitions and concepts"

Karanja I (2010) An enumeration and mapping of informal settlements in Kisumu, Kenya, implemented by their inhabitants. Environ Urban 22(1):217–239. https://doi.org/10.1177/0956247809362642

Kuffer M, Pfeffer K, Sliuzas R (2016) Slums from space—15 years of slum mapping using remote sensing. Remote Sensing. https://doi.org/10.3390/rs8060455

Leonita G, Kuffer M, Sliuzas R, Persello C (2018) Machine learning-based slum mapping in support of slum upgrading programs: the case of Bandung City, Indonesia. Remote Sens 10. https://doi.org/10.3390/rs10101522

Liang W-T, Lee J-C, Chen KH, Hsiao N-C (2017) Citizen earthquake science in Taiwan: from science to hazard mitigation. J Disaster Res 12(6):1174–1181

Livengood A, Kunte K (2012) Enabling participatory planning with GIS: a case study of settlement mapping in Cuttack, India. Environ Urban 24(1):77–97. https://doi.org/10.1177/0956247811434360

Lüthi C, McConville J, Kvarnström E (2010) Community-based approaches for addressing the urban sanitation challenges. Int J Urban Sustain Dev 1(1–2):49–63. https://doi.org/10.1080/19463131003654764

Makau J, Dobson S, Samia E (2012) The five-city enumeration: the role of participatory enumerations in developing community capacity and partnerships with government in Uganda. Environ Urban 24(1):31–46. https://doi.org/10.1177/0956247812438368

Martínez J, Pfeffer K, Baud I (2016) Factors shaping cartographic representations of inequalities. Maps as products and processes. Habitat Int 51:90–102. https://doi.org/10.1016/j.habitatint.2015.10.010

Meredith T, Macdonald M (2017) Community-supported slum-upgrading: innovations from Kibera. Habitat Int 60:1–9

Ministry of Public Works and Settlement (2018) "WebGIS—KOTAKU." Kota Tanpa Kumuh 2018. http://103.12.84.58/webgis/. Accessed 1 Feb 2019

Muller A, Mbanga E (2012) Participatory enumerations at the national level in Namibia: the community land information programme (CLIP). Environ Urban 24(1):67–75. https://doi.org/10.1177/0956247811435891

Paar P, Rekittke J (2011) Low-cost mapping and publishing methods for landscape architectural analysis and design in slum-upgrading projects. Future Internet 3:228–247. https://doi.org/10.3390/fi3040228

Patel S, Baptist C, Cruz CD (2012) Knowledge is power—informal communities assert their right to the city through SDI and community-led enumerations. Environ Urban 24(1):13–26. https://doi.org/10.1177/0956247812438366

Poblet M, García-Cuesta E, Casanovas P (2014) Crowdsourcing tools for disaster management: a review of platforms and methods. In: Casanovas P, Pagallo U, Palmirani M, Sartor G (eds) AI approaches to the complexity of legal systems. Springer Berlin Heidelberg, Berlin, Heidelberg, pp 261–274

Pullan RL, Freeman MC, Gething PW, Brooker SJ (2014) Geographical inequalities in use of improved drinking water supply and sanitation across sub-Saharan Africa: mapping and spatial analysis of cross-sectional survey data. PLoS Med 11(4):e1001626. https://doi.org/10.1371/journal.pmed.1001626

Quesenbery W (2004) Balancing the 5Es: usability set your mind at Es. Cutter IT 17(2):4–11

See L, Mooney P, Foody G, Bastin L, Comber A, Estima J, Fritz S et al (2016) Crowdsourcing, citizen science or volunteered geographic information? The current state of crowdsourced geographic information. ISPRS Int J Geo Inf 5(5):55. https://doi.org/10.3390/ijgi5050055

Signore A (2016) Mapping and sharing agro-biodiversity using open data kit and Google Fusion Tables. Comput Electron Agric 127:87–91. https://doi.org/10.1016/j.compag.2016.06.006

Stevens M, Vitos M, Altenbuchner J, Conquest G, Lewis J, Haklay M (2014) Taking participatory citizen science to extremes. IEEE Pervasive Computing 13(2):20–29

Tom-Aba D, Olaleye A, Olayinka AT, Nguku P, Waziri N, Adeoye O, Oladele S, Adeseye A, Oguntimehin O, Shuaib F (2015) Innovative technological approach to Ebola virus disease outbreak response in Nigeria using the open data kit and form hub technology. PLoS One 10(6):1–7. https://doi.org/10.1371/journal.pone.0131000

Tsai P-H, Lin Y-J, Yi-Zong O, Chu ET, Liu JWS (2014) A framework for fusion of human sensor and physical sensor data. IEEE Trans Syst Man Cybern: Syst 44(9):1248–1261. https://doi.org/10.1109/TSMC.2014.2309090

UN-HABITAT (2016) "Slum almanac 2015–2016: tracking improvement in the lives of slum dwellers." Nairobi

Unicef (2018) "Water and sanitation—challenges." Unicef Indonesia 2018. https://www.unicef.org/indonesia/wes_2879.html. Accesses 10 Feb 2019

WHO (2014) "Indonesia country highlight for web." WHO. 2014. https://www.who.int/water_sanitation_health/monitoring/investments/indonesia-10-nov.pdf

Wray Ed (2013) "Indonesia: expanding access to clean water for the poor." World Bank—Projects & Operations 2013. http://www.worldbank.org/en/results/2013/04/04/indonesia-expanding-access-to-clean-water-for-the-poor. Accessed 10 Feb 2019

Wurm M, Taubenböck H, Weigand M, Schmitt A (2017) Slum mapping in polarimetric SAR data using spatial features. Remote Sens Environ 194:190–204

Yuan F, Liu R (2018) Crowdsourcing for forensic disaster investigations: hurricane Harvey case study. Nat Hazards 93(3):1529–1546. https://doi.org/10.1007/s11069-018-3366-0
Acknowledgements
We thank the two anonymous reviewers whose comments helped improve this manuscript. We thank Mr. Shivakumar for his careful proofreading.
About this article
Cite this article
Aditya, T., Sugianto, A., Sanjaya, A. et al. Channelling participation into useful representation: combining digital survey app and collaborative mapping for national slum-upgrading programme. Appl Geomat 12, 133–148 (2020). https://doi.org/10.1007/s12518-019-00284-5
Received:

Accepted:

Published:

Issue Date:
Keywords
Digital survey app

Collaborative map

Slum mapping

Usability

Online map