Abstract
The main purpose of the present study was to carry out landslide evaluation and zonation in and around Gimbi town in western Ethiopia, located about 440 km from Addis Ababa. This study was conducted following GIS-based statistical method. For hazard evaluation and zonation, nine causative factors viz., slope material, elevation, slope, aspect, curvature, groundwater surface traces, distance to roads, and distance to streams were considered. Data on these causative factors were obtained from secondary maps, digital elevation model, topographical sheets, and through field mapping. Fifty past landslides in the study area were also identified and mapped through field survey and image interpretation. Statistical correlations between each of the causative factors and the past landslides were established in GIS environment to rate the relative contribution of individual factor classes. Thus, by considering ratings for each causative factor subclasses and by assigning suitable weights to each factor, random trial combinations were attempted to produce the landslide hazard zonation map. The results showed that 12.2% of the study area falls in very high hazard, 30.7% in high hazard, 24.3% in moderate hazard, 23.3% in low hazard, and the remaining 9.5% in no hazard zones. Validation of landslide hazard zonation map with past landslides showed that 75% of the past landslides fall within very high and high hazard zones. Thus, the hazard zones depicted can be considered for future planning and development of the study area.
Access options
Buy single article
Instant access to the full article PDF.
USD 39.95
Price includes VAT (USA)
Tax calculation will be finalised during checkout.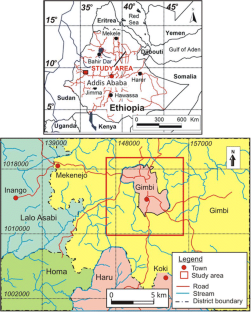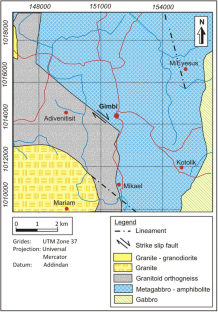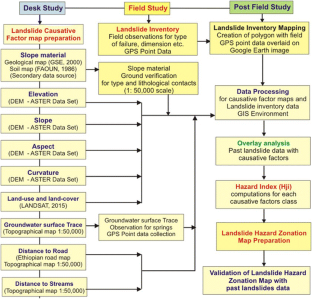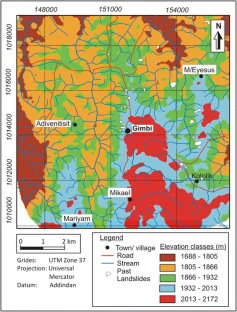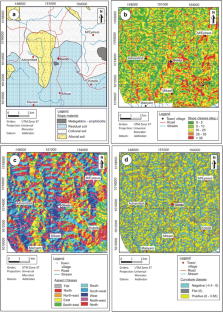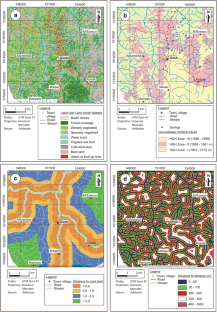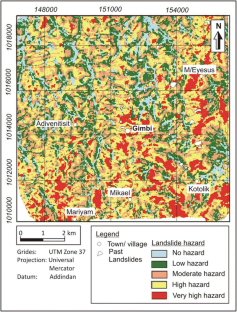 References
Aleotti P, Chowdhury R (1999) Landslide hazard assessment: summary review and new perspectives. Bull Eng Geol Environ 58:21–44

Anbalagan R (1992) Landslide hazard evaluation and zonation mapping in mountainous terrain. Eng Geol 32:269–277

Ayalew L (1999) The effect of seasonal rainfall on landslides in the highlands of Ethiopia. Bull Eng Geol Environ 58:9–19

Ayalew L, Yamagishi H (2004) Slope failures in the Blue Nile basin, as seen from landscape evolution perspective. Geomorphology 61:1–22

Ayalew L, Yamagishi H, Ugawa N (2004) Landslide susceptibility mapping using GIS-based weighted linear combination, the case in Tsugawa area of Agano River, Niigata Prefecture, Japan. Landslides 1:73–81

Ayele S, Raghuvanshi TK, Kala PM (2014) Application of remote sensing and GIS for landslide disaster management—a case from Abay Gorge, Gohatsion–Dejen section, Ethiopia. In: Singh, M., Singh, R.B., Hassan, M.I. (Eds.), Landscape ecology and water management, proceedings of International Geographical Union (IGU) Rohtak Conference, Adv. Geogr. Environ. Sci. Springer, Japan, pp 15–32

Ayenew T, Barbieri G (2005) Inventory of landslides and susceptibility mapping in the Dessie area, Northern Ethiopia. Eng Geol 77:1–15

Bommer JJ, Rodrı'guez CE (2002) Earthquake-induced landslides in Central America. Eng Geol 63:189–220

Carrara A (1983) Multivariate methods for landslide hazard evaluation. Math Geol 15:403–426

Carrara A, Cardinali M, Detti R, Guzzetti F, Pasqui V, Reichenbach P (1991) GIS techniques and statistical models in evaluating landslide hazard. Earth Surf Process Landf 6:427–445

Carrara A, Cardinali M, Guzzetti F (1992) Uncertainty in assessing landslide hazard and risk. ITC J 2:172–183

Carrara A, Cardinali M, Guzzetti F, Reichenbach P (1995) GIS technology in mapping landslide hazard. In: Carrara A, Guzzetti F (eds) In: geographical information system in assessing natural hazard. Kluwer Academic Publisher, Netherlands, pp 135–175

Casagli N, Catani F, Puglisi C, Delmonaco G, Ermini L, Margottini C (2004) An inventory-based approach to landslide susceptibility assessment and its application to the Virginio River Basin. Italy Environ Eng Geosci 3:203–216

Collison A, Wade S, Griffiths J, Dehn M (2000) Modelling the impact of predicted climate change on landslide frequency and magnitude in SE England. Eng Geol 55:205–218

Dahal RK, Hasegawa S, Masuda T, Yamanaka M (2006) Roadside slope failures in Nepal during torrential rainfall and their mitigation. Disaster Mitigation of Debris Flows, Slope Failures and Landslides, pp 503–514

Dai FC, Lee CF (2001) Terrain-based mapping of landslide susceptibility using a geographical information system: a case study. Can Geotech J 38:911–923

Dai FC, Lee CF, Ngai YY (2002) Landslide risk assessment and management: an overview. Eng Geol 64:65–87

Daniel G (1977) Aspect of climate and water balance in Ethiopia. Addis Ababa University press, Addis Ababa, p 79

Fall M, Azzam R, Noubactep C (2006) A multi-method approach to study the stability of natural slopes and landslide susceptibility mapping. Eng Geol 82:241–263

FAOUN (1986) (Food and Agriculture Organization of the United Nations), Ethiopian Highlands Reclamation Study, Food and Agriculture Organization of the United Nations, Rome, pp. 334

Girma F, Raghuvanshi TK, Ayenew T, Hailemariam T (2015) Landslide hazard zonation in Adda Berga District, Central Ethiopia—a GIS based statistical approach. J of Geomatics 9:25–38

GSE (Geological survey of Ethiopia) (2000) Geology of the Gimbi area. Compiler Alemu, T. and Abebe, T., Memoir 15: p. 157

GSE (Geological survey of Ethiopia) (2005) Explanatory notes to the hydrogeological and hydrochemical maps of the Gimbi area. Compiler, Demis A, Muhedin A, Kefale T, Andarege M, Bisrat L, Michek R, Jiri S, Viona, IP.142. https://doi.org/10.1016/S0169-555X(99)00078-1

Guzzetti F, Carrara A, Cardinali M, Reichenbach P (1999) Landslide hazard evaluation: a review of current techniques and their application in a multi-scale study, central Italy. Geomorphology 31(1–4):181–216

Hamza T, Raghuvanshi TK (2016) GIS based landslide hazard evaluation and zonation—a case from Jeldu District, Central Ethiopia. Journal of King Saud University–Science. https://doi.org/10.1016/j.jksus.2016.05.002

Hoek E, Bray JW (1981) Rock slope engineering (revised third edition). Institute of Mining and Metallurgy, London, p 358

Kanungo DP, Arora MK, Sarkar S, Gupta RP (2006) A comparative study of conventional, ANN black box, fuzzy and combined neural and fuzzy weighting procedures for landslide susceptibility zonation in Darjeeling Himalayas. Eng Geol 85:347–366

Kazmin V (1973) Geological map of Ethiopia. Ministry of Mines, Energy and Water Resources, Geological Survey of Ethiopia, First edition. Addis Ababa

Keefer DV (2000) Statistical analysis of an earthquake-induced landslide distribution—the 1989 Loma Prieta, California event. Eng Geol 58:231–249

Lan HX, Zhou CH, Wang LJ, Zhang HY, Li RH (2004) Landslide hazard spatial analysis and prediction using GIS in the Xiaojiang watershed, Yunnan. China Eng Geol 76:109–128

Lee S, Min K (2001) Statistical analysis of landslide susceptibility at Yongin. Korean Environ Geol 40:1095–1113 https://doi.org/10.1007/s002540100310

Lee S, Rhyu JH, Won JS, Park HJ (2004) Determination and application of the weights for landslide susceptibility mapping using an artificial neural network at south. Korean Eng Geol 71:289–302

Leroi E (1997) Landslide risk mapping: problems, limitation and developments. In: Cruden F (ed) Landslide risk assessment. Balkema, Rotterdam, pp 239–250

Parise M, Jibson RW (2000) A seismic landslide susceptibility rating of geologic units based on analysis of characteristics of landslides triggered by the 17 January, 1994 Northridge, California earthquake. Eng Geol 58:251–270

Raghuvanshi TK, Ibrahim J, Ayalew D (2014) Slope stability susceptibility evaluation parameter (SSEP) rating scheme—an approach for landslide hazard zonation. J Afr Earth Sci 99:595–612

Raghuvanshi TK, Negassa L, Kala PM (2015) GIS based grid overlay method versus modeling approach—a comparative study for landslide hazard zonation (LHZ) in Meta Robi District of west Shewa Zone in Ethiopia. Egypt J Remote sensing Space Sci 18(2):235–250

Suzen ML, Doyuran V (2004) Data driven bivariate landslide susceptibility assessment using geographical information systems: a method and application to Asarsuyu catchment. Turkey Eng Geol 71:303–321

Terefa M (1991) Geology of the Kurmuk and Asosa area: preliminary report. Ethiopian Institute of Geological Surveys, pp 112

Varnes DJ (1984) Landslide hazard zonation: a review of principles and practice. UNESCO, Paris, pp 1–63

Wang X, Niu R (2009) Spatial forecast of landslides in three gorges based on spatial data mining. Sensors 9:2035–2061

Woldaregay K (2013) Review of the occurrences and influencing factors of landslides in the highlands of Ethiopia. Momona Ethiop. J. Sci. (MEJS) 5(1):3–31
Acknowledgements
We are thankful to the head of School of Earth Sciences, College of Natural and Computational Sciences, Addis Ababa University, for all kinds of support during the present study. We also thank the anonymous reviewers for their valuable comments to the manuscript.
About this article
Cite this article
Chimidi, G., Raghuvanshi, T.K. & Suryabhagavan, K.V. Landslide hazard evaluation and zonation in and around Gimbi town, western Ethiopia—a GIS-based statistical approach. Appl Geomat 9, 219–236 (2017). https://doi.org/10.1007/s12518-017-0195-x
Received:

Accepted:

Published:

Issue Date:
Keywords
Landslide hazard evaluation

Hazard index

Landslide hazard zonation