Abstract
Urbanization connotes to the growth of a metropolis on being subjected to criteria such as economic, social and political forces as well as the geomorphology of the metropolis. As population and its activities increase in a city, the boundary of the city expands to accommodate growth along the urban fringes, leading to fragmented urban morphology, thereby impacting local ecology. Towns and cities had bloomed post-independence in India, causing changes in the land use along the myriad landscapes and ecosystems of the country. These urban ecosystems were a consequence of unplanned development of industrial centres and uncontrolled growth of residential colonies, which altogether became hubs for economic, social, cultural, and political activities. A visualization of the past trends and patterns of growth enable the planning machineries to plan for appropriate basic infrastructure facilities (water, electricity, sanitation, etc.). This communication analyses the spatial patterns of Kolkata municipality—the 13th most populous and 8th largest urban agglomeration in the world. It has been one of the most prominent urban areas in eastern India which was once considered the capital of India during the erstwhile British colonial rule. The spatial patterns of urbanization of Kolkata with 10 km buffer have been analysed using temporal remote sensing data with zonal gradients and spatial metrics. The study area was divided into four zones and each zone was further divided into concentric circles of 1 km incrementing radii to understand the patterns and extent of urbanization at local levels. Its land use analysis has revealed a decline of vegetation from 33.6 % (1980) to 7.36 % (2010). During 2010, Kolkata's built-up had constituted 8.6 %, water bodies comprised of 3.15 %, whereas other categories made up about 80.87 %. Increased Shannon's entropy during the last decade highlights the tendency of sprawl that necessitated policy interventions to provide basic amenities. Spatial patterns through metrics indicated a compact and simple structured growth at the centre of the city and a distributed complex shape in the buffer region. Further, these metrics indicated that the city is on the verge of becoming a single large urban patch that would affect its ecological integrity. Temporal analyses of spatial patterns of urbanization help the city administration and city planners to visualize and understand the growth of the city so that they can provide better resource planning to create a sustainable city.
Access options
Buy single article
Instant access to the full article PDF.
US$ 39.95
Tax calculation will be finalised during checkout.
Subscribe to journal
Immediate online access to all issues from 2019. Subscription will auto renew annually.
US$ 79
Tax calculation will be finalised during checkout.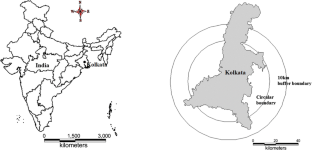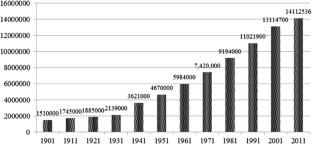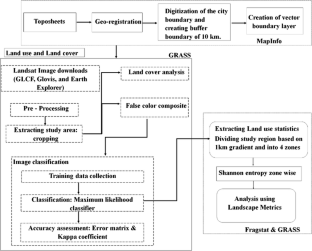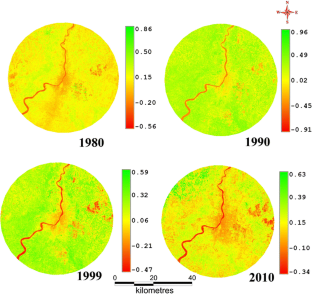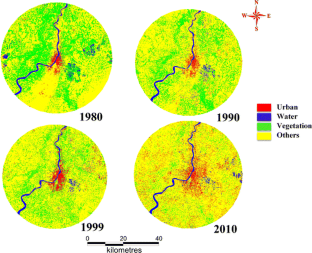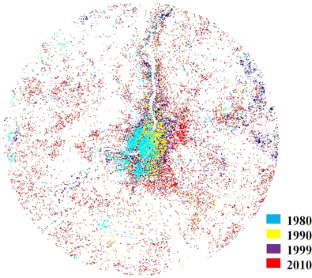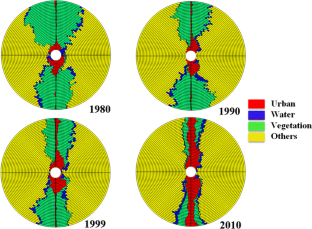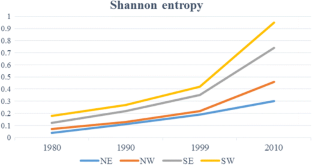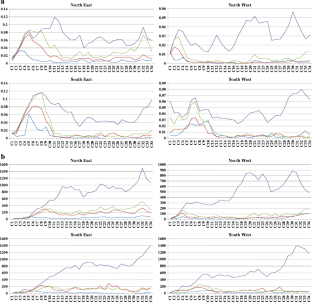 References
Angel S, Parent J, Civco D (2007) Urban sprawl metrics: an analysis of global urban expansion using GIS. Proceedings of ASPRS 2007 Annual Conference, Tampa, Florida May 7–11.URL: http://clear.uconn.edu/publications/research/tech_papers/Angel_et_al_ASPRS2007.pdf

Bhatta B (2009) Analysis of urban growth pattern using remote sensing and GIS: a case study of Kolkata, India. Int J Remote Sens 30(18):4733–4746

Bhatta B (2010) Analysis of urban growth and sprawl from remote sensing data. Springer, Berlin

Bonnerjee S (2012) Multi-functional role of the urban waterways: a case study of Kolkata. In Proceedings of Internal River Symposium, at Melbourne, Australia, 8–12 Oct. 2012

Bunting SW, Kundu N, Mukherjee M (2002) Situation analysis of production systems and natural resource use in PU Kolkata. Institute of Aquaculture, Sterling

Census of India, 2011, (http://censusindia.gov.in/)

Congalton RG (1991) A review of assessing the accuracy of classifications of remotely sensed data. Remote Sens Environ 37:35–46

Congalton RG, Oderwald RG, Mead RA (1983) Assessing Landsat classification accuracy using discrete multivariate analysis statistical techniques. Photogramm Eng Remote Sens 49:1671–1678

Duda RO, Hart PE, Stork DG (2000) Pattern classification. 2nd edn. Wiley, New York, ISBN 9814-12-602-0

Galster G, Hanson R, Ratclfee MR (2001) Wrestling sprawl to the ground: defining and measuring an elusive concept. Hous Policy Debate 12(4):681–717

Gregory P (2005) A synthesis of peri- urban research of Kumasi, Hubli Dharwad and Kolkata peri-urban interfaces, Development Planning Unit (DPU), University college London. Available at www.nrsp.org/database/documents/2812.pdf

Gustafson EJ (1998) Quantifying landscape spatial pattern: what is the state of the art? Ecosystems 1:143–156

Herold M, Clarke K, Scepan J (2002) The use of remote sensing and landscape metrics to describe structures and changes in urban land uses. Environ Plan 34:1443–1458

Herold M, Goldstein N, Clarke K (2003) The spatiotemporal form of urban growth: measurement, analysis and modeling. Remote Sens Environ 86:286–302

Jiang F, Liu S, Yuan H, Zhang Q (2007) Measuring urban sprawl in Beijing with geo-spatial indices. J Geogr Sci 17:469–478

Lillesand TM, Kiefer RW (2002) Remote sensing and image interpretation, 4th edition, Wiley, New York, ISBN 9971-51-427-3. 215–216

Maiti S, Agrawal PK (2005) Environmental degradation in the context of growing urbanization: a focus on the metropolitan cities of India. J Hum Ecol 17(4):277–287

Maktav D, Erbek FS (2005) Analyse of urban growth using multi-temporal satellite data in Istanbul, Turkey. Int J Remote Sens 26(4):797–810

McGarigal K, Marks BJ (1995) FRAGSTATS: spatial pattern analysis program for quantifying landscape structure. USDA Forest Service General Technical Report PNW-351

Mitrakis NE, Topalogou CA et al (2008) A novel self-organising neuro-fuzzy multilayered classifier for land cover classification of a VHR image. Int J Remote Sens 29:4061–4087

Peiser R (2001) Decomposing urban sprawl. Town Plan Rev 72(3):275–298

Rahman A (2007) Application of remote sensing and GIS techniques for urban environmental management and sustainable development of Delhi, India, applied remote sensing for urban planning, governance and sustainability. Springer, New York, pp 165–197

Ramachandra TV, Kumar U (2008) Wetlands of greater Bangalore, India: automatic delineation through pattern classifiers. Electronic Green J 26:1076–7975

Ramachandra TV, Bharath AH, Durgappa DS (2012) Insights to urban dynamics through landscape spatial pattern analysis. Int J Appl Earth Obs Geoinformation 18:329–343

Stow DA, Chen DM (2002) Sensitivity of multi-temporal NOAA AVHRR data of an urbanizing region to land use/cover changes and mis-registration. Remote Sens Environ 80:297–307

Sudhira HS, Ramachandra TV, Jagadish KS (2004) Urban sprawl: metrics, dynamics and modelling using G1S. Int J Appl Earth Obs Geoinformation 5:29–39

Sudhira HS, Ramachandra TV, Bala Subramanya MH (2007) City profile: Bangalore. Cities l24 (4):379–390

Taubenbock H, Esch T, Thiel M et al (2008a) Urban structure analysis of mega city Mexico City using multi-sensoral remote sensing data. In Proceedings of SPIE-Europe (international society for optical engineering) conference, Cardiff, Wales

Taubenbock H, Wegmann M, Berger C, Breunig M, Roth A, Mehl H, (2008b) Spatiotemporal analysis of Indian megacities. In Proceedings of the international archives of the photogrammetry, remote sensing and spatial information sciences, XXXVII: 75–82, Part B2

Torrens PM, Alberti M (2000) Measuring sprawl. Working paper no. 27, Centre for Advanced Spatial Analysis. University College, London

Turner BL (1994) Local faces, global flows: the role of land use and land cover in global environmental change. Land Degrad Dev 5:71–78

Turner MG, Gardner RH, O'Neill RV (2001) Landscape ecology in theory and practice: pattern and process. Springer, New York

United Nations Population Fund (2007) The state of world population 2007: unleashing the potential of urban growth, United Nations publications, and chapter 1

Yeh AGO, Li X (1999) Economic development and agricultural land loss in the Pearl River delta, China. Habitat Int 23:373–390

Zhang L, Wu J, Zhen Y, Shu J (2004) A GIS-based gradient analysis of urban landscape pattern of Shanghai metropolitan area, China. Landsc Urban Plan 69:1–16
Acknowledgments
We are grateful to NRDMS Division, The Ministry of Science and Technology, Government of India; ISRO-IISc Space Technology Cell, Indian Institute of Science; and Centre for infrastructure, Sustainable Transportation and Urban Planning (CiSTUP), Indian Institute of Science for the financial and infrastructure support. Remote sensing data were downloaded from public domain (http://glcf.umiacs.umd.edu/data). Latest data of IRS 1D were procured from National Remote Sensing Centre, Hyderabad
About this article
Cite this article
Ramachandra, T.V., Aithal, B.H. & Sowmyashree, M.V. Urban structure in Kolkata: metrics and modelling through geo-informatics. Appl Geomat 6, 229–244 (2014). https://doi.org/10.1007/s12518-014-0135-y
Received:

Accepted:

Published:

Issue Date:
Keywords
Urbanization

Urban sprawl

Urban pattern

Remote sensing

Spatial metrics

Kolkata