Abstract
This study is to recreate a tectonic and depositional model of the limestones which crop out in the southwest of Sulaimani City on an elongate homoclinic ridge of the Baranan Mountain oriented NW–SE. This has been accomplished by the incorporation of lithofacies and microfacies. The limestones are characterized by yellowish (milky) to bluish-gray, well-bedded to massive, fossiliferous-reefal limestone with gastropod and pelecypods. Ninety-five samples are gathered for petrographic study under the reflected light microscope, in addition to extensive field inspections in five sections. As a result, it appears that the marginal platform and associated facies dominated through the Late Paleocene-Early Eocene cycle, with coralgal boundstone and nummulitic grainstone on the platform build-up, fore-reef shoal algal bioclastic-nummulite, echinoid packstone on the platform edge, and lagoonal peloidal, miliolid, soritids, algal wackestone to packstone on the top platform. Furthermore, it was determined that the Sinjar Formation is synorogenic carbonate sedimentation that evolved as a shallow-water limestone on the distal part (forebulge) of the Paleogene Zagros Peripheral Foreland Basin. Mixed-supported conglomerate lenticular beds founded in marl and marly limestone of the uppermost part of the Sinjar Formation manifest a subsequent erosion of subaerial areas and shallowing upwards from the Sinjar (Khurmala) Formation to the Gercus Formation. Finally, the Tectonic configuration of Zagros Peripheral Foreland basins during Paleocene to Eocene is presented by the sedimentation of Red Bed Series (molasse facies) in the wedge-top, Kolosh Formation (turbiditic facies) in the foredeep, Sinjar Formation (carbonate facies) on the forebulge, and Aliji Formation (open marine facies) in the back-bulge depozones.
Access options
Buy single article
Instant access to the full article PDF.
USD 39.95
Price excludes VAT (USA)
Tax calculation will be finalised during checkout.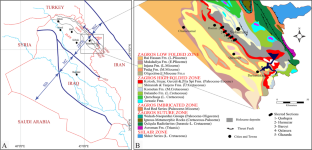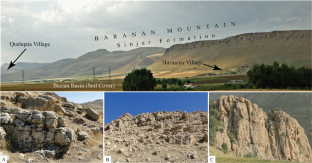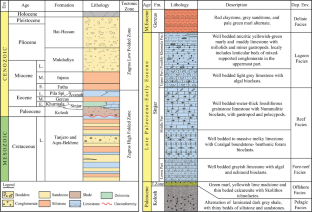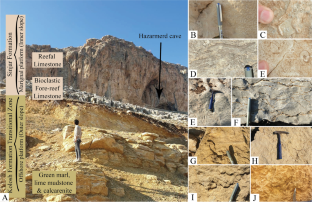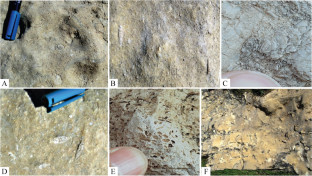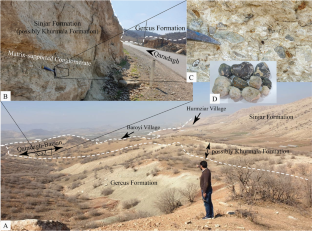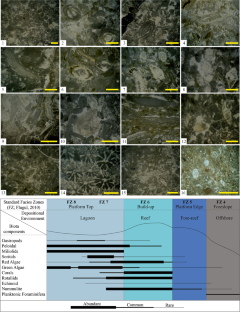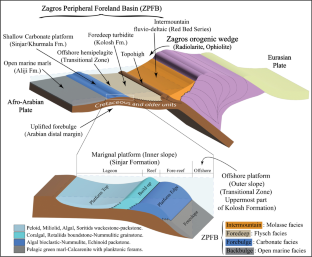 References
Al-Dulaimi EK, Al-dulaimi SI (2017) A study of biostratigraphy of sinjar formation in selected sections from northern iraq. Iraq J Sci 58:891–916

Al-Qayim B, Barzani A (2021) Facies and stratigraphic associations of sinjar and khurmala formation, dohuk area, kurdistan region, iraq. Arab J Geosci 14:1–18

Al-Qayim B, Nisan B (1989) Sedimentary facies analysis of paleogene mixed carbonate clastic sequence, haibat-sultan ridge, ne-iraq. Iraqi J Sci 30:525–557

Al-Qayim B, Omer A, Koyi H (2012) Tectonostratigraphic overview of the zagros suture zone, Kurdistan region, Northeast Iraq. Geoarabia 17:109–156

Al-Qayim B, Salman L (1986) Lithofacies analysis of paleogene mixed carbonate area north Iraq. J Geol Soc 19(3)

Al-Qayim BA, Al-Mutwali MM, Nissan BY (2008) Flysch–molasse sediments of the paleogene foreland basin of north arabia, shiranish area, North Iraq. Iraq Bullet Geol Min 4:1–20

Al-Sakry S (2006) Sequence stratigraphy of the paleocene–lower eocene succession, northeastern iraq. Unpublished ph. D. Thesis, Baghdad University, 240 pp

Al-Shaikh Z, Saleh S, Abdo H (1975) Contribution to the geology of shaqlawa-harir area. Iraq J Geo Soc (Special issue):55–67

Al-Shiwaily A, Al-Mosawi H, Al-Saffi I, Bashir W, Ibrahim A, Al-Jubouri B (2011) Semi detailed geological mapping of sulaimaniyah—surdash area. Iraq Geological Survey, Baghdad

Al-Surdashy S (1988). Study of facies and depositional environments of Sinjar Formation in Sulaimaniya sections, northeastern Iraq. Unpublished m. Sc. Thesis, Salahaddin University, pp 164

Al-Surdashy A, Lawa FA (1993) Stratigraphy, microfacies, and depositional environment of Sinjar Formation in selected sections, northeast Iraq. Special issue proceeding of the 2nd scientific conference, University of Salahaddin

Allen PA, Allen JR (2013) Basin analysis: principles and application to petroleum play assessment, John Wiley & Sons

Allen PA, Burgess PM, Galewsky J, Sinclair HD (2001) Flexural-eustatic numerical model for drowning of the eocene perialpine carbonate ramp and implications for alpine geodynamics. Geol Soc Am Bull 113:1052–1066

Ameen BM (2006) Sequence stratigraphy of gercus formation (middle eocene) in sulaimaniya area, northeastern iraq. Iraq Natl J Earth Sci 6:23–32

Ameen F, Mardan F (2018) Sequence stratigraphic analysis of the Middle Paleocene-Middle Eocene in the Sulaimani District (Kurdistan Region), North Iraq. In: Boughdiri M, Bádenas B, Selden P, Jaillard E, Bengtson P, Granier B (eds) Paleobiodiversity and tectono-sedimentary records in the Mediterranean Tethys and related Eastern Areas. CAJG 2018. Advances in Science, Technology & Innovation. Springer, Cham. https://doi.org/10.1007/978-3-030-01452-0_50

Baccelle L, Bosellini A (1965) Diagrammi per la stima visiva della composizione percentuale nelle rocce sedimentarie. — Annali della Université di Ferrara, Sezione IX, Science Geologiche e Paleontologiche 1:59–62

Baziany M (2006) Stratigraphy and sedimentology of former Qulqula conglomerate formation, Kurdistan Region, NE-Iraq. Unpublished MSc. Thesis, University Of Sulaimani, p 103

Baziany MM (2009) Geology of bedded Gypsum in the Gercus Formation (Early-Middle Eocene) in Dohuk area, Kurdistan Region, Northern Iraq. In: The proceedings of third international conferences on geo-resources of the Middle East and North Africa (GRMENA-III). Cairo University, Egypt

Baziany, M. 2014. Depositional systems and sedimentary basin analysis of the qulqula radiolarian formation of the zagros suture zone, sulaimani area, iraqi kurdistan region. Unpublished ph. D. Thesis, university of sulaimani.

Beaumont C (1981) Foreland Basins. Geophysical J Int 65:291–329

Buday T (1980) The regional geology of Iraq, Part I, stratigraphy and paleogeography. In: Kassab II, Jassim SZ (eds) Geological survey of Iraq (GEOSURV), Baghdad, p 445

Buday T, Jassim S (1987) The regional geology of iraq, tectonism, magmatism and metamorphism, 2nd edn. Geosurv, Baghdad, p 352

Daoud H (2009) Carbonate microfacies analysis of sinjar formation from qara dagh mountain, southwest of sulaimaniyah city, kurdistan region, Iraq. World Acad Sci Eng Technol 58:1227–1237

Decelles PG, Giles KA (1996) Foreland basin systems. Basin Res 8:105–123

Dickinson WR (1974) Tectonics and Sedimentation. SEPM Special publication No. 22, Society for Sedimentary Geology. https://doi.org/10.2110/pec.74.22

Dorobek SL (1995) Synorogenic carbonate platforms and reefs in foreland basins: controls on stratigraphic evolution and platform/reef morphology. In: Dorobek SL,  Ross GM (eds) Stratigraphic evolution of foreland basins, vol. 52. SEPM Special Publication, pp 126–147

Dunham RJ (1962) Classification of carbonate rocks according to depositional texture. In: Ham WE (ed) Classification of carbonate rocks. AAPG, Tulsa, pp 108–121

Embry AF, Klovan JE (1971) A late devonian reef tract on northeastern banks island, NWT. Bull Can Pet Geol 19:730–781

Flügel E (2010) Microfacies of carbonate rocks: analysis, interpretation and application, vol 976. Springer, Berlin, p 2004

Fouad SF (2015) Tectonic map of iraq, scale 1: 1000 000, 2012. Iraq Bullet Geol Min 11:1–7

Jassim SZ, Goff JC (2006) Geology of Iraq, 1st ed. Published by Dolin, Prague and Moravian Museum, Brno, p 341

Jassim S, Al Shaibani S, Ajina T (1975) Possible middle eocene block movements in the derbendikhan area, Northeastern Iraq. J Geol Soc Iraq 1(Special issue):2–10

Karim K (2003) A conglomerate bed as a possible lower boundary of Qulqula Radiolarian Formation. Kurdistan Acad J (KAJ) Part A 2:45–64

Karim KH (1997) Stratigraphy of the Sartak-Bamo area, Northeastern Iraq. J Iraq Geolog Soc 31(1)

Karim KH (2016) Facies changes between kolosh and sinjar formations along zagros fold–thrust belt in Iraq Kurdistan Region. J Geogr Geol 8(1):1–13

Karim KH, Baziany MM, Khanaq PA (2018a) New ideas and critical review of middle eocene gercus formation, Kurdistan Region, Ne-Iraq. J Zanco Sulaimani-A (JZS-A) 20(2):81–94

Karim KH, Daoud HS, Kuradawy AR (2018b) Record of Khurmala Formation (Late Paleocene – Early Eocene) in the Sulaimaniah Governorate, Kurdistan Region. Northeast Iraq. Iraq Geol J 51(1):34–55

Karim KH, Surdashy AM (2005) Tectonic and depositional history of upper cretaceous tanjero formation in sulaimaniya area ne-iraq. J Zankoy Sulaimani 8:1–20

Mohammad YO, Cornell DH, Qaradaghi JH, Mohammad FO (2014) Geochemistry and ar–ar muscovite ages of the daraban leucogranite, mawat ophiolite, northeastern iraq: implications for arabia–eurasia continental collision. J Asian Earth Sci 86:151–165

Puigdefàbregas C, Muñoz JA, Marzo M (1986) Thrust belt development in the Eastern Pyrenees and related depositional sequences in the Southern Foreland Basin. In: Allen PA, Homewood P (eds) Foreland basins, Spec. Publs. Int. Ass. Sediment. 8. Blackwell Publishing Ltd., Oxford, pp 229–246. https://doi.org/10.1002/9781444303810.ch12

Read J (1980) Carbonate ramp-to-basin transitions and foreland basin evolution, middle ordovician, virginia appalachians. AAPG Bull 64:1575–1612

Sabbatino M, Tavani S, Vitale S, Ogata K, Corradetti S, Consorti L, Arienzo I, Cipriani A, Parente M (2021) Forebulge migration in the foreland basin system of the central-southern apennine fold-thrust belt (italy): new high-resolution sr-isotope dating constraints. Basin Res 33:2817–2836

Sabbatino M, Vitale S, Tavani S, Consorti L, Corradetti A, Cipriani A, Arienzo I, Parente M (2020) Constraining the onset of flexural subsidence and peripheral bulge extension in the Miocene foreland of the southern apennines (Italy) by Sr-isotope stratigraphy. Sedimenta Geol 401:105634. https://doi.org/10.1016/j.sedgeo.2020.105634

Salih HD (2012) Larger benthic foraminiferal assemblages from sinjar formation, sw Sulaimaniyah city Kurdistan Region, Iraq. Iraq Bullet Geol Min 8:1–17

Saura E, Vergés J, Homke S, Blanc E, Serra-Kiel J, Bernaola G, Casciello E, Fernández N, Romaire I, Casini G, Embry JC, Sharp IR, Hunt DW (2011) Basin architecture and growth folding of the nw zagros early foreland basin during the late cretaceous and early tertiary. J Geol Soc 168:235–250

Scholle PA, Ulmer-Scholle DS (2003) A color guide to the petrography of carbonate rocks: grains, textures, porosity, diagenesis. AAPG Memoir 77:1–477

Sinclair H (1997) Tectonostratigraphic model for underfilled peripheral foreland basins: an alpine perspective. Geol Soc Am Bullet 109:324–346

Sissakian VK, Al-Jiburi BS (2014) Stratigraphy of the high folded zone. Iraqi Bull Geol Min 6:73–161

Van Bellen R, Dunnington H, Wetzel R & Morton D (1959) Lexique stratigraphique international, asie. Fascicule 10a Iraq. Proceedings congress geologique international-commission de stratigraphie: Paris, 333

Walker KR, Shanmugam G, Ruppel SC (1984) A model for carbonate to terrigenous clastic sequences: discussion and reply: Geol Soc Am Bullet 95:753

Zainy M, Al-Ansari N, Bauer T, Ask M (2017) The tectonic and structural classifications of the western part of the zagros fold and thrust belt, North Iraq, review and discussion. J Earth Sci Geotech Eng 7:71–89
Ethics declarations
Conflict of interest
The author(s) declare that they have no competing interests.
Additional information
Responsible Editor: Attila Ciner
Rights and permissions
Springer Nature or its licensor (e.g. a society or other partner) holds exclusive rights to this article under a publishing agreement with the author(s) or other rightsholder(s); author self-archiving of the accepted manuscript version of this article is solely governed by the terms of such publishing agreement and applicable law.
About this article
Cite this article
Hama Salih, H.M., Baziany, M.M., Hama Salih, T.M. et al. Synorogenic carbonate sedimentation in the Zagros Peripheral Foreland Basin: the Sinjar Formation in Sulaimani area, Iraqi Kurdistan region as a case study. Arab J Geosci 15, 1716 (2022). https://doi.org/10.1007/s12517-022-10969-8
Received:

Accepted:

Published:

DOI: https://doi.org/10.1007/s12517-022-10969-8
Keywords
Sinjar Formation

Zagros Foreland Basin

Synorogenic carbonate sedimentation

Baranan anticline

Iraqi Kurdistan Region