Abstract
An integrated hydrogeological and geophysical survey was carried out to determine the geometry and the lateral extent of potential hydrogeological units in Gafsa North. The layering parameters (resistivity and thickness) were obtained from the interpretations of electrical resistivity survey using the vertical electrical sounding technique and the available data; gamma ray and formation resistivity logs of the existing wells were used to establish geoelectrical cross-sections. However, seismic section permitted to delineate the subsurface geometry of the basin. The geoelectrical cross-sections indicated three main geological units: Plio-Quaternary, Miocene, and Upper Cretaceous exhibiting lateral facies and thickness variations. Piezometric map shows that groundwaters flow from north to south suggesting a general lowering of the groundwater table level toward the south, which can be attributed to the over-exploitation of groundwater to satisfy the increased demand subsequent to the development of agricultural activities. The amount of clays within the Plio-Quaternary aquifer increases from north to south and influences the groundwater flow in the basin. The hydrodynamics is also predisposed to the subsurface structural configuration of the basin controlled by inherited tectonics such folding and faulting.
Access options
Buy single article
Instant access to the full article PDF.
USD 39.95
Price excludes VAT (USA)
Tax calculation will be finalised during checkout.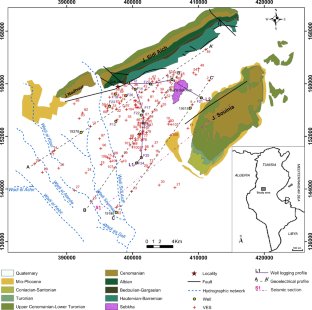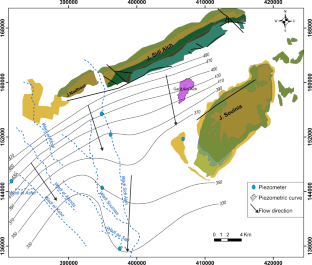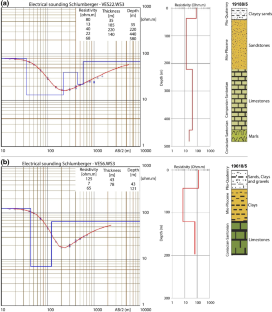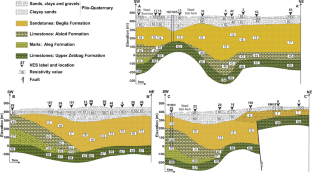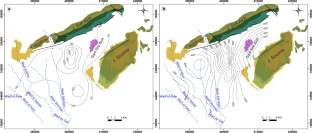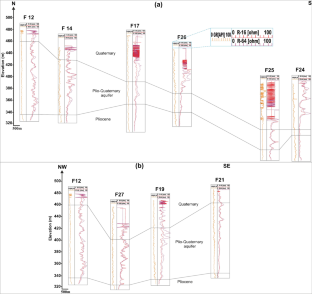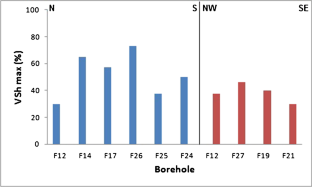 References
Abdelkader M, Gouasmia M, Dhahri F, Moumni L, Soussi M (2021) Integrated geoelectrical and hydrogeological study of Garaat Sened area, west-central Tunisia. Arab J Geosci 14(2):1–11

Amri Tanfous D, Dhahri F, Soussi M, Gabtni H, Bédir M (2017) The role of E-W basement faults in the Mesozoic geodynamic evolution of the Gafsa and Chotts basins, south-central Tunisia. J Earth Syst Sci 126(7):104

Asquith G, Gibson C (1982) Basic well log analysis for geologists. AAPG Publications, Tulsa, OK, p 216

Bassiouni Z (1994) Theory, measurement and interpretation of well logs. SPE text book series (Vol. 4). Richardson: Society of Petroleum Engineers. ISBN 978–1–55563–056–0

Bédir M (1995) Mécanismes géodynamiques des bassins associés aux couloirs de coulissement de la marge atlasique de la Tunisie. Seismostratigraphie, seismotectonique et implications pétrolières. Thèse. Doct. Es Sci, Univ. Tunis II. Fac. Sci. Tunis. 470 p

Bédir M, Boukadi N, Tlig S, Ben Timzal F, Zitouni L, Alouani R, Slimane F, Bobier C, Zargouni F (2001) Subsurface Mesozoic basins in the central Atlas of Tunisia, tectonics, sequence deposit distribution and hydrocarbon potential. A.A.P.G. Bull 85:885–907

Boukadi N, Bédir M, Zargouni F (1998) Geometric and kinematic analyses of pull-apart basins produced by en echelon strike-slip of Gafsa fault systems (Southern Tunisia). Africa Geosci Rev 5:327–338

Burollet PF (1956) Contribution à l'étude stratigraphique de la Tunisie centrale. Ann Mines Géol 18:350

Chapellier D (1987) Diagraphies appliquées à l'hydrologie. Lavoisier, Paris, p 164

CRDA- Gafsa (2016) Note sur l'exploitation de la nappe du Gafsa nord. Rapport, ARE-Gafsa, 3 p.

Datel JV, Kobr M, Prochazka M (2009) Well logging methods in groundwater surveys of complicated aquifer systems: Bohemian Cretaceous Basin. Environ Geol 57(5):1021–1034

Dhahri F, Boukadi N (2010) The evolution of pre-existing structures during the tectonic inversion process of the Atlas chain of Tunisia. J Afr Earth Sci 56:139–149

El Kashout M, Aziz AA, Soliman M, Mesbah H (2010) Hydrogeophysical investigation of groundwater potential in the El Bawiti, Northern Bahariya Oasis, Western Desert. Egypt Arab J Geosci.https://doi.org/10.1007/s12517-010-0253-8.

Ellis DV, Singer JM (2007) Well logging for earth scientists. Springer, Berlin. https://doi.org/10.1007/978-1-4020-4602-5

Farhat H, Moumni L (1989) Etude hydrogéologique du basin du Gafsa-Nord. DGRE, Tunis, p 159.

Gouasmia M, Gasmi M, Mhamdi A, Bouri S (2006) Ben Dhia H (2006) Prospection géoélectrique pour l'étude de l'aquifère thermal des calcaires récifaux, Hmeïma-Boujabeur (Tunisie Centre Ouest). Comptes Rendus De L'académie Des Sciences (CRAS) 338:1219–1227

Gouasmia M, Khorchani H, Mhamdi A, Dhahri F, Soussi M (2018) Hydrogeological characterization of a carbonate aquifer using geophysical and geochemical approach: case of the Krachoua Formation in Tataouine area. South Tunisia Arab J Geosci 11(24):786. https://doi.org/10.1007/s12517-018-4150-x

Guelala R, Inoubli MH, Moumni L (2009) La Fiabilité de l'Interprétation des Diagraphies dans la Détermination des Caractéristiques d'un Aquifère Exemple: l'Aquifère Crétacé Inférieur du Djérid (sud ouest de la Tunisie). La Houille Blanche 3:148–151

Hamed Y (2013) The hydrogeochemical characterization of groundwater in Gafsa-Sidi Boubaker region (Southwestern Tunisia). Arab J Geosci 6(3):697–710

Hezzi MF, Guellala R, Ferjani AH, Ferchichi Y, Merzoughi A, Inoubli MH (2021) Interpretation of geometric elements of the Fahs aquifer system, northeast Tunisia: joint use of vertical electrical sounding data, well logs and satellite imagery. Nat Resour Res 30(1):321–337

INS, 2014 : Recensement Général de la Population et de l'Habitat 2014: Vol. 1. ISBN. 9078–9973–853–39–4.

Keys WS (1990) Borehole geophysics applied to groundwater investigations, US Geological Survey Publication TWRI 2-E2.

Kobr M, Krasny J (2000) Well-logging in regional hydrogeology: the Police Cretaceous Basin. Eur J Environ Eng Geophys 6:47–60

Lasmar RB, Guellala R, Zouhri L, Naouali BS, Garrach M, Inoubli MH (2016) Etude hydrogéologique des séries triasiques dans la région de Jeffara-Dahar (Sud Tunisien): apport des diagraphies et de la sismique réflexion. Estud Geol 72(1):044

Lasmar RB, Guellala R, Garrach M, Mahroug A, Naouali BS, Inoubli MH (2017) The Tunisian Jurassic aquifer in the North African Sahara aquifer system: information derived from two-dimensional seismic reflection and well logs. Hydrogeol J 25(8):2281–2301

Liu H (2017) Principles and applications of well logging. Springer, Berlin. https://doi.org/10.1007/978-3-662-54977-3

S Luthi 2001 Geological well logs: Their use in reservoir modeling Springer Berlin -10: 3540678409

Majhi A, Monash P, Pugazhenthi G (2009) Fabrication and characterization of γ-Al2O3–clay composite ultrafiltration membrane for the separation of electrolytes from its aqueous solution. J Membr Sci 340(1–2):181–191

MEHAT (2011) Atlas du Gouvernorat de Gafsa, République Tunisienne, Ministère du transport et de l'équipement, Direction Générale de l'Aménagement du Territoire. 126 p.

Mhamdi A, Dhahri F, Gouasmia M, Inoubli N, Soussi M, Ben Dhia H (2013) Groundwater investigation in the southern part of gabes using resistivity sounding, southern Tunisia. Arab J Geosci 6(2):601–614

Mokadem N, Demdoum A, Hamed Y, Bouri S, Hadji R, Boyce A, Laouar R, Sâad A (2016) Hydrogeochemical and stable isotope data of groundwater of a multi-aquifer system: Northern Gafsa basin - central Tunisia. J Afr Earth Sc 114:174–191

M'rabet A (1981) Differentiation of environments of dolomite formation. Lower Cretaceous Central Tunisia Sedimentol 28(3):331–352

Oteri AU (1988) Electric log interpretation for the evaluation of salt water intrusion in the eastern Niger Delta. Hydrol Sci J 33(1):19–30

Othman A, Ibraheem IM, Ghazala H, Mesbah H, Dahlin T (2019) Hydrogeophysical and hydrochemical characteristics of Pliocene groundwater aquifer at the area northwest El Sadat city, West Nile Delta. Egypt J African Earth Sci 150:1–11

Serra O (1984) Fundamentals of well log interpretation, vol 1: the acquisition of data. In: Developments in Petroleum Science 15A. Elsevier, New York, 423 pp. https://doi.org/10.1007/s12517-018-4036-y.

Slimani M, Cudennec M, Feki H (2007) Structure of the rainfall gradient in the Mediterranean-Sahara transition in Tunisia: geographical determinants and seasonality. Hydrol Sci J 52(6):1088–1102. https://doi.org/10.1623/hysj.52.6.1088

Sree Devi PD, Srinivasulu S, Raju KK (2001) Delineation of groundwater potential zones and electrical studies for groundwater exploration. J Environ Geol 40:1252–1264

Temples TJ, Waddell MG (1996) Application of petroleum geophysical well logging and sampling techniques for evaluating aquifer characteristics. Ground Water 34(3):523–531

Xing L, Huang L, Yang Y, Xu J, Zhang W, Chi G, Hou X (2018) The blocking effect of clay in groundwater systems: a case study in an inland plain area. International journal of environmental research and public health, 15(9), 1816.

Yermani M, Zouari K, Michelot JL, Mamou A, Moumni L (2002) Approche géochimique du fonctionnement de la nappe profonde de Gafsa Nord (Tunisie centrale) Geochemical approach to the functioning of the Gafsa North deep aquifer (central Tunisia). Hydrol Sci J 48(1):95–108

Zargouni F (1985) Tectonique de l'Atlas méridional de Tunisie. Thèse, Doctorat es Sciences, Université de Louis Pasteur de Strasbourg, France, Evolution géométrique et cinématique des structures en zones de cisaillement, p 306
Ethics declarations
Conflict of Interest
The authors declare that they have no competing interests.
Additional information
Responsible Editor: Selvam Sekar
This paper was selected from the 3rd Conference of the Arabian Journal of Geosciences (CAJG), Tunisia 2020
About this article
Cite this article
Gouasmia, M., Mhamdi, A., Dhahri, F. et al. Geophysical and hydrogeological investigation to study the aquifer potential of northern Gafsa basin (central Tunisia). Arab J Geosci 15, 433 (2022). https://doi.org/10.1007/s12517-022-09666-3
Received:

Accepted:

Published:

DOI: https://doi.org/10.1007/s12517-022-09666-3
Keywords