Abstract
Alternating degrees of solid waste management (SWM) are currently practiced in different parts of the 10,452 km2 Lebanese Middle Eastern country, with the exception of municipal solid waste, which constitutes about 90% of the total solid waste stream generated in Lebanon. Organic wastes (green wastes) are by far the largest component of the municipal solid wastes (55%), whereby only a minimal portion is recovered through composting (17%), and the remaining putrescible with the wastes rejects are baled and sent to the sanitary Naameh landfill for associated disposal. Overreliance on this landfill was the case where it operated for almost two decades and held 15 million tons of wastes. In order to adequately assess the contamination risks pertaining to the landfill, understanding the leachate characteristics is crucial. In the aim of achieving this purpose, chemical analysis was performed and the seasonal variation of the parameters was monitored, including pH, EC, BOD, COD, chloride, ammonia-N, orthophosphate, and sulfate. Also, metal parameters (Cd, Cr, Cu, Fe, Pb, Hg, and Ni) were tested for assessing the infiltration risk. The preliminary data obtained were statistically diagnosed through principal component analysis by Spadv55 software. Elevated levels of COD (6349 mg/L) and mercury (0.31 mg/L) were detected in comparison with the other tested parameters which were in conformity with the leachate characteristics of a 16-year-old landfill. However, the risks posed are minimal due to the domestic nature of the wastes. The results obtained indicated that the landfill is in its methanogenic phases and that the leachate produced needs treatment prior to discharge. Treatment will help in minimizing the negative effects on human health and the environment as well as in reducing the risk of groundwater and surface water contamination.
Access options
Buy single article
Instant access to the full article PDF.
USD 39.95
Price includes VAT (USA)
Tax calculation will be finalised during checkout.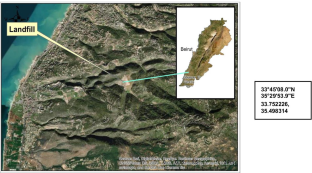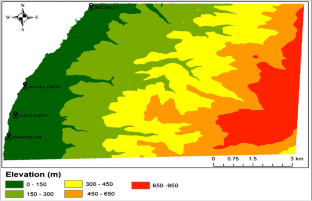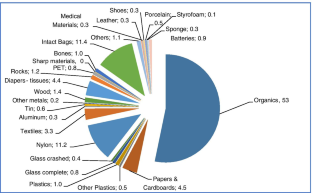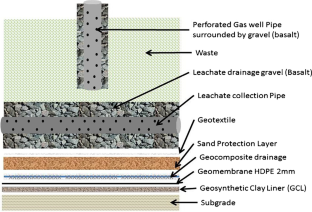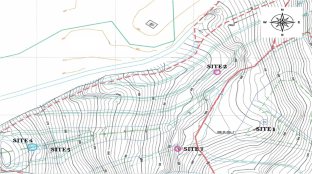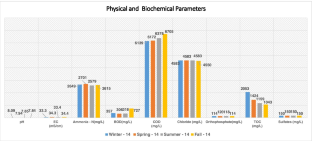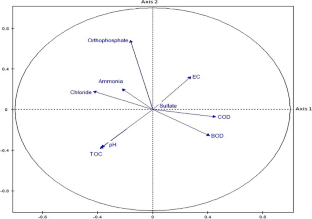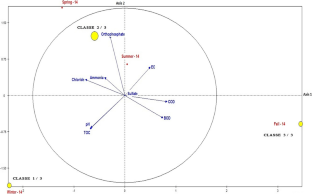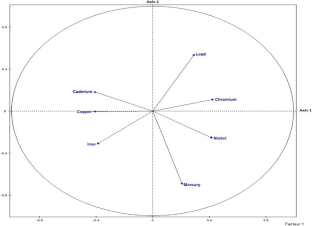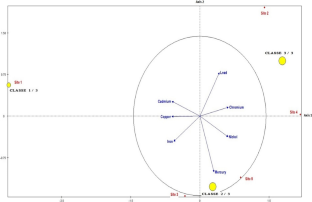 References
Abbas AA, Jingsong G, Ping LZ et al (2009) Review on landfill leachate treatments. Am J Appl Sci 6:672–684

Abdul Kadir A., Azhari N. W. and S. N. Jamaludin, (2016). An overview of organic waste composting. MATEC Web of Conferences, Volume 47. The 3rd International Conference on Civil and Environmental Engineering for Sustainability (IConCEES 2015), https://doi.org/10.1051/matecconf/20164705025. EDP Sciences.

Alemayehu T, Mebrahtu G, Hadera A, Bekele DN (2019) Assessment of the impact of landfill leachate on groundwater and surrounding surface water: a case study of Mekelle city, Northern Ethiopia. Sustainable Water Resources Management 5:1641–1649. https://doi.org/10.1007/s40899-019-00328-z

Aluko OO, Sridhar MKC, Oluwande PA (2003) Characterization of leachates from a municipal solid waste landfill site in Ibadan, Nigeria. Journal of Environmental Health Research 2:33–37

Al-Wabel MI, Al Yehya WS, AL-Farraj AS, et al (2011) Characteristics of landfill leachates and bio-solids of municipal solid waste (MSW) in Riyadh City, Saudi Arabia. J Saudi Soc Agric Sci 10:65–70. https://doi.org/10.1016/j.jssas.2011.03.009

Aydi A (2015) Assessment of heavy metal contamination risk in soils of landfill of Bizerte (Tunisia) with a focus on application of pollution indicators. Environmental Earth Science Journal 74:3019–3027

Aydi A., Mhimdi A., Hamdi I et al (2020) Application of electrical resistivity tomography and hydro-chemical analysis for an integrated environmental assessment. Environmental Nanotechnology, Monitoring and Management 14:100351.

Bhalla B, Saini MS, Jha MK (2013) Effect of age and seasonal variations on leachate characteristics of municipal solid waste landfill. International Journal of Research in Engineering and Technology 2:223–232

Belevi H, Baccini P (1989) Long-term behavior of municipal solid waste landfills. Waste Manage Res 7:43–56. https://doi.org/10.1016/0734-242X(89)90007-4

Chu LM, Cheung KC, Wong MH (1994) Variations in the chemical properties of landfill leachate. Environ Manage 18:105–117. https://doi.org/10.1007/BF02393753

Cotman M, Gotvajn A (2010) Comparison of different physico-chemical methods for the removal of toxicants from landfill leachate. J Hazard Mater 178:298–305. https://doi.org/10.1016/j.jhazmat.2010.01.078

El-Fadel M, Bou-Zeid E, Chahine W et al (2002) Solid temporal variation of leachate quality from pre-sorted and baled municipal solid waste with high organic and moisture content. Waste Manage 22:269–282. https://doi.org/10.1016/S0956-053X(01)00040-X

El-Fadel M, Findikakis AN, Leckie JO (1997) Modeling leachate generation and transport in solid waste landfills. Environ Technol 18:669–686. https://doi.org/10.1080/09593331808616586

Fatima S, Rafiq SK, Hai A (2012) Effect of depth and age on leachate characteristics of Achan Landfill, Srinagar, Jammu and Kashmir, India. Journal of Environmental Science, Toxicology and Food Technology 2:4–11. https://doi.org/10.9790/2402-0220411

Flyhammer P (1995) Analysis of the cadmium flux in Sweden with special emphasis on landfill leachate. J Environ Qual 24:612–621. https://doi.org/10.2134/jeq1995.00472425002400040010x

Halwani J, Halwani B, Amine H et al (2020) Waste management in Lebanon—tripoli case study. In: Negm A., Shareef N.(eds) Waste Management in MENA Regions. Springer Water. Springer, Cham. https://doi.org/10.1007/978-3-030-18350-9_11.

Halwani J (2016) Climatic parameters variability & climate change in Lebanon. ESCWA-UN Expert Workshop on Developing the Capacities of the Health Sector for Climate Change Adaptation to Protect Health from the Climate Change Effects on Freshwater Resources, 19–21 April 2016, WHO-CEHA Amman (Jordan). https://www.unescwa.org/sites/www.unescwa.org/files/events/files/climatic_parameters_variability_climate_change_in_lebanon_0.pdf

Jorstad LB, Jankowski J, Acworth RI (2004) Analysis of the distribution of inorganic constituents in a landfill leachate-contaminated aquifer: Astrolabe Park, Sydney, Australia. Environ Geol 46:263–272. https://doi.org/10.1007/s00254-004-0978-3

Kale SS, Kadam AK, Kumar S et al (2010) Evaluating pollution potential of leachate from landfill site, from the Pune metropolitan city and its impact on shallow basaltic aquifers. Environ Monit Assess 162:327–346. https://doi.org/10.1007/s10661-009-0799-7

Kjeldsen P, Barlaz MA, Rooker AP et al (2002) Present and long-term composition of MSW landfill leachate: a review. CriticalReviewsinEnvironmentalScience&Technology, 32(4),297–336. https://doi.org/10.1080/10643380290813462.

Rice EW, Baird RB, and Eaton AD (2017) Standard methods for the examination of water & wastewater. American Public Health Association, American Water Works Association, Water Environment Federation. 23rd Edition.

Saleh HN, Valipoor S, Zarei A et al (2019) Assessment of groundwater quality around municipal solid waste landfill by using Water Quality Index for groundwater resources and multivariate statistical technique: a case study of the landfill site, Qaem Shahr City. Iran Environ Geochem Health 42(5):1305–1319. https://doi.org/10.1007/s10653-019-00417-0

Slack RJ, Gronow JR, Voulvoulis N (2005) Household hazardous waste in municipal landfills: contaminants in leachate. Sci Total Environ 198:123–133. https://doi.org/10.1016/j.scitotenv.2004.07.002

Słomczyńska B, Słomczyński T (2004) Physico-chemical and toxicological characteristics of leachates from MSW landfills. Pol J Environ Stud 13:627–637

SUKOMI, Naameh landfill environmental monitoring report: January–December, 2014. Council for Development and Reconstruction, Beirut, Lebanon, (2015).

Sweep Net (2014). Country report on the solid waste management in Lebanon. Deutsche Gesellschaft für Internationale Zusammenarbeit (GIZ), Germany.

Umar M, Aziz HA, Yusoff MS (2010) Variability of parameters involved in leachate pollution index and determination of LPI from four landfills in Malaysia. Int J Chem Eng 2010:1. https://doi.org/10.1155/2010/747953
Acknowledgements
The authors express their acknowledgment to the Council for Development & Reconstruction and the Societies Averda & Laceco for their cooperation.
Ethics declarations
Conflict of interest
The authors declare that they have no competing interests.
Additional information
Responsible Editor: Amjad Kallel
About this article
Cite this article
Sawaya, R., Halwani, J., Bashour, I. et al. Assessment of the leachate quality from municipal solid waste landfill in Lebanon. Arab J Geosci 14, 2160 (2021). https://doi.org/10.1007/s12517-021-08502-4
Received:

Accepted:

Published:
Keywords
Leachate

Lebanon

Contamination

Groundwater

Solid waste management