Abstract
Natural groundwater reserve is an essential key parameter in the budgeting of water resources and its management because rainfall is the primary source of groundwater reserve. Thus, this article deals with estimating natural groundwater recharge with the help of an entropy-based model adopted at the proximity of Deccan Trap Basalt and Gondwana Sandstone in a part of Central India. About 43 observation wells located (area: ~ 360 km2) in shallow aquifer revealing basaltic and sandstone formations under unconfined conditions showing spatial variability in natural recharge were considered. Transinformation, T(R,WT) among the rainfall (R) and groundwater table (WT) as well as marginal entropy, H(R), of the rainfall, was calculated at these wells and was used for assessing natural groundwater reserve. Results show that the estimated natural recharge varies from 6.72 to 32.80%, with an average of 22.89% of the SW monsoon period. The estimated groundwater recharge is having a good correlation among both the groundwater potential zones and recharge potential zones, which are obtained by applying the RS and GIS, and water level fluctuation with concerning rainfall, with the coefficients of r:0.88 and r:0.88, respectively. It has been found that groundwater reserves vary from 62.08 to 98.04 MCM, with an average of 76.22 MCM in the rainy season for the period of 2012–2019. The minimum reserve (~ 62.08 MCM) is estimated in the year 2014, whereas the maximum (~ 98.04 MCM) in the year 2013 during the monsoon periods. The estimated groundwater reserve could be utilized for the sustainable management of groundwater resources.
Access options
Buy single article
Instant access to the full article PDF.
USD 39.95
Price includes VAT (USA)
Tax calculation will be finalised during checkout.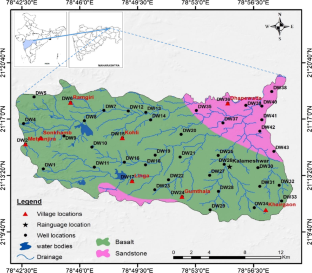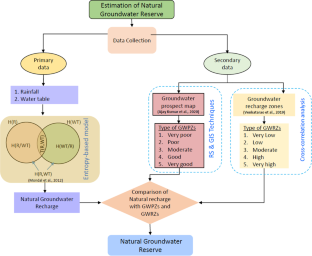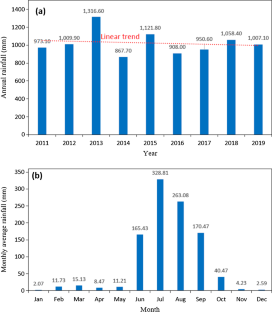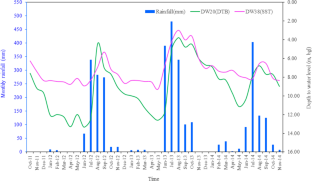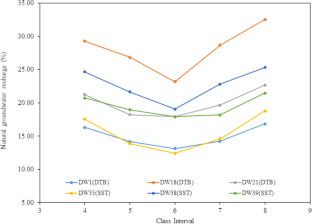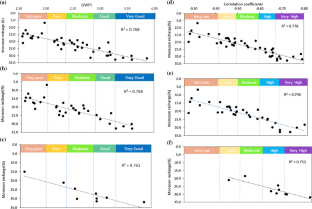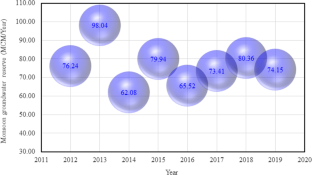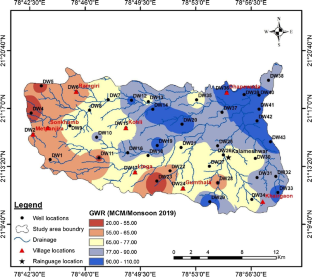 References
Abdi H (2007) Class intervals for frequency distribution. Encyclopedia of measurement and statistics. In: Salkind NJ(ed) Thousand Oaks, CA: Sage, pp. 139–140

Ajay Kumar V, Mondal NC, Ahmed S (2020) Identification of groundwater potential zones using RS, GIS, and AHP techniques: a case study in a part of Deccan Volcanic Province (DVP), Maharashtra, India. J Indian Soc Remote Sens 48:497–511

Amiri V, Rezaei M, Sohrabi N (2014) Groundwater quality assessment using entropy weighted water quality index (EWQI) in Lenjanat. Iran Environmental Earth Sciences 72(9):3479–3490

Athavale RN, Rangarajan R, Murlidharan D (1992) Measurement of natural recharge in India. J Geol Soc India 39:235–244

Central Ground Water Board (CGWB) (2015) AQUIM Report (2015) Nagpur, Maharashtra. Central Groundwater Board, Ministry of Water Resource, Govt. of India

Chand R, Hodlur GK, Ravi Prakash M, Mondal NC, Singh VS (2005) Reliable natural recharge estimates in granite terrain. Curr Sci 88(5):821–824

Chen YC, Wei C, Yeh HC (2008) Rainfall network design using kriging and entropy. Hydrological Processes: an International Journal 22(3):340–346

Chowdary VM, Ramakrishna D, Srivastava YK, Chandran V, Jeyaram A (2009) Integrated water resource development plan for sustainable management of Mayurakshi watershed, India using remote sensing and GIS. Water Resour Manag 23(8):1581–1602

Chung IM, Sophocleous MA, Mitiku DB, Kim NW (2016) Estimating groundwater recharge in the humid and semi-arid African regions. Geosci J 20(5):731–744

Crosbie RS, Binning P, Kalma JD (2005) A time series approach to inferring groundwater recharge using the water table fluctuation method. Water Resour Res 41(1):W01008/1–9

Das S (2020) Parched India-a looming crisis. Journal of Geological Society of India 95:333–336

De Vries JJ, Simmers I (2002) Groundwater recharge: an overview of processes and challenges. Hydrogeol J 10(1):5–17

Guntu RK, Rathinasamy M, Agarwal A, Sivakumar B (2020) Spatiotemporal variability of Indian rainfall using multiscale entropy. Journal of Hydrology 124916.

Gupta SK, Sharma P (1984) Soil moisture transport through the unsaturated zone: tritium tagging studies in Sabarmati Basin. Western India Hydrol Sci J 29(2):177–189

Healy RW, Cook PG (2002) Using groundwater levels to estimate recharge. Hydrogeol J 10:91–109

Johnson GD, Myers WL, Patil GP, Taillie C (2001) Characterizing watershed-delineated landscapes in Pennsylvania using conditional entropy profiles. Landscape Ecol 16(7):597–610

Maliva RG, Clayton EA, Missimer TM (2009) Application of advanced borehole geophysical logging to managed aquifer recharge investigations. Hydrogeol J 17(6):1547–1556

Maréchal JC, Dewandel B, Ahmed S, Galeazzi L, Zaidi FK (2006) Combined estimation of specific yield and natural recharge in a semi-arid groundwater basin with irrigated agriculture. J Hydrol 329(1–2):281–293

Mehta M (1989) Groundwater resources and development potential of Nagpur district, Maharashtra. CGWB Report No. 434/DR/12/89.

Meresa E, Taye G (2019) Estimation of groundwater recharge using GIS-based WetSpass model for Birki watershed, the eastern zone of Tigray. Northern Ethiopia Sustainable Water Resources Management 5(4):1555–1566

Mondal NC, Adike S, Ahmed S (2018) Development of entropy-based model for pollution risk assessment of hydrogeological system. Arab J Geosci 11(14):375

Mondal NC, Singh VP (2010) Entropy-based approach for estimation of natural recharge in Kodaganar River basin, Tamil Nadu, India. Current Science(Bangalore) 99(11):1560–1569.

Mondal NC, Singh VP (2012) Evaluation of groundwater monitoring network of Kodaganar river basin from Southern India using entropy. Environmental Earth Sciences 66(4):1183–1193

Mondal NC, Singh VP, Ahmed S (2012) Entropy-based approach for assessing natural recharge in unconfined aquifers from Southern India. Water Resour Manag 26(9):2715–2732

Mondal NC, Singh VS (2004) A new approach to delineate the groundwater recharge zone in hard rock terrain. Curr Sci 87(5):658–662

Moon SK, Woo NC, Lee KS (2004) Statistical analysis of hydrographs and water-table fluctuation to estimate groundwater recharge. J Hydrol 292(1–4):198–209

Mukherjee I, Singh UK (2020) Delineation of groundwater potential zones in a drought-prone semi-arid region of east India using GIS and analytical hierarchical process techniques. CATENA 194:104681.

Munnich OK (1968) Moisture movement measured by isotope tagging. Guide book on nuclear techniques in hydrology. International Atomic Energy Agency (IAEA), Vienna, pp. 112–117.

Ponta L, Carbone A (2018) Information measure for financial time series: quantifying short-term market heterogeneity. Physica A 510:132–144

Rangarajan R, Athavale RN (2000) Annual replenishable ground water potential of India-an estimate based on injected tritium studies. J Hydrol 234:38–53

Rangarajan R, Mondal NC, Singh VS (2009) Estimation of natural recharge and its relation with aquifer parameters in and around Tuticorin town, Tamil Nadu. India Curr Sci 97(2):217–226

Risser DW, Gburek WJ, Folmar GJ (2009) Comparison of recharge estimates at a small watershed in east-central Pennsylvania, USA. Hydrogeol J 17(2):287–298

Rojdestvenski I, Cottam MG (2000) Mapping of statistical physics to information theory with application to biological system. J Theor Biol 202(1):43–54

Salem A, Dezső J, El-Rawy M (2019) Assessment of groundwater recharge, evaporation, and runoff in the Drava Basin in Hungary with the WetSpass model. Hydrology 6(1):23

Scanlon BR, Keese KE, Flint AL, Flint LE, Gaye CB, Edmunds WM, Simmers I (2006) Global synthesis of groundwater recharge in semiarid and arid regions. Hydrol Process 20:3335–3370

Shannon CE (1948) A mathematical theory of communications. I and II. Bell System Tech J 27:379–443

Singh VP (1998) Entropy-based parameter estimation in hydrology. Kluwer Academic Publishers, Boston

Singh VP, Cui H (2015) Entropy theory for streamflow forecasting. Environmental Processes 2(3):449–460

Siradeghyan Y, Zakarian A, Mohanty P (2008) Entropy-based associative classification algorithm for mining manufacturing data. Int J Comput Integr Manuf 21(7):825–838

Sukhija BS, Nagabhushanam P, Reddy DV (1996) Groundwater recharge in semi-arid regions of India: an overview of results obtained using tracers. Hydrogeol J 4(3):50–71

Sukhija BS, Reddy DV, Nagabhushanam P, Bhattacharya SK, Jani RA, Kumar D (2006) Characterization of recharge processes and groundwater flow mechanisms in weathered-fractured granites of Hyderabad (India) using isotopes. Hydrogeol J 14:663–674

Varade AM, Khare YD, Mondal NC, Deshkar RK, Thakare S (2017) Insinuation of spatial database for realistic groundwater assessment in Indian context. Sustain Water Resour Manag 3(4):343–356

Venkatarao AK, Mondal NC, Ahmed S (2019) Investigating groundwater recharge potential zones using a cross-correlation technique in a part of Deccan Volcanic Province (DVP). Central India Environ Earth Sci 78:704. https://doi.org/10.1007/s12665-019-8712-3

Yidana SM, Fynn OF, Chegbeleh LP, Nude PM, Asiedu DK (2013) Hydrogeological conditions of a crystalline aquifer: simulation of optimal abstraction rates under scenarios of reduced recharge. Sci World J:606375.

Zhang Y, Yang Z, Li W (2006) Analyses of urban ecosystem based on information entropy. Ecol Model 197(1–2):1–12

Zhou P, Fan L, Zhou D (2010) Data aggregation in constructing composite indicators: a perspective of information loss. Expert Syst Applicat 37:360–365

Zimmermann U, Munnich OK, Roether W (1967) Downward movement of soil moisture traced by means of hydrogen isotopes. Am Geophys Monogr 11:28–36
Acknowledgements
We thank Prof. VM Tiwari, Director of CSIR-National Geophysical Research Institute, Hyderabad, for the permission to publish this article (Ref. No: NGRI/Lib/2020/Pub-112). The second author has partially done this research work under the DST-INSPIRE Fellowship (ref. no: IF160571, dated: June 7, 2017). The NRDMS-DST (GoI), New Delhi (Ref. No.:NRDMS/GRACE/8342/NC Mondal/2020(G), January 21, 2021), has also funded this work. The anonymous reviewers have provided their critical and constructive comments to improve the article. The authors are thankful to them.
Ethics declarations
Conflict of interest
The authors declare that they have no competing interests.
Additional information
Responsible Editor: Broder J. Merkel.
About this article
Cite this article
Mondal, N.C., Ajaykumar, V. Appraisal of natural groundwater reserve using entropy-based model at the proximity of Deccan Trap Basalt and Gondwana Sandstone in a part of Central India. Arab J Geosci 14, 2163 (2021). https://doi.org/10.1007/s12517-021-08500-6
Received:

Accepted:

Published:
Keywords
Shallow aquifer

Rainfall

Entropy-based model

Natural groundwater reserve

Deccan Trap Basalt and Gondwana Sandstone

Central India