Abstract
Knowledge about quantifiable spatial variability and spread of the soil physico-chemical parameters is critical for elucidating the ecosystem functioning and designing the sustainable soil-plant-environment management practices. The spatial variability of soil parameters of apple orchards of Kashmir have not been reported so far. Therefore, the study examined the soil spatial distribution of selected soil properties through classical and ordinary kriging technique of geostatistical approach to acquire information for soil-crop specific nutrient management in the apple orchards of Kashmir. Soil samples based on topography, and land management zones identified through field observation and by the indigenous local farming knowledge were collected and analyzed for the various soil properties viz., pH, electrical conductivity (EC), organic carbon (OC), and available N, P, K, Ca, and Mg. The soil properties varied with a coefficient of variation (CV) ranging from 9.0% (pH) to 30.0% (OC). The average soil organic carbon (OC), nitrogen (N), available phosphorus (P), potassium (K), calcium (Ca), and magnesium (Mg) were 1.17%, 251.7 kg ha−1, 17.58 kg ha−1, 193.9 kg ha−1, 501.1 mg kg−1, and 269.4 mg kg−1 respectively. The parameters of the semi-variogram (nugget/sill ratio, range, and slope) signified that the spatial variation of soil properties was mutually exclusive. The spatial distribution of soil parameters was plotted by ordinary kriging (OK) based on mean square error (MSE) values of spherical (pH, N, P, K, and Ca), exponential (EC and OC), and Gaussian (Mg) models. The results of degree of spatial dependence from the semi-variogram analyses indicated a strong (17.6%) to moderate (74.2%) dependence. This study signified a broad range of spatial soil variability as the interpolated maps exhibited clear gradient in pH (5.7–6.6), EC (0.57–0.64 dSm−1), OC (0.9–1.4%), N (200–320 kg ha−1), P (16–21 kg ha−1), K (120–280 kg ha−1), Ca (660–1690 kg kg−1), and Mg (370–890 kg kg−1) at regional-scale. Adoption of appropriate management practices like minimum tillage, variable fertilizer application, horti-forestry measures, and site-specific practices based on the generated interpolated soil maps is critical for sustainable management of orchard soils. The spatial distribution maps of soil properties produced by this study can be used as a baseline information and an efficient tool for farm planners and managers in orchard nutrient management.
Access options
Buy single article
Instant access to the full article PDF.
USD 39.95
Price includes VAT (USA)
Tax calculation will be finalised during checkout.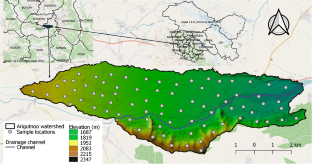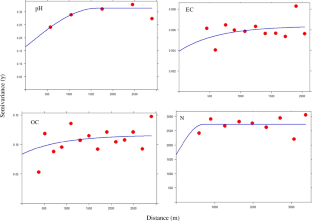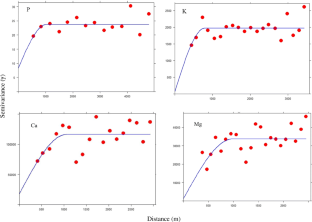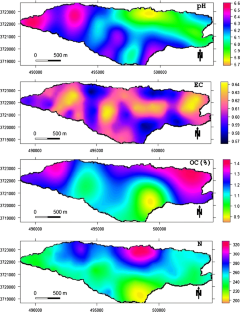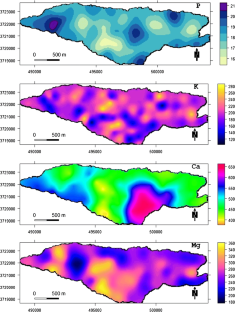 References
Adhikari K, Hartemink AE, Minasny B, Bou Kheir R, Greve MB, Greve MH (2014) Digital mapping of soil organic carbon contents and stocks in Denmark. PLoS ONE 9(8):e105519. https://doi.org/10.1371/journal.pone.0105519

Aghasi B, Jalalian A, Khademi H, Toomanian N (2017)Sub-basin scale spatial variability of soil properties in Central Iran. Arab J Geosci 10:136. https://doi.org/10.1007/s12517-017-2921-4

Aitkenhead M, Coull M (2019) Mapping soil profile depth, bulk density, and carbon stock in Scotland using remote sensing and spatial covariates. Eur J Soil Sci 71(4):553–567. https://doi.org/10.1111/ejss.12916

APR (2017) Annual progress report of Krishi Vigyan Kendra Kulgam, Sher-e-Kashmir University of Agricultural Sciences & Technology of Kashmir. J&K. Presented in Scientific Advisory Committee Meeting (SAC) 2017 (https://www.kvkkulgam.net/index.php)

Arétouyap Z, Nouck PN, Nouayou R, Kemgang FEG, Toko ADP, Asfahani J (2016) Lessening the adverse effect of the semivariogram model selection on an interpolative survey using kriging technique. SpringerPlus 5:549. https://doi.org/10.1186/s40064-016-2142-4

Awal R, Safeeq M, Abbas F, Fares S, Deb SK, Ahmad A, Fares A (2019) Soil physical properties spatial variability under long-term no-tillage corn. Agronomy 9(11):750. https://doi.org/10.3390/agronomy9110750

Ayoubi SH, Zamani SM, Khormali F (2007) Spatial variability of some soil properties for site-specific farming in northern Iran. Int J Plant Prod 2:225–236

Badiu D, Arion FH, Muresan LC, Lile R, Mitre V (2015) Evaluation of economic efficiency of apple orchard investments. Acta Hortic 7:10521–10533

Bangroo SA, Itoo H, Mubarak T, Malik AR (2018) Soil organic carbon and total nitrogen in temperate apple orchards of South Kashmir. Int J Eco Environ Sci 44(3):287–292

Bangroo SA, Mubarak T, Itoo H (2019) Soil organic carbon and total nitrogen changes in croplands converted to apple orchard system in South Kashmir Temperate Himalayas. Int J Eco Environ Sci 45(2):137–144

Bangroo SA, Najar GR, Ephraim A, Truong PN (2020) Application of predictor variables in spatial quantification of soil organic carbon and total nitrogen using regression kriging in the North Kashmir forest Himalayas. Catena 193:104632. https://doi.org/10.1016/j.catena.2020.104632

Bhat MS, Lone FA, Shafiq M, Rather JA (2019) Evaluation of long term trends in apple cultivation and its productivity in Jammu and Kashmir from 1975 to 2015. GeoJournal 86:1193–1202. https://doi.org/10.1007/s10708-019-10112-3

Bogunovic I, Pereira P, Brevik EC (2017) Spatial distribution of soil chemical properties in an organic farm in Croatia. Sci Total Environ 584-585:535–545. https://doi.org/10.1016/j.scitotenv.2017.01.062

Bogunovic I, Pereira P, Galic M, Bilandzija D, Kisic I (2020) Tillage system and farmyard manure impact on soil physical properties, CO2 emissions, and crop yield in an organic farm located in a Mediterranean environment (Croatia). Environ Earth Sci 79:70. https://doi.org/10.1007/s12665-020-8813-z

Buttafuoco G, Tallarico A, Falcone G (2007) Mapping soil gas radon concentration: a comparative study of geostatistical methods. Environ Monit Assess 131:135–151. https://doi.org/10.1007/s10661-006-9463-7

Cambardella CA, Moorman TB, Novak JM, Parkin TB, Karlen DL, Turco RF, Konopka AE (1994)Field-scale variability of soil properties in Central Iowa. Soil Sci Soc Am J 58:1501–1511

Chahouki MAA, Chahouki AZ, Ahvasi LK (2011) Comparing geostatistical approaches for mapping soil properties in Poshtkouh Rangelands of Yazd Province, Iran. Vegetos 24:77–88

FAOSTAT (2014) Statistical yearbook of the food and agricultural organization for the United Nations 2014: Near East and North Africa food and agriculture

Filippi P, Jones EJ, Ginns BJ, Whelan BM, Roth GW, Bishop TF (2019) Mapping the depth-to-soil pH constraint, and the relationship with cotton and grain yield at the within-field scale. Agronomy 9:251

Frau LJ, Libohova Z, Joost S, Levasseur C, Jeangros B, Bragazza SS (2020) Regional investigation of spatial-temporal variability of soil magnesium - a case study from Switzerland. Geoderma Reg 21:e00278

Fu WJ, Tunney H, Zhang CS (2010) Spatial variation of soil nutrients in a dairy farm and its implications for site-specific fertilizer application. Soil Tillage Res 106:185–193

Goovaerts P (1998) Geostatistical tools for characterizing the spatial variability of microbiological and physico-chemical soil properties. Biol Fertil Soil 27:315–334

Hengl T, Leenaars JGB, Shepherd KD, Walsh MG, Heuvelink GBM, Mamo T, Tilahun H, Berkhout E, Cooper M, Fegraus E, Wheeler I, Kwabena NA (2017) Soil nutrient maps of Sub-Saharan Africa: assessment of soil nutrient content at 250 m spatial resolution using machine learning. Nutr Cycl Agroecosyst 109:77–102. https://doi.org/10.1007/s10705-017-9870-x

Isaaks EH, Srivastava RM (1989) An introduction to applied geostatistics. New York: Oxford University Press, 1989. 561p

Ivanov VF (1970) Main principles of fruit crop salt resistance determination. Pochvovedenie 4:78–85

Jackson ML (1973) Soil chemical analysis, 2nd edn. Printice Hall of India, New Delhi, p 498

Juan P, Mateu J, Jordan MM, Solera JM, Pastor IM, Pedreño JN (2011) Geostatistical methods to identify and map spatial variations of soil salinity. J Geochem Explor 108(1):62–72

Kirmani NA, Sofi JA, Bhat MA, Bangroo SA, Bhat SA (2011) Soil micronutrient status of District Budgam. Res J Agric Sci 2(1):30–32

Kumar K, Arora MK, Hariprasad KS (2016) Geostatistical analysis of soil moisture distribution in a part of Solani River catchment. Appl Water Sci 6:25–34. https://doi.org/10.1007/s13201-014-0202-x

Lin Y (2002) Multivariate geostatistical methods to identify and map spatial variations of soil heavy metals. Env Geol 42:1–10. https://doi.org/10.1007/s00254-002-0523-1

Liu X, Zhang W, Zhang M, Ficklin DL, Wang F (2009) Outliers can cause distortion that violates geostatistical theory. Geoderma 152:23–34. https://doi.org/10.1016/j.geoderma.2009.05.022

Loescher H, Ayres E, Duffy P, Luo H, Brunke M (2014) Spatial variation in soil properties among North American ecosystems and guidelines for sampling designs. PLoS One 9(1):e83216. https://doi.org/10.1371/journal.pone.0083216

Majid I, Khalil A, Nazir N (2018) Economic analysis of high density orchards. Int J. Adv Res Sci Eng Technol 7(04):821–829

Malik AR, Ahmad MF, Raja RHS, Bangroo SA, Kirmani SN, Mushtaq R (2018) Seasonality of nutrients in the leaves of apple trees cultivars Red Delicious and Benoni. J Pharmacogn Phytochem 7(4):3185–3188

Malik AR, Ahmad MF, Ganai MA, Bangroo SA, Nazir N, Khalik A, Raja RHS (2019) Seasonal variation in leaf mineral nutrient and optimization of sampling dates for better indexing of pear leaf. Int J Curr Microbiol Appl Sci 8(2):1–6

Maqbool M, Akhtar F, Najar GR, Peer FA, Baba ZA, Dar KR, Ramzan S (2018) Altitudinal and depth-wise micro nutrient indexing of high-density apple orchards in North Kashmir, India. J Pharmacogn Phytochem 7(3):1905–1911

Miransari M, Mackenzie AF (2010) Wheat (Triticum aestivum L.) grain N uptake as affected by soil total and mineral N, for the determination of optimum N fertilizer rates for wheat production. Comm Soil Sci and Plant Ana. 41:1644–1653. https://doi.org/10.1080/00103624.2010.485473

Mzuku M, Khosla R, Reich R, Inman D, Smith F, MacDonald L (2005) Spatial variability of measured soil properties across site-specific management zones. Soil Sci Soc Am J 69:1572–1579

Olsen SR, Cole CV, Watanabe FS, Dean LA (1954) Estimation of available phosphorus in soils by extraction with sodium bicarbonate. USDA Circular 939. US Government Printing Office, Washington DC

Pandey D, Ojha RB, Chalise D, Das S, Twanabasu B, Moral MT (2019) Spatial variability of soil properties under different land use in the Dang district of Nepal. Cogent Food Agric 5:1. https://doi.org/10.1080/23311932.2019.1600460

Reza SK, Baruah U, Sarkar D, Singh SK (2016) Spatial variability of soil properties using geostatistical method: a case study of lower Brahmaputra plains, India. Arab J Geosci 9:446. https://doi.org/10.1007/s12517-016-2474-y

Safari Y, Esfandiarpour BI, Kamali A, Salehi MH, Bodaghabadi MB (2013) Mapping of the soil texture using geostatistical method (a case study of the Shahrekord plain, central Iran). Arab J Geosci 6:3331–3339. https://doi.org/10.1007/s12517-012-0559-9

Sahabiev IA, Ryazanov SS, Kolcova TG, Kolcova G, Grigoryan BR (2018) Selection of a geostatistical method to interpolate soil properties of the state crop testing fields using attributes of a digital terrain model. Eurasian Soil Sci 51:255–267. https://doi.org/10.1134/S1064229318030122

Sahrawat KL (2016) How fertile are semi-arid tropical soils. Curr Sci 100(9):1671–1674

Saleh AM (2018) Spatial variability mapping of some soil properties in Jadwal Al_Amir Project/Babylon/Iraq. J Indian Soc Remote Sens 46:1481–1495. https://doi.org/10.1007/s12524-018-0795-x

Schollenberger CJ, Simon RH (1945) Determination of exchange capacity and exchangeable bases in soil-ammonium acetate method. Soil Sci 59:13–24. https://doi.org/10.1097/00010694-194501000-00004

Sharma R, Sood K (2020) Characterization of spatial variability of soil parameters in apple orchards of Himalayan Region using geostatistical analysis. Comm Soil Sci and Plant Ana 51:1065–1077. https://doi.org/10.1080/00103624.2020.1744637

Sharma P, Shukla MK, Mexal JG (2011) Spatial variability of soil properties in agricultural fields of Southern New Mexico. Soil Sci 176(6):288–302. https://doi.org/10.1097/SS.0b013e31821c0dab

Shit PK, Bhunia GS, Maiti R (2016) Spatial analysis of soil properties using GIS based geostatistics models. Model. Earth Syst Environ 2:107. https://doi.org/10.1007/s40808-016-0160-4

Statista (2020) Estimated cultivation area of Jammu and Kashmir in India in financial year 2020, by crop type. Published by Statista Research Department, Oct 22, 2020, https://www.statista.com/statistics/1083100/india-crop-plantation-area-in-jammu-and-kashmir

Subbiah BV, Asija GL (1956) A rapid procedure for the estimation of available nitrogen in soils. Current Sci 25:259

Subedi GD, Atreya PN, Gurung CR, Giri RK, Gurung YR (2020) High density cultivation of major fruit crops: opportunities and challenges in Nepal. Proceeding of 11th national horticulture seminar, pp 94-107

Taili AH (2014) Dynamics of horticulture in Kashmir, India. Int J Curr Sci 11:15–25

Tarr AB, Moore KJ, Bullock DG, Dixon PM, Burras CL (2005) Improving map accuracy of soil variables using soil electrical conductivity as a covariate. Precision Agric 6:255–270. https://doi.org/10.1007/s11119-005-1385-9

Tellen VA, Yerima BPK (2018) Effects of land use change on soil physicochemical properties in selected areas in the North West region of Cameroon. Environ Syst Res 7:3. https://doi.org/10.1186/s40068-018-0106-0

Tesfahunegn GB, Tamene L, Vlek PLG (2011)Catchment-scale spatial variability of soil properties and implications on site-specific soil management in northern Ethiopia. Soil Tillage Res 117:124–139

Tucker BB, Kurtz LT (1961) Calcium and magnesium determination by EDTA titrations. Proc Soil Sci Soc Amer 25:27–29

Utset A, Lopez T, Diaz M (2000) A comparison of soil maps, kriging and a combined method for spatially prediction bulk density and field capacity of Ferralsols in the Havana-Matanaz Plain. Geoderma 96:199–213

Vasu D, Singh SK, Sahu N, Tiwary P, Chandrana P, Duraisami VP, Ramamurthy V, Lalitha M, Kalaiselvi B (2017) Assessment of spatial variability of soil properties using geospatial techniques for farm level nutrient management. Soil Tillage Res 169:25–34

Walkley A, Black IA (1934) An examination of the method for determining soil organic matter and proposed modification of chromic acid titration. Soil Sci 37(1/6):29–39

Webster R, Oliver MA (2001) Statistical methods in soil science and resource survey, 44. OxfordUniversity Press, New York

Wilding LP (1985) Spatial variability: its documentation, accommodation, and implication to soil surveys. In: Nielsen DR, Bouma J (eds) Soil spatial variability. Pudoc, Wageningen, pp 166–194

Zhang Z, Hu B, Hu G (2014) Spatial heterogeneity of soil chemical properties in a subtropical karst forest. Southwest China. Sci World J 473651:1–9. https://doi.org/10.1155/2014/473651
Acknowledgements
The authors thank the Krishi Vigyan Kendra, Kulgam, for the financial assistance and support to this work. The authors are also thankful to the technical staff of KVK Kulgam especially Mr. Mudasir and Mr. Anwar.
Funding
This work was financed by the Krishi Vigyan Kendra (Farm Science Centre), Kulgam, through in-house funding.
Ethics declarations
Competing interests
The authors declare no competing interests.
Additional information
Responsible Editor: Biswajeet Pradhan
About this article
Cite this article
Bangroo, S.A., Sofi, J.A., Bhat, M.I. et al. Quantifying spatial variability of soil properties in apple orchards of Kashmir, India, using geospatial techniques. Arab J Geosci 14, 2047 (2021). https://doi.org/10.1007/s12517-021-08457-6
Received:

Accepted:

Published:
Keywords
Apple orchards

Kashmir Himalayas

Spatial variability

Ordinary kriging

Soil properties