Abstract
A model linking suspended solids to liquid flows was used in this study to estimate the particulate matter fluxes in the Mazafran wadi. We determined suspended solid fluxes and, for the first time in an Algerian wadi, organic and inorganic carbon fluxes. Based on the results of our study, the amount of suspended solids transported by the Mazafran wadi reaches 0.08 million tons per year, while the calculated flow of suspended solids is equal to 42t/km2/year. This value is quite low compared to those previously recorded in other Algerian wadis. This phenomenon is probably linked to the low rainfall during the study period but also to the type of rocks upstream of the wadi that are mainly crystalline (eruptive and metamorphic). The particulate organic carbon flux is 415 t/year upstream, while the particulate inorganic carbon flux is 1629 t/year. In the downstream portion, the POC values are almost twice the upstream values (736 t/year). The PIC values are approximately the same upstream and downstream.
Access options
Buy single article
Instant access to the full article PDF.
USD 39.95
Price includes VAT (USA)
Tax calculation will be finalised during checkout.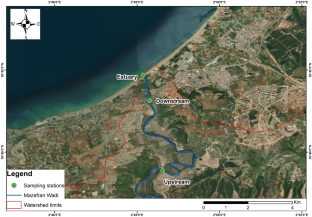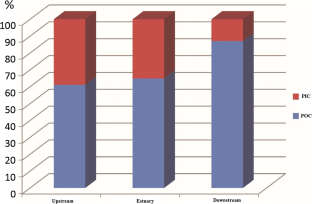 Availability of data and material
The data used in this work is made available by the Algerian national agency of hydraulic resources coupled with water sampling campaign conducted by the authors.
References
Arnould P, Hotyat M, Benzarti Z (2003) Eau et environnement. Tunisie et milieu méditerranéens, Lyon ENS Editions, pp 101–201

Ayme A, Ayme J, Magne J, (1953) Etude des terrains néogènes de la cluse du Mazafran (Sahel d'Alger). Travaux Collections, Bull n° 1, fascicule II, Alger, pp. 120- 150.

Balland P. (1983). Méthodologie de quantification des flux de nutriments en rivières. Proceedings of the Hamburg Symposium, IAHS, Publication numéro 141, pp. 333-345.

Balland P (1984) Utilisation des relations concentrations-débit pour le calcul des flux de matières en rivières. Physico-Géo 9:5–13

Benslama L., Pauc H., (1988). Les flux des apports en suspension par les oueds Cheliff, Mazafran, et Soummam sur la marge algérienne. Séminaire des Sciences de la mer, Alger n° 1.

Bouguerra SA, Bouanani A (2019) Analyse saisonnière et interannuelle de la dynamique des flux en suspension dans le bassin versant de l'oued Boukiou (nord-ouest de l'Algérie). Géomorphologie : relief, processus, environnement 25:1649–1660

Bourouba M (1998). Contribution à l'étude de l'érosion et des transports solides de l'oued Medjerda supérieur (Algérie orientale), Bull de l'ORSTOM, pp. 76-97.

Bourouba M (1997) Les variations de la turbidité et leurs relations avec les précipitations et les débits des oueds semi-arides de l'Algérie orientale. Bull. ORSTOM 17:345–360

Cauwet G, Gadel F, De Souza Sierra M-M, Donard O, Ewald M (1990) Contribution of the Rhône River to organic carbon inputs to the Mediterranean Sea. Cont Shelf Res 10(9-11):1025–1037

Cotrim DA, Cunha L (2000) Caractérisation de la matière organique particulaire et dissoute dans un fleuve méditerranéen, le Tech. Thèse de Doctorat de l'Université de Perpignan VD, France, p 240

Dahmani B, Hadji F, Allal F (2002) Traitement des eaux du bassin hydrographique de la Tafna (N-W Algérie). Desalination 152:113–124

Dupraz C (1984) Bilan des transferts d'eau et d'éléments minéraux dans trois bassins versants comparatifs à végétations contrastées (Mont Lozère, France). Thèse de l'Université d'Orléans, Orléans (France), p 363

Fekhaoui M, Pattee E (1993) Impact de la ville de Fès sur l'oued Sebou : physicochimique. Bull de l'Institut des Sci de Rabat, Maroc 17:1–12

Fiandino M (2004) Les flux de matières en suspension de trois fleuves côtiers vers l'étang de Berre (Bouches du Rhône). Méditerranée 1.2:171–180

Foster I, Charlesworth S (1996) Heavy metals in the hydrological cycle : trends and explanation. Hydrol Process 10(2):227–261

Foudil Bouras AE (2012) Approche géochimique d'un hydrosystème côtier algérois : transfert de matière organique de l'oued Mazafran vers la baie de Bou-Ismail (Algérie). In: Thèse de Doctorat d'Etat. Université des Sciences et Technologie Houari Boumediène, Alger, p 189

Garcia Esteve J (2005) Géochimie d'un fleuve côtier méditerranéen : la Têt en Roussillon. Origines et transferts de matières dissoutes et particulaires de la source jusqu'à la mer.Thèse de Doctorat de l'Université de Perpignan VD, France, p 263

Launey M, Le Coz J, Diouf S, Camenen B, Thollet F, Coquery M (2019) Réévaluation des apports moyens de matières en suspension de l'Arve au Rhône. La Houille Blanche 2:89–100

Leclaire L. (1972). La sédimentation holocène sur le versant Algéro-Baléare. Thèse de Doctorat d'Etat, Faculté des Sciences de Paris, 302 P.

Lefrancois J. (2007). Dynamiques et origines des matières en suspension sur les petits bassins versants agricoles sur schistes. Thèse de Doctorat de l'Université de Rennes I. Université de Rennes I. 261 pages.

Lespinas F, Ludwig W, Heussner S (2010) Impact of recent climate change on the hydrology of coastal Mediterranean rivers in Southern France. Clim Chang 99:425–456

Ludwig W, Serrat P, Cesmat L, Garcia Esteve J (2004) Evaluating the impact of the recent temperature increase on the hydrology of the Têt river (Southern France). J Hydrol 289:204–221

Messaoud Nacer N, Remini B, Hadj Kadour B, Habi M (2006) Water pollution problems. Methodological and legislative aspects. The case of surface waters of the Mazafran plain (Mitidja, Algeria). TSM 5:89–97

Meybeck M (1985) Time variability in the chemical composition of rivers and their solution and suspension transportation. Revue Française des Sci de l'Eau 4:93–121

Moulfi A, Pauc H, Moulfi L (2012) Les sédiments récents de la baie de Bou-Ismail (Ouest algérois). Nature, origine, mécanismes de mise en place. Bull du Serv Géol Natl 23(1):1–21

Pauc H (1989) L'intrusion saline et la dynamique des matériaux en suspension au contact fluvio-marin : régime de crue et régime d'étiage dans l'oued Mazafran (ouest algérois). In: Marine Geology, 87th edn. Elsevier Science Publishers B.V., Amsterdam, pp 95–102

Pauc H, Ait Kaci D (1987) La sédimentation en baie de Bou-Ismail et les apports en suspension de l'oued Mazafran (Algérie) – variations saisonnières. Géol Méditerr Tome XIV(3):175–179

Serrat P (1999) Dynamique dédimentaire actuelle d'un système fluvial méditerranéen : l'Agly (France). CR Acad Sci Paris, Sci de la terre et des Planètes 329:189–196

Serrat P, Ludwig W, Navarro B, Blazi JL (2001) Variabilité spatio-temporelle des flux de matières en suspension d'un fleuve côtier méditerranéen : la Têt (France). Comp Rendus de l'Acad des Sci Paris, Sci de la Terre et des Planètes 333:389–397

Terfous A, Megnounif A, Bouanani A (2001) Study of solid transport in suspension in the Mouilah wadi (North West Algeria). Revue des Sci de l'eau 14:173–185

Tidjani A, Yebdri D, Roth JC, Derriche Z (2006) Exploration des séries chronologiques d'analyse de la qualité des eaux de surface dans le bassin de la Tafna (Algérie). Revue des Sci de l'eau 19(4):315–324

Walling DE, Webb BW (1985) Estimating the discharge of contaminants to coastal waters by rivers : some cautionary comments. Mar Pollut Bull 16(12):488–492

Walling DE, Webb BW (1981) The reliability of suspended sediment load data [River Creedy, England].
Acknowledgements
The authors would like to thank in particular the staff of the National Agency of Hydraulic Resources of Blida (ANRH) for providing many data and for their willingness to perform chemical analyses.
Ethics declarations
Conflict of interest
The authors declare no competing interests.
Additional information
This article is part of the Topical Collection on Current Advances in Geology of North Africa
About this article
Cite this article
Bouras, A.E.F., Nacer, N.M., Metouchi, A. et al. Assessment of particulate matter fluxes in the Mazafran wadi (Algeria). Arab J Geosci 14, 2153 (2021). https://doi.org/10.1007/s12517-021-08429-w
Received:

Accepted:

Published:
Keywords
Suspended matter

Erosion balance

Particulate organic carbon

Mazafran wadi, Algeria