Abstract
The topographic nature of Makkah, Saudi Arabia, hinders most of the urban development and expansion activities except on the foothills of the mountains, where most of the already developed and ongoing/planned new settlements occur. Al-Hussainiyah area is one of many unplanned settlements that has been constructed along the course of Wadi Uranah flood plain. The area has been affected by many flash floods events over the past years, which resulted in a considerable amount of property damage. Rapid mitigation measures for such area are important to avoid future flash flood losses. The current research uses all the available fieldwork, meteorological, and remote sensing data to predict the surface water runoffs from modeled rainfall storms of returning periods of 10, 25, 50, and 100 years. The modeling results revealed that the average surface water runoffs from the modeled storms are 194.5, 247.7, 284.8, and 318 million m3 running at maximum speeds of 7578, 9610, 11,014.3, and 12,260.9 m3/s respectively. The results also indicate that the current flood course of Wadi Uranah at Al-Hussainiyah area will not be able to accommodate these volumes of water at its given speeds and will case devastated damage to the settlements of the area unless this course is expanded to accommodate the volume of water generated from at least one of the designed storms.
Access options
Buy single article
Instant access to the full article PDF.
USD 39.95
Price includes VAT (USA)
Tax calculation will be finalised during checkout.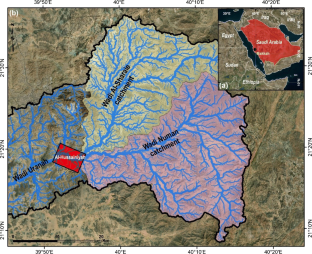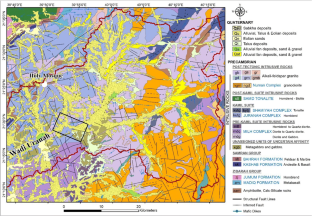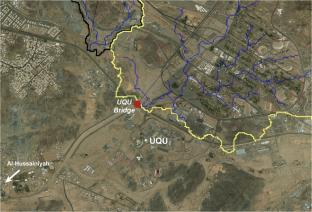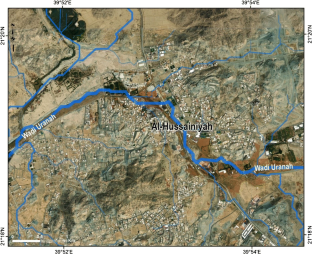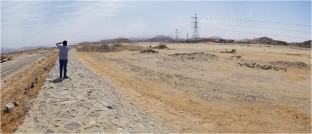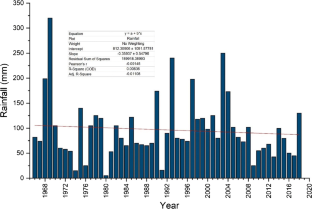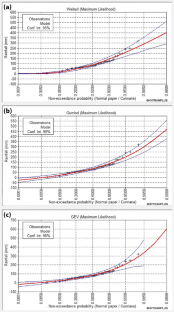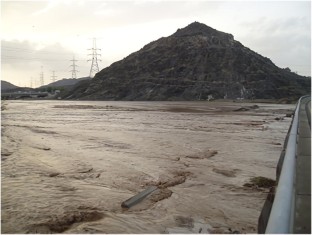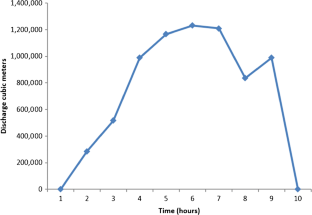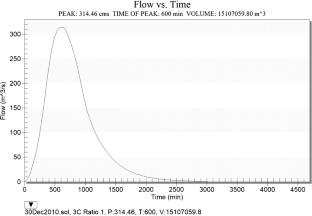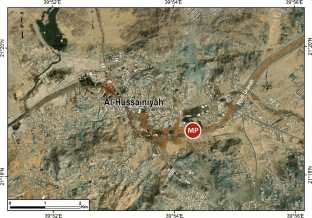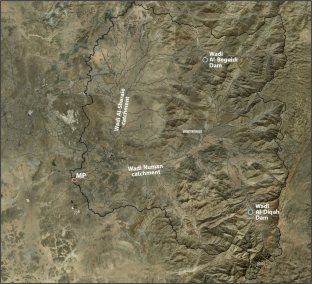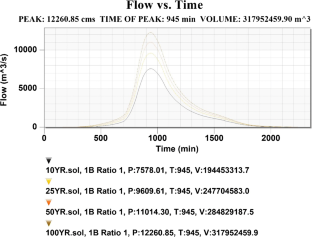 References
Alagha MO, Gutub SA (2016) Estimation of nrcs curve number from watershed morphometric parameters: a case study of Yiba watershed in Saudi Arabia. International Journal of Civil Engineering and Technology (IJCIET) 7(2):247–265

Al-Ghobari H, Dewidar A, Alataway A (2020) Estimation of surface water runoff for a semi-arid area using RS and GIS-based SCS-CN method. Water 12(7):1924. https://doi.org/10.3390/w12071924

Al-Saud M (2009) Morphometric analysis of Wadi Aurnah drainage system, western Arabian Peninsula. The open hydrology Journal 3:1–10

Al-Shanti AMS (1966) Oolitic iron ore deposits in Wadi Fatima between Jeddah and Mecca, Saudi Arabia. Saudi Arabian Directorate General of Mineral Resources, Bulletin 2:51

El Bastawesy M (2013). Assessment of some hydrological and environmental problems in Makkah. LAP LAMBERT Academic Publishing, 96 pages.

El Bastawesy M, Habeebullah T, Balkhair K, Ascoura I. (2013). Modelling flash floods in arid urbanized areas: Makkah (Saudi Arabia). Secheresse 24: 171-181. doi: 10.1684

Gabr SS, Farg EF, Habeebullah TM, Arafat SM (2018) Irrigation water consumption and its impact on the groundwater aquifer of Wadi Uranah, Makkah, Saudi Arabia using remote sensing techniques. Egypt J Remote Sens Space Sci 23(2):167–180. https://doi.org/10.1016/j.ejrs.2018.10.001.

Greenwood WR, Hdley DG, Anderson RE, Fleck RJ, Shmidt DL (1976) Late proterozoic cratonization in S.W. Saudi Arabia. Philos Trans R Soc Lond VA 280:3–38

Gregory KJ, Walling DE (1973) Drainage basin form and process: a geomorphological approach. Edward Arnold, London, p 447

Hjalmarson HW, Thomas BE (1992) New look at regional flood frequency relations for arid lands. J Hydraul Eng ASCE 118:868–886

Johnson, P. (2006). Explanatory notes to the map of proterozoic geology of western Saudi Arabia. Technical Report, SGS-TR-2006-4, Saudi Geological Survey.

Marza, M., El Bastawesy M, Habeebullah, T. (2012). The assessment of the hydrological and environmental issues of Wadi Uranah, Makkah. Internal report, The Custodian of the Two Holy Mosques Institute for Hajj and Umrah Research, Umm Al-Qura University, 41 pages.

McCuen RH (2004) Hydrologic analysis and design, 3rd edn. Prentice Hall, London, p 859

McMahon, T.A. (1979). Hydrological characteristics of arid zones. In: The hydrology of areas of low precipitation, Proceedings of Canberra Symposium, IAHS, 128, 105-123.

Moore, T.A., and Al-Rehaili, M.H. (1989). Geologic map of Makkah Quadrangle, Sheet 21D, Kingdom of Saudi Arabia: DGMR. Geoscience Map GM-107C, 1:250,000 Scale.

Rodriguez-Itrube I, de Power BF, Sharifi MB, Georgakakos KP (1989) Chaos in rainfall. Water Resour Res 25:1667–1675

Sonbbl AR (1995) Engineering Geology as applied to urban development of the north-western area of The Holy City of Makkah. M.Sc., Faculty of Earth Sci., King Abdul-Aziz Univ. (1995), p 138

Tooth S (2000) Process, form and change in dryland rivers: a review of recent research. Earth Sci Rev 51:67–107

Un.org (2019). 2010–2020: UN decade for deserts and the fight against Desertification. [online] Available at: https://www.un.org/en/events/desertification_decade/whynow.shtml [Accessed 12 Sep. 2019].

Yousef BEMA (1992) The climate of Mecca area. Journal of Umm Al-Qura Social Sciences 15:1–94
Ethics declarations
Conflict of interest
The authors declare that there is no conflict of interest with neither our affiliated organizations nor any other party whatsoever in the subject matter nor materials discussed in this manuscript.
Additional information
Responsible editor: Broder J. Merkel
About this article
Cite this article
Gabr, S.S., Alkhaldy, I.A., El-Saoud, W.A. et al. Flash flood modeling and mitigation of Al-Hussainiyah area, Makkah, Saudi Arabia. Arab J Geosci 14, 2044 (2021). https://doi.org/10.1007/s12517-021-08400-9
Received:

Accepted:

Published:
Keywords
Flash flood

Flash flood mitigation

Water resources

Saudi Arabia

Makkah