Abstract
Rock bolts have replaced the conventional cog/chock as roof support from underground coal mines working with continuous miner (CM) technology in Bord and Pillar mining method with caving system. Rock bolts installed in the gallery at the goaf edge by aligning the adjacent stable rib during the CM-based mechanised depillaring have proven its potential by restricting goaf encroachment towards the working area. However, conventional depillaring with stowing and caving system still uses skin-to-skincog/chock as goaf edge support in Indian coalfields which poses threat to the safety of miners during its erection and withdrawal. Further, bearing capacity of such goaf edge support also reduces with increase in height of working. Field study found that the adjacent in-bye rib of the working slice remains intact and stable due to less span of hanging roof inside the goaf during conventional depillaring with stowing compared to caving. These field outcomes are also validated during the numerical simulation and observed that the goaf edges are over-supported in a stowing panel as it adopted the similar goaf edge support pattern as that of caving. Further, a parametric study is conducted on numerical models by varying the nature of roof, gallery width, and depth of cover to estimate the rock load height (considering 1.5 safety factor contour) around the goaf edges in stowing panels. Multivariate regression analysis was carried out to establish a relationship among influencing parameters for estimation of rock load height at the goaf edges in stowing panels for a given geo-mining condition. This paper presents a novel design of rock bolts as goaf edge support on the basis of roof-rib interaction in conventional depillaring with stowing panel.
Access options
Buy single article
Instant access to the full article PDF.
USD 39.95
Price includes VAT (USA)
Tax calculation will be finalised during checkout.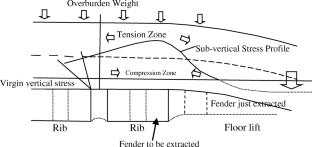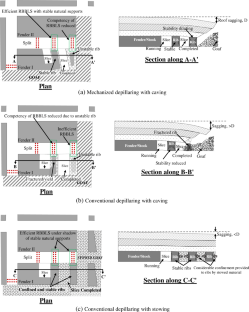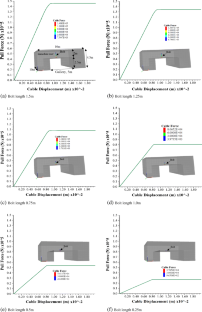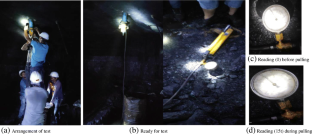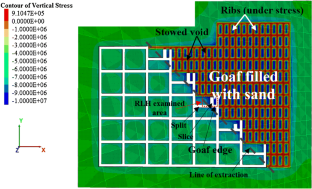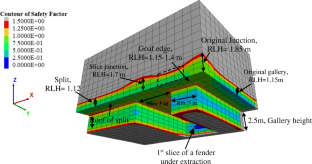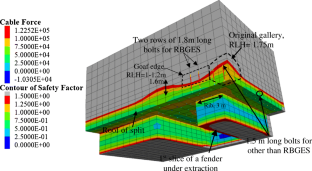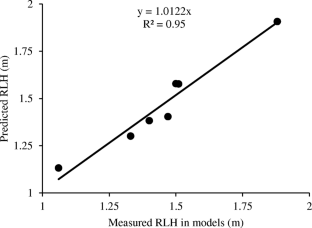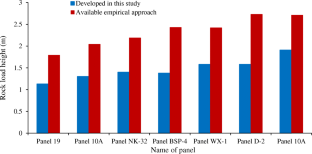 References
Alan A, Campoli Carla A, Kertis Claude A. Goode (1987) Coal mine bumps: five case studies in the Eastern United States. Information Circular (IC-9149), Bureau of Mines, p.34.

Basarir H, Ferid Oge I, Aydin O (2015) Prediction of the stresses around main and tail gates during top coal caving by 3D numerical analysis. Int J Rock Mech Min Sci 76:88–97

Bieniawski ZT (1976) Rock mass classifications in rock engineering Bieniawski ZT, ed. Exploration for Rock Engineering, Rotterdam: Balkema, pp.97-106.

Bin L, Taiyue Q, Wang Z, Longwei Y (2012) Back analysis of grouted rock bolt pullout strength parameters from field tests. Tunnelling and Underground Space Technology 28:345–349

Bowles, Joseph E (1997) Foundation analysis and design fifth edition. The McGraw-Hill Companies, Inc. ISBN 0-07-118844-4, International Edition, pp. 1230.

CMR (2017) The Indian Coal Mines Regulations, 140p.

Deb D, Das KC (2011) Modelling of fully grouted rock bolt based on enriched finite element method. Int J Rock Mech Min Sci 48:283–293

DGMS Circular (2010) Standard components and properties of steel roof bolts to be used in mines. No. DGMS/ S&T/Tech. Cir. (Approval) No. 3, Dhanbad, the 3rd June, 2010.

DGMS Circular (2013) Revised standards for testing and use of cement capsules as grout material for roof bolting in mines. No. DGMS Circular (Approval) No. 05 of 2013, Dhanbad 19th July, 2013.

Esterhuizen E, Mark C, Murphy M (2010) The ground reaction curve, pillar loading and pillar failure in coal mines. NIOSH, Office of Mine Safety and Health Research, Pittsburgh, PA

Fang Z, Harrison JP (2002) Numerical analysis of progressive fracture and associated behavior of mine pillars by use of a local degradation model. Trans. Instn. Min. Metall. (Sec. A: Min. technol.) 111:A59–A72

Gao W, Ge M (2016) Stability of a coal pillar for strip mining based on an elastic-plastic analysis. Int J Rock Mech Min Sci 87:23–28

Ghasemi E, Ataei M, Shahriar K, Sereshki F, Jalali SE, Ramazanzadeh A (2012) Assessment of roof fall risk during retreat mining in room and pillar coal mines. Int J Rock Mech Min Sci 54:80–89

Gupta RN, Garg AK, Mukherjee KP, Singh B (1990) Strata control problems associated during extraction of developed pillars in thick seam by blasting gallery method. Rock mechanics contribution and challenges: proceedings of 31st U.S. W. edited by Hustrulid, Johnson AG.

Indian Minerals Yearbook (2018) (Part- III: mineral reviews), 57th edition, coal and lignite (advance release) Government of India, Ministry of Mines, Indian Bureau of Mines, Nagpur. http://ibm.nic.in/writereaddata/files/07102019170220COAL_AR_2018.pdf (Access in June, 2020).

Itasca (2012). FLAC3D (fast Lagrangian analysis of continua in 3 dimensions), Version 5.0, Itasca Consulting Group Inc., Minneapolis, Minnesota, 55401, USA.

Jaiswal A, Sharma SK, Shrivastava BK (2004) Numerical modeling study of asymmetry in the induced stresses over coal mine pillars with advancement of the goaf line. Int J Rock Mech Min Sci 41(5):859–864

Jeremic ML (1985) Strata mechanics in coal mining. Oxford & IBH Publishing Co., pp. 254-271.

Kaku LC (2004) D.G.M.S. Circulars (Cir. Tech. 14/1975), Lovely Prakashan, Dhanbad, 925 pages.

Kumar A, Kumar D, Verma AK, Singh AK, Ram S, Kumar R (2018) Influence of overlying roof strata on rib design in mechanised depillaring. J. Geo. Soc. India. 91:341–347

Kumar A, Waclawik P, Singh R, Ram S, Korbel J (2019) Performance of a coal pillar at deeper cover: field and simulation studies. Int J Rock Mech Min Sci 76:88–97

Kushwaha A, Singh SK, Tewari S, Sinha A (2010) Empirical approach for designing of support system in mechanized coal pillar extraction. Int J Rock Mech Min Sci 47:1063–1078

Mathur SP (2002) Goaf edge support for bord and pillar depillaring. Minetech 23(4):5–15

McKensey B (1992) Manual of pillar extraction in NSW underground coal mines. www.resourcesandenergy.nsw.gov.au/_.../MDG-1005-part-1-of-2.pdf (Accessed in April, 2014).

Mohan GM, Sheorey PR, Kushwaha A (2001) Numerical estimation of pillar strength in coal mines. Int J Rock Mech Min Sci 38:1185–1192

Nikolic M, Roje-Bonacci T, Ibrahimgebovic A (2016) Overview of the numerical methods for the modelling of rock mechanics problems. Techn Gazette 23(2):627–637

Ram S, Kumar D, Singh AK, Kumar A, Singh R (2017) Field and numerical modelling studies for an efficient placement of roof bolts as breaker line support. Int J Rock Mech Min Sci 93:152–162

Ram S, Singh AK, Singh SK, Kumar A, Kumar R, Singh AK, Raja, M (2020) Advice for preparation and formulation of strata control and monitoring plan (SCAMP) of 8 depillaring panels of Satgram Area, ECL. Strata Mechanics and Geomechanics Section,CSIR-Central Institute of Mining & Fuel Research, Dhanbad India. Project No.: CNP/4852/2019-20 (unpublished).

Sastry VR, Nair R (2009) Stress distribution on longwall barrier pillar due to goaf formation during extraction. IE (I)Journal–MN 89:19–24

Sheorey PR (1993) Design of coal pillar arrays and chain pillars. Comprehensive Rock Engineering. Vol. 2, Pregamon Press Oxford, pp.631-670.

Sheorey PR (1997) Empirical rock failure criteria. Balkema, Rotterdam, p 176

Sheorey PR (2006) Ground control in bord and pillar mining. A Golden Jubilee Monograph:1956-2006, Published by Science Communication & Publicity Unit, Central Mining Research Institute; pp.114.

Shepherd J, Chaturvedula VK, Brown AG, Frith RC, Sheppard L (1990). Investigation of pillar extraction goaf edge formation for improved safety. NERDDP End of Grant Report No. 948 (ACIRL), 323p.

Singh AK (2010) Studies of mining induced vertical stress ahead of a depillaring face in Indian geo-mining conditions. Ph.D. thesis submitted to Bengal Engineering and Science University, Shibpur, Howrah-711103.

Singh AK, Kumar A, Kumar D, Singh R, Ram S, Kumar R, Singh AK (2020) Coal pillar extraction under weak roof. Mining, Metallurgy & Exploration 37:1451–1459

Singh AK, Mandal PK, Singh R, Ram S (2002) Stability investigations during inclined slicing of thick coal seam by longwall method – a case study. In: proceedings of the national symposium on sustainable mining technology: present and future, March 14-15, 2002, Organised by Anna University, Chennai, (Editors: K. Srinivas & K. V. Shanker), pp. 274-284.

Singh AK, Singh R, Maiti J, Kumar R, Mandal PK (2011) Assessment of mining induced stress development over coal pillars during depillaring. Int J Rock Mech Min Sci 48:805–818

Singh R, Mandal PK, Singh AK, Singh TN (2001) Cable bolting based Mechanized depillaring of a thick coal seam. Int J Rock Mech Min Sci 38(2):245–257

Suchowerska AM, Merifield RS, Carter JP (2013) Vertical stress changes in multi-seam mining under supercritical longwall panels. Int J Rock Mech Min Sci 61:306–320

Venkateswarlu V, Ghose AK, Raju NM (1989) Rock mass classification for design of roof support-a statistical evaluation of parameters. Min Sc Tech.8:97–107.

Wilson AH (1972) An hypothesis concerning pillar stability. Min Eng 131:409–417
Acknowledgements
The authors are obliged to Director of CSIR-CIMFR Dhanbad and Director of NIT Rourkela, for their permission to publish this paper. The cooperation provided by the management of different mines of Satgram Area of Eastern Coalfield Limited (ECL) during the field visit is thankfully acknowledged. The study reported in this paper is based on an investigation done under sponsored projects, funded by ECL. The views expressed in the paper are those of the authors, and not necessarily of the institute to which they belong.
Ethics declarations
Conflict of interest
The authors declare no competing interests.
Additional information
Responsible editor: Murat Karakus
About this article
Cite this article
Ram, S., Singh, A.K., Kumar, R. et al. Design of rock bolt-based goaf edge support for conventional depillaring with stowing. Arab J Geosci 14, 2164 (2021). https://doi.org/10.1007/s12517-021-08379-3
Received:

Accepted:

Published:
Keywords
Rock bolt

Conventional depillaring

Stowing

Caving

Numerical modelling

Rock load height

Goaf edge support