Abstract
The construction of new roads and the extension of existing ones on natural slopes often requires the excavation of very steep cut slopes. Such slopes become vulnerable under the influence of factors such as heavy rainfall, dynamic loading, weathering effect and various kinds of human intervention. Along several Rwandan main roads, cut slope failures recently caused a lot of damage to housing, infrastructures and crops as well as loss of lives. Based on field observations and variations in geological and geotechnical conditions, this paper presents a simplified way in which the classical geotechnical methodology could be applied to slope stability analysis, to be used for stabilization works. Three representative sample sites in the Rwandan context, recently subjected to landslides, were chosen to carry out a detailed study, including laboratory tests and numerical analyses. The conventional two-dimensional limit equilibrium method was used to analyse the representative cut slopes. Slope stability analyses are conducted not only to reproduce the failure events, to be used as back analyses, but also to propose potential remedial works, that could be assumed as an example for other similar situations. The obtained results show how, at least in most common situations, it is possible to obtain a reliable design for stabilizing works on cut slopes by applying classical geotechnical methodologies.
Access options
Buy single article
Instant access to the full article PDF.
USD 39.95
Price includes VAT (USA)
Tax calculation will be finalised during checkout.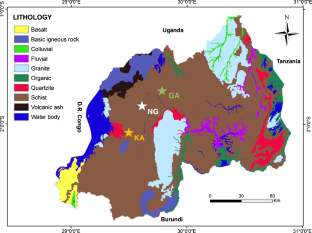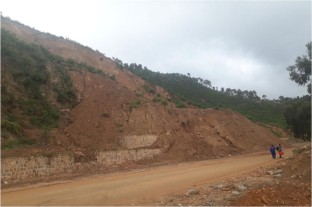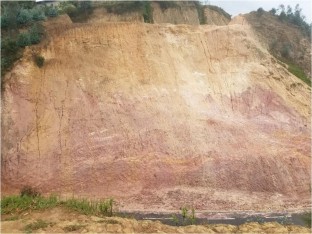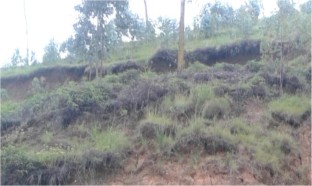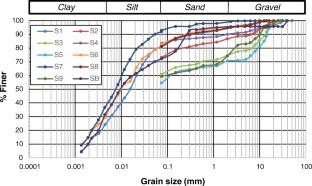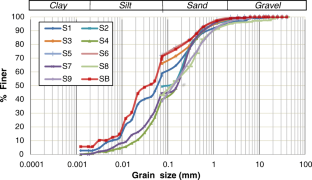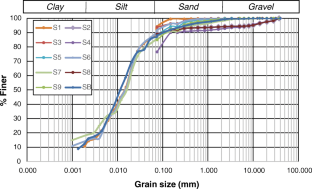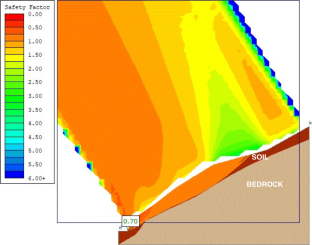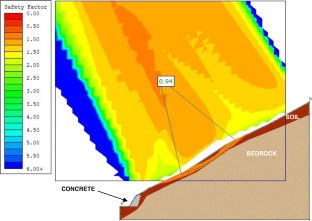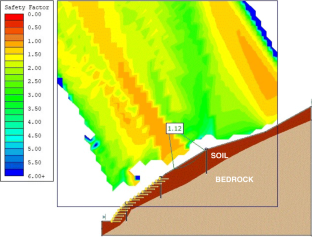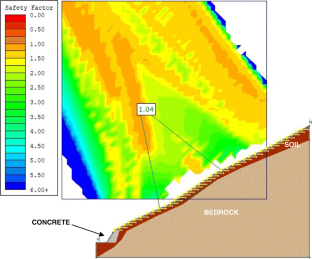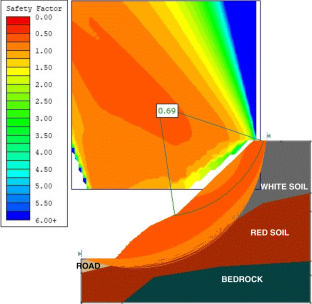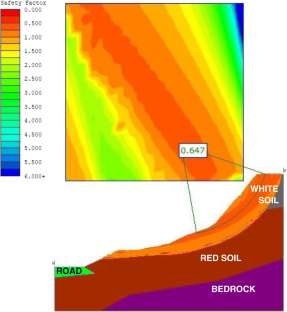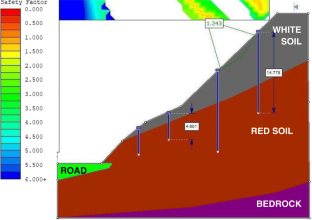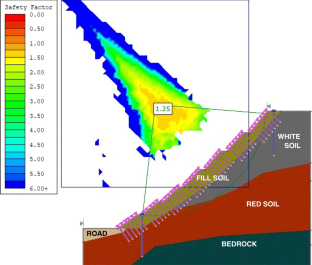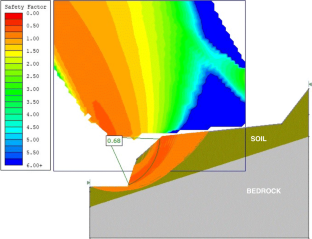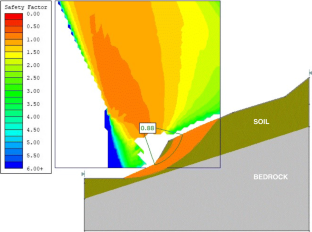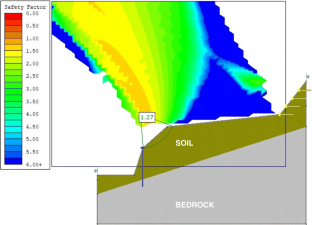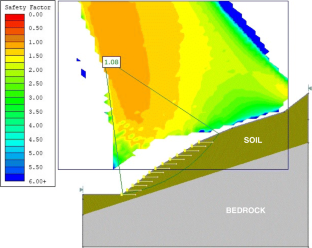 References
Ansari T, Kainthola A, Singh KH, Singh TN, Sazid M (2021) Geotechnical and micro-structural characteristics of phyllite derived soil; implications for slope stability, Lesser Himalaya, Uttarakhand, India. Catena 196:104906

Bordoni M, Meisina C, Valentino R, Lu N, Bittelli M, Chersich S (2015) Hydrological factors affecting rainfall-induced shallow landslides: from the field monitoring to a simplified slope stability analysis. Eng Geol 193:19–37

Cevasco A, Termini F, Valentino R, Meisina C, Bonì R, Bordoni M, Chella GP, De Vita P (2018) Residual mechanisms and kinematics of the relict Lemeglio coastal landslide (Liguria, northwestern Italy). Geomorphology 320:64–81

Iverson RM (2000) Landslide triggering by rain infiltration. Water Resour Res 36:1897–1910

Meteorwanda - Rwanda Meteorology Agency (2016), http://www.meteorwanda.gov.rw. Accessed 2 Dec 2020

Meteorwanda - Rwanda Meteorology Agency (2018), http://www.meteorwanda.gov.rw. Accessed 2 Dec 2020

MINEMA (2016) Ministry in Charge of Emergency Management, Annual Disaster Effects Report 2016.

MINEMA (2018a) Ministry in Charge of Emergency Management, Annual Disaster Effects Report 2018.

MINEMA (2018b) Ministry in Charge of Emergency Management, Report on National contingency plan for floods and landslides, October 2018.

Miščević P, Vlastelica G (2014) Impact of weathering on slope stability in soft rock mass. J Rock Mech Geotech Eng 6(3):240–250

Montrasio L, Valentino R (2008) A model for triggering mechanisms of shallow landslides. Nat Hazards Earth Syst Sci 8:1149–1159 (www.nat-hazards-earth-syst-sci.net/8/1149/2008/© Author(s) 2008). Accessed 23 Nov 2020

Montrasio L, Valentino R (2016) Modelling rainfall-induced shallow landslides at different scales using SLIP - part I. VI Italian Conference of Researchers in Geotechnical Engineering – Geotechnical Engineering in Multidisciplinary Research: from Microscale to Regional Scale, CNRIG2016. Procedia Eng 158:476–481. https://doi.org/10.1016/j.proeng.2016.08.475

Navarro-Hevia J, Lima-Farias TR, de Araújo JC, Osorio-Peláez C, Pando V (2016) Soil erosion in steep road cut slopes in Palencia (Spain). Land Degrad Dev 27(2):190–199

Nsengiyumva JB, Valentino R (2020) Predicting landslide susceptibility and risks using GIS-based machine learning simulations, case of upper Nyabarongo catchment. Geomat Nat Haz Risk 11(1):1250–1277. https://doi.org/10.1080/19475705.2020.1785555

Nsengiyumva JB, Luo G, Nahayo L, Huang X, Cai P (2018) Landslide susceptibility assessment using spatial multi-criteria evaluation model in Rwanda. Int J Environ Res Public Health 15:243

Nsengiyumva JB, Luo G, Amanambu AC, Mind'je R, Habiyaremye G, Karamage F, Ochege FU, Mupenzi C (2019) Comparing probabilistic and statistical methods in landslide susceptibility modeling in Rwanda/Centre-Eastern Africa. Sci Total Environ 659:1457–1472

Oh S, Lu N (2015) Slope stability analysis under unsaturated conditions: case studies of rainfall-induced failure of cut slopes. Eng Geol 184:96–103

Pradhana SP, Siddique T (2020) Stability assessment of landslide-prone road cut rock slopes in Himalayan terrain: a finite element method based approach. J Rock Mech Geotech Eng 12(1):59–73

RTDA - Rwanda Transport Development Agency (2016) Final design report - main report: consultancy services for the study of Muhanga-Karongi road. ACE, Kigali, pp 1–204

Singh TN, Gulati A, Dontha L, Bhardwaj V (2008) Evaluating cut slope failure by numerical analysis—a case study. Nat Hazards 47:263–279

Singh R, Umrao RK, Singh TN (2014) Stability evaluation of road-cut slopes in the Lesser Himalaya of Uttarakhand, India: conventional and numerical approaches. Bull Eng Geol Environ 73:845–857

Singh HO, Ansari TA, Singh TN, Singh KH (2020) Analytical and numerical stability analysis of road cut slopes in Garhwal Himalaya, India. Geotech Geol Eng. Published online at 38:4811–4829. https://doi.org/10.1007/s10706-020-01329-y

Sutejoa Y, Gofara N (2015) Effect of area development on the stability of cut slopes, the 5th International Conference of Euro Asia Civil Engineering Forum (EACEF-5). Procedia Engineering 125:331–337

Taherynia MH, Mohammadi M, Ajalloeian R (2014) Assessment of slope instability and risk analysis of road cut slopes in Lashotor Pass, Iran. J Geol Res 2014, Art. ID 763598:12. https://doi.org/10.1155/2014/763598

Verma AK, Sardana S, Sharma P, Dinpuia L, Singh TN (2019) Investigation of rockfall-prone road cut slope near Lengpui Airport, Mizoram, India. J Rock Mech Geotech Eng 11(1):146–158

Zahn TLT, Ng CWW, Fredlund DG (2007) Field study of rainfall infiltration into a grassed unsaturated expansive soil slope. Can Geotech J 44:392–408
Acknowledgements
The authors thank the Institut d'Enseignement Superieur de Ruhengeri and Rwanda Materials Testing Center Ltd. for the financial support towards the present research and for kindly providing the laboratory equipment. The authors would also like to thank Rocscience Inc. for providing the license for Slide. The authors are grateful to both the Editor and the reviewer for their valuable suggestions, which helped to improve the paper.
Ethics declarations
Conflict of interest
The authors declare that they have no competing interests.
Additional information
Responsible Editor: Zeynal Abiddin Erguler
About this article
Cite this article
Valentino, R., Sobio, Y., Mizero, J. et al. Unstable road cut slopes and design of retaining structures in the Rwandan context. Arab J Geosci 14, 1405 (2021). https://doi.org/10.1007/s12517-021-07819-4
Received:

Accepted:

Published:
Keywords
Cut slopes

Soil characterization

Slope stability

Slope reinforcement

Limit equilibrium

Method