Abstract
This study explores the paleoenvironmental changes of the Acholla coast over the last 2000 years by means of subsurface sediment analyses of lagoonal deposits via a multiproxy approach. A sequence of 5 steps is shown to have shaped the coastal development at Acholla and includes (i) the settlement of an open marine embayment during the Upper Pleistocene (substage 5e) in response to a transgressive event as evidenced by the deposition of carbonate sandstones rich in mollusc associations and marine elemental ratios Sr/Al, Ca/Al, Cl/Al, and S/Al; (ii) a sea-level rise towards183 AD, after a long period of emergence of the coast, leading to transgressive deposits of poorly sorted fine sands that are rich in diversified mollusc and ostracod taxa; (iii) a high-energy event (towards 417AD) with a peculiar biofacies characterized by coarse bioclastic mollusc-rich sands, charcoal particles, Tyrrhenian lithoclasts, and high values of marine elemental ratios Cl/Al, S/Al, and Ca/Al; (iv) a progradation of coastal habitats (between 417 and 1577 AD), favored by a period of flooding/detrital input and longshore current drifts, resulting in the development of an extensive sandspit and the formation of the Acholla lagoon. The construction of a Roman pier, originally constructed to protect the Acholla harbor from sedimentation, was counterproductive and favored the expansion of coastal swash bars and extension of the sandspit, ultimately resulting in the abandonment of the Acholla harbor; (v) the closure of the lagoon (from 1577 AD onward) and the built-up of well-sorted silt deposits are marked by the decrease of detrital elemental ratios (Ti/Al, Si/Al, and K/Al) and by reduced ostracod species richness values. The inferred scenario for the evolution at Acholla coast matches those for Sfax and Skhira coast in the Gulf of Gabes (Tunisia). Unlike Sfax and Skhira, however, the Acholla coast has been subjected to uplift by active faults, resulting in a time shift of depositional patterns.
Access options
Buy single article
Instant access to the full article PDF.
US$ 39.95
Tax calculation will be finalised during checkout.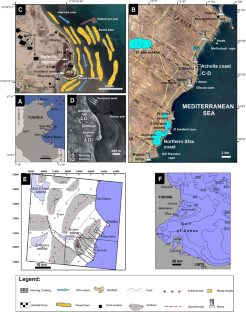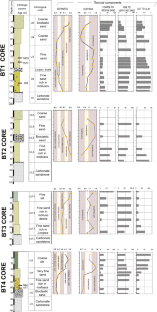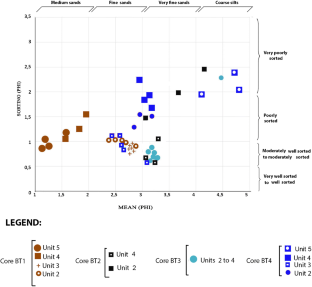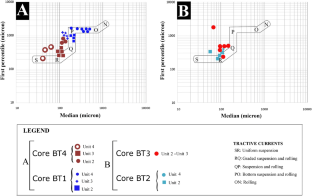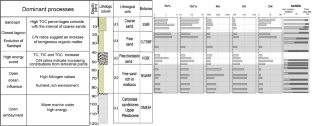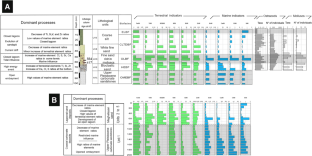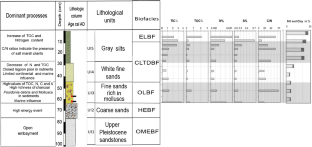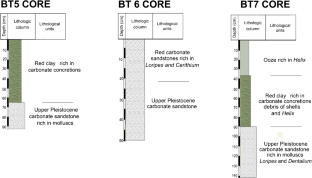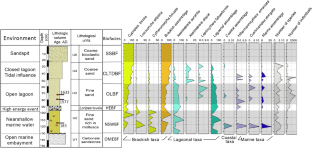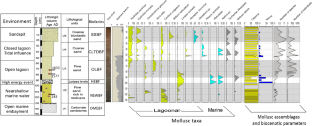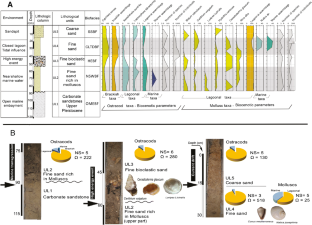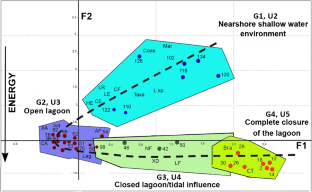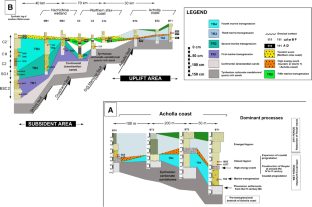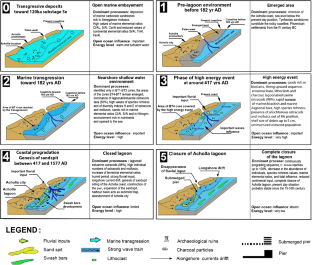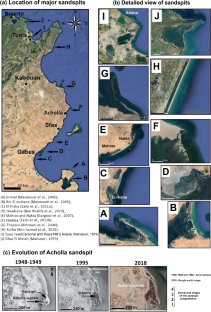 References
Amrouni O (2008) Morphodynamique d'une plage sableuse microtidale à barres: côte nord de Mahdia (Tunisie orientale), Thèse de Doctorat en Sciences géologiques. Faculté des Sciences de Tunis, p 296

Anon L (2007) Tableaux climatologiques mensuels, stations de Mahdia (unpubl.). Annuaire de l'Institut de la Météorologie Nationale. Tunisia.

Antonioli F, Ferranti L, Stocchi P, Deiana G, Lo Presti V, Furlani S, Marino C, Orru P, Scicchitano G, Trainito E, Anzidei M, Bonamini M, Sansò P, Mastronuzzi G (2018) Morphometry and elevation of the last interglacial tidal notches in tectonically stable coasts of the Mediterranean Sea. Earth Sci Rev 185:600–623

Anzidei M, Antonioli F, Lambeck K, Benini A, Soussi M, Lakhdar R (2011) New insights on the relative sea level change during Holocene along the coasts of Tunisia and western Libya from archaeological and geomorphological markers. Quat Int 232:5–12

Bahrouni N, Bouaziz S, Soumaya A, Ben Ayed N, Attafi K, Houla Y, El Ghali A, Rebai N, (2013) Active deformation analysis and evaluation of earthquake hazard in Gafsa region (Southern Atlas of Tunisia). J. Seismol. 235–256.

Bastos L, Bioa A, Pinho JLS, Granja H, Jorge-Silva A (2012) Dynamics of the Douro estuary sand spit before and after breakwater construction. Estuar Coast Shelf S 109:53–69

Béjaoui B, Ben Ismail S, Othmani A, Ben Hadj Hamida O, Chevalier C, Feki W et al (2019) Synthesis review of the Gulf of Gabes (eastern Mediterranean Sea, Tunisia): morphological, climatic, physical oceanographic, biogeochemical and fisheries features. Estuar Coast Shelf Sci 219:395–408. https://doi.org/10.1016/j.ecss.2019.01.006

Ben Hamad A, Viehberg F, Khadraoui A, Zaïbi C, Trabelsi Y, Mouanga GH, Langer MR, Abida H, Kamoun F (2018) Water level and atmospheric humidity history of Lake Ichkeul (northern Tunisia) during the last 3000 years. Arab J Geosci 11(12):316

Ben Khalifa K, Zaïbi C, Bonnin J, Carbonel P, Zouari K, Mnif T, Kamoun F (2019) Holocene environment changes in the Hachichina wetland (Gulf of Gabes, Tunisia) evidenced by foraminifera and ostracods, geochemical proxies and sedimentological analysis. Riv Ital Paleontol Stratigr 125:517–549

Benito G, Macklin MG, Zielhofer C,  Jones AF, Machado MJ  (2015) Holocene flooding and climate change in the Mediterranean. CATENA 130:13-33

Benzécri JP (1980) Pratique de l'analyse des données. Editions Dunod, Paris

Bonaduce G, Ciampo G, Masoli M (1975) Distribution of Ostracoda in the Adriatic Sea. Reprinted from the Pubb. Staz Zoo Napoli 40:1–304

Bouchet P, Rocroi JP (2005) Classification and nomenclator of gastropod families. Malacol Inst Malacol 47:1–397

Bouchet P, Rocroi JP (2010) Nomenclator of bivalve families with a classification of bivalve families. Malacol Inst Malacol 52:1–184

Brahim F (2015) Évolution de la paléolagune-sebkha d'Ennjila et de ses environs (Sahel tunisien – Tunisie orientale). Méditerranée:51–62. https://doi.org/10.4000/mediterranee.7928

Brun A (1992) Pollens dans les séries marines du Golfe de Gabès et du plateau des Kerkennah (Tunisie): signaux climatiques et anthropiques. Quaternaire 3:31–39

Brun A, Rouvillois-Brigol M 1985 Apport de la palynologie à l'histoire du peuplement en Tunisie. Palynologie Archéologique. Notes et monographies technique 17:213–226.

Burollet PF (1979) La mer Pélagienne, les apports de l'archéologie, Géologie méditerranéenne, 6:309–313

Carayon N (2008) Les ports pheniciens et punique géomorpologie et infrastructure. Thèse de doctorat. Université de Strasbourg 1384 p.

Carbonel P (1982) Les Ostracodes, traceurs des variationshydrologiques dans les systèmes de transition eau douceeausalée. Mem Soc Geol Fr 144:117–128

Carbonel P (1988) Ostracods and the transition between fresh and saline waters. In: De Deckker P, Colin J-P, Peypouquet JP (eds) Ostracoda in the Earth Sciences. Elsevier, Amsterdam, pp 157–173

Carbonel P, Pujos M (1981) Comportement des microfaunes benthiques en milieu lagunaire. In: Actes du Premier Congrès National des Sciences de la Terre, Tunis, pp 127–139

Carlier A, Riare P, Amouroux JM, Bodiou JY, Escoubeyrou K, Desmalades M, Caparros J, Gremare A (2007) A seasonal survey of the food web in the Lapalme Lagoon (northwestern Mediterranean) assessed by carbon and nitrogen stable isotope analysis. Estuar. Coast Shelf 73:299–315

Chagué-Goff C, Goff J, Wong HKY, Cisternas M (2015) Insights from geochemistry and diatoms to characterise a tsunami's deposit and maximum inundation limit. Mar Geol 359:22–34

Cheddadi R, Lamb HF, Giot J, Van Der Kaars S (1998) Holocene climatic change in Morocco: a quantitative reconstruction from pollen data. Clim Dyn 14:883–890

Coque R (1962) La Tunisie présaharienne. Étude géo morphologique. Thèse Lettres, Paris, Paris, Golin, 476 p

CRDA (Commissariat régional du développement agricole de Mahdia) 2012 Annuaires d'exploiation des nappes phréatiques du gouvernorat de Mahdia (unpubl.).

Damnati B,  Etebaai I,  Benjilani H, El Khoudri K, Reddad H, Taieb M, (2016) Sedimentology and geochemistry of lacustrine terraces of three Middle Atlas lakes: Paleohydrological changes for the last 2300 cal BP in Morocco (western Mediterranean region). Quaternary International 404:163-173

Delile H, Goiran JP, Blichert-Toft J, Arnaud-Godet F, Romano P, Bravard JP (2016) Geochemical and sedimentological perspective of the life cycle of Neapolis harbor (Naples, southern Italy). Quat Sci Rev 150:84–97

Desprat S, Sanchez-Goni MF, Loutre MF (2003) Revealing climatic variability of the last three millennia in northwestern Iberia using pollen influx data. Earth Planet Sc Lett 213:63–78

Donato SV, Reinhardt EG, Boyce JI, Rothaus R, Vosmer T (2008) Identifying tsunami deposits using bivalve shell taphonomy. Geology 36:199–202

Eastwood WJ, Leng MJ, Roberts N, Davis B (2007) Holocene climate change in the eastern Mediterranean region: a comparison of stable isotope and pollen data from Lake Gölhisar, southwest Turkey. J. Quaternary Sci. 22 : 327-341

Engel M, Oetjen J, May SM, Brückner H (2016) Tsunami deposits of the Caribbean-towards an improved coastal hazard assessment. Ear-Sci Rev 163:260–296

Fatela F, Taborda R (2002) Confidence limits of species proportions in microfossil assemblages. Mar Micropaleontol 45:169–174

Faust D (2004) High-resolution fluvial record of late Holocene geomorphic change in northern Tunisia: climatic or human impact?. Quaternary Science Reviews 23 : 1757-1775

Folk RL, Ward WC (1957) Brazos River bar: a study in the significance of grain size parameters. J Sediment Petrol 27:3–26

Frenzel P, Boomer I (2005) The use of ostracods from marginal marine, brackish waters as bioindicators of modern and Quaternary environmental change. Palaeogeogr Palaeoclimatol Palaeoecol 225:68–92

Gargouri, Ben Ayed Z, Souissi R, Soussi M, Abdeljaouad S, Zouari K (2007) Sedimentary dynamics and ecological state of Nakta tidal flat (littoral), South of Sfax, Gulf of Gabès, (Tunisia). Chin J Geochem 26:244–251

Gifford JA, Rapp JG, Vitali V (1992) Palaeogeography of Carthage (Tunisia): coastal change during the first millennium BC. J Archaeol Sci 19:575–596

Gzam M, El Mejdoub N, Boumaggard E (2019) Tracing sea-level changes during the mid-Holocene in the southern Mediterranean coast: an example from the Gulf of Gabes. Sediment Geol 391:105516

Haghani S, Leroy S, Frank P, Wesseling F, Rose NL (2015) Rapid evolution of coastal lagoons in response to human interference under rapid sea level change: a south Caspian Sea case study. Quat Int XXX:1–20

Hammer Ø, Harper DAT, Ryan PD (2001) Past: paleontological statistics software package for education and data analysis. Palaeontol Electron 4(1):9

Jauzein A (1967) Contribution à l'étude géologique des confins de la dorsale tunisienne, Annales Mines et Géologie, Tunis, 22 : 251-252.

Jedoui Y, Kallel N, Fontugne M, Ben Ismail MH, M'Rabet A, Montacer M (1998) A high relative sea level stand in the middle Holocene of Southeastern Tunisia. Mar Geol 147:123–130

Joachim C, Langer MR (2008) The 80 most common Ostracods from the Bay of Fetovaia, Elba Island (Mediterranean Sea). Universität Bonn, Selbstverlag, pp 1–29

Jones MD, Roberts N, Leng MJ, Türkes M (2006) A high-resolution late Holocene lake isotope record from Turkey and links to North Atlantic and monsoon climate. Geology 34:361–364

Judd K, Chagué-Goff C, Goff J, Gadd P, Zawadzki A, Fierro D (2017) Multi proxy evidence for small historical tsunamis leaving little or no sedimentary record. Mar Geol 385:204–215

Kamoun Y (1981) Étude néotectonique dans la région de Monastir-Mahdia (Tunisie orientale). Université de Paris-Sud. Faculté des sciences d'Orsay, Thèse de 3e cycle, 181 p

Kamoun M, Khadraoui A, Ben Hamad A, Zaïbi C, Langer MR, Bahrouni N, Ben Youssef M, Kamoun F (2019) Impact of relative sea level change and sedimentary dynamic on an historic site expansion along the coast between Sfax and Jebeniena. Conference of the Arabian Journal Geosciences (CAJG), 12-15 November 2018, Hammamet, Tunisia 141-143

Kamoun M, Zaïbi C, Langer MR, Khadraoui A, Ben Hamad A, Ben Khalifa K, Carbonel P, Ben Youssef M (2020) Environmental evolution of the Acholla coast (Gulf of Gabes, Tunisia) during the past 2000 years as inferred from paleontological and sedimentological proxies. N Jb Geol Paläont 296(3):217–235

Khadraoui A, Kamoun M, Ben Hamad A, Zaïbi C, Bonnin J, Viehberg F, Bahrouni N, Sghari A, Abida H, Kamoun F (2018) New insights from microfauna associations characterizing palaeoenvironments, sea level fluctuations and a tsunami event along Sfax Northern Coast (Gulf of Gabes, Tunisia) during the Late Pleistocene-Holocene. J Afr Earth Sci 147:411–429

Khadraoui A, Zaïbi C, Carbonel P, Bonnin J, Kamoun F (2019) Ostracods and molluscs in northern Sfax coast: reconstruction of Holocene paleoenvironmental changes and associated forcing. Geo-Mar Lett 39:313–336. https://doi.org/10.1007/s00367-019-00576-0

Kortekaas S, Dawson A (2007) Distinguishing tsunami and storm deposits: an example from Martinhal, SW Portugal. Sediment Geol 200:208–221

Lachenal AM (1989) Écologie des Ostracodes du domaine méditerranéen :application au Golfe de Gabès (Tunisie Orientale). Les variations du niveau marin depuis 30.000 ans. Doc Lab Géol Lyon 108:1–239

Lambeck K, Yokoyama Y, Purcell T (2002) Into and out of the Last Glacial Maximum: sea-level change during oxygen isotope stages 3 and 2. Quat Sci Rev 21:343–360

Laprida C (2001) Les ostracodes traceurs de conditions hydrologiques à petite échelle: exemple d'interprétation dans l'Holocène. Geobios 34(6):707–720

Mahmoudi M (1988) Nouvelle proposition de subdivisions stratigraphiques des dépôts attribués au Tyrrhénien en Tunisie (région de Monastir). Bull Soc Géol France 8, IV:431–435

Mansouri R (1979) Contribution à l'étude de la sédimentation littorale historique et actuelle au voisinage du delta de la Medjerda : étude du lac Rhar el Melah et de la Sebkha de l'Ariana. Thèse de 3éme cycle, université de Bordeaux (inédit) 280p.

Marquer L, Pomel S, Abichou A, Schulz E, Kaniewski D, Van Campo E, (2008) Late Holocene high resolution palaeoclimatic reconstruction inferred from Sebkha Mhabeul, southeast Tunisia. Quat. Res. 70: 240-250.

Marriner N, Kaniewski D, Morhange C, Flaux C, Giaime M, Vacchi M, Goff J (2017) Tsunamis in the geological record: making waves with a cautionary tale from the Mediterranean. Sci Adv 3:1–12

Martinez-Ruiz F, Kastner M, Gallego-Torres D, Rodrigo-Gamiz M, Nieto-Moreno V, Ortega-Huertas M (2015) Paleoclimate and paleoceanography over the past 20,000 yr in the Mediterranean Sea Basins as indicated by sediment elemental proxies. Quat Sci Rev 107:25–46

Masmoudi S, Yaich C, Ammoun M (2005) Evolution et morphodynamique des iles barrières et des flèches littorales associées à des embouchures microtidales dans le Sud- Est tunisien. Bull Inst Sci Sec Sc Terre 27:65–81

Meyers PA, Lallier-Vergès E (1999) Lacustrine sedimentary organic matter records of Late Quaternary paleoclimates. J Paleolimnol 21:345–372

Meyers PA, Terranes JL (2001) Sediment organic matter. In: Last WM, Smol JP (eds) Physical and Geochemical Techniques, Tracking Environmental Change Using Lake Sediments, vol 2. Kluwer Academic Publishers, Dordrecht, pp 239–269

Nachite D, Rodríguez-Lázaro J, Martín-Rubio M, Pascual A, Bekkali B (2010) Distribution and ecology of recent ostracods from the Tahadart estuary (NW Morocco). Rev Micropaleontol 53:3–15

Ouda B, Zouari K, Ben Ouezdou H, Chkir N, Causse C (1998) Nouvelles données paléoenvironnementales pour le Quaternaire récent en Tunisie centrale (bassin de Maknessy). Earth and Planetary Sciences 326: 855–886.

Oueslati A, Paskoff R, Slim H et Trousset P (1987) Déplacements de la ligne de rivage en Tunisie d'après les données de l'Archéologie à l'époque historique, Coll. C.N.R.S. Déplacements des lignes de rivage en Méditerranée, 67-85.

Oueslati A, Paskoff R, Slim H, Trousset P (1992) Les îles Kneiss et le monastère de Fulgence de Ruspe. Antiq Afr 28:223–247

Pascual A, Carbonel P (1992) Distribution and annual variations of Loxoconcha elliptica in the Gernika estuary (Bay of Biscay). Geobios 25:495–503

Paskoff R, Sanlaville P (1983) Les côtes de la Tunisie: variation du niveau marin depuis le Tyrrhénien. Maison de l'orient, Lyon, 192 pp

Paskoff R and Oueslati A (1991) Modifications of Coastal conditions in the gulf of Gabbs (Southern Tunisia) since Classical Antiquity. Z. Geom., Suppl. 81: 149-162.

Passega R (1964) Grain size representation by CM patterns as a geological tool. J Sediment Petrol 34:830–847

Pertuisot J.P (1975) La Sebkha el Melah de Zarzis : genèse et évolution d'un bassin salin paralique (Tunisie). Laboratoire de géologie de l'Ecole normale supérieure, Travaux du laboratoire de géologie, 9, 252 pages

Picard G Ch (1947) Acholla, CRAI, p. 557-562

Picard GCh (1990-1992) La maison du triomphe de Neptune à Acholla, BAC, nouvelle série, 23 : 171-176

Pleuger E, Goiran JP, Mazzini I, Delile H, Abichou A, Gadhoum A, Djerbi H, Piotrowska N, Wilson A, Fentress E, Ben Jerbania I, Fagel N (2019) Palaeogeographical and palaeoenvironmental reconstruction of the Medjerda delta (Tunisia) during the Holocene. Quat Sci Rev 220:263–278

Reale O, Dirmeyer P (2000) Modeling the effects of vegetation on Mediterranean climate during the Roman Classical Period. Part I: Climate history and model sensitivity. Glob Planet Chang 25:163–184

Reimer PJ, Bard E, Bayliss A, Warren Beck JW, Paul G, Blackwell PG, Bronk Ramsey CB, Buck CE, Cheng H, Edwards RL, Friedrich M, Grootes PM, Guilderson PT, Haflidason H, Hajdas I, Hatté C, Heaton TJ, Hoffmann DL, Hogg AG, Hughen KA, Kaiser KF, Kromer B, Manning SW, Niu M, Reimer RW, Richards DA, Scott EM, Southon JR, Staff RA, Turney CSM, Van der Plicht J (2013) Intcal 13 and marine 13 radiocarbon age calibration curves, 0-50000 years cal BP. Radiocarbon 55(4):1869–1887

Ruiz F, Borrego J, Lόpez-González N, Abad M, Gonzlez-Regalado ML, Carro B, Pendόn JG, Rodríguez-Vidal J, Cáceres LM, Prudncio MI, Dias MI (2007) The geological record of a mid-Holocene marine storm in southwestern Spain. Geobios 40:689–699

Sghaier A, Hassine M (2007) Geological map of Tunisia, Jebeniana Editions of Geol. Surv. Nat. Off. of Mines, Tunisia

Siani G, Paterne M, Arnold M, Bard E, Métivier B, Tisnerat N, Bassinot F (2000) Radiocarbon reservoir ages in the Mediterranean Sea and Black Sea. Radiocarbon 42(2):271–280

Siani G, Paterne M, Michel E, Sulpizio R, Sbrana A, Arnold M, Haddad G (2001) Mediterranean Sea surface radiocarbon reservoir age changes since the Last Glacial Maximum. Science 294:1917–1920

Slim P, Trousset P, Paskoff R, Oueslati A (2004) Le littoral de la Tunisie. In: Etude géoarchéologique et historique. CNRS, pp 185–187

Stefaniuk L, Morhange C, Blanc PF, Francou S, Goiran JP (2005) Évolution des paysages littoraux dans la dépression sud-ouest de Cumes depuis 4000 ans. La question du port antique. Mediterranée 104:49–59

Stocchi P, Colleoni F, Spada G (2009) Bounds on the time–history and Holocene mass budget of Antarctica from sea-level records in SE Tunisia. Pure Appl Geophys 166(8-9):1319–1341

Tinti S, Armigliato A, Pagnoni G, Zaniboni F (2005) Scenarios of giant tsunamis of tectonic origin in the Mediterranean. ISET J Earthq 42:171–188

Trabelsi S (2019) Le port antique de Missua (Sidi Daoud). Découvertes sous-marines récentes, Méditerranée : http://journals. openedition.org/mediterranee/10799

Trog C, Dana H, Frenzel P, Camacho S, Schneider H, Mäusbache R (2013) A multi-proxy reconstruction and comparison of Holocene palaeoenvironmental changes in the Alvor and Alcantarilha estuaries (southern Portugal). Rev Micropaleontol l56:131–158

Trousset P (1992) La vie littorale et les ports dans la Petite Syrte à l'époque romaine. Vème Colloque sur l'Histoire et l'Archéologie de l'Afrique du Nord (Avignon avril 1990), Paris, CTHS : 317-332

Vacchi M, Marriner N, Morhange C, Spada G, Fontana A, Rovere A (2016) Multiproxy assessment of Holocene relative sea-level changes in the western Mediterranean: sea-level variability and improvements in the definition of the isostatic signal. Earth Sci Rev 155:172–197

 Vella C,  Provansal M (2000) Relative sea-level rise and neotectonic events during the last 6500 yr on the southern eastern Rhône delta, France. Marine Geology 170 (1-2):27-39

Vita-Finzi C, Roberts N (1984) Selective leaching of shells for 14C dating. Radiocarbon 26:54–58

Zaïbi C. (2011) Paléoenvironnements, forçages et événements extrêmes associés à l'emplacement de la côte Sud de la Skhira au cours de l'Holocène. Apport des ostracodes et des foraminifères. Thèse de Doctorat, Faculté des Sciences de Sfax, 291 pp.

Zaïbi C, Kamoun F, Gargouri D, Jedoui Y, Montacer M (2006) La flêche sableuse de Ras Kabboudia de la Chebba: mécanisme de formation et évolution spatiotemporelle, 74. Notes du service géologique, Tunis, pp. 96-106.

Zaïbi C, Kamoun F, Viehberg F, Carbonel P, Jedoui Y, Abida H, Fontugny M (2016) Impact of relative sea level and extreme climate events on the Southern Skhira coastline (Gulf of Gabes, Tunisia) during Holocene times: Ostracodes and foraminifera associations response. J Afr Earth Sci 118:120–136

Zaïbi C, Scharf B, Kamoun F, Carbonel P et Montacer, M (2011a). Distribution et écologie des ostracodes de la lagune El Hisha et de quelques environnements endoréiques de la Tunisie centrale et méridionale. Intérêt pour la caractérisation des environnements actuels. Service Géologique National de Tunisie. Office National des Mines. Tunisie. 79, 35-47

Zaïbi C, Scharf B, Kamoun F, Carbonel P, Montacer M (2011b) Distribution et écologie des ostracodes de la lagune El Hisha et de quelques environnements endoréiques de la Tunisie centrale et méridionale. Intérêt pour la caractérisation des environnements actuels. Notes Serv. Géol. Office National des Mines. Tunisie. 79:35–47

Zazo C, Goy JL, Dabrio CJ, Bardaj T, Somoza L, Silva PG 1993 The last interglacial in the mediterranean as a model for the present interglacial. Global Planet. Change 7, 109–117
Acknowledgements
This work is linked to the Project "Tunisian wetlands" of GEOGLOB laboratory. The remarks and suggestions of two anonymous referees were very useful in improving the manuscript. We are thankful to Abdelwahed MOKNI President of the University of Sfax for logistic support and constructive remarks.
Ethics declarations
Conflict of interest
The authors declare that they have no competing interests.
Additional information
Responsible Editor: Attila Ciner
About this article
Cite this article
Kamoun, M., Zaïbi, C., Langer, M.R. et al. Coastal dynamics and the evolution of the Acholla lagoon (Gulf of Gabes, Tunisia): a multiproxy approach. Arab J Geosci 14, 2021 (2021). https://doi.org/10.1007/s12517-021-07590-6
Received:

Accepted:

Published:
Keywords
Ostracods

Sea level

Acholla lagoon

Roman harbor

Holocene

Sandspit

Paleogeography

Tunisia