Abstract
Many digital photo cameras are used to capture long-range and aerial images, which is very similar to those used to capture photos from spacecraft, drones, and unmanned aerial vehicles (UAV). The probing into global image-enrichment techniques is due to the distinctiveness of image kinds. Usually, there will be a geometric deformation in the data obtained using remote sensing from spacecraft/airplanes because of the acquisition system and platform motion. Whensoever a comparison is made between the image and current maps or other images, there is a need for a geometric correction of the image. The investigation of an instinctive image using the current techniques commonly employ histogram equalization to enrich the images. Completely automatic and non-linear are the unique features of this technique. Nevertheless, this technique encounters specific problems like spikes, extreme optimization, and the absence of contrast protection. The technique proposed here is a wavelet-based enhancement technique that employs georectification to correct deformations and noise and enhance the image using a coiflet-based smoothing function with a stationary wavelet transform wavelet to enhance the lower sub-bands using homomorphic filtering. The proposed scheme is measured against other performance metric schemes such as absolute mean brightness errors, peak signal to noise ratio, structural similarity index, contrast improvement index, brightness enhancement index (BEI), and universal quality index
Access options
Buy single article
Instant access to the full article PDF.
US$ 39.95
Tax calculation will be finalised during checkout.
Subscribe to journal
Immediate online access to all issues from 2019. Subscription will auto renew annually.
US$ 79
Tax calculation will be finalised during checkout.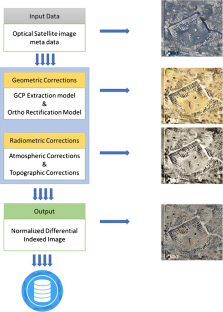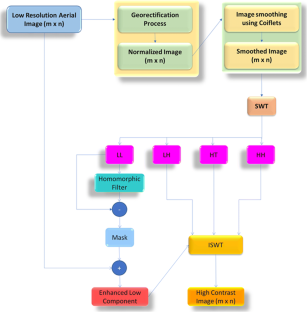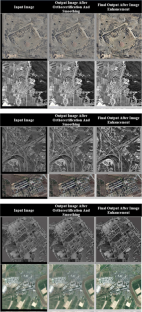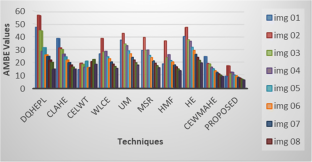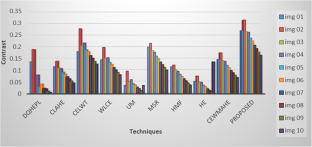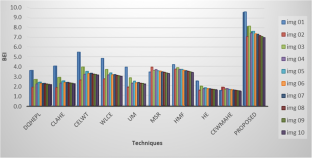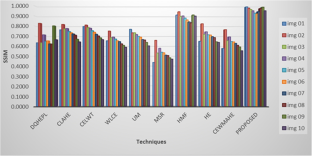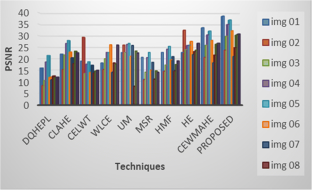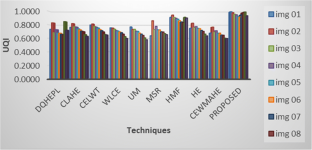 References
Aamir M, Pu YF, Rahman Z, Tahir M, Naeem H, Dai Q (2019) A framework for automatic building detection from low-contrast satellite images. Symmetry 11:3

Ahmadi S, Zoej MV, Ebadi H, Moghaddam HA, Mohammadzadeh A (2010) Automatic urban building boundary extraction from high-resolution aerial images using an innovative model of active contours. Int J Appl Earth Obs Geoinf 12:150–157

Arici T, Dikbas S, Altunbasak Y (2009) A histogram modification framework and its application for image contrast enhancement. IEEE Trans Image Process 18(9):1921–1935. https://doi.org/10.1109/TIP.2009.2021548

Atta R, Mohammad G (2013) Low-contrast satellite images enhancement using discrete cosine transform pyramid and singular value decomposition. IET Image Process 7(5):472–483

Ayoub N, Gao Z, Chen B, Jian M (2018) A synthetic fusion rule for salient region detection under the framework of DS-evidence theory. Symmetry 10:183

Buades A, Coll B, Morel JM (2005) A review of image denoising algorithms, with a new one. Multiscale Model Simul 4:490–530

Chen SD, Ramli AR (2003) Minimum mean brightness error bi-histogram equalization in contrast enhancement. IEEE Trans Consum Electron 49:1310–1319

Demirel H, Anbarjafari G (2011) IMAGE resolution enhancement by using discrete and stationary wavelet decomposition. IEEE Trans Image Process 20:1458–1460

Garzelli A (2016) A review of image fusion algorithms based on the super-resolution paradigm. Remote Sens 8(10):797. https://doi.org/10.3390/rs8100797

Gonzalez RC, Woods (2008) R.E. Digital image processing, 3rd edn. Prentice-Hall, Upper Saddle River, NJ

Kang W, Jaehwan J, Eunsung L, Changhun C, Junghoon J, Taechan K, Aggelos KK, Joonki P (2013) Real-time super-resolution for digital zooming using finite kernel-based edge orientation estimation and truncated image restoration. In Image Processing (ICIP), 20th IEEE International Conference on, pp 1311–1315. IEEE, 2013

Kaplan NH (2017) Remote sensing image enhancement using hazy image model. Optik-International Journal for Light and Electron Optics 155:139–148. https://doi.org/10.1016/j.ijleo.2017.10.132

Keys R (1981) Cubic convolution interpolation for digital image processing. IEEE Trans Acoust Speech Signal Process 29(6):1153–1160

Koc San D, Turker M (2010) Building extraction from high-resolution satellite images using Hough transform. Int Arch Photogramm Remote Sens Spat Inf Sci 38:1063–1068

L. S, H. Z, X. Z, Y. Y (Dec. 2019) Variable step-size widely linear complex-valued NLMS algorithm and its performance analysis. Signal Process 165:1–6

Minnaert M (1941) The reciprocity principle in lunar photometry. Astrophys J 93:403–410

Nason GP, Silverman BW (1995) The stationary wavelet transform and some statistical applications in wavelet and statistics. In: Antoniadis A (ed) Lecture notes in statistics. Springer Verlag, Berlin, pp 281–299

Neena KA, Aiswriya R, Rajesh Cherian R (2012) Image enhancement based on stationary wavelet transform, integer wavelet transforms and singular value decomposition. Int J Comput Appl 58(11):30–35

Nunez J, Otazu X, Fors O, Prades A, Pala V, Arbiol R (1999) Multiresolution-based image fusion with additive wavelet decomposition. IEEE Trans Geosci Remote Sens 37:1204–1211

Ooi C, Mat Isa N (2010) Quadrants dynamic histogram equalization for contrast enhancement. IEEE Trans Consum Electron 56(4):2552–2559. https://doi.org/10.1109/tce.2010.5681140

Otsu N (1979) A threshold selection method from gray-level histograms. IEEE Trans Syst Man Cybern 9:62–66

Pratt WK (1978) Digital image processing. John Wiley and Sons, New York

Pyka K (2017) Wavelet-based local contrast enhancement for satellite, aerial and close-range images. Remote Sens 9(25). https://doi.org/10.3390/rs9010025

Saleh SAM, Ibrahim H (2012) Mathematical equations for homomorphic filtering in frequency domain: a literature survey. Int Conf Inf Knowl Manag 45:74–77

Shih MY, Tseng DC (2005) A wavelet-based multi-resolution edge detection and tracking. Image Vis Comput 23:441–451

Singh K, Kapoor R (2014) Image enhancement via median-mean based sub-image-clipped histogram equalization. Optik: International Journal for Light and Electron Optics 125(17):4646–4651

So H, Choi JW (2019) Subband optimization and filtering technique for practical personal audio systems. in Proc. IEEE Int. Conf. Acoust., Speech Signal Process., 2019

Stephen MP, Philip AE, Austin JD, Robert C, Ari G, Trey G, Bart ter Haar R, John BZ, Karel Z (1987) Adaptive histogram equalization and its variations. Computer Vision, Graphics, and Image Processing 39(3):355–368

Tinku A,a & Pin-Sing T (2007) Computational foundations of image interpolation algorithms, ACM Ubiquity, vol. 8

Vicent M-C, Gema P, de Maria D, Alberto G (2020) Personal sound zones by subband filtering and time domain optimization. IEEE/ACM Trans Audio Speech Lang Process 28:2684–2696

Yeong-Taeg K (1997) Contrast enhancement using brightness preserving bi-histogram equalization. IEEE Trans Consum Electron 43(1):1–8

Yu W, Qian C, Baeomin Z (1999) Image enhancement based on equal area dualistic sub-image histogram equalization method. IEEE Trans Consum Electron 45(1):68–75. https://doi.org/10.1109/30.754419

Zaksek K, Pehani P, Ostir K, Kokalj Z, Polert E (2012) Hill-shading based on anisotropic diffuse illumination. In: Proceedings of the Symposium GIS Ostrava 2012: Surface Models for Geosciences, Ostrava, Czech Republic, 23–25 January 2012

Zakšek K, Gerst A, von der Lieth J, Ganci G, Hort M (2015) Cloud photogrammetry from space. The International Archives of the Photogrammetry, Remote Sensing and Spatial Information Sciences, 36th International Symposium on Remote Sensing of Environment, 11-15 May 2015, Berlin, Germany, Vol. XL-7/W3, pp 247–254

Zhang Y, Qinglan F, Fangxun B, Yifang L, Caiming Z (2018) Single-image super-resolution based on rational fractal interpolation. IEEE Trans Image Process 27(8):3782–3797
Ethics declarations
Conflict of interest
The authors declare that they have no competing interests.
Additional information
This article is part of the Topical Collection on Data Science for Ocean Data Visualization and Modeling
Responsible Editor: Syed Hassan Ahmed
About this article
Cite this article
Pullagura, R., Valasani, U.S. & Kesari, P.P. Hybrid wavelet-based aerial image enhancement using georectification and homomorphic filtering. Arab J Geosci 14, 1235 (2021). https://doi.org/10.1007/s12517-021-07551-z
Received:

Accepted:

Published:
Keywords
Coiflet

Georectification

Geocorrection

Homomorphic filtering

Orthorectification

SWT

Wavelet