Abstract
Integrated geophysical data provides a powerful tool for subsurface imaging with reasonable accuracy. The 2-D electric resistivity tomography and seismic refraction tomography profiling are carried out at four sites in Thuwal-Rabigh area, west-central Saudi Arabia. These profiles oriented perpendicular to the proposed strike of the Qadimah fault to detect the Qadimah fault. The results indicate the presence of the Qadimah fault underneath the northern two profiles at shallow depths, while not recorded through the southern two profiles indicating the absence of fault or changing in its strike southward. These results confirmed the passing of Qadimah fault through the King Abdullah Economic City. The study displayed the extension of the fault through King Abdullah Economic City worming serious hazards in the future in case of reactivating the movement along the fault plane, especially the area has a noticeable seismic activity. Continuous monitoring of earthquake activities and displacement along the fault plane through installation local earthquake monitoring network equipped by global positioning system are highly recommended.
Access options
Buy single article
Instant access to the full article PDF.
USD 39.95
Price includes VAT (USA)
Tax calculation will be finalised during checkout.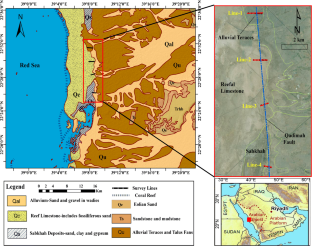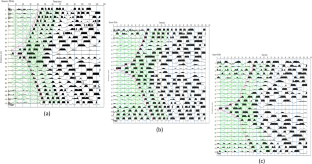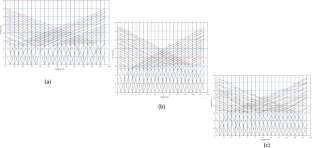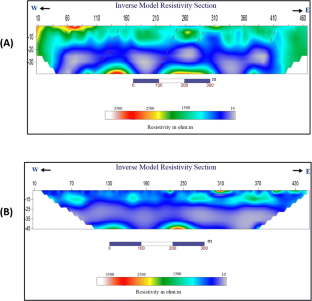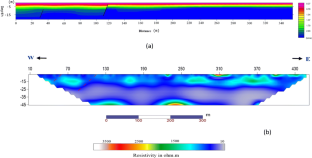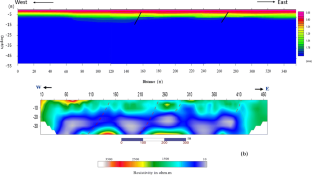 References
Aldridge DF, Oldenburg DW (1993) Two-dimensional tomographic inversion with finite-difference traveltimes. J Seism Explor 2:257–274

AlTawash F (2011) Geophysical Imaging of Fault Structures over the Qadimah Fault. King Abdullah University of Science and Technology, Saudi Arabia

Ammar AI, Kamal KA (2018) Resistivity method contribution in determining of fault zone and hydro-geophysical characteristics of carbonate aquifer, eastern desert, Egypt. Appl Water Sci 8:1. https://doi.org/10.1007/s13201-017-0639-9

Ammon CJ, Vidale JE (1993) Tomography without rays. Bull Seismol Soc Am 83(2):509–528

Fossen H (2010) Structural geology. Cambridge University Press

Gilbert P (1972) Iterative methods for the three-dimensional reconstruction of an object from projections. J Theor Biol 36(1):105–117. https://doi.org/10.1016/0022-5193(72)90180-4

Giocoli A, Burrato P, Galli P, Lapenna V, Piscitelli S, Rizzo E, Romano G, Siniscalchi A, Magri C, Vannoli P (2008) Using the ERT method in tectonically active areas: hints from Southern Apennine (Italy). Adv Geosci 19:61–65

Hanafy SM, Aboud E, Mesbah HSA (2012) Detection of subsurface faults with seismic and magnetic methods. Arab J Geosci 5(5):1163–1172. https://doi.org/10.1007/s12517-010-0255-6

Loke MH (1999) A Practical Guide to 2D and 3D Surveys. Electrical Imaging Surveys for Environmental and Engineering Studies, p 63. www.abem.se

Lutter D, Nowack R, Braile L (1990) Seismic imaging of upper crustal structure using travel times from the Passcal Ouachita experiment. J Geohys Res 95:4621–4631

Mahmoud S. (2012) Detection of the Qademah Fault using Geophysical Methods. 7th Gulf Seismic Forum 2012, King Abdullah University of Science and Technology.

Moore TA, Al-Rehaili MH (1989) Geologic Map of the Makkah Quadrangle, Sheet 21D, Kingdom of Saudi Arabia, Ministry of Petroleum and Mineral Resources, Deputy Ministry for Mineral Resources Publication, Jeddah, K.S.A

Nemeth T, Normark E, Qin F (1997) Dynamic smoothing in crosswell traveltime tomography. Geophysics 62(1):168–176

Nolet G (1987) Seismic tomography: with applications in global seismology and exploration geophysics. D. Reidel Publishing Co., Dordrecht, Holland

Park SK, and Wernicke B (2003) Electrical conductivity images of Quaternary faults and Tertiary detachments in the California Basin and Range, Tectonics V22, No. 4. https://doi.org/10.1029/2001TC001324

Qin F, Luo Y, Olsen KB, Cai W, Schuster GT (1992) Finite-difference solution of the eikonal equation along expanding wavefronts. Geophysics 57(3):478–487

Rezaei K (2016) Soil and Subsurface Sediment Microzonation Using with Seismic Refraction Tomography for Site Assessment (Case Study: IKIA Airport, Iran). Open J Geol 6(3):165–188. https://doi.org/10.4236/ojg.2016.63016

Rinaldi VA, Ibarra HV, Viguera RF, and Harasimiuk JC (2019) Application of seismic tomography for detecting structural faults in a Tertiary Formation. E3S Web of Conferences 92, 18008. https://doi.org/10.1051/e3sconf/20199218008

Rizzo E, Giampaolo V, Capozzoli L, and Grimaldi S (2019) Deep Electrical Resistivity Tomography for the Hydrogeological Setting of Muro Lucano Mounts Aquifer (Basilicata, Southern Italy). Geofluids Volume 2019, Article ID 6594983, 11 pages. https://doi.org/10.1155/2019/6594983

Roobol MJ, Kadi KA (2008) Saudi Geological Survey Technical Report SGSTR-2008-6, 12. Saudi Geological Survey

Skipwith P (1973) The Red Sea and coastal plain of the Kingdom of Saudi Arabia. Tech. Rec. T.R. 1973-1, Directorate General of Mineral Resources, Jeddah, Saudi Arabia, 149 pp.

Smith RJ (2012) Investigation of the Qadimah Fault in Western Saudi Arabia using Satellite Radar Interferometry and Geomorphology Analysis Techniques. M.Sc. thesis, King Abdullah University of Science and Technology Thuwal, Kingdom of Saudi Arabia

Zhu T, Feng R, Hao J, Zhou J, Wang H, Wang S (2009) The Application of Electrical Resistivity Tomography to Detecting a Buried Fault: A Case Study. J Environ Eng Geophys 14(3):145–151
Acknowledgements
The authors thank the King Abdulaziz City for Science and Technology for contribution with field facilities. The authors would like to extend their sincere appreciation to the Deanship of Scientific Research at King Saud University for funding this research group (No. RGP-1436-010).
Ethics declarations
Conflict of interest
The author(s) declare that they have no competing interests.
Additional information
Responsible Editor: Narasimman Sundararajan
About this article
Cite this article
AlQahtani, H.H., Fnais, M.S., Almadani, S.A. et al. Electrical resistivity and refraction seismic tomography in the detection of near-surface Qadimah Fault in Thuwal-Rabigh area, Saudi Arabia. Arab J Geosci 14, 1153 (2021). https://doi.org/10.1007/s12517-021-07524-2
Received:

Accepted:

Published:
Keywords
Electric resistivity tomography;

Seismic refraction tomography;

Qadimah fault;

Saudi Arabia