Abstract
Earthquake, which is one of the biggest natural disasters of today, causes many loss of life and property worldwide. Numerous scientists have worked on the earthquake from past to present. As a result of the work done, it is seen that some changes occurred in the ionosphere layer before, during, or after the earthquake; therefore, the necessity of examining the ionosphere layer was revealed in earthquake prediction studies. With Global Positioning Satellite Systems (GNSS) observations, total electron content (TEC) changes in the ionosphere can be determined before, during, and after the earthquake. Thus, it can be monitored how to affect the earthquakes on TEC changes. In this study, ionospheric TEC (RIM-TEC) obtained from GNSS receivers in the 21-day time interval which covers 10 days before, 10 days after, and day of Sivrice-Elazig earthquake (38.3593 °N 39.0630 °E, 24 January 2020, Mw: 6.8) was compared with the TEC values of the earthquake outer center obtained from CODE-GIM and IRI-2016, and the Solar Flux Index (F10.7), Geomagnetic Activity Index (Dst), and Geomagnetic Storm Index (Kp) representing ionic space climate conditions were examined in the relevant time intervals.
Access options
Buy single article
Instant access to the full article PDF.
US$ 39.95
Tax calculation will be finalised during checkout.
Subscribe to journal
Immediate online access to all issues from 2019. Subscription will auto renew annually.
US$ 79
Tax calculation will be finalised during checkout.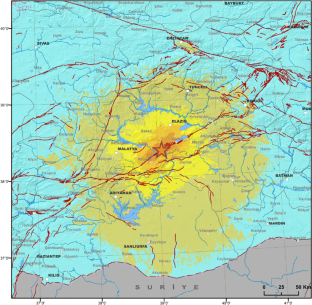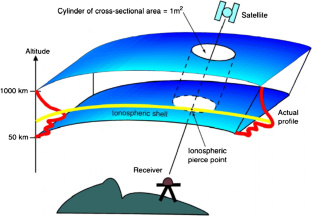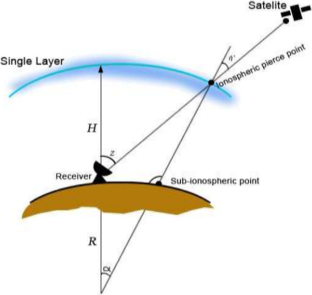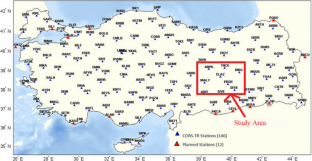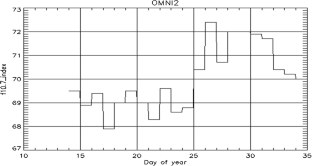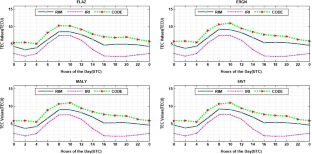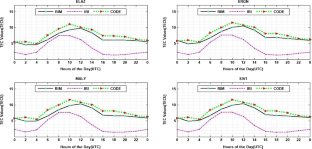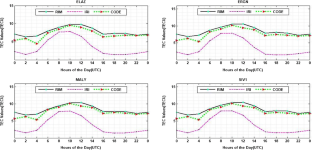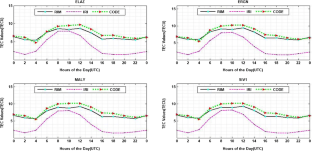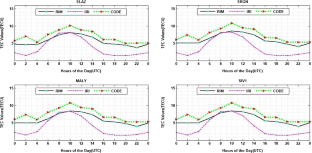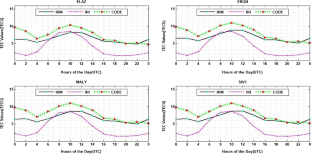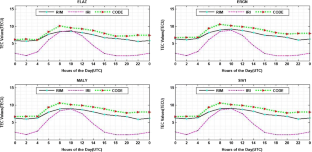 References
Afraimovich EL, Astafieva EI, Gokhberg MB, Lapshin VM, Permyakova VE, Steblov GM, Shalimov SL (2004) Variations of the total electron content in the ionosphere from GPS data recorded during the Hector Mine earthquake of October 16, 1999. California Rus J Earth Sci 6(5):339–354. https://doi.org/10.2205/2004ES000155

Alcay S, Oztan G, Selvi HZ (2017) Comparison of IRI_PLAS and IRI_2012 model predictions with GPS_TEC measurements in different latitude regions. Ann Geophys 60(5):G0549. https://doi.org/10.4401/ag-7311

Arikan F, Erol CB, Arikan O (2003) Regularized estimation of vertical total electron content from Global Positioning System data. J Geophys Res 108(A12):1469. https://doi.org/10.1029/2002JA009605

Arslan N (2004) Investigation of the effects of the ionospheric total electron content variations on the coordinates using GPS. Ph.D. Thesis, Yildiz Technical University, Istanbul

Bambang S, Buldan M, Andi Eka S, Supriyanto R, Sulastri JM (2018) Ionospheric earthquake effects detection based on Total Electron Content (TEC) GPS Correlation. Earth Environ Sci 132(2018):012014. https://doi.org/10.1088/1755-1315/132/1/012014

Başçiftçi, F., İnal, C., Yıldırım, Ö., Bülbül, S., (2017a). Determination of regional TEC values by GNSS measurements, a case study: Central Anatolia sample, Turkey. FIG Working Week 2017 Helsinki, Finland 29 May - 2 June 2017.

Başçiftçi F, İnal C, Yıldırım Ö, Bülbül S (2017b) Determining regional ionospheric model and comparing with global models. Geodetski Vestnik 61(3):427–440. https://doi.org/10.15292/geodetski-vestnik.2017.03.427-440 ISSN: 0351-0271

Başçiftçi F, İnal C, Yıldırım Ö, Bülbül S (2018) Comparison of regional and global TEC values: Turkey model. Int J Eng Geosci 3(2):61–72. https://doi.org/10.26833/ijeg.382604,2018 e-ISSN: 2548-0960

Bilitza D, Altadill D, Truhlik V, Shubin V, Galkin I, Reinisch B, Huang X (2017) International Reference Ionosphere 2016: from ionospheric climate to real-time weather predictions. Space Weather 15:418–429. https://doi.org/10.1002/2016SW001593

Bruevich EA, Bruevich VV, Yakunina GV (2014) Changed relation between solar 10.7-cm radio flux and some activity indices which describe the radiation at different altitudes of atmosphere during cycles 21-23. J Astrophys Astron 35:1–15

Çepni, M.S., Şentürk, E. (2015). İyonosferik Değişim ve Deprem İlişkisi Üzerine Bir Deneme: Van Depremi Örneği. 5th International Earthquake Symposium, 10-12 June 2015, Kocaeli.

Coley WR, Stoneback RA, Heelis RA, Hairston MR (2014) Topside equatorial zonal ion velocities measured by C/NOFS during rising solar activity. Ann Geophys 32:69–75

Contadakis ME, Arabelos DN, Pikridas C, Spatalas SD (2012) Total electron content variations over southern Europe before and during the M 6.3 Abruzzo earthquake of April 6, 2009. Ann Geophys 55(1):83–93. https://doi.org/10.4401/ag-5322

Davies K, Baker DM (1965) Ionospheric effects observed around time of Alaskan earthquake of March 28 1964. J Geophys Res 70:2251–2253

Durmaz M, Karslioglu MO, Nohutcu M (2010) Regional VTEC modeling with multivariate adaptive regression splines. Adv Space Res 46(2):180–189

Hugentobler U, Schaer S, Pridez F, Beutler G, Bock H (2001) Bernese GPS Software Version 4.2. Astronomical Institute University of Bern, Switzerland

Hunsucker RD, Hargreaves JK (2003) The high-latitude ionosphere and its effects on radio propagation. Cambridge University Press, Cambridge

Inyurt S, Mekik Ç, Yıldırım Ö (2020) Deprem Kaynaklı Olabilecek İyonosferik Değişimlerin Belirlenmesi üzerine yeni bir yaklaşım geliştirilmesi. Geomatik 5(2):127–133. https://doi.org/10.29128/geomatik.592477

Johnson GG, Newman SR (1980) Solar activity prediction of sunspot numbers, mission planning and analysis division, shuttle program, solar activity prediction of sunspot numbers. Predicted Solar Radio Flux:39

Kamide Y, Yokoyama N, Gonzalez W, Tsurutani BT, Daglis IA, Brekke A, Masuda S (1998) Two-step development of geomagnetic storms. J Geophys Res-Space Phys 103(A4):6917–6921. https://doi.org/10.1029/97ja03337

Karia SP, Pathak KN, Yadav KS, Chaudhary NP, Patel NC, Jana R (2014) Modification in atmospheric refractivity and GPS based TEC as earthquake precursors. Positioning 5:46–52. https://doi.org/10.4236/pos.2014.52006

Karia SP, Patel NC, Pathak KN (2015) Comparison of GPS based TEC measurements with the IRI-2012 model for the period of low to moderate solar activity (2009–2012) at the crest of equatorial anomaly in Indian region. Adv Space Res 55(8):1965–1975

Kim VP, Liu JY, Hegal VV (2012) Modeling the pre-earthquake electrostatic effect on the F region ionosphere. Adv Space Res 50:1524–1533. https://doi.org/10.1016/j.asr.2012.07.023

Komjathy A, Langley R (1996) An assessment of predicted and measured ionospheric total electron content using a regional GPS network. Proceedings of the national technical meeting of the Institute of Navigation, pp 615–624

Kumar S, Patel K, Singh AK (2016) TEC variation over an equatorial and anomaly crest region in India during 2012 and 2013. GPS Solutions 20(4):617–626

Langley RB (2002) Monitoring the ionosphere and neutral atmosphere with GPS. Viewgraphs of invited presentation to the Canadian Association of Physicists Division of Atmospheric and Space Physics Workshop, Fredericton, N.B.

Leonard RS, Barnes RA (1965) Observation of ionospheric disturbances following Alaska earthquake. J Geophys Res 70:1250–1253

Liperovsky VA, Pokhotelov OA, Liperovskaya EV, Parrot M, Meister CV, Alimov OA (2000) Modification of sporadic E-layers caused by seismic activity. Surv Geophys 21:449–486. https://doi.org/10.1023/A:1006711603561

Liu Z, Gao Y (2004) Ionospheric TEC predictions over a local area GPS reference network. GPS Solutions 8(1):23–29. https://doi.org/10.1007/s10291-004-0082-x

Liu JY, Chuo YJ, Shan SJ, Tsaı YB, Chen YI, Pulınets SA, Yu SB (2004) Pre-earthquake ionospheric anomalies registered by continuous GPS TEC measurements. Ann Geophys 22(5):1585–1593. https://doi.org/10.5194/angeo-22-1585-2004

Nohutcu M, Karslioglu MO, Schmidt M (2010) B-spline modeling of VTEC over Turkey using GPS observations. J Atmos Sol Terr Phys 72(7-8):617–624

Pulinets SA, Ouzounov D, Ciraolo L, Singh R, Cervone G, Leyva A, Dunajecka M, Karelin AV, Boyarchuk KA, Kotsarenko A (2006) Thermal, atmospheric and ionospheric anomalies around the time of the Colima M7.8 earthquake of 21 January 2003. Ann Geophys 24:835–849. https://doi.org/10.5194/angeo-24-835-2006

Rozhnoi A, Solovieva MS, Molchanov OA, Hayakawa M (2004) Middle latitude LF (40 kHz) phase variations associated with earthquakes for quiet and disturbed geomagnetic conditions. Phys Chem Earth 29(4–9):589–598. https://doi.org/10.1016/j.pce.2003.08.061

Schaer S (1999) Mapping and predicting the Earth's ionosphere using the global positioning system, Ph.D. dissertation, Universityof Bern, Astronomical Institute

Schaer S, Beutler G, Mervart L, Rotbacher M, Wild U (1995) Global and regional ionosphere model using the GPS double difference phase observable. in the Proceeding of IGS Workshop on Special Topics and New Directions, Germany, May 15-17.

Schaer S, Gurtner W, Feltens J (1998) IONEX: The ionosphere map exchange format version 1. Proceedings of the IGS ESA/ESOC workshop, Darmstadt, Germany

Tang L, Li Z, Zhou B (2018) Large-area tsunami signatures in ionosphere observed by GPS TEC after the 2011 Tohoku earthquake. GPS Solutions 22(93)

Tapping KF (2013) The 10.7 cm solar radio flux (F10. 7). Space Weather 11(7):394–406

Tariku YA (2015) Comparison of GPS-TEC with IRI-2012 TEC over African equatorial and low latitude regions during the period of 2012–2013. Adv Space Res 56(8):1677–1685

Trigunait A, Parrot M, Pulinets S, Li F (2004) Variations of the ionospheric electron density during the Buhj seismic event. Ann Geophys 22:4123–4131. https://doi.org/10.5194/angeo-22-4123-2004

Ulukavak M, Inyurt S (2020) Detection of possible ionospheric precursor caused by Papua New Guinea earthquake (Mw 7.5). Environ Monit Assess 192:190. https://doi.org/10.1007/s10661-020-8146-0

Vitinsky YI, Kopecky M, Kuklin GV (1986) Statistics of sunspot activity (in Russian), Nauka, Moscow

Wang N, Yuan Y, Li Z, Ying L, Huo X, Min L (2017) An examination of the Galileo NeQuick model: comparison with GPS and JASON TEC. GPS Solutions 21(2):605–615

Wild U (1994) Ionosphere and geodetic satellite systems: permanent GPS tracking data for modeling and monitoring. J Geod-Geophys Arb Schweiz 48, Zürich, Switzerland.

Ya'acob N, Abdullah M, Ismail M (2010) GPS total electron content (TEC) prediction at ionosphere layer over the equatorial region. In: Bouras CJ (ed) ISBN:978-953-307-072-8Trends in Telecommunications Technologies. InTech. https://doi.org/10.5772/8474

Yao YB, Chen P, Wu H, Zhang S, Peng WF (2012) Analysis of ionospheric anomalies before the 2011 Mw 9.0 Japan earthquake. Chin Sci Bull 57:500–510. https://doi.org/10.1007/s11434-011-4851-y

Zakharenkova IE, Shagimuratov II, Tepenitzina NYUA, Krankowski A (2008) Anomalous modification of the ionospheric total electron content prior to the 26 September 2005 Peru earthquake. J Atmos Sol-Terr Phys 70:1919–1928. https://doi.org/10.1016/j.jastp.2008.06.003

Zhou Y, Wu Y, Qiao X, Zhang X (2009) Ionospheric anomalies detected by ground-based GPS before the Mw7.9 Wenchuan earthquake of May 12, 2008, China. J Atmos Sol Terr Phys 71:959–966. https://doi.org/10.1016/j.jastp.2009.03.024

Zhu F, Zhou Y, Lin J, Fu F (2014) A statistical study on the temporal distribution of ionospheric TEC anomalies prior to M7.0+ earthquakes during 2003-2012. Astrophys Space Sci 350:449–457. https://doi.org/10.1007/s10509-014-1777-2

Zolesi B, Cander LR (2014) Ionospheric prediction and forecasting. In: Springer Geophysics, ISBN 978-3-642-38429-5. Springer-Verlag, Berlin, p 240
Additional information
Responsible Editor: Longjun Dong
About this article
Cite this article
Bulbul, S., Basciftci, F. TEC anomalies observed before and after Sivrice-Elaziğ earthquake (24 January 2020, Mw: 6.8). Arab J Geosci 14, 1077 (2021). https://doi.org/10.1007/s12517-021-07426-3
Received:

Accepted:

Published:
Keywords
RIM-TEC

Elazığ-Sivrice earthquake

GIM, IRI-2016

GNSS

Ionosphere

Space weather conditions