Abstract
Microtremors were measured at 18 stations to the west of Riyadh, and the H/V spectral ratio method was used to estimate the resonance frequency and amplification factor. These parameters indicate the presence of foundation bedrocks at various levels with variable thickness of soil where resonance frequency varies from 0.26 to 2.63 Hz, while the amplification factor ranges from 1.1 to 8.9. Moreover, four seismic refraction profiles have been carried out and illustrated two layers: the first of which has a P-wave velocity of 2000 m/s and a thickness of 1.5 m, whereas the second layer is characterized by P-wave velocity from 4010 to 4274 m/s. Besides, four multichannel analyses of surface wave (MASW) profiles have been conducted along the same refraction profiles to estimate the shear wave velocities along these profiles. The constructed 1D and 2D models indicate shear wave velocity ranges from 400 m/s to more than 4000 m/s with horizontal and vertical variation through the investigated area. Furthermore, the dynamic properties of rock and soil materials including Poisson's ratio, Young's modulus, shear modulus, material index, concentration index and ultimate bearing capacity have been calculated based on P- and S-wave velocities. These properties reveal less competent to competent material scales. Subsurface karst cavities have been detected in the study area at different depths and various dimensions. It is highly recommended that preventive measures including probing drilling to anticipate karst cavities below the designed foundations must be applied before construction of new engineering facilities in the study area. Otherwise, it will be geotechnical problems in the future.
Access options
Buy single article
Instant access to the full article PDF.
USD 39.95
Price includes VAT (USA)
Tax calculation will be finalised during checkout.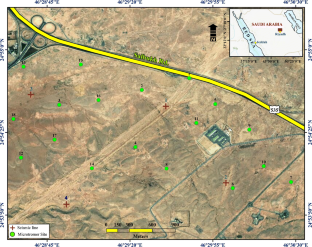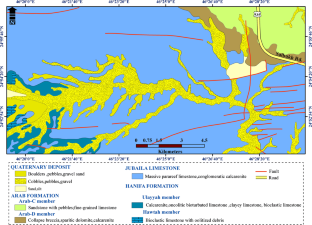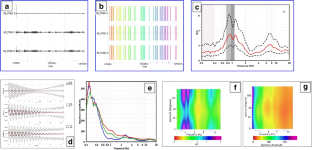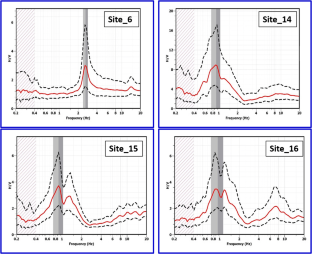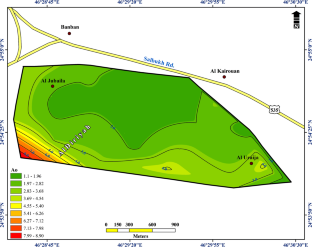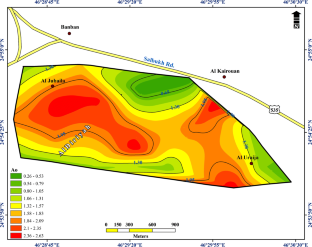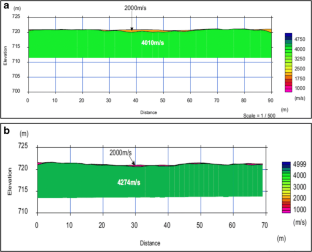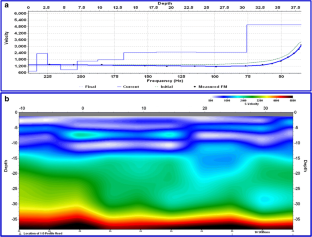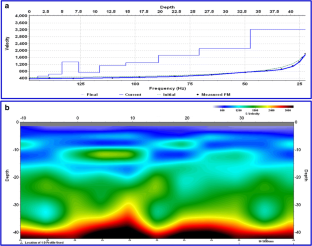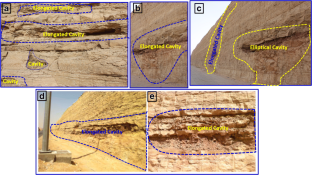 References
Abd El Rahman M (1989) Evaluation of the kinetic moduli of the surface materials and application to engineering geologic maps at Ma'Barrisabah area (Dhamar province). Western Yemen Egypt J Geol 33(1-2):229–250

Abd El Rahman M, Abd El Latif T (1990) Geophysical interpretations for shallow engineering site investigations at the area north of Sana'a, Yemen Arab Republic. MERC 4:41–51

Abd El Rahman M, Setto I, El Werr A, 1991.Seismic refraction interpretation for shallow engineering site investigations at the distinctive district 6th of October City. E.G.S. Proc. of the 9th Ann. Meet., 229–242

Abdelrahman K, Al-Amri A, Al-Arifi N, Abdelmoneim E (2017a) Seismic risk assessment at the proposed site of Gemsa Wind Power Station, south-western coast of Gulf of Suez, Egypt. J Geol Soc India 89(February 2017):192–196

Abdelrahman K, Fnais M, Enayat A, Khaled M, Saadoon AB (2017b) Seismic vulnerability assessment in the new urban area of Diriyah Governorate, Riyadh, Saudi Arabia. Arab J Geosci 10:434. https://doi.org/10.1007/s12517-017-3222-7

Abdelrahman K, Abdullah A-A, Al-Otaibi N, Fnais M, Abdelmonem E (2019) Ground motion acceleration and response spectra of Al-Mashair area, Makkah Al-Mukarramah, Saudi Arabia. Arab J Geosci 12:346. https://doi.org/10.1007/s12517-019-4526-6

Aldahri M, Morgen S, Kamal Abdelrahman, Zahran H, El Hady Sh, El-Hadidy M, 2017. Surface soil assessment in the Ubhur area, north of Jeddah, western Saudi Arabia, using a multichannel analysis of surface waves method. Journal Geological Society of India, Vol.89, April 2017, Pp

Al-Refeai T, Al-Ghamdy D (1994) Geological and geotechnical aspects of Saudi Arabia. Geotech Geol Eng 12:253–276

Amin AA, Bankher KA (1997) Karst hazard assessment of eastern Saudi Arabia. Nat Hazards 15:21–30

Birch F (1966) Handbook of physical constants. Geol Soc Amer Men 97:613

Choobbasti AJ, Rezaei S, Farrokhzad F, Azar PH (2014) Evaluation of site response characteristics using nonlinear method (case study: Riyadh, Iran). Front Struct Civ Eng 8(1):69–82

Fnais MS, Abd El Rahman K, Al-Amri AM (2010) Microtremor measurements in Yanbu city of western Saudi Arabia: a tool for seismic microzonation. J King Saud Univ 22:97–110

Imai S (1975) An investigation to geophysical prospecting for civil purposes. OYO Corporation, Tokyo, Japan

Le Nindre Y-M, Manivit J, Manivit H, Vaslet D, 1990. Sequential stratigraphy of the Central Saudi Arabian platform in the Jurassic and Cretaceous. Ministry of Petroleum and Mineral Resources, Directorate General of Mineral Resources, Jeddah, Saudi Arabia, Technical Report BRGM-TR-11-4, 11

Matassoni L, Fiaschi A, Silengo MC, Lotti A, Saccorotti G (2015) Preliminary seismic microzonation in a mountain municipality of Tuscany (Italy). Open Geosci 7:559–571

Milana G, Azzara RM, Bertrand E, Bordoni P, Cara F, Cogliano R, Cultrera G, Di Giulio G, Duval AM, Fodarella A, Marcucci S, Puccilo S, Regnier J, Riccio G (2011) The contribution of seismic data in microzonation studies for downtown L'Aquila. B Earthq Eng 9:741–759

Mundepi AK, Galiana-Merino JJ, Asthana AKL, Rosa-Cintas S (2015) Soil characterisations in Doon Valley (north west Himalaya, India) by inversion of H/V spectral ratios from ambient noise measurements. Soil Dyn Earthq Eng 77:309–320

Nakamura Y (1989) A method for dynamic characteristics estimation of subsurface using microtremor on the ground surface. Q Rep RTRI 30:25–33

Panzera F, D'Amico S, Lotteri A, Galea P, Lombardo G (2013a) Seismic site response of unstable steep slope using noise measurements: the case study of Xemxija Bay area. Malta Nat Hazards Earth Syst Sci 12:3421–3431

Panzera F, D'Amico S, Galea P, Lombardo G, Gallipoli MR, Pace S (2013b) Geophysical measurements for site response investigation: preliminary results on the island of Malta. Boll Geofis Teor Appl 54:111–128

Pilz M, Parolai S, Bindi D, Saponaro A, Abdybachaev U (2014) Combining seismic noise techniques for landslide characterisation. Pure Appl Geophys 171:1729–1745

Rao NP, Kumar MR, Seshunarayana T, Shukla AK, Suresh G, Pandey Y, Raju RD, Pimprikar SD, Das C, Gahalaut K, Mishra PS (2011) Site amplification studies toward seismic microzonation in Jabalpur urban area, central India. Phys Chem Earth 36:1247–1258

SESAME Project (2004) Site effects using ambient excitations. http://sesame-fp5.obs.ujf-grenoble.fr

Singh AP (2015) Seismic hazard evaluation in Anjar city area of western India: microtremor array measurement. Soil Dyn Earthq Eng 71:143–150

Sjogren B, Ofsthus A, Sandberg J (1979) Seismic classification of rock mass qualities. Geophys Prospect 27:10–40

Soupios PM, Papazachos CB, Vargemezis G, Fikos I (2015) Application of seismic methods for geotechnical site characterisation. In: International Workshop in Geoenvironment and Geotechnics, September 2005. Greece, Milos island

Stumpel H, Kaehler S, Meissner R, Milkeret B (1984) The use of seismic shear waves and compressional waves for lithological problems of shallow sediments. Geophys Prospect 32:662–675

Vaslet D, Al-Muallem MS, Maddah SS, Brosse JM, Fourniguet J, Breton JP, Le Nindre YM, 1991. Geologic map of the Ar Riyad quadrangle, sheet 241, Kingdom of Saudi Arabia (with text): Saudi Arabian Directorate General of Mineral Resources, Jeddah, Geosciences Map, GM- 121A
Acknowledgements
The authors would like to extend their sincere appreciation to the Deanship of Scientific Research at King Saud University for funding this research group No. RGP -1436-010.
Ethics declarations
Conflict of interest
The author(s) declare that they have no competing interests.
Additional information
Responsible Editor: Narasimman Sundararajan
About this article
Cite this article
Almadani, S.A., Abdelrahman, K. & Qaysi, S. Integrated geoinvestigation for evaluation of an engineering site—a case study from the western Riyadh city, central Saudi Arabia. Arab J Geosci 14, 380 (2021). https://doi.org/10.1007/s12517-021-06767-3
Received:

Accepted:

Published:
Keywords
Microtremors

MASW

Dynamic properties

Karst cavities

Riyadh

Saudi Arabia