Abstract
In this study, the activity concentrations of natural radionuclides in soil and beach sediment samples collected from 15 randomly but uniformly distributed locations in the coastal area of Akwa Ibom (southern Nigeria) were measured using hyper pure germanium (HPGe) detector. The activity concentrations of 238U, 232Th and 40K varied from 9 to 44 Bq/kg, 3 to 72 Bq/kg and 35 to 250 Bq/kg respectively. These results are below the 1000, 1000 and 4000 Bq/kg upper limits of safety for 238U, 232Th and 40K respectively. Except 238U, 232Th and 40K show lower standard deviations than their mean values, which indicate that soils and sediments have high degree of uniformity. The spatial distribution of radionuclide concentrations is nearly uniform except at locations where carbonaceous materials and clay soils exist. Mean value of Th/U ratio across the area was ≤ 7, typical of reducing condition in the depositional environment, thus suggesting enrichment of carbonaceous materials and clays. Additionally, the concentration of 40K was observed to be slightly higher in locations where anthropic activities are prevalent. Apart from excess lifetime cancer risk (average concentration of 0.80 × 10−3), the average concentrations of other radiological parameters: radium equivalent (83 Bq/kg), absorbed dose rate (39 nGy/h), indoor annual effective dose equivalent (0.18 mSv/year), outdoor annual effective dose equivalent (0.05 mSv/y) and annual gonadal dose equivalent (259 μSv/y), are below permissible limits. Hence, the soils and sediments are safe and suitable for all purposes.
This is a preview of subscription content, log in to check access.
Access options
Buy single article
Instant access to the full article PDF.
US$ 39.95
Price includes VAT for USA
Subscribe to journal
Immediate online access to all issues from 2019. Subscription will auto renew annually.
US$ 99
This is the net price. Taxes to be calculated in checkout.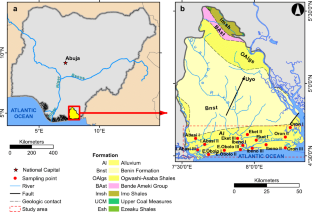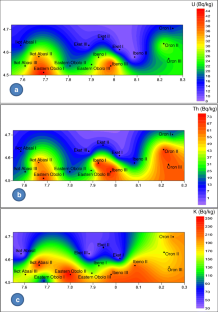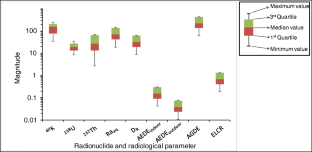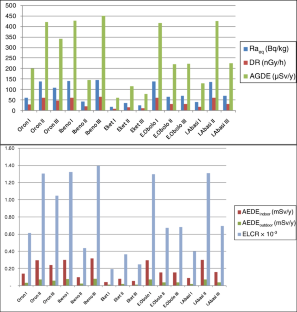 References
Abdel-Halim AA, Saleh IH (2016) Radiological characterization of beach sediments along the Alexandria–Rosetta coasts of Egypt. J Taibah Univ Sci 10:212–220

Akpan AE, Paul ND, Uwah EJ (2016) Ground radiometric investigation of natural radiation levels and their radiological effects in Akpabuyo, Nigeria. J Afr Earth Sci 123:185–192

Alam MN, Miah MMH, Chowdhury MI, Kamal M, Ghose S, Islam MN, Mustafa MN, Miah MSR (1999) Radiation dose estimation from the radioactivity analysis of lime and cement used Bangladesh. J Environ Radioact 42:77–85

Amekudzie A, Emi-Reynolds G, Faanu A, Darko EO, Awudu AR, Adukpo Y, Quaye LAN, Kpordzro R, Agyemang B, Ibrahim A (2011) Natural radioactivity concentrations and dose assessment in shore sediments along the coast of Greater Accra, Ghana. World Appl Sci J 13(11):2338–2343

Arafa W (2004) Specific activity and hazards of granite samples collected from the Eastern Desert of Egypt. J Environ Radioact 75:315–327

Aswathanarayana U (1985) Principles of nuclear geology. Ozonian Press Pvt Ltd, New Delhi, pp 85–87

Avinash K, Kurian PJ, Warrier AK, Shankar R, Vineesh TC, Ravindra R (2016) Sedimentary sources and processes in the eastern Arabian Sea: insights from environmental magnetism, geochemistry and clay mineralogy. Geosci Front 7(2):253–264

Baggoura NB (1997) Plutonium isotopes, 137Cs, 90Sr and natural radioactivity in marine sediments from Ghazaouet (Algeria). J Environ Radioact 34(2):127–138

Beretka J, Mathew PJ (1985) Natural radioactivity of Australian building materials, industrial wastes and by-products. Health Physics 48:87–95

Benamar MA, Zerrouki A, Idiri Z, Tobbeche S (1997) Natural and artificial radioactivity levels in sediments in Algiers bay. Applied Radiation and Isotopes 48(8):1161–1164

Binesh A, Mohammadi S, Mowlavi AA, Parvaresh P (2010) Evaluation of the radiation dose from radon ingestion and inhalation in drinking water. Int J Water Resour Environ Eng 2(7):174–178

Bochiolo M, Verdoya M, Chiozzi P, Pasquale V (2012) Radiometric surveying for the assessment of radiation dose and radon specific exhalation in underground environment. J Appl Geophys 83:100–106

Bodin S, Fröhlich S, Boutib L, Lahsini S, Redfern J (2011) Assessment of early Toarcian Source-rock potential in the Central High-Atlas Basin (Central Morocco): Regional Distribution and Depositional model. J Pet Geol 34:345–364

Bondareva L, Rakitskii V, Tananaev I (2017) The behaviour of natural and artificial radionuclides in a river system: the Yenisei River, Russia as a case study. Water Quality, 361p

Boumala D, Mavon C, Belafrites A, Tedjani A, Groetz JE (2018) Evaluation of radionuclide concentrations and external gamma radiation levels in phosphate ores and fertilizers commonly used in Algeria. J Radioanal Nucl Chem 317(1):501–510

Bramki A, Ramdhane M, Benrachi F (2018) Natural radioelement concentrations in fertilizers and the soil of the Mila region of Algeria. J Radiat Res Appl Sci 11(1):49–55

Busby C (2013) Aspects of DNA damage from internal radionuclides. In: New Research Directions in DNA Repair. IntechOpen

Carvalho FP, Madruga MJ, Reis MC, Alves JG, Oliveira JM, Gouveia J, Silva L (2007) Radioactivity in the environment around past radium and uranium mining sites of Portugal. J Environ Radioact 96:39–46

Carvalho FP, Oliveira JM, Malta M (2009) Analyses of radionuclides in soil, water, and agriculture products near the Urgeiriça uranium mine in Portugal. J Radioanal Nucl Chem 281:479–484

Chabaux F, Riotte J, Dequincey O (2003) U–Th–Ra fractionation during weathering and river transport. In: Bourdon B, Henderson GM, Lundstrom CC, Turner SP (Eds.), Uranium-Series Geochemistry. Rev Mineral Geochem 52:533–576

Chen TB, Wong JWC, Zhou HY, Wong MH (1999) Assessment of trace metal distribution and contamination in surface soils of Hong Kong. Environ Pollut 96(1):61–68

Chougaonkar MP, Eppen KP, Ramachandran TV (2003) Profiles of doses to population living in the high background radiation areas in Kerala. J Environ Radioact 71:275–297

Ćujić M, Dragović S, Đorđević M, Dragović R, Gajić B, Miljanić Š (2015) Radionuclides in the soil around the largest coal-fired power plant in Serbia: radiological hazard, relationship with soil characteristics and spatial distribution. Environ Sci Pollut Res 22(13):10317–10330

Doretti L, Ferrara D, Barison G, Gerbasi R, Battiston G (1992) Natural radionuclides in the muds and waters used in thermal therapy in Abano Terme, Italy. Radiation Protection Dosimetry 45 (1/4):175–178

El Mamoney MH, Khater AEM (2004) Environmental characterization and radio-ecological impacts of non-nuclear industries on the Red Sea coast. J Environ Radioact 73:151–168

El-Gamal A, Nasr S, El-Taher A (2007) Study of the spatial distribution of natural radioactivity in the upper Egypt Nile River sediments. Radiat Meas 42(3):457–465

El-Taher A, Abdelhalim MAK (2013) Elemental analysis of phosphate fertilizer consumed in Saudi Arabia. Life Sci J 10:701–708

Florou H, Kritidis P (1992) Gamma radiation measurements and dose rate in the coastal areas of a volcanic island, Aegean Sea, Greece. Radiation Protection Dosimetry 45(1–4):277–279

Galbraith JH, Saunders DF (1983) Rock classification by characteristics of aerial gamma-ray measurements. J Geochem Explor 18(1):49–73

Gupta SP (2001) Statistical methods. New Delhi, Sultan Chand & Sons, Educational Publishers

Hannan MA, Nguyen NMR (2013) Natural radioactivity and its gamma dose rate in mission (Texas) soils. J Radioanal Nucl Chem 295(1):729–736

Hassan N M, Chang BU, Tokonami S (2017) Comparison of natural radioactivity of commonly used fertilizer materials in Egypt and Japan. J Chem

Issa SAM, Alaseri SM (2015) Determination of natural radioactivity and associated radiological risk in building materials used in Tabuk Area, Saudi Arabia. Int J Adv Sci Technol 82:45–62

Jibiri NN, Farai IP, Alausa SK (2007) Activity concentrations of 226Ra, 228Th, and 40K in different food crops from a high background radiation area in Bitsichi, Jos Plateau, Nigeria. Radiat Environ Biophys 46(1):53–59

Johnston DT, Poulton SW, Dehler C, Porter S, Husson J, Canfield DE, Knoll AH (2010) An emerging picture of Neoproterozoic ocean chemistry: insights from the Chuar Group, Grand Canyon, USA. Earth Planet Sci Lett 290(1-2):64–73

Jurina I, Ivanić M, Troskot-Čorbić T, Barišić D, Vdović N, Sondi I (2013) Activity concentrations and distribution of radionuclides in surface and core sediments of the Neretva Channel (Adriatic Sea, Croatia). Geol Croat 66(2):143–150

Kannan V, Rajan MP, Iyengar MAR, Ramesh R (2002) Distribution of natural and anthropogenic radionuclides in soil and beach sand samples of Kalpakkam (India) using hyper pure germanium (HPGe) gamma ray spectrometry. Appl Radiat Isot 57:109–119

Khalifa NA, El Arabi AM (2005) Natural radioactivity in farm soil and phosphate fertilizer and its environmental implications in Qena Governorate, Upper Egypt. J Environ Radioact 84(1):51–64

Khuntong S, Phaophang C, Sudprasert W (2015) Assessment of radionuclides and heavy metals in marine sediments along the Upper Gulf of Thailand. In J Phys Conf Ser 611(1) p. 012023). IOP Publishing.

Klaja J, Dudek L (2016) Geological interpretation of spectral gamma ray (SGR) logging in selected boreholes. Nafta-Gaz 1:3–14

Krishna AK, Govil PK (2007) Soil contamination due to heavy metals from an industrial area of Surat, Gujarat, Western India. Environ Monit Assess 124:263–275

Kurnaz A, Küçükӧmeroğlu B, Keser R, Okumusoglu NT, Korkmaz F, Karahan G, Çevik U (2007) Determination of radioactivity levels and hazards of soil and sediment samples in Fırtına Valley (Rize, Turkey). Appl Radiat Isot 65:1281–1289

Li QS, Wu ZF, Chu B, Zhang N, Cai SS, Fang JH (2007) Heavy metals in coastal wetland sediments of the Pearl River Estuary, China. Environ Pollut 149:158–164

Lozano JC, Rodríguez PB, Tomé FV (2002) Distribution of long-lived radionuclides of the 238U series in the sediments of a small river in a uranium mineralized region of Spain. Journal of Environmental Radioactivity 63(2):153–171

Lu X, Zhang X, Wang F (2008) Natural radioactivity in sediment in Wei River, China. Environ Geol 58(7):1475–1481

Manigandan PK, Manikandan NM (2008) Migration of radionuclide in soil and plants in the Western Ghats environment. Iran J Radiat Res 6(1):7–112

Manigandan PK, Shekar BC, Khanna D (2015) Root uptake/foliar uptake in a natural ecosystem. In: Radionuclides in the Environment. Springer International Publishing, p 133-146

Martins R, Azevedo MR, Mamede R, Sousa B, Freitas R, Rocha F et al (2012) Sedimentary and geochemical characterization and provenance of the Portuguese continental shelf soft-bottom sediments. J Mar Syst 91(1):41–52

Matisoff G (2014) 210Pb as a tracer of soil erosion, sediment source area identification and particle transport in the terrestrial environment. J Environ Radioact 138:343–354

McKee BA (2008) U- and Th-series nuclides in estuarine environments. In: Krishnaswami S, Cochran JK (eds) U-Th series nuclides in aquatic systems. Elsevier, Oxford, pp 193–225

Michalik B, Brown J, Krajewski P (2013) The fate and behaviour of enhanced natural radioactivity with respect to environmental protection. Environ Impact Assess Rev 38:163–171

Mohanty AK, Sengupta D, Dasb SK, Vijayanc V, Sahab SK (2004) Natural radioactivity in the newly discovered high background radiation area on the eastern coast of Orissa, (India). Radiat Meas 38:153–165

Momčilović M, Kovačević J, Tanić M, Đorđević M, Bačić G, Dragović S (2013) Distribution of natural radionuclides in surface soils in the vicinity of abandoned uranium mines in Serbia. Environ Monit Assess 185(2):1319–1329

Musthafa MS, Krishnamoorthy R (2012) Estimation of 210Po and 210Pb and its dose to human beings due to consumption of marine species of Ennore Creek, South India. J Environ Monit Assess 184(10):6253–6260

Navas A, Gaspar L, López-Vicente M, Machín J (2011) Spatial distribution of natural and artificial radionuclides at the catchment scale (South Central Pyrenees). Radiat Meas 46(2):261–269

Newman RT, Lindsay R, Maphoto KP, Mlwilo NA, Mohanty AK, Roux DG, de Meijer RJ, Hlatshwayo IN (2008) Determination of soil, sand and ore primordial radionuclide concentrations by full-spectrum analyses of high-purity germanium detector spectra. Appl Radiat Isot 66(6-7):855–859

Nizam QMR, Ginnah MA, Rahman MM, Kamal M, Chowdhury MI (2013) Assessment of activity concentrations of radionuclides from upper level sediment in Charfassion Island, Bhola, Bangladesh. J Nucl Part Phys 3(3):36–39

Okpara KD, Obioha YE, Onyekuru SO, Okereke C, Ibeneme SI (2014) Petrology and geochemistry of Basement Complex rocks in Okom-Ita Area, Oban Massif, southeastern Nigeria. Int J Geosci 5:394–407

Ӧrgün Y, Altınsoy N, Şahin SY, Karacik Z (2007) Natural and anthropogenic radionuclides in rocks and beach sands from Ezine region (Ҫanakkale), Western Anatolia, Turkey. J Appl Radiat Isotopes 65:739–747

Porcelli D, Baskaran M (2011) An overview of isotope geochemistry in environmental studies. In: Baskaran M (ed) Handbook of environmental isotope geochemistry. Springer, Heidelberg, pp 11–33

Povinec PP, Hirose K (2015) Fukushima radionuclides in the NW Pacific, and assessment of doses for Japanese and world population from ingestion of seafood. Sci Rep 5:9016

Powell BA, Hughes LD, Soreefan AM, Falta D, Wall M, DeVol TA (2007) Elevated concentrations of primordial radionuclides in sediments from the Reedy River and surrounding creeks in Simpsonville, South Carolina. J Environ Radioact 94(3):121–128

Raghu Y, Harikrishnan N, Chandrasekaran A, Ravisankar R (2015) Assessment of natural radioactivity and associated radiation hazards in some building materials used in Kilpenathur, Tiruvannamalai District, Tamilnadu, India. Afr J Basic Appl Sci 7(1):16–25

Rahaman MA, Ukpong EES, Azmatullah M (1981) Geology of parts of the Oban Massif southeastern Nigeria. J Min Geol 18:60–65

Ramola RC, Choubey VM, Ganesh P, Gusain GS, Tlosheva Z, Kies A (2011) Radionuclides analysis in the soil of Kumaun Himalayas, India, using gamma ray spectrometry. Curr Sci 100(6):906–914

Ravisankar R, Chandramohan J, Chandrasekaran A, Jebakumar JPP, Vijayalakshmi I, Vijayagopal P, Venkatraman B (2015) Assessments of radioactivity concentration of natural radionuclides and radiological hazard indices in sediment samples from the East coast of Tamilnadu, India with statistical approach. Mar Pollut Bull 97(1-2):419–430

Ribeiro FCA, Lauria D, Rodrigues JI, Lima SE, Sobrinho NM, Pérez DV (2018) Baseline and quality reference values for natural radionuclides in soils of Rio de Janeiro State, Brazil Revisita Brasileira Ciencia do Solo 1-15

Saint-Fort R (2018) Understanding sorption behavior and properties of radionuclides in the environment. Principles and applications in nuclear engineering: radiation effects, thermal hydraulics, radionuclide migration in the environment 121

Sivakumar R (2014) An assessment of natural radioactivity levels and radiation hazards in the soil of Coonoor, south India. J Environ Earth Sci 72:5063–5071

Smičiklas I, Šljivić-Ivanović M (2016) Radioactive contamination of the soil: assessments of pollutants mobility with implication to remediation strategies. Soil contamination–current consequences and further solutions. InTech, p 253-276

Sondi I, Juračić M, Pravdić V (1995) Sedimentation in a disequilibrium river-dominated estuary: the Raša River estuary (Adriatic Sea, Croatia). Sedimentology 42:769–782

Stein R, Ivanov G, Levitan M, Fahl K (1996) Surface sediment composition and sedimentary processes in the central Arctic Ocean and along the Eurasian Continental Margin. Berichtezur Polarforschung Series 212: pp 324

SureshGandhi M, Ravisankar R, Rajalakshmi A, Sivakumar S, Chandrasekaran A, Anand DP (2014) Measurements of natural gamma radiation in beach sediments of north east coast of Tamilnadu, India by gamma ray spectrometry with multivariate statistical approach. J Radiat Res Appl Sci 7(1):7–17

Szarlowicz K, Stobinski M, Hamerlik L, Bitusik P (2019) Origin and behavior of radionuclides in sediment core: a case study of the sediments collected from man-made reservoirs located in the past mining region in Central Slovakia. Environ Sci Pollut Res 26(7):7115–7122

Tam NFY, Wong YS (2000) Spatial variation of heavy metals in surface sediments of Hong Kong mangrove swamps. Environ Pollut 110(2):195–205

Tari M, Zarandi SAM, Mohammadi K, Zare MR (2013) The measurement of gamma-emitting radionuclides in beach sand cores of coastal regions of Ramsar, Iran using HPGe detectors. Mar Pollut Bull 74(1):425–434

Taskin H, Karavus M, Ay P, Topuzoglu A, Hindiroglum S, Karahan G (2009) Radionuclide concentrations in soil and lifetime cancer risk due to gamma radioactivity in Kirklareli, Turkey. J Environ Radioact 100:49–53

Tchokossa P, Olomo JB, Balogun FA, Adesanmi CA (2012) Radiological study of soils in oil and gas producing areas in Delta State, Nigeria. Radiat Prot Dosim 153(1):121–126

Todorović N, Bikit I, Vesković M, Mrdja D, Forkapić S, Hansman J, Nikolov J, Bikit K, Krmar M (2015) Radioactivity in fertilizers and radiological impact. J Radioanal Nucl Chem 303(3):2505–2509

Tsabaris C, Eleftheriou G, Kapsimalis V, Anagnostou C, Vlastou R, Durmishi C, Kedhi M, Kalfas CA (2007) Radioactivity levels of recent sediments in the Butrint Lagoon and the adjacent coast of Albania. Applied Radiation and Isotopes 65(4):445–453

Udoh BT, Esu IE, Ibia TO, Onweremadu EU, Unyienyin SE (2013) Agricultural potential of the beach ridge soils of the Niger Delta, Nigeria. Malay J Soil Sci 17:17–37

Ugolini R, Caldognetto E, Trotti F (2020) Use of fertilizers in agriculture: individual effective dose estimate. Environments 7(1):1–7

United Nations Environmental Programme, UNEP (2011) Environmental assessment of Ogoniland. UNEP Publication. Executive Summary, p 3

UNSCEAR (1982) Ionizing radiation sources and biological effects. United Nation Scientific Committee on the Effects of Atomic Radiation. A/37/45. New York

UNSCEAR (1988) United Nations Scientific Committee on The effects of atomic radiation, sources and biological effects of ionizing radiation. United Nations, New York

UNSCEAR (2000) United Nations Scientific Committee on The effects of atomic radiation, sources and effects of ionizing radiation: sources (Vol. 1). United Nations Publications.

UNSCEAR (2010) Sources and effects of ionizing radiation: report to the General Assembly, with scientific annexes. United Nations, New York 1: 1-219

Wang A, He J, Du Y, He Y, Li Z, Chen Z, Yang C (2011) Natural and artificial radionuclide measurements and radioactivity assessment of soil samples in eastern Sichuan Province (China). Radiat Prot Dosim 150(3):391–397

Yu KN, Guan ZJ, Stoks MJ, Young EC (1992) The assessment of natural radiation doses committed to the Hong Kong People. J Environ Radioact 17:31–48

Zaidi JH, Arif M, Ahmad S, Fatima I, Qureshi IH (1999) Determination of natural radioactivity in building materials used in the Rawalpindi/Islamabad area by gamma-ray spectrometry and instrumental neutron activation analysis. Appl Radiat Isot 51:559–565

Zare MR, Mostajaboddavati M, Kamali M, Abdi MR, Mortazavi MS (2012) 235U, 238U, 232Th, 40K and 137Cs activity concentrations in marine sediments along the northern coast of Oman Sea using high-resolution gamma-ray spectrometry. Marine pollution bulletin 64(9):1956–1961
Acknowledgements
The authors are grateful to the Management and Staff of National Institute of Radiation Protection and Research, University of Ibadan, Nigeria, for their assistance during the analyses of the samples. We also acknowlegde with thanks the valuable contributions and comments from the Reviewers and the Editor,  that has helped in improving the quality of our manuscript.
Additional information
Responsible Editor: Domenico M. Doronzo
About this article
Cite this article
Akpan, A.E., Ebong, E.D., Ekwok, S.E. et al. Assessment of radionuclide distribution and associated radiological hazards for soils and beach sediments of Akwa Ibom Coastline, southern Nigeria. Arab J Geosci 13, 753 (2020). https://doi.org/10.1007/s12517-020-05727-7
Received:

Accepted:

Published:
Keywords
Radionuclides

Radionuclide ratios

Radiological parameter

Beach sediments

Soils