Abstract
The presence of heavy metals and pesticide residues in higher concentrations in irrigation water and crops are two major concerns in developing and underdeveloped countries. The assessment and monitoring of these environmental contaminants in fruit and vegetables are vital for effective management and consumers' health. In the current study, the presence of heavy metals and pesticides in irrigation water (sewage and tube well), soil, and tomato crop (grown on these water sources and sprayed with different pesticides in various locations of Peshawar city) was determined. Sewage water exhibited a significantly (p > 0.05) higher pH, total dissolved solid (TDS), and electrical conductivity (EC) when compared with the optimum limits as recommended by the World Health Organization (WHO). In addition, the concentrations of heavy metals, i.e., Cd, Pb, Ni, Cu, Zn, and Fe, were also significantly (p > 0.05) higher in this source. Furthermore, the analysis of sewage irrigated soil and various parts of tomato plants grown on this soil revealed a higher concentration of heavy metals compared with the standard limit set by WHO. Similarly, the levels of pesticide residues of chlorpyrifos and emamectin were significantly (p > 0.05) higher in tomato fruits and leaves and soil samples when compared with the standard limits set by the European Union. The current study provides first ever insight into the presence and levels of toxic heavy metals and pesticide residues in tomato crops grown on sewage water in Peshawar city for the effective monitoring and management of these health hazards.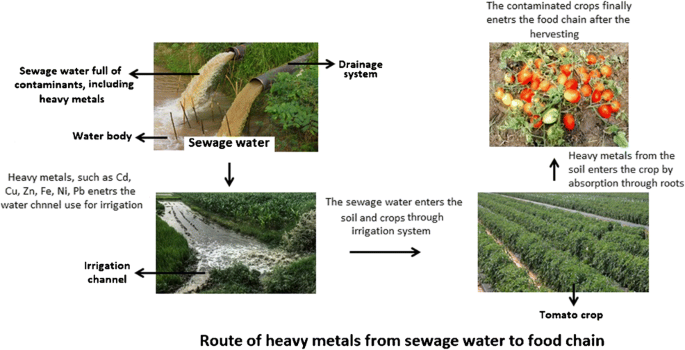 Access options
Buy single article
Instant access to the full article PDF.
USD 39.95
Price excludes VAT (USA)
Tax calculation will be finalised during checkout.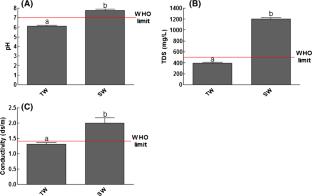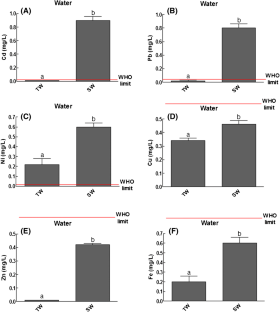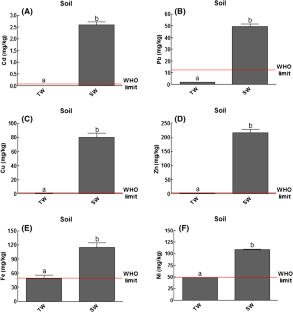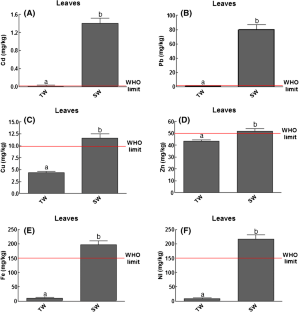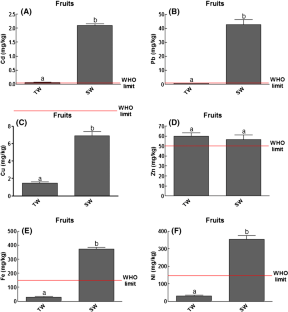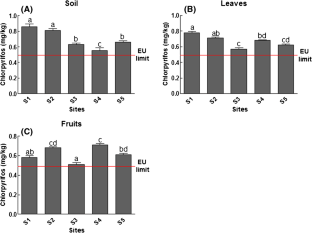 Data availability
All the data are included in the manuscript.
References
Abaidoo RC, Keraita B, Drechsel P, Dissanayake P, Maxwell AS (2010) Soil and crop contamination through wastewater irrigation and options for risk reduction in developing countries. In: Soil biology and agriculture in the tropics. Springer, pp 275–297

Ahmed M, Matsumoto M, Kurosawa K (2018) Heavy metal contamination of irrigation water, soil, and vegetables in a multi-industry district of Bangladesh. Int J Environ Res 12:531–542

Amin NU, Hussain A, Alamzeb S, Begum S (2013) Accumulation of heavy metals in edible parts of vegetables irrigated with waste water and their daily intake to adults and children, District Mardan. Pakistan Food Chem 136:1515–1523

Arias-Estévez M, López-Periago E, Martínez-Carballo E, Simal-Gándara J, Mejuto J-C, García-Río L (2008) The mobility and degradation of pesticides in soils and the pollution of groundwater resources. Agric Ecosyst Environ 123:247–260

Atafar Z, Mesdaghinia A, Nouri J, Homaee M, Yunesian M, Ahmadimoghaddam M, Mahvi AH (2010) Effect of fertilizer application on soil heavy metal concentration. J Environ Monit 160:83–89

Azizullah A, Khattak MNK, Richter P, Häder D-P (2011) Water pollution in Pakistan and its impact on public health—a review. Environ Int 37:479–497

Bhaskar CV, Kumar K, Nagendrappa G (2010) Assessment of heavy metals in water samples of certain locations situated around Tumkur, Karnataka, India. J Chem 7:349–352

Caserta D, Graziano A, Monte GL, Bordi G, Moscarini M (2013) Heavy metals and placental fetal-maternal barrier: a mini-review on the major concerns. Eur Rev Med Pharmacol Sci 17:2198–2206

Chaoua S, Boussaa S, El Gharmali A, Boumezzough A (2019) Impact of irrigation with wastewater on accumulation of heavy metals in soil and crops in the region of Marrakech in Morocco. J Saudi Soc Agric Sci 18:429–436

Choi SH, Kim DS, Kozukue N, Kim HJ, Nishitani Y, Mizuno M, Levin CE, Friedman M (2014) Protein, free amino acid, phenolic, β-carotene, and lycopene content, and antioxidative and cancer cell inhibitory effects of 12 greenhouse-grown commercial cherry tomato varieties. J Food Compos Anal 34:115–127

Chove B, Ballegu W, Chove L (2006) Copper and Lead levels in two popular leafy vegetables grown around Morogoro municipality, Tanzania. Tanzan J Health Res 8:37–40

Fernandez-Cruz T, Martinez-Carballo E, Simal-Gandara J (2017) Perspective on pre-and post-natal agro-food exposure to persistent organic pollutants and their effects on quality of life. Environ Int 100:79–101

Fernandez-Gonzalez R, Yebra-Pimentel I, Martinez-Carballo E, Simal-Gandara J (2015) A critical review about human exposure to polychlorinated dibenzo-p-dioxins (PCDDs), polychlorinated dibenzofurans (PCDFs) and polychlorinated biphenyls (PCBs) through foods. Crit Rev Food Sci Nutr 55:1590–1617

Gamboa-Rodriguez T, Gamboa-Adeco R, Saldivar-Osorio L, Gomez-Cruz R (2012) Metals in water samples from an urban lagoon in Tabasco, Mexico African. J Environ Sci Technol 6:170–175

Geissen V et al (2015) Emerging pollutants in the environment: a challenge for water resource management. Int Soil Water Conserv 3:57–65

Gilden RC, Huffling K, Sattler B (2010) Pesticides and health risks. J Obstet Gynecol Neonatal Nurs 39:103–110

Gonçalves AC Jr, Nacke H, Schwantes D, Coelho GF (2014) Heavy metal contamination in brazilian agricultural soils due to application of fertilizers. Environ Risk Assess Soil Cont 4:105–135

Govind P, Madhuri S (2014) Heavy metals causing toxicity in animals and fishes. Res J Anim Vet Fish Sci 2:17–23

Gupta D, Chatterjee S, Datta S, Veer V, Walther C (2014) Role of phosphate fertilizers in heavy metal uptake and detoxification of toxic metals. Chemosphere 108:134–144

Islam MA, Morton DW, Johnson BB, Mainali B, Angove MJ (2018a) Manganese oxides and their application to metal ion and contaminant removal from wastewater. J Water Process Eng 26:264–280

Islam MA, Morton DW, Johnson BB, Pramanik BK, Mainali B, Angove MJ (2018b) Metal ion and contaminant sorption onto aluminium oxide-based materials: a review and future research. J Environ Chem Eng 6:6853–6869

Islam MA, Ali I, Karim SA, Firoz MSH, Chowdhury A-N, Morton DW, Angove MJ (2019a) Removal of dye from polluted water using novel nano manganese oxide-based materials. J Water Process Eng 32:100911

Islam MA, Angove MJ, Morton DW (2019b) Macroscopic and modeling evidence for nickel (II) adsorption onto selected manganese oxides and boehmite. J Water Process Eng 32:100964

Islam MA, Angove MJ, Morton DW, Pramanik BK, Awual MR (2019c) A mechanistic approach of chromium (VI) adsorption onto manganese oxides and boehmite. J Environ Chem Eng 103515

Jaishankar M, Tseten T, Anbalagan N, Mathew BB, Beeregowda KN (2014) Toxicity, mechanism and health effects of some heavy metals. Interdiscip Toxicol 7:60–72

Jo OW, Nwabue F (2012) Heavy metals effect due to contamination of vegetables from Enyigba lead mine in Ebonyi state, Nigeria. Environ Pollut 2:19

Kabata-Pendias A (2000) Trace elements in soils and plants. CRC press, Boca Raton

Kamga MA, Olatubara CO, Atteh MM, Nzali S, Adenikinju A, Mbiatso TY, Ngatcha RB (2018) Perception of the environmental degradation of gold mining on socio-economic variables in eastern Cameroon. Cameroon Eur J Sustain Dev Res 2

Khan S, Rehman S, Khan AZ, Khan MA, Shah MT (2010) Soil and vegetables enrichment with heavy metals from geological sources in Gilgit, northern Pakistan. Ecotoxicol Environ Saf 73:1820–1827

Liu X et al (2013) Human health risk assessment of heavy metals in soil–vegetable system: a multi-medium analysis. Sci Total Environ 463:530–540

Lu Y, Song S, Wang R, Liu Z, Meng J, Sweetman AJ, Jenkins A, Ferrier RC, Li H, Luo W, Wang T (2015) Impacts of soil and water pollution on food safety and health risks in China. Environ Int 77:5–15

Meena AK, Bansal P, Kumar S, Rao M, Garg V (2010) Estimation of heavy metals in commonly used medicinal plants: a market basket survey. J Environ Monit 170:657–660

Mudgal V, Madaan N, Mudgal A, Singh R, Mishra S (2010) Effect of toxic metals on human health. Open Nutraceuticals J 3:94–99

Ogunbileje J, Sadagoparamanujam V-M, Anetor J, Farombi E, Akinosun O, Okorodudu A (2013) Lead, mercury, cadmium, chromium, nickel, copper, zinc, calcium, iron, manganese and chromium (VI) levels in Nigeria and United States of America cement dust. Chemosphere 90:2743–2749

Petruzzelli G (1989) Recycling wastes in agriculture: heavy metal bioavailability. Agric Ecosyst Environ 27:493–503

Pose-Juan E, Fernández-Cruz T, Simal-Gándara J (2016) State of the art on public risk assessment of combined human exposure to multiple chemical contaminants. Trends Food Sci Technol 55:11–28

Qadir M, Wichelns D, Raschid-Sally L, McCornick PG, Drechsel P, Bahri A, Minhas P (2010) The challenges of wastewater irrigation in developing countries. Agric Water Manag 97:561–568

Regueiro J, Lopez-Fernandez O, Rial-Otero R, Cancho-Grande B, Simal-Gandara J (2015) A review on the fermentation of foods and the residues of pesticides—biotransformation of pesticides and effects on fermentation and food quality. Crit Rev Food Sci Nutr 55:839–863

Sekabira K, Origa HO, Basamba T, Mutumba G, Kakudidi E (2010) Heavy metal assessment and water quality values in urban stream and rain water. Int J Environ Sci Technol 7:759–770

Siddiqui MF (2010) Cadmium induced renal toxicity in male rats, Rattus rattus. East J Med 15:93

Sikder S, Biswas P, Hazra P, Akhtar S, Chattopadhyay A, Badigannavar A, D'Souza S (2013) Induction of mutation in tomato (Solanum lycopersicum L.) by gamma irradiation and EMS. Indian J Genet Plant Breed 73:392–399

Szpyrka E, Kurdziel A, Matyaszek A, Podbielska M, Rupar J, Słowik-Borowiec M (2015) Evaluation of pesticide residues in fruits and vegetables from the region of south-eastern Poland. Food Control 48:137–142

Türkdoğan MK, Kilicel F, Kara K, Tuncer I, Uygan I (2003) Heavy metals in soil, vegetables and fruits in the endemic upper gastrointestinal cancer region of Turkey. Environ Toxicol Pharmacol 13:175–179

Vieira C, Morais S, Ramos S, Delerue-Matos C, Oliveira M (2011) Mercury, cadmium, lead and arsenic levels in three pelagic fish species from the Atlantic Ocean: intra-and inter-specific variability and human health risks for consumption. Food Chem Toxicol 49:923–932

Yadav A, Yadav PK, Shukla D (2013) Investigation of heavy metal status in soil and vegetables grown in urban area of Allahabad, Uttar Pradesh, India. Int J Sci Res Publ 3:1–7

Yeganeh M, Afyuni M, Khoshgoftarmanesh A-H, Khodakarami L, Amini M, Soffyanian A-R, Schulin R (2013) Mapping of human health risks arising from soil nickel and mercury contamination. J Hazard Mater 244:225–239
Ethics declarations
Conflict of interests
The authors declare that they have no conflict of interest.
Ethical approval
Our study does not involve any human, animal, or endangered species.
Consent to participate
Not applicable.
Consent for publication
No consent/approval at the national or international level or appropriate permissions and/or licenses for the study was required.
Additional information
Responsible Editor: Amjad Kallel
About this article
Cite this article
Ishaq, M., Sultana, N., Ikram, M. et al. Occurrence of heavy metals and pesticide residues in tomato crop: a threat to public health. Arab J Geosci 13, 627 (2020). https://doi.org/10.1007/s12517-020-05578-2
Received:

Accepted:

Published:

DOI: https://doi.org/10.1007/s12517-020-05578-2
Keywords
Tomato

Heavy metals

Chlorpyrifos

Emamectin

Irrigation sources