Abstract
Spatio-temporal analysis and estimation of rainfall variability is an important factor to characterize the hydrological manifestation for precise water management. Fifteen years' daily rainfall data (2000–2014) of 39 rain gauge stations (RGS), situated in and around upper Godavari basin (UGB), was analyzed using statistical computations. Mean annual rainfall (MAR) and mean half-decadal rainfall, along with standard deviation (SD), coefficient of variation (CV), standardized anomaly (SA), mean absolute deviation (MAD), and spatial distribution of rainfall (SDR), were computed to delineate the orographic effect, if any, over rainfall. Box and whisker diagrams display rainfall distribution. The analyzed data was incorporated in Geographical Information System (GIS) software, and spatial estimation of half-decadal rainfall, SA, and SDR carried out using inverse distance weighting (IDW) interpolation method. RGS mean rainfall of 2000–2004, 2005–2009, and 2010–2014 were correlated with satellite-derived Tropical Rainfall Measuring Mission (TRMM) data using Pearson correlation coefficient (R) to confirm the accuracy and validity of both the data. Statistical results and spatial estimation of rainfall indicate high spatio-temporal variability during 2010–2014 and lower during 2005–2009. Monsoon intensity revealed increasing trend from 2000 to 2006, which was seen to be decreasing later, with rise and fall from 2006 to 2014. The rainfall was seen to increase towards west due to an obstruction posed by the Western Ghat to the east flowing monsoon wind. Strong positive correlation was found between TRMM and 3 half-decade rainfall data. The approach adopted in this paper identified the micro level rainfall variability which will be greatly advantageous for sustainable water resource management.
Access options
Buy single article
Instant access to the full article PDF.
US$ 39.95
Tax calculation will be finalised during checkout.
Subscribe to journal
Immediate online access to all issues from 2019. Subscription will auto renew annually.
US$ 79
Tax calculation will be finalised during checkout.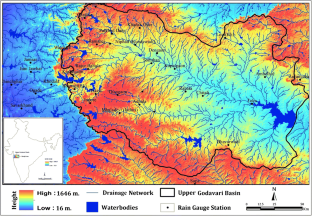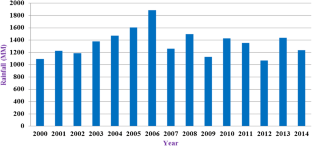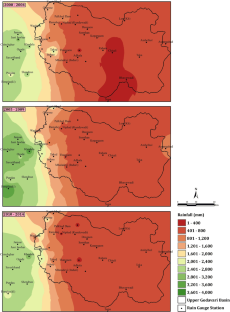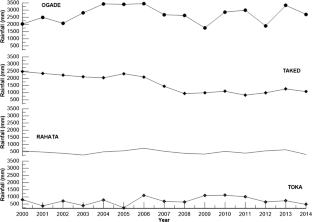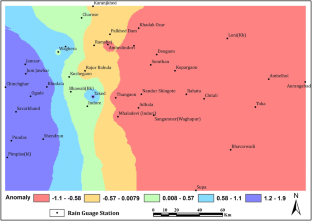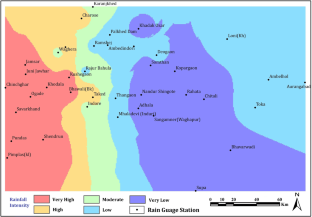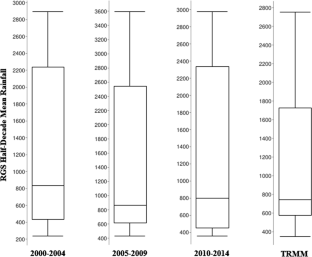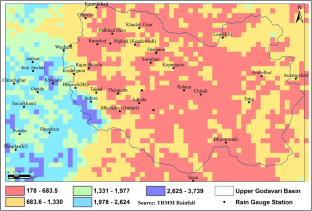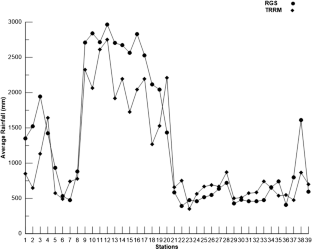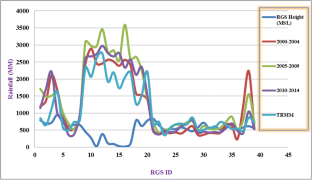 References
Adams J, Maslin M, Thomas E (1999) Sudden climate transitions during the quaternary. Prog Phys Geogr 23:1–36

Aher SP, Shinde SD (2016) Geoinformatics for Runoff Diversion Planning from the Western slope of Western Ghat to Godavari Basin in Maharashtra, India. Int Res J Earth Sci 4(6):41–47

Aher SP, Shinde SD, Jarag AP, Mahesh BJLV, Gawali PB (2014) Identification of lineaments in the Pravara Basin from ASTER-DEM data and satellite images for their geotectonic implication. Int Res J of Earth Sci 2(7):1–5

Aher SP, Shinde SD, Guha S, Majumder M (2017a) Identification of drought in Dhalai river watershed using MCDM and ANN models. J Earth System Sci 126(21):1–14

Aher S, Kantamaneni K, Deshmukh P (2017b) Detection and delineation of water bodies in hilly region using CartoDEM, SRTM and ASTER GDEM data. Remote Sensing of Land 1(1):41–52

Alcula (2017) Online Statistics Calculator: Mean absolute deviation (MAD), used from http://www.alcula.com/calculators/statistics/mean-absolute-deviation/, 3 Nov 2017, 1.30 pm

Basistha A, Arya DS, Goel NK (2009) Analysis of historical changes in the Indian Himalayas. Int J Climatol 29:555–572

Boddu M, Gaayam T, Annamdas VGM (2011) A review on inter basin transfer of water. Proceedings of 4th Int Perspective on Wat Reso & the Environ. Nat Uni of Singapore, Singapore

Bookhagen B (2016) High resolution spatiotemporal distribution of rainfall seasonality and extreme events based on a 12-year TRMM time series, (in review)

Buytaert W, Celleri R, Willems P, Bievre BD, Wyseure G (2006) Spatial and temporal rainfall variability in mountainous areas: a case study from the south Ecuadorian Andes. J Hydrol 329(4):413–421

Caesar J, Janes T (2018) Regional climate change over South Asia. In: Nicholls R, Hutton C, Adger W, Hanson S, Rahman M, Salehin M (eds) Ecosystem services for well-being in deltas. Palgrave Macmillan, Cham, pp 207–221

Celleri R, Willems P, Buytaert W, Feyen J (2007) Space–time rainfall variability in the Paute basin. Ecuadorian Andes. Hydrol Process 21(24):3316–3327

Charney JG (1969) The intertropical convergence zone and Hadley circulation of the atmosphere. Proc. of WMO/IUGG symp. NWP.Tokyo, Meteor. Soc. Japan, III-73

Chen FW, Liu CW (2012) Estimation of the spatial rainfall distribution using inverse distance weighting (IDW) in the middle of Taiwan. Paddy Water Environ 10:209–222

Clemens SC, Prell W, Murray D, Shimmield G, Weedon (1991) Forcing mechanisms of the Indian Ocean monsoon. Nature 353:720–725

CWC (2014) Central Water Commission, Govt. of India, Ministry of Water Resources, River Development & Ganga Rejuvenation, Chapter-II, Annual Report 2013–14:15

Dash SK, Jenamani RK, Kalsi SR, Panda SK (2007) Some evidence of climate change in twentieth-century India. Clim Chang 85:299–321

Deshmukh KK, Aher SP (2016) Assessment of the impact of municipal solid waste on groundwater quality near the Sangamner City using GIS approach. Water Resour Manag 30(7):2425–2443

Dinku T, Chidzambwa S, Ceccato P, Connor SJ, Ropelewski CF (2008) Validation of high-resolution satellite rainfall products over complex terrain. Int J Remote Sens 29(14):4097–4110

Duan Z, Bastriaanssen WGM (2013) First results from version 7 TRMM 3B43 precipitation product in combination with a new downscaling–calibration procedure. Remote Sens Environ 131:1–13

Gadgil S (2003) The Indian monsoon and its variability. Annu Rev Earth Planet Sci 31:429–467

Gao YC, Liu MF (2013) Evaluation of high-resolution satellite precipitation products using rain gauge observations over the Tibetan Plateau. Hydrol Earth Syst Sci 17:837–849

Goswami BN, Venugopal V, Sengupta D, Madhusoodanam S, Xavier PK (2006) Increasing trends of extreme rain events over Indian warming environment. Science 314:1442–1445

Hunink JE, Immerzeel WW, Droogers P (2014) A high-resolution precipitation 2-step mapping procedure (HiP2P): development and application to a tropical mountainous area. Remote Sens Environ 140:179–188

Immerzeel WW, Rutten M, Droogers P (2009) Spatial downscaling of TRMM precipitation using vegetative response on the Iberian Peninsula. Remote Sens Environ 113(2):362–370

Isaaks EH, Srivastava RM (1989) An introduction to applied geostatistics. Oxford University Press, New York, p 561

Javanmard S, Yatagai A, Nodzu MI, BodaghJamali J, Kawamoto H (2010) Comparing high-resolution gridded precipitation data with satellite rainfall estimates of TRMM_3B42 over Iran. Adv Geosci 25:119–125

Jin Y, Stan C (2019) Changes of East Asian summer monsoon due to tropical air-sea interactions induced by a global warming scenario. Clim Chang 153:341–359

Keblouti M, Ouerdachia L, Boutaghanea H (2012) Spatial interpolation of annual precipitation in Annaba- Algeria - comparison and evaluation of methods. Energy Procedia 18:468–475

Khan TMA, Singh OP, Sazedur Rahman MD (2000) Recent sea level and sea surface temperature trends along the Bangladesh coast in relation to the frequency of intense cyclones. Mar Geod 23:103–116

Kneis D, Chatterjee C, Singh R (2014) Evaluation of TRMM rainfall estimates over a large Indian river basin (Mahanadi). Hydrol Earth Syst Sci 18:2493–2502

Kumar V, Jain SK (2011) Trends in rainfall amount and number of rainy day sin river basins of India (1951–2004). Hydrol Res 42(4):290–306

Kumar KK, Kleeman R, Crane MA, Rajagopalan B (1999) Epochal changes in Indian monsoon-ENSO precursors. Geophys Res Lett 26:75–78

Li L, Xu CY, Zhang Z, Jain SK (2014) Validation of a new meteorological forcing data in analysis of spatial and temporal variability of precipitation in India. Stoch Env Res Risk A 28(2):239–252

Liu J, Zhu AX, Duan Z (2012) Evaluation of TRMM 3B42 precipitation product using rain gauge data in Meichuan watershed, Poyang Lake Basin, China. J Resour Ecol 3:359–366

Lu GY, Wong DW (2008) An adaptive inverse-distance weighting spatial interpolation technique. Comput Geosci 34(9):1044–1055

Mal S (2012) Impact of climate change on Nanda Devi Biosphere Reserve. PhD thesis, Department of Geography, Delhi School of Economics, University of Delhi, India

Min SK, Kwon WT, Parkand EH, Choi Y (2003) Spatial and temporal comparisons of droughts over Korea with East Asia. Int J Climatol 23:223–233

Mirza MQ (2002) Global warming and changes in the probability of occurrence of floods in Bangladesh and implications. Glob Environ Chang 12:127–138

Noori MJ, Hassan HH, Mustafa YT (2014) Spatial estimation of rainfall distribution and its classification in Duhok governorate using GIS. J of Water Res and Protec 6:75–82

Palazzi E, Hardenberg JV, Provenzale A (2013) Precipitation in the Hindu-Kush Karakoram Himalaya: observations and future scenarios. J of Geophy Res: Atmosphere 118:85–100

Pant GB (2003) Long-term climate variability and change over monsoon Asia. J Ind Geophys Union 7(3):125–134

Parthasarathy B, Yang S (1995) Relationships between regional indian summer monsoon rainfall and eurasian snow cover. Adv Atmos Sci 12(2):143–150

Rahman H, Sengupta D (2007) Preliminary comparison of daily rainfall from satellites and Indian gauge data, CAOS technical report no. 2007AS1, Tech. rep., Centre for Atmospheric and Oceanic Sciences. Indian institute of Science. Bangalore–12

Rao GN (1999) Monsoon rainfall and its variability in Godavari river basin. Proc Indian Acad Sci (Earth Planet Sci) 108(4):327–332

Riehl H (1979) Climate and weather in tropics. Academic Press, San Diego, p 611

Sakti (2015) Godavari Basin Details, Data base on Godavari Basin. Sakti Voluntary Organization. Accessed–15.12. 2015 (IST: 7.30 pm)

Sawant S, Balasubramani K, Kumaraswamy K (2015) Spatio-temporal analysis of rainfall distribution and variability in the twentieth century, over the Cauvery Basin, South India. Environ manage of River Basin ecosystems, Ramkumar et al. (eds.), Earth System Scie 21–41

Scheel MLM, Rohrer M, Huggel C, Santos Villar D, Silvestre E, Huffman GJ (2011) Evaluation of TRMM Multi-satellite Precipitation Analysis (TMPA) performance in the Central Andes region and its dependency on spatial and temporal resolution. Hydrol Earth Syst Sci 15(8):2649–2663

Sen PK (2002) An introduction to the geomorphology of India. Allied publishers PVT LTD, New Delhi

Singh RB, Mal S (2014) Trends and variability of monsoon and other rainfall seasons in Western Himalaya, India. Atmos Sci Lett 15(3):218–226

SSS (2018) Social Science Statistics, Accessed from http://www.socscistatistics.com/tests/pearson/, 20 Jan 2018, 11.30 pm (IST)

Sun G, Ranson K, Kharuk V, Kovacs K (2003) Validation of surface height from shuttle radar topography mission using shuttle laser altimeter. Remote Sens Environ 88(4):401–411

Wadia DN (1976) Geology of India. Tata McGraw Hill, New Delhi

Ward E, Buytaert W, Peaver L, Wheater H (2011) Evaluation of precipitation products over complex mountainous terrain: a water resources perspective. Adv Water Resour 34(10):1222–1231

Webster PJ, Magana VO, Palmer TN, Shukla J, Tomas RA, Yanai M, Yasunari T (1998) Monsoons: processes, predictability, and the prospects for prediction. J Geophys Res 103:14451–14510

Yatagai A, Kamiguchi K, Arakawa O, Hamada A, Yasutomi N, Kitoh A (2012) APHRODITE: constructing a long-term daily gridded precipitation dataset for Asia based on a dense network of rain gauges. Bull Am Meteorol Soc 93(9):1401–1415

Yihui D, Chan J (2005) The East Asian summer monsoon: an overview. Meteorog Atmos Phys 89:117–142
Acknowledgments
Sainath Aher gratefully acknowledges HDUG, Nashik (Maharashtra), for the rainfall data. SA and SS gratefully acknowledge the Department of Geography, Shivaji University, Kolhapur, for providing necessary research facilities. PG and BVL thank the Director, IIG, Navi Mumbai for the support and encouragement. PD gratefully acknowledges the Department of Geography, HPT Arts and RYK Science College, Nashik, for the support and inspiration.
Ethics declarations
Conflict of interest
The authors declare that they have no conflicts of interest.
Additional information
Responsible Editor: Zhihua Zhang
About this article
Cite this article
Aher, S., Shinde, S., Gawali, P. et al. Spatio-temporal analysis and estimation of rainfall variability in and around upper Godavari River basin, India. Arab J Geosci 12, 682 (2019). https://doi.org/10.1007/s12517-019-4869-z
Received:

Accepted:

Published:
Keywords
Rainfall variability

GIS

Spatio-temporal estimation

Water management