Abstract
Northwest Africa (NWA) 4255 is a meteorite found in the region of Tindouf (southwestern Algeria), classified as brecciated olivine diogenite. Based on textural observations and orthopyroxene compositions, two different lithologies were determined: harzburgitic and orthopyroxenitic. The orthopyroxenitic lithology contains orthopyroxene (Mg no. 73.99–75.68) and spinel (Cr no. 83.09–85.11, Mg no. 15.57–22.45). On the other hand, the harzburgitic lithology contains orthopyroxene (Mg no. 74.54–77.14) and olivine (Mg no. 70.94–72.57). The iron metal and the sulfides (Troilites) of this sample are present in both lithologies and are low in Ni (Ni < 0.1 wt%). The Fe/Mn ratio of orthopyroxenes ranges from 22.28 to 32.64 and show a large overlap between both lithologies. Lowest ratios are unusual; they are below the defined field for diogenites and olivine diogenites. ∆17O values are − 0.234 ± 0.003 (1σ) and confirm that the NWA 4255 originated from 4Vesta. The results of this study show that there is a genetic linkage between the two lithologies of NWA 4255 and correspond to in situ crystallization processes. This olivine diogenite reflects transition between two major magmatic processes in 4Vesta. The magma ocean of 4Vesta crystallized at equilibrium, allowing the formation of a dunitic and harzburgitic mantle. This late lithology is linked to the peritectic reaction between the olivines formed and the evolved liquid. Our sample then reflects this crucial step of separating this mantle from the residual liquid. This melt evolving on the peritectic allowed the formation of the observed harzburgitic assemblage and then evolves out from the peritectic reaction to proceed to a fractional crystallization process involving the formation of orthopyroxenite.
This is a preview of subscription content, log in to check access.
Access options
Buy single article
Instant access to the full article PDF.
US$ 39.95
Price includes VAT for USA
Subscribe to journal
Immediate online access to all issues from 2019. Subscription will auto renew annually.
US$ 99
This is the net price. Taxes to be calculated in checkout.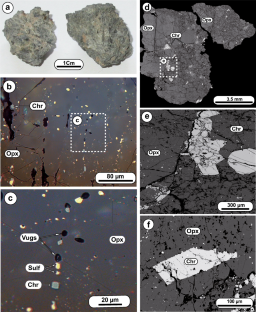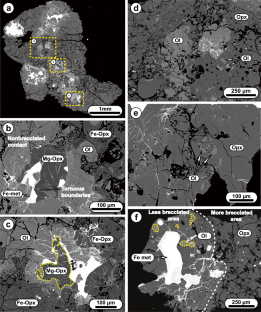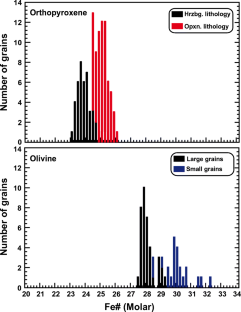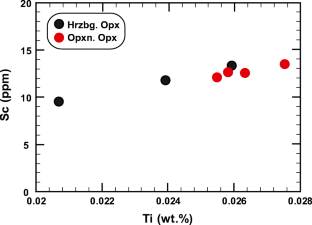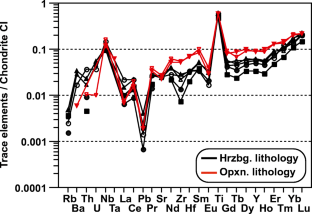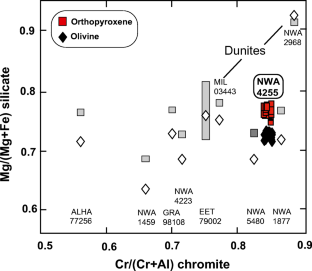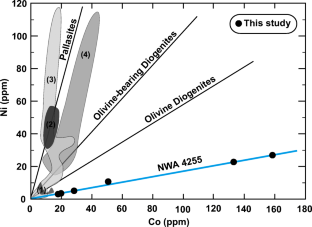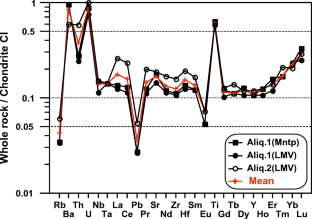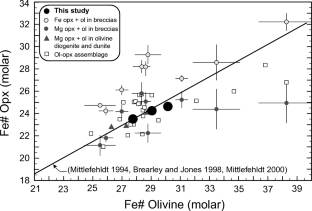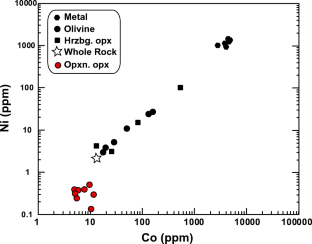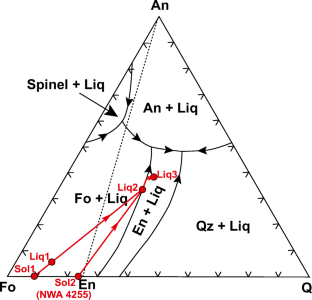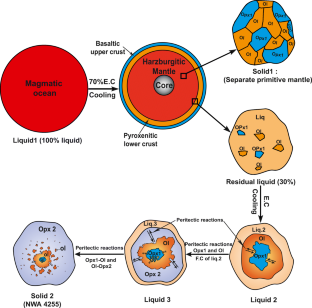 References
Anders E, Grevesse N (1989) Abundances of the elements: meteoritic and solar. Geochim Cosmochim Acta 53(1):197–214

Barrat JA, Beck P, Bohn M, Cotten J, Gillet P, Greenwood RC, Franchi IA (2006) Petrology and geochemistry of the fine-grained, unbrecciated diogenite Northwest Africa 4215. Meteorit Planet Sci 41(7):1045–1057

Beck AW, McSween HY (2008) Fe and Mn systematics in olivine-bearing diogenites. Abstract #1291, Lunar and Planetary Science XXXIX, USA

Beck AW, McSween HY (2010) Diogenites as polymict breccias composed of orthopyroxenite and harzburgite: Diogenites as polymict breccias. Meteorit Planet Sci 45(5):850–872

Beck AW, McSween HY, Bodnar RJ (2013) In situ laser ablation ICP-MS analyses of dimict diogenites: further evidence for harzburgitic and orthopyroxenitic lithologies. Meteorit Planet Sci 48(6):1050–1059

Boesenberg JS, Delaney JS (1997) A model composition of the basaltic achondrite planetoid. Geochim Cosmochim Acta 61(15):3205–3225

Bowman LE, Spilde MN, Papike JJ (1997) Automated energy dispersive spectrometer modal analysis applied to the diogenites. Meteorit Planet Sci 32(6):869–875

Cartier C, Hammouda T, Doucelance R, Boyet M, Devidal JL, Moine B (2014) Experimental study of trace element partitioning between enstatite and melt in enstatite chondrites at low oxygen fugacities and 5GPa. Geochim Cosmochim Acta 130:167–187

Drake MJ (2001) Presidential address: presented 2000 August 28, Chicago, Illinois, USA the eucrite/Vesta story. Meteorit Planet Sci 36(4):501–513

Dreibus G, Wänke H (1980) The bulk composition of the Eucrite parent asteroid and its bearing on planetary evolution. Z Naturforsch A 35(2)204–216

Fowler GW, Papike JJ, Spilde MN, Shearer CK (1994) Diogenites as asteroidal cumulates: insights from orthopyroxene major and minor element chemistry. Geochim Cosmochim Acta 58(18):3921–3929

Fowler GW, Shearer CK, Papike JJ, Layne GD (1995) Diogenites as asteroidal cumulates: insights from orthopyroxene trace element chemistry. Geochim Cosmochim Acta 59(14):3071–3084

Ghiorso MS, Hirschmann Marc M, Reiners Peter W, Kress VC III (2002) The pMELTS: an revision of MELTS aimed at improving calculation of phase relations and major element partitioning involved in partial melting of the mantle at pressures up to 3 GPa. Geochem Geophys Geosyst 3(5). https://doi.org/10.1029/2001GC000217

Greenwood RC, Barrat JA, Scott ERD, Haack H, Buchanan PC, Franchi IA, Burbine TH (2015) Geochemistry and oxygen isotope composition of main-group pallasites and olivine-rich clasts in mesosiderites: Implications for the "Great Dunite Shortage" and HED-mesosiderite connection. Geochim Cosmochim Acta 169:115–136

Greenwood RC, Burbine TH, Miller MF, Franchi IA (2017) Melting and differentiation of early-formed asteroids: the perspective from high precision oxygen isotope studies. Chem Erde-Geochem 77:1–43

Hahn TM, Lunning NG, McSween HY, Bodnar RJ, Taylor LA (2018) Mg-rich harzburgites from Vesta: mantle residua or cumulates from planetary differentiation? Meteorit Planet Sci 53(3):514–546

Irvine TN (1977) Chrome spinel crystallization in the join Mg2SiO4- CaMgSi2O6-MgCr2O4-SiO2. Carnegie Inst Washington Yearb 76:465–472

Irving AJ, Kuehner SM, Carlson RW, Rumble D, Hupé AC, Hupé GM (2005) Petrology and multi-isotopic composition of olivine diogenite nwa 1877: a mantle peridotite in the proposed hedo group of meteorites. Abstract #2188 Lunar and Planetary Science XXXVI, USA

Irving AJ, Bunch TE, Kuehner SM, Wittke JH, Rumble D (2009) Peridotites related to 4vesta: deep crustal igneous cumulates and mantle samples. Abstract #2466. 40th Lunar and Planetary Science Conference, USA

Krawczynski MJ, Elkins-Tanton LT, Grove TL (2008) Krawczynski 2008. Petrology of mesosiderite(?) MIL03443,9; constraints on eucrite parent body bulk composition and magmatic processes. Abstract #1229, 39 th Lunar and Planetary Science Conference, USA

Lodders K (2000) An oxygen isotope mixing model for the accretion and composition of rocky planets. In: Benz W, Kallenbach R, Lugmair GW (eds) From dust to terrestrial planets, vol 9. Springer Netherlands, Dordrecht, pp 341–354

Lunning NG, McSween HY, Tenner TJ, Kita NT, Bodnar RJ (2015) Olivine and pyroxene from the mantle of asteroid 4 Vesta. Earth Planet Sci Lett 418:126–135

Mandler BE, Elkins-Tanton LT (2013) The origin of eucrites, diogenites, and olivine diogenites: magma ocean crystallization and shallow magma chamber processes on Vesta. Meteorit Planet Sci 48(11):2333–2349

Mayne RG, McSween HY, McCoy TJ, Gale A (2009) Petrology of the unbrecciated eucrites. Geochim Cosmochim Acta 73(3):794–819

Miller MF (2002) Isotopic fractionation and the quantification of 17O anomalies in the oxygen three-isotope system: an appraisal and geochemical significance. Geochim Cosmochim Acta 66(11):1881–1889

Miller MF, Franchi IA, Sexton AS, Pillinger CT (1999) High-precision d17O isotope measurements of oxygen from silicates and other oxides: methods and applications. Rapid Commun Mass Spectrom 13:1211–1217

Mittlefehldt DW (1994) The genesis of diogenites and HED parent body petrogenesis. Geochim Cosmochim Acta 58(5):1537–1552

Mittlefehldt DW (2000) Petrology and geochemistry of the elephant moraine A79002 diogenite: a genomict breccia containing a magnesian harzburgite component. Meteorit Planet Sci 35(5):901–912

Mittlefehldt DW (2015) Asteroid (4) Vesta: I. the howardite-eucrite-diogenite (HED) clan of meteorites. Chem Erde-Geochem 75(2):155–183

Righter K, Drake MJ (1997) A magma ocean on Vesta: core formation and petrogenesis of eucrites and diogenites. Meteorit Planet Sci 32(6):929–944

Ruzicka A, Snyder GA, Taylor LA (1997) Vesta as the howardite, eucrite and diogenite parent body: implications for the size of a core and for large-scale differentiation. Meteorit Planet Sci 32(6):825–840

Sack RO, Ghiorso MS (1991) Chromian spinels as petrogenetic indicators: thermodynamics and petrological applications. Am Mineral 76:827–847

Shearer CK, Fowler GW, Papike JJ (1997) Petrogenetic models for magmatism on the eucrite parent body: evidence from orthopyroxene in diogenites. Meteorit Planet Sci 32(6):877–889

Shearer CK, Burger P, Papike JJ (2010) Petrogenetic relationships between diogenites and olivine diogenites: implications for magmatism on the HED parent body. Geochim Cosmochim Acta 74(16):4865–4880

Stopler E (1975) Petrogenesis of eucrite, howardite and diogenite meteorites. Nature 258:220–222

Toplis MJ, Mizzon H, Monnereau M, Forni O, McSween HY, Mittlefehldt DW, Russell CT (2013) Chondritic models of 4 Vesta: implications for geochemical and geophysical properties. Meteorit Planet Sci 48(11):2300–2315

Van Achterberg E, Ryan CG, Griffin WL (2001) GLITTER version 4 user's manual on-line interactive data reduction for the LA-ICP-MS microprobe. Macquarie Research Ltd, North Ryde 71 p
Acknowledgments
We thank Madame Marguerite Godard, for having analyzed one of the aliquots of the whole-rock traces at the Montpellier University. Thanks to J-L. Devidal for the assistance during the microprobe and the ICP-MS analysis. Thanks to J. Chevet for following the analyses of the whole rock. Thanks to J-M. Henot for making the mosaic images and M. Benbakkar for performing the ICP-AES analysis. Special thanks are extended to Magmas et Volcans Laboratory (Saint-Etienne, France) for the preparation of the samples for all analyses and also for welcoming into this laboratory to realize this work.
Funding
The Ministry of Higher Education and Scientific Research Algeria (M.E.S.R.S.) granted a PROFAS B+ grant to carry out this work in the Algerian-French program of doctoral scholarships, bilateral cooperation in the field of scientific research. Campus France financed part of the analyses of this work. Oxygen isotope studies at the Open University are funded by a consolidated grant from the Science and Technology Facilities Council (STFC), UK.
Additional information
Editorial handling: Domenico M. Doronzo
Electronic supplementary material
Onuma diagram representing the partition coefficients (Kd) Orthopyroxene / chondritic liquid (from orthopyroxene of orthopyroxenitic lithology) as a function of the ionic radius for the 3+ ions in VI coordination (these elements replace the Mg2 + octahedral sites M1 and M2 of orthopyroxenes). (PDF 148 kb)
About this article
Cite this article
Kared, R., Moine, B.N., Seddiki, A. et al. Petrology, mineralogy, and geochemistry of the olivine diogenite NWA 4255: new insights into the magmatic evolution of asteroid 4 Vesta. Arab J Geosci 12, 442 (2019). https://doi.org/10.1007/s12517-019-4604-9
Received:

Accepted:

Published:
Keywords
NWA 4255

Olivine diogenite

Harzburgite

Orthopyroxenite

Peritectic reactions

4Vesta