Abstract
The present study aims to investigate the urbanization characteristic of population growth during five time windows from 1976 to 2016, which can represent the evidence of climate change. For this purpose, seven major urbanized regions of Iran were chosen to study, which have the population greater than one million in 2016. Three main climatic data called as mean annual temperature, upward long-wave radiation (ULR), and precipitation, by monthly scale, were considered averagely to five aforementioned annual time scales from 1976 to 2016 then were extracted spatially with coordination of 1°N × 1°E around each urbanized region. Temporal change of climatic variables within five time windows indicated the average values of + 2.09 °C, + 11.2 W/m2, and − 21 mm for mean annual temperature, ULR, and precipitation in whole study areas. The most increase for mean annual temperature and ULR values were observed in Mashhad and Tehran-Karaj urbanized regions, respectively. In vice versa, the most decrease for mean annual precipitation values was observed in Ahwaz and Shiraz urbanized regions. A parallel increasing trend for temperature and ULR and a parallel declining trend for precipitation were observed adjusted by increasing urban population in all urbanized regions. In addition, the significant and strong relationships (R2 = + 0.814 to + 0.998) between temperature and ULR variations and urban population were observed in each urbanized region indicating as important signals of climate change affected by urbanization in Iran.
This is a preview of subscription content, log in to check access.
Access options
Buy single article
Instant access to the full article PDF.
US$ 39.95
Price includes VAT for USA
Subscribe to journal
Immediate online access to all issues from 2019. Subscription will auto renew annually.
US$ 99
This is the net price. Taxes to be calculated in checkout.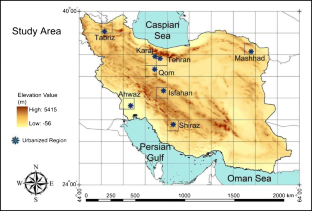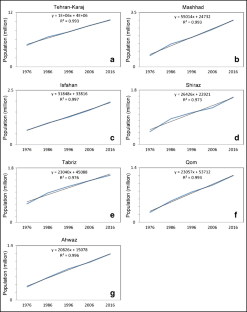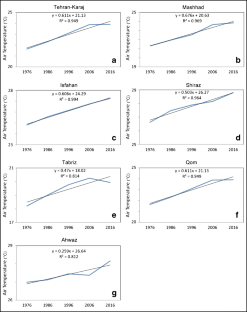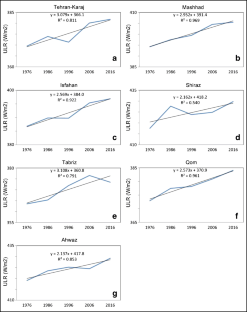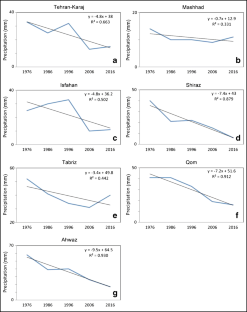 References
Alpert P, Kishcha P, Kaufman YJ, Schwarzbard R (2005) Global dimming or local dimming?: effect of urbanization on sunlight availability. Geophy Res Lett 32(L17):802

Amiri J, Eslamian S (2010) Investigation of climate change in Iran. Environ Sci Technol 3:208–216

Asia Pacific Data Research Center; APDRC (2017) Web-based data server designed by the National Oceanic and Atmospheric Administration (NOAA). Available via: http://apdrc.soest.hawaii.edu/las/getUI.do. Accessed 2015

Babaeiana I, Modiriana R, Karimiana M, Zarghamib M (2015) Simulation of climate change in Iran during 2071–2100 using PRECIS regional climate modelling system. Desert 20(2):123–134

Bazrkar MH, Zamani N, Eslamian S, Eslamian A, Dehghan D (2015) Urbanization and Climate Change. In: Filho WL (ed) Handbook of Climate Change Adaptation, pp 619–655

Cheval S, Dumitrescu A, Bell A (2009) The urban heat island of Bucharest during the extreme high temperatures of July 2007. Theor Appl Climatol 97:391–401

Choobari OA, Najafi MS (2018) Extreme weather events in Iran under a changing climate. Clim Dyn 50:249–260

Collier CG (2006) The impact of urban areas on weather. Q J R Meteorol Soc 132(614):1–25

Da Silva VPR, De Azevedo PV, Brito RS, Campos JHBC (2010) Evaluating the urban climate of a typically tropical city of northeastern Brazil. Environ Monit Assess 161(1–4):45–59

Dash P, Göttsche FM, Olesen FS, Fischer H (2002) Land surface temperature and emissivity estimation from passive sensor data: theory and practice-current trends. Int J Remote Sens 23(13):2563–2594

De Sherbinin A, Schiller A, Pulsipher A (2007) The vulnerability of global cities to climate hazards. Environ Urban 19:39–64

Dodman D (2009) Blaming cities for climate change? An analysis of urban greenhouse gas emissions inventories. Environ Urban 21:185–201

Dulal HB, Brodnig G, Onoriose CG (2011) Climate change mitigation in the transport sector through urban planning: a review. Habitat International 35:494–500

Fan H, Sailor DJ (2005) Modeling the impacts of anthropogenic heating on the urban climate of Philadelphia: a comparison of implementations in two PBL schemes. Atmos Environ 39:73–84

Fanni Z, Hosayni Z, Afsharmanesh H, Nazemmahalleh MA, Rastegar A (2013) The effects of urban environment on climate changes, case study: Tehran, Iran. Journal of Tethys 1(2):138–147

Gedzelman SD, Austin S, Cermak R, Stefano N, Partridge S, Quesenberry S, Robinson DA (2003) Mesoscale aspects of theurban heat island around new York City. Theor Appl Climatol 74:29–42

Gohari A, Eslamian S, Abedi-Koupaei J, Massah-Bavani A, Wang D, Madani K (2013) Climate change impacts on crop production in Iran's Zayandeh-Rud River basin. Sci Total Environ 442:405–419

Hijmans RJ, Cameron SE, Parra JL, Jones PG, Jarvis A (2005) Very high resolution interpolated climate surfaces for global land areas. Int J Climatol 25(15):1965–1978

Intergovernmental Panel on Climate Change; IPCC (2007) Climate change 2007 - the physical science basis. Contribution of working group I to the fourth assessment report of the IPCC. Cambridge University press

Intergovernmental Panel on Climate Change; IPCC (2014) In: Core Writing Team, Pachauri RK, Meyer LA (eds) Climate Change 2014: Synthesis report (SYR). Contribution of working groups I, II and III to the Fifth Assessment Report of the Intergovernmental Panel on Climate Change. IPCC, Geneva 151 pp

Jin M, Shepherd JM, Lidard CP (2007) Development of a parameterization for simulating the urban temperature hazard using satellite observations in climate model. Nat Hazards 43:257–271. https://doi.org/10.1007/s11069-007-9117-2

Lee SH, Baik JJ (2010) Statistical and dynamical characteristics of the urban heat island intensity in Seoul. Theor Appl Climatol 100:227–237

Makar PA, Gravel S, Chirkov V, Strawbridge KB, Froude F, Arnold J, Brook J (2006) Heat flux, urban properties, and regional weather. Atmos Environ 40:2750–2766

Mansouri Daneshvar MR (2016) Climate change facts and statistics in Iran. Report of the environmental challenges of I. R. Iran to UNEA-2 delivering on the 2030 Agenda in Nairobi 2016. Research Institute of Shakhes Pajouh 14 pp

Mansouri Daneshvar MR, Hussein Abadi N (2017) Spatial and temporal variation of nitrogen dioxide measurement in the Middle East within 2005-2014. Model Earth Syst Environ 3:20

Mendelsohn R, Kurukulasuriya P, Basist A, Kogan F, Williams C (2007) Climate analysis with satellite versus weather station data. Clim Chang 81:71–83

Modarres R, Sarhadi A, Burn DH (2016) Changes of extreme drought and flood events in Iran. Glob Planet Chang 144:67–81

Mohsin T, Gough WA (2011) Characterization and estimation of urban heat island at Toronto: impact of the choice of rural sites. Theor Appl Climatol 108:105–117. https://doi.org/10.1007/s00704-011-0516-7

National Climate Change Office of Iran; NCCOI (2014) Third national communication to United Nations framework convention on climate change (UNFCCC). Department of Environment Available via: http://climate-change.ir. Accessed 2014

Nazaripour H, Mansouri Daneshvar MR (2014) Spatial contribution of one-day precipitations variability to rainy days and rainfall amounts in Iran. Int J Environ Sci Technol 11(6):1751–1758

Nazemosadat MJ, Ravan V, Kahya E, Ghaedamini H (2016) Projection of temperature and precipitation in southern Iran using ECHAM5 simulations. Iran J Sci Technol Trans Sci 40:39–49

Offerle B, Grimmond CSB, Oke TR (2003) Parameterization of net all-wave radiation for urban areas. Appl Meteorol 42(8):1157–1173

Rahimzadeh F, Fatahi A, Hosseni DF (2005) Evaluation of variabilityof climate with applying statistical methods in Iran. Water Resour Res 2(1):61–73

Roshan GR, Grab SW (2012) Regional climate change scenarios and their impacts on water requirements for wheat production in Iran. Int J Plant Prod 6:239–266

Roshan GR, Shahraki SZ, Sauri D, Borna R (2010) Urban sprawl and climatic changes in Tehran. Iran J Environ Health Sci Eng 7:43–52

Saboohi R, Soltani S, Khodagholi M (2012) Trend analysis of temperature parameters in Iran. Theor Appl Climatol 109:529–547

Shepherd G, Terradellas E, Baklanov A, Kang U et al (2016) Global assessment of sand and dust storms. UNEP, WMO, UNCCD; United Nations Environment Programme 123 pp. ISBN: 978–92–807-3551-2

Shirgholami H, Ghahreman B (2005) Trend analysis of mean annual temperature in Iran. Agric Nat Resour 1:9–23

Statistical Center of Iran; SCI (2016). Official report of Iran population. Available via: http://www.amar.org.ir. Accessed 2016

UN-Habitat (2011) Global report on human settlements 2011 2011 Cities and Climate Change. Earthscan, London

World-Bank (2010) Cities and climate: change: an urgent agenda. World Bank, Washington

Zarenistanak M (2018) Historical trend analysis and future projections of precipitation from CMIP5 models in the Alborz mountain area, Iran. Meteorog Atmos Phys. https://doi.org/10.1007/s00703-018-0636-z
Additional information
Editorial handling: Zhihua Zhang
About this article
Cite this article
Sarvari, H. A survey of relationship between urbanization and climate change for major cities in Iran. Arab J Geosci 12, 131 (2019). https://doi.org/10.1007/s12517-019-4313-4
Received:

Accepted:

Published:
Keywords
Climate change

Urbanization

Temperature

Precipitation

Population