Abstract
In this study, morphometric analysis of 14 hilly sub-watersheds (SWs) of Naula watershed located in upper Ramganga River basin, Uttarakhand State, India, was done using remote sensing (RS) and geographical information system (GIS). The morphometric parameters used for sub-watersheds prioritization were watershed area, perimeter, stream order, mean stream length, basin length, bifurcation ratio, drainage density, stream frequency, texture ratio, mean length of overland flow, form factor, circularity ratio, compactness coefficient, and elongation ratio. The cross-correlation analysis between morphometric parameters was performed and tested at 5% level of significance. The priority rank and category (very high, high, moderate, low, and very low) for each sub-watershed were assigned based on compound factor value. The value of compound factor for each sub-watershed was calculated using weighted sum approach (WSA). The results of this analysis illustrated that the 20.34% area under highly susceptible sub-watersheds (SW-5 and SW-10) needs appropriate soil and water conservation measures for its development and management.
This is a preview of subscription content, log in to check access.
Access options
Buy single article
Instant access to the full article PDF.
US$ 39.95
Price includes VAT for USA
Subscribe to journal
Immediate online access to all issues from 2019. Subscription will auto renew annually.
US$ 99
This is the net price. Taxes to be calculated in checkout.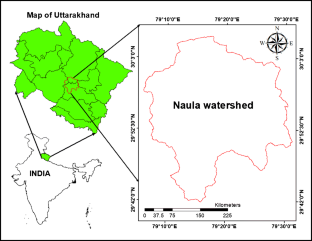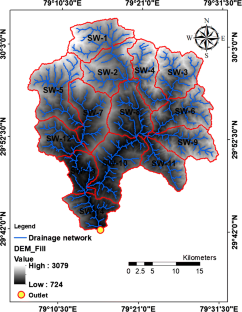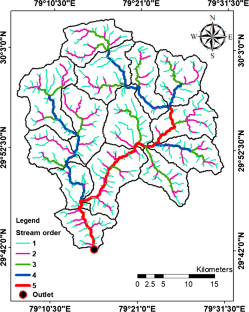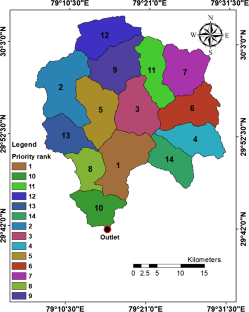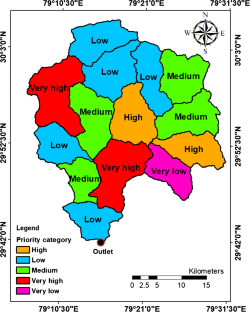 References
Agarwal R, Garg RD, Garg PK (2011) Morphometric analysis and prioritization of sub-watersheds in the Loni watershed, Uttar Pradesh using spatial information technology. J Indian Water Resour Soci 31(3–4):19–27

Aher PD, Adinarayana J, Gorantiwar SD (2014) Quantification of morphometric characterization and prioritization for management planning in semi-arid tropics of India: a remote sensing and GIS approach. J Hydrol 511:850–860

Balasubramanian A, Duraisamy K, Thirumalaisamy S, Krishnaraj S, Yatheendradasan RK (2017) Prioritization of subwatersheds based on quantitative morphometric analysis in lower Bhavani basin, Tamil Nadu, India using DEM and GIS techniques. Arab J Geosci 10. https://doi.org/10.1007/s12517-017-3312-6

Biswas S, Sudhakar S, Desai VR (1999) Prioritisation of sub watersheds based on morphometric analysis of drainage basin-a remote sensing and GIS approach. J Indian Soci Remote Sens 27:155–166

Chopra R, Dhiman R, Sharma PK (2005) Morphometric analysis of sub-watersheds in Gurdaspur District, Punjab using remote sensing and GIS techniques. J Indian Soci Remote Sens 33(4):531–539

Gaikwad R, Bhagat V (2018) Multi-criteria watershed prioritization of Kas Basin in Maharashtra (India): AHP and influence approaches. Hydrospatial Analysis 1(1):41–61

Gajbhiye S, Mishra SK, Pandey A (2013) Prioritizing erosion-prone area through morphometric analysis: an RS and GIS perspective. Appl Water Sci 4(1):51–61

Gupta Y, Singh PK (2010) Deterministic modeling of annual runoff and sediment production rate for small watersheds of Mahi catchment. Indian J Soil Cons 38(3):142–147

Horton RE (1932) Drainage basin characteristics. Trans Am Geophys Union 13:350–361

Horton RE (1945) Erosional development of streams and their drainage basins; hydrophysical approach to quantitative morphology. Geol Soc Am Bull 56(3):275–370

Jaiswal RK, Krishnamurty J, Mukherjee S, Sameena M (2007) Role of landform and topography in the development of drainage networks. Hydrol J 30(1–2):1–13

Kandpal H, Kumar A, Reddy CP, Malik A (2017) Watershed prioritization based on morphometric parameters using remote sensing and geographical information system. Indian J Ecol 44(3):433–437

Khan MA, Gupta VP, Moharana PC (2011) Watersheds prioritization using remote sensing and geographical information system: a case study from Guhiya, India. J Arid Environ 49(3):465–475

Kumar A, Darmora A, Sharma S (2012) Comparative assessment of hydrologic behaviour of two mountainous watersheds using morphometric analysis. Hydrobiol J 35(3–4):76–87

Meshram SG, Sharma SK (2015) Prioritization of watershed through morphometric parameters: a PCA-based approach. Appl Water Sci 7:1505–1519

Meshram SG, Sharma SK (2018) Hydrologic modeling. In: VP Singh et al. (eds.), Hydrologic modeling, water science and technology library 81, Springer Nature Singapore Pte Ltd, doi.org/10.1007/978-981-10-5801-1_31

Miller VC (1953) A quantitative geomorphic study of drainage basin characteristics in the Clinch Mountain area, Virginia and Tennessee. Project NR 389042, Tech. Rept. 3. Columbia University, Department of Geology, ONR, Geography Branch, New York.

Nag SK (1998) Morphometric analysis using remote sensing techniques in the Chaka sub-basin, Purulia district, West Bengal. J Indian Soc Remote Sens 26(1):69–76

Nookaratnam K, Srivastava YK, Venkateswarao V, Amminedu E, Murthy KSR (2005) Check dam positioning by prioritization of micro watersheds using SYI model and morphometric analysis-remote sensing and GIS perspective. J Indian Soci Remote Sens 33(1):25–28

Pandey A, Chowdary VM, Mal BC (2004) Morphological analysis and watershed management using GIS. Hydrol J 27(34):71–84

Patel DP, Dholakia MB, Naresh N, Srivastava PK (2012) Water harvesting structure positioning by using geo-visualization concept and prioritization of mini-watersheds through morphometric analysis in the lower Tapi basin. J Indian Soci Remote Sens 40(2):299–312

Rai PK, Mohan K, Mishra S, Ahmad A, Mishra VN (2014) A GIS-based approach in drainage morphometric analysis of Kanhar River basin, India. Appl Water Sci 7(1):217–232

Rao BK, Gaur ML, Kumar G, Kurothe RS, Tiwari SP (2013) Morphological characterization and alterations in cross section of different order streams of Mahi river in Gujarat. Indian J Soil Cons 41(1):20–24

Schumn SA (1956) Evolution of drainage systems and slopes in badlands at Perth Amboy, New Jersey. Geol Soc Am Bull 67(5):597–646

Sharma SK, Gajbhiye S, Tignath S (2015) Application of principal component analysis in grouping geomorphic parameters of a watershed for hydrological modeling. Appl Water Sci 5:89–96

Shrimali SS, Aggarwal SP, Samra JS (2001) Prioritizing erosion-prone areas in hills using remote sensing and GIS -a case study of the Sukhna Lake Catchment Northern India. Int J Appl Earth Obs Geoinf 3(1):54–60

Sidhu GS, Das TH, Singh RS, Sharma RK, Ravishankar T (1998) Remote sensing and GIS techniques for prioritization of watershed-a case study in the upper Machkund watershed, Andhra Pradesh. Indian J Soil Cons 26(2):71–75

Smith KG (1950) Standards for grading textures of erosional topography. Am J Sci 248(9):655–668

Srinivasa VS, Govindaonah S, Gowda H (2004) Morphometric analysis of sub-watersheds in the Pawagada area of Tumkur district South India using remote sensing and GIS techniques. J Indian Soci Remote Sens 32(4):351–362

Strahler AN (1952) Hypsometric (area-altitude) analysis of erosional topography. Bull Geol Soc Am 63:1117–1142

Strahler AN (1964) Quantitative geomorphology of drainage basin and channel networks. In: Chow VT (ed) Handbook of applied hydrology. McGraw Hill Book Company, New York section, pp 4–39

Suresh R (2007) Soil and water conservation engineering. Standard Publishers and Distributors, Delhi, pp 799–812

Thakkar AK, Dhiman SD (2007) Morphometric analysis and prioritization of mini watersheds in Mohr watershed, Gujarat using remote sensing and GIS techniques. J Indian Soci Remote Sens 35(4):313–321

Yasmin PBS, Kumar US, Ayyangoudar MS, Rao KN (2012) Morphometric analysis of Milli watershed of Raichur district using GIS techniques. Karnataka J Agri Sci 26(1):92–96
Additional information
Editorial handling: Pradeep Naik
About this article
Cite this article
Malik, A., Kumar, A. & Kandpal, H. Morphometric analysis and prioritization of sub-watersheds in a hilly watershed using weighted sum approach. Arab J Geosci 12, 118 (2019). https://doi.org/10.1007/s12517-019-4310-7
Received:

Accepted:

Published:
Keywords
Naula watershed

Prioritization

Morphometric

RS

GIS