Abstract
The geotechnical assessment of expansiveness potentiality of sabkha soils, Saudi Arabia has been achieved on subsurface clayey soil samples collected in Rabigh sabkha along the Red Sea throughout a variety of physical, chemical, mineralogical, and mechanical tests. The obtained results show that the studied Rabigh sabkha clays were deposited in restricted supra-tidal marine conditions. These sabkha clayey soils consist of silts (53.4 to 69.1%), clays (20.1 to 35.7%), and sands (5.457 to 9.93%) and are classified into high plasticity clays (CH) and high inorganic silts (MH). The clay mineral species (montmorillonite, illite, kaolinite, chlorite, and palygorskite) are of detrital origin except palygorskite that was formed authigentically. Based upon the activity (A), these sabkha soils are classified into active soil type. The swelling potentiality of Rabigh sabkha clays ranges from moderate to critical swell potentiality.
This is a preview of subscription content, log in to check access.
Access options
Buy single article
Instant access to the full article PDF.
US$ 39.95
Price includes VAT for USA
Subscribe to journal
Immediate online access to all issues from 2019. Subscription will auto renew annually.
US$ 99
This is the net price. Taxes to be calculated in checkout.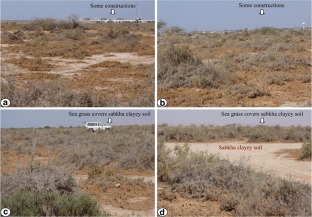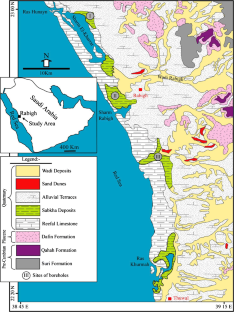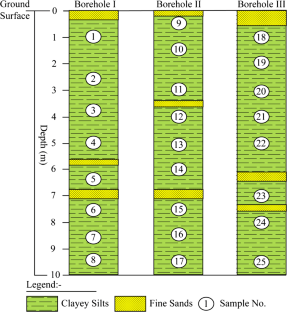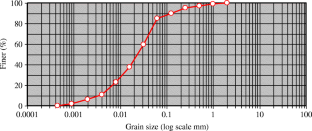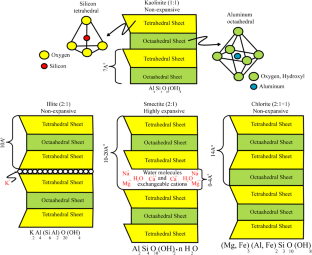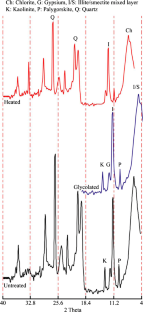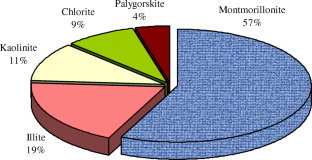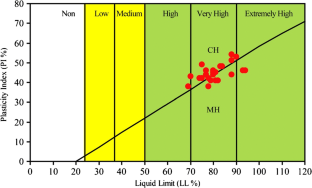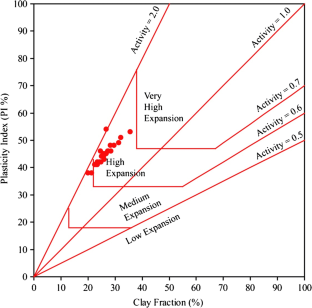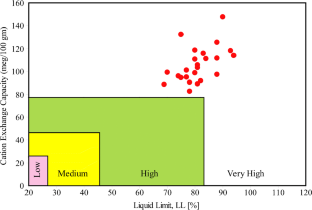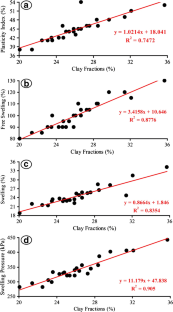 References
Abdullah WS, Alshibli KA, Al-Zou'bi MS (1999) Influence of pore water chemistry on the swelling behavior of compacted clays. Appl Clay Sci 15:447–462

Abu Seif ES (2006) Geological and engineering properties of expansive Soils of Gharb El-Mawhoob Area, Dakhla Oasis, Western Desert, Egypt. PhD. Thesis, South Valley University, Faculty of Science, Sohag

Abu Seif ES (2007) Engineering geology of Al-Kawser City, NE Sohag Governorate, Egypt. The 5th International Conference on the Geology of Africa, Assiut-Egypt, 15–28

Agarwal KP, Sharma SG (1973) A method for measuring swelling pressure of an expansive soil. 3rd Int. conf. on expansive soils, 1, 155–159

Al-Amoudi OSB (1995) Soil stabilization and durability of reinforced concrete in sabkha environments. Proceedings of the 4th Saudi Engineering Conference, Volume II November 1995, Jeddah, pp.313–338

Alnuaim AA, El-Naggar MH (2014) Performance of foundations in Saudi soil: numerical investigation. Geotech Geol Eng 32:637–656

Al-Rawas AA, Goosen MFA (2006) Expansive soils, recent advances in characterization and treatment. Taylor & Francis, Balkema Group, London

Amin A (2004) Comparative study of the geotechnical properties of the coastal sabkhas of Saudi Arabia and their hazardous effects. B Eng Geol Environ 63(4):309–314

Aqeel A, Sabtan A, Amin A (2013) Classifying Obhor sabkha to "Bthin sabkha" and "Bthick sabkha" based on geotechnical investigation, Jeddah–Saudi Arabia. Sana'a Univ Fac Sci Bull 25:39–60

Aqeel A (2016) Investigation of expansive soils in Obhor Sabkha, Jeddah-Saudi Arabia. Arab J Geosci 9:314. https://doi.org/10.1007/s12517-016-2341-x

Arman A (1969) A definition of organic soils, an engineering identification, Engineering Research Bulletin No. 101, Louisiana State University, Division of Engineering Research for Louisiana Department of Highways

Assadi A, Shahaboddin S (2009) A micro-mechanical approach to swelling behavior of unsaturated expansive clays under controlled drainage conditions. Appl Clay Sci 45(1–2):8–19

ASTM (1986) One dimensional swell or settlement potential of cohesive soils. ASTM Standards 04(08):992–1001

ASTM C136 (2004) Standard test method for sieve analysis of fine and coarse aggregates. American Society for Testing and Materials, Washington

ASTM D2216 (2005) American Society for Testing and Materials. Test method for laboratory determination of water (moisture) content of soil and rock, ASTM section 4-construction

ASTM D2974 (2000) Standard test methods for moisture, ash, and organic matter of peat and other organic soils. American society for testing and materials, 1916 Race St., Philadelphia, PA 19103

ASTM D4318 (2005) Standard test methods for liquid limit, plastic limit, and plasticity index of soils. ASTM Designation D4318–05

ASTM D854 (2006) American Society for testing and materials. Standard test method for specific gravity of soils, ASTM Designation D854–06

Avsar E, Ulusay R, Sonmez H (2009) Assessments of swelling anisotropy of Ankara clay. Eng Geol 105(1–2):24–31

Bell FG (2007) Engineering Geology, 2nd edition, Butterworth-Heinemann is an imprint of Elsevier, 581

Chamley H (1989) Clay Sedimentology. Springer, Berlin Heidelberg

Chapman HD (1965) Cation exchange capacity. In: Black CA, Evans DD, Ensminger LE, White JL, Clark FE, Dinauer RC (eds) Methods of soil analysis, agronomy 9. American Society of Agronomy, Madison, Wisconsin, pp 891–901

Chen FH (1988) Foundations on expansive soils, development in geotechnical engineering 54. Elsevier, New York, p 467

Chen FH (1975) Foundation on expansive soils, development in Geothechnical engineering, vol 12. Elsevier, New York 280p

Chen L, Yin Z, Zhang P (2007) Relationship of resistivity with water content and fissures of unsaturated expansive soils. J China Univ Min Technol 17(4):537–540

Edgell HS (1992) Desert Evaporite Associations of Eastern Saudi Arabia. 29th International Congress, Abstracts 2:411, Kyoto

El-Ghonaimy AY (1992) Prediction of shear strength for Port Said soft clay. M. Sc. Thesis Faculty of Engineering, Cario University, 144p

El-Sohby MA, Rabba SA (1981) Some factors affecting swelling of clayey soils. Geotech Eng 12:19–39

Ferber V, Auriol JC, Cui YJ, Magnan JP (2009) On the swelling potential of compacted high plasticity clays. Eng Geol 104(3–4):200–210

Franklin AF, Orozco LF, Semrau R (1973) Compaction of slightly organic soils. JSoil Mech Found Div ASCE 99:541–557 No. SM7

Fukue M, Nakamura T (1996) Effects of carbonate on cementation of marine sediments. Mar Georesource Geotech 14:37–45

Gibbs RJ (1971) Preparation of X-ray diffraction mounts. In: Carver RE (ed) Procedures in sedimentary petrology. Wiley, New York, pp 531–540

Griffin G (1971) Interpretation of x-ray diffraction data, In: Procedure in Sedimentary Petrology. (Edt. Carver RE) Willey-Interscience, New York, 541–568

Grim RE (1962) Applied clay mineralogy. MC-Graw. Hill, Book Company, Inc., pp. 207–277. New York, Toronto, London

Holtz RD, Kovacs WD (1981) An introduction to geotechnical engineering. Prentice-Hall, Eaglewood Cliffs, NJ

Holtz WG, Gibbs HJ (1956) Engineering properties of expansive clays. Trans ASCE 121:641–663

Huang R, Wu L (2007) Stability analysis of unsaturated expansive soil slope. Earth Sci Front 14(6):129–133

Komorink A. Livneh M (1969) Influence of granular constituents on the swelling characteristics of expansive clays. 2nd Int. Conf. on expansive clay soils, 279–290

Malkawi AH, Alawneh AS, Osama T, Abu-Safaqah (1999) Effects of organic matter on the physical and the physicochemical properties of an illitic soil. Appl Clay Sci 14:257–278

Mitchell JK (1993) Fundamentals of soil behavior, 2nd edn. John Wiley & Sons, Inc., New York

Moore TA, Al-Reaili MH (1989) Geologic map of the Makkah quadrangle, sheet 21D, Kingdom of Saudi Arabia, Ministry of Petroleum and Mineral Resources. Deputy Ministry for Mineral Resources Publication, Jeddah, KSA

Muntohar AS (2002) Improvement of the bearing of soil by using lime-rice husk ash, Proc. 2nd Int. Conf. of Geotech. and Geoenvironmental Eng. in Arid Land, King Saud University, Saudi Arabia, 71–79

Odell RT, Thornburn TH, Mckenzie LJ (1960) Relationship of Atterberg limits to some other properties of Illinois soils. Proc Soil Sci Soc Am 244:297–300

Oster JD, Shainberg I, Wood JD (1980) Flocculation value and gel structure of Na/Ca montmorillonite and illite suspension. Soil Sci Soc Amer J 44:955–959

Popescu ME (1986) A comparison between the behaviour of swelling and of collapsing soils. Eng Geol 23:145–163

Rabba S (1975) Factors affecting engineering properties of expansive soils. M.Sc. Thesis Al-Azhar University, Cario, Egypt

Radwan AM (1988) Mineral distribution and swell potential of marl. Civil Eng Magaz. Al-Azhar University, Cario, Egypt, 10 (3), 54–65

Ramasy CR (1986) Geological map Rabigh quadrangle, sheet 22D, Kingdom of Saudi Arabia. Jeddah: Saudi Arabian Directorate General of Mineral Resources, Geologic map GM-84C, scale1:250,000

Rhoades JD (1982) Soil pH. In: Methods of soil analysis, Part A, chemical and microbiologica properties. Agronomy Monogr., 9

Ruwaih IA (1987) Experiences with expansive soils in Saudi Arabia. In: Proceedings of the sixth international conference on expansive soils, New Delhi, 317–322

Sabtan AA (2005) Geotechnical properties of expansive clay shale in Tabuk, Saudi Arabia. J Asian Earth Sci 25:747–757

Seed HB, Mitchel JK, Chan CK (1962) Studies of swell and swell pressures characteristics of compacted clays. Highway Res Board Bull 313:12–39

Singer A (1979) Palygorskite in sediments: detrital, diagenetic or neoformed. A critical review. Geol Rundsch 68:996–1008

Skempton AW (1953) The colloidal activity of clays. Proc. 3rd Int. Conf. Soil Mech. Found. Eng., 1, 57–61

Smart P, Tovey NK (1982) Electron microscopy of soils and sediments. Technique. Claredon Press, Oxford

Smart P (1967) Particle arrangements in kaolin. In: Proceedings of the 15th National Conference on clays and clay mineral, 15: 241–254

Smith JW (1980) Reconnaissance geology of the At Taif quadrangle, sheet 21/40C, Kingdom of Saudi Arabia: Saudi Arabian Directorate General of Mineral Resources geological Map GM-56, 1:100,000 scale, 33

Taj R (2012) Textural characteristics and environmental interpretation of the lower miocene siliciclastic succession, Dafin formation, Rabigh Area, Saudi Arabia. J King Abdulaziz Univ: Earth Sciences 23(1):85–109

Tsiambaos G (1991) Correlation of mineralogy and index properties with residual strength of Iraklion marls. Eng Geol 30:357–369

Vail JR (1985) Pan-African (Late Precambrian) tectonic terrains and the reconstruction of the Arabian-Nubian Shield. Geology 13:839–842

Warren JK (2016) Evaporites: a geological compendium, 2nd edition. Springer, DOI https://doi.org/10.1007/978-3-319-13512-0,1813

Williams AAB (1980) Severe heaving of a block of flats near Kimberley. Proceed Seventh Region Conf Africa Soil Mech Found Eng Accra 1:301–309

Yilmaz I (2006) Indirect estimation of the swelling percent and a new classification of soils depending on liquid limit and cation exchange capacity. Eng Geol 85:295–301
Acknowledgements
The authors, therefore, acknowledge with thanks the Deanship of Scientific Research (DSR) for technical and financial support. Also, the authors are deeply grateful to Prof. Dr. A.M. Al-Amri (the Editor-in-Chief) and the three anonymous reviewers for insightful comments and criticism that improved this manuscript.
Funding
This project was funded by the Deanship of Scientific Research (DSR) at King Abdulaziz University, Jeddah, under grant no. G-299-145-37.
About this article
Cite this article
Hakami, B.A., Seif, E.S.A. Expansive potentiality of sabkha soils of Rabigh Lagoon, Saudi Arabia: a case study. Arab J Geosci 12, 107 (2019). https://doi.org/10.1007/s12517-019-4271-x
Received:

Accepted:

Published:
Keywords
Sabkha soils

Mineralogy

Expansiveness potentiality

Rabigh, Saudi Arabia