Abstract
The Bradost and Berat anticlines are located within the Imbricate and High Folded zones of the NW segment of the Zagros fold-thrust belt, respectively, in the Iraqi Kurdistan Region. Two balanced cross-sections were built across these two anticlines, based on the integration of geological observations, few new available seismic, and well data, in order to unravel changes in the studied fold and fault architectures, from the surface to subsurface. The study aims to understand the sequential evolution of the Bradost and Berat thrusted anticlines. The studied sections imply that the Berat structure represents thrust-related anticline with pop-up geometry, whereas the Bradost structure comprises combination of two different geometries and styles of deformation along strike at each of the segments. So, the Bradost structure appears as a positive flower structure in one of the segments and as a ramp-related anticline in another segment. This structural phenomenon suggests development of two different segments instead of one embryonic anticline in the Bradost structure, which were later connected via transverse Hadar-Bekhme basement fault, during a progressive lateral growth of the two segments. The shortening values that were accommodated by the thrusts are ~ 991 m and ~ 553 m at the Bradost and Berat structures respectively. This variation in shortening is due to intensity of thrusting process which is higher in the Bradost structure than that in the Berat. The current study suggests that the underlying duplex structures below both Berat and Bradost structures are primarily responsible for the accommodation the potential uplifting of the studied structures, rather than the imbricate thrust system. Based on the obtained deformed geometry of the folds from the cross sections, the studied structures were decoupled within the Upper Paleozoic Ora Shale Formation. The overall deformed geometry of the cross sections indicates combination of thin- and thick-skinned deformation.
This is a preview of subscription content, log in to check access.
Access options
Buy single article
Instant access to the full article PDF.
US$ 39.95
Price includes VAT for USA
Subscribe to journal
Immediate online access to all issues from 2019. Subscription will auto renew annually.
US$ 99
This is the net price. Taxes to be calculated in checkout.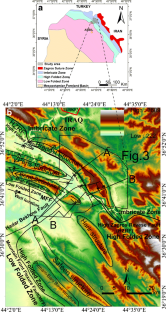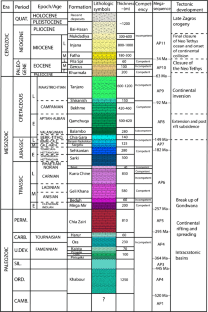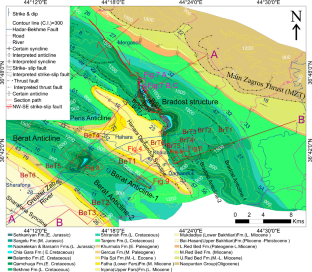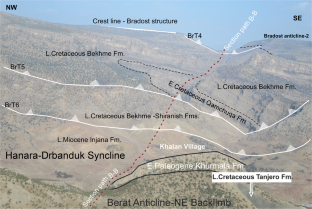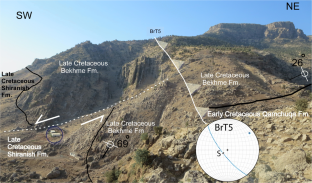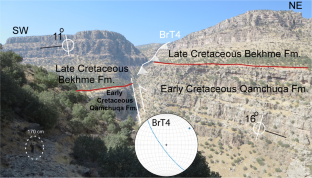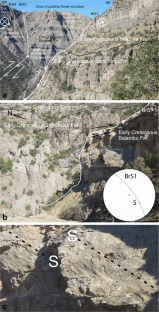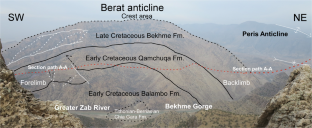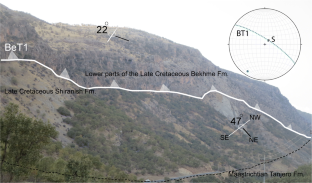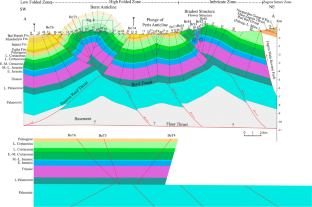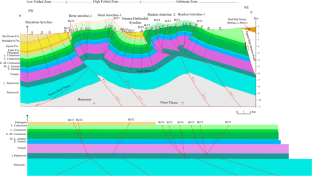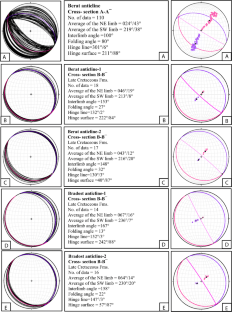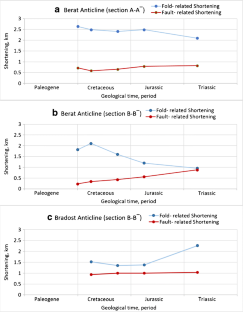 References
Agard P, Omrani J, Jolivet L, Mouthereau F (2005) Convergence history across Zagros(Iran): constraints from collisional and earlier deformation. Int J Earth Sci 94:401–419. https://doi.org/10.1007/s00531-005-0481-4

Alavi M (1994) Tectonics of Zagros Orogenic Belt of Iran, new data and interpretation. Tectonophysics 229:211–238. https://doi.org/10.1016/0040-1951(94)90030-2

Alavi M (2007) Structures of the Zagros fold–thrust belt in Iran. Am J Sci 307:1064–1095

Ameen MS (1991) Possible forced folding in the Taurus-Zagros belt of North Iraq. Geol Mag 128:561–584

Ameen MS (1992) Effect of basement tectonics on hydrocarbon generation, migration and accumulation in northern Iraq. AAPG Bull 76:356–370

Aqrawi AAM, Goff JC, Horbury AD, Sadooni FN (2010) The petroleum geology of Iraq. Statoil Scientific Press, 424p

Awdal A, Healy D, Alsop GI (2016) Fracture patterns and petrophysical properties of carbonates undergoing regional folding: a case study from Kurdistan Iraq. Mar Pet Geol 71:149–167

Ballato P, Nowaczyk NR, Landgraf A, Strecker MR, Friedrich A, Tabatabaei SH (2008) Tectonic control on sedimentary facies pattern and sediment accumulation rates in the Miocene foreland basin of the southern Alborz Mountains, northern Iran. Tectonics 27:1–20

Barnhart WD, Brengman CMJ, Li S, Peterson KE (2018) Ramp-flat basement structures of the Zagros Mountains inferred from co-seismic slip and afterslip of the 2017 Mw7.3 Darbandikhan, Iran/Iraq earthquake. Earth Planet Sci Lett 496:96–107

Berberian M (1995) Master blind thrust faults hidden under the Zagros folds: active tectonics and surface morphotectonics. Tectonophysics 241:193–224

Berberian M, King GCP (1981) Towards a paleogeography and tectonic evolution of Iran. J Earth Sci 18:210–265. https://doi.org/10.1139/e81-019

Blanc EJP, Allen MB, Inger S, Hassani H (2003) Structural styles in the Zagros simple folded zone, Iran. J Geol Soc 160:401–412. https://doi.org/10.1144/0016-764902-110

Boyer SE (1992) Geometric evidence for synchronous thrusting in the southern Alberta and Northwest Montana thrust belt. In: McClay KR (ed) Thrust tectonics. Chapman and Hall, London, pp 377–390

Boyer SE, Elliot D (1982) Thrust systems. AAPG Bull 66:1196–1230

Burberry CM (2015) The effect of basement fault reactivation on the Triassic-recent geology of Kurdistan, North Iraq. J Pet Geol 38(1):37–58

Butler RWH (1987) Thrust sequences. J Geol Soc Lond 144:619–634

Couzens BA, Dunne WM (1994) Displacement transfer at thrust termination: the Saltville thrust and Sinking Creek anticline, Virginia, U.S.A. J Struct Geol 16:781–793

Csontos L, Sasvári A, Pocsai T, Kósa L, Salae A, Ali A (2012) Structural evolution of the northwestern Zagros, Kurdistan Region, Iraq: implications on oil migration. GeoArabia 17(2):81–116

Dahlstrom CDA (1969) Balanced cross sections. Can J Earth Sci 6:743–757

De Mets C, Gordon RG, Argus DF, Stein S (1994) Effects of recent revision to the geomagnetic reversal time scale on estimates of current plate motions. Geophys Res Lett 21:2191–2194

English JM, Lunn GA, Ferreira L, Yacu G (2015) Geologic evolution of the Iraqi Zagros, and its influence on the distribution of hydrocarbons in the Kurdistan Region. AAPG Bull 99(2):231–272

Epard J, Groshong RH (1993) Excess area and depth to detachment. AAPG Bull 77:1219–1302

Fakhari MD, Axen GJ, Horton BK, Hassanzadeh J, Amini A (2008) Revised age of proximal deposits in the Zagros foreland basin and implications for Cenozoic evolution of the High Zagros. Tectonophysics 451:170–185

Falcon NL (1961) Major earth-flexuring in the Zagros Mountains of south-west Iran. Q J Geol Soc Lond 117:367–376. https://doi.org/10.1144/gsjgs.117.1.0367

Fossen H (2010) Structural geology. Cambridge University Press, Cambridge, 463pp

Frehner MD, Reif D, Grasemann B (2012) Mechanical versus kinematical shortening reconstructions of the Zagros High Folded Zone (Kurdistan Region of Iraq). Tectonics 31:1–16

Golonka J (2004) Plate tectonic evolution of the southern margin of Eurasia in the Mesozoic and Cenozoic. Tectonophysics 381:235–273

Groshong RH (2006) 3-D structural geology. Springer-Verlag, Berlin 324pp

Harding TP (1985) Seismic characteristics and identification of negative, positive flower structure, and positive structural inversion. AAPG Bull 69(4):582–600

Hinsch R, Bretis B (2015) A semi-balanced section in the northwestern Zagros region: constraining the structural architecture of the mountain front flexure in the Kirkuk Embayment, Iraq. GeoArabia 20:41–62

Homke S, Verges J, van der Beek P, Fernandez M, Saura E, Barbero L, Badics B, Labrin E (2010) Insights in the exhumation history of the NW Zagros from bedrock and detrital apatite fission-track analysis: evidence for a long-lived orogeny. Basin Res 22:659–680

Huang L, Liu C-Y (2017) Three types of flower structure in a divergent-wrench fault zone. J Geophys Res Solid Earth 122:10,478–10,497

Jassim SZ (2006) Late Precambrian development of the Arabian Plate. In: Jassim SZ, Goff JC (eds) Geology of Iraq. Dolin, Prague Moravian Museum, Brno, pp 27–31

Jassim SZ, Buday T (2006) Units of the unstable shelf and the Zagros suture. In: Jassim SZ, Goff JC (eds) Geology of Iraq. Dolin, Prague Moravian Museum, Brno, pp 71–84

Jassim SZ, Goff JC (2006) Phanerozoic development of the northern Arabian Plate. In: Jassim SZ, Goff JC (eds) Geology of Iraq. Dolin, Prague Moravian Museum, Brno, pp 32–44

Jassim SZ, Buday T, Cicha I, Prouza V (2006) Late Permian–Liassic megasequence AP6. Units of the unstable shelf and the Zagros suture. In: Jassim SZ, Goff JC (eds) Geology of Iraq. Dolin, Prague Moravian Museum, Brno, pp 91–103

Jones PB (1971) Folded faults and sequence of thrusting in Alberta foothills. AAPG Bull 55:292–306

Jones PB (1984) Sequence of backlimb thrusts and imbrications: implications for development of Idaho-Wyoming thrust belt. AAPG Bull 68:816–818

Karim KH, Koyi H, Baziany MM, Hessami K (2011) Significance of angular unconformities between Cretaceous and Tertiary strata in the northwestern segment of the Zagros fold–thrust belt, Kurdistan. Geol Mag 148:925–939. https://doi.org/10.1017/S0016756811000471

Koshnaw RI, Horton BK, Stockli DF, Barber DE, Tamar-Agha MY, Kendall JJ (2017) Neogene shortening and exhumation of the Zagros fold-thrust belt and foreland basin in the Kurdistan region of northern Iraq. Tectonophysics. https://doi.org/10.1016/j.tecto.2016.11.016

Kramer D, List D, Tillman L, Jagiello K, Gould T (2004) Seismic and geologic evidence of complex "positive flower" structures along confining bends in strike slip faults, Lake Maracaibo, Venezuela. SPE Asia Pacific Conference Kuala Lumpur, Malaysia

Lawa FA, Koyi H, Ibrahim A (2013) Tectono-stratigraphic evolution of the NW segment of the Zagros fold-thrust belt, Kurdistan, NE Iraq. J Petrol Geol 36:75–96. https://doi.org/10.1111/jpg.12543

Marouf NZ (1999) Dynamic evolution of the sedimentary basins in Northern Iraq and hydrocarbon formation, migration and entrapment. Ph.D. thesis, Baghdad University, 245 p

McClay KR (1995) The geometries and kinematics of inverted fault systems: a review of analogue model studies, in basin inversion. In: Buchanan JG and Buchanan PG Buchanan JG and Buchanan PG (eds) Basin inversion, Geol. Soc. Spec. Publ., 88, pp. 97–119

McClay KR, Buchanan PG (1992) Thrust faults in inverted extensional basins. In: McClay KR (ed) Thrust tectonics. Chapman and Hall, London, pp 93–104

McMechan M (2012) Structural style and kinematic evolution of the Central Rocky Mountain foothills, British Columbia and Alberta. Canadian Society of Petroleum Geologists, GeoConvention 2012 Conference, Calgary-Canada

McQuarrie N (2004) Crustal scale geometry of the Zagros fold-thrust belt, Iran. J Struct Geol 26:519–535

Mitra S (1986) Duplex structures and imbricate thrust systems: geometry, structural position and hydrocarbon potential. AAPG Bull 70:1087–1112

Mitra S (1990) Fault-propagation folds: geometry, kinematic evolution, and hydrocarbon traps. AAPG Bull 74:921–945

Mitra S (1992) Balanced structural interpretations in fold and thrust belts. In: Mitra S, Fisher GW (eds) Structural geology of fold and thrust belts. Johns Hopkins University Press, Baltimore, pp 53–77

Mitra S, Namson JS (1989) Equal-area balancing. Am J Sci 289:563–599

Morley CK (1988) Out-of-sequence thrusts. Tectonics 7:539–561

Mouthereau F, Lacombe O, MEYER B (2006) The Zagros folded belt (Fars, Iran): constraints from topography and critical wedge modelling. Geophys J Int 165:336–356

Navabpour P, Barrier E (2012) Stress states in the Zagros fold-and-thrust belt from passive margin to collisional tectonic setting. Tectonophysics 581:76–83

Numan NMS (1984) Basement controls of stratigraphic sequences and structural patterns in Iraq. J Geol Soc Iraq 16:8–28

Numan NMS (1997) A plate tectonic scenario for the Phanerozoic succession in Iraq. J Geol Soc Iraq 30:85–110

Omar AA (2005) An integrated structural and tectonic study of the BinaBawi-Safin Bradost Region, Ph.D. thesis, Salahaddin University, 300 p

Omar AA, Syan SH (2016) Construction of a structural model for Harir anticline within Zagros fold-thrust belt, Kurdistan Iraq. Zanco J Pure Appl Sci 28(6):90–105. https://doi.org/10.21271/ZJPAS.28.6.12

Poblet J, Lisle RJ (2011) Kinematic evolution and structural styles of fold-and-thrust belts. Geol Soc Lond Spec Publ 349:1–24

Sadeghi S, Yassaghi A (2016) Spatial evolution of Zagros collision zone in Kurdistan, NW Iran: constraints on Arabia-Eurasia oblique convergence

Scisciani V (2009) Styles of positive inversion tectonics in the Central Apennines and in the Adriatic foreland: implications for the evolution of the Apennine chain (Italy). J Struct Geol 31:1–19. https://doi.org/10.1016/j.jsg.2009.02.004

Sharland PR, Archer R, Casey DM, Davies RB, Hall SH, Heward AP, Horbury AD, Simmons MD (2001) Arabian Plate sequence stratigraphy.GeoArabia, Special Publication 2, Gulf Petro Link, Manama, 371 p

Shaw JH, Bilotti F, Brennan PH (1999) Patterns of imbricate thrusting. AAPG Bull 111:1140–1154

Shaw JH, Connors C, Suppe J (2005) Seismic interpretation of contractional fault-related folds: an AAPG seismic atlas. AAPG Stud Geol 53:156

Sibson RH (1995) Selective fault reactivation during basin inversion: potential for fluid redistribution through fault-valve action. In: Buchanan JG and Buchanan PG Buchanan JG and Buchanan PG (eds) Basin inversion, Geol. Soc. Spec. Publ., vol 88, pp 3–19

Sibson RH (2004) Frictional mechanics of seismogenic thrust systems in the upper continental crust—implications for fluid overpressures and redistribution. In: McClay KR(ed) Thrust tectonics and hydrocarbon systems: AAPG Memoir, vol 82, pp 1–17

Sissakian VK (2013) Geological evolution of the Iraqi Mesopotamia Foredeep, inner platform and near surroundings of the Arabian Plate. J Asian Earth Sci 72:152–163

Stampfli GM, Borel GD (2002) A plate tectonic model for the Paleozoic and Mesozoic constrained by dynamic plate boundaries and restored synthetic oceanic isochrones. Earth Planet Sci Lett 196:17–33

Suppe J (1985) Principles of structural geology. Prentice - Hall, Englewood Cliffs, 537p

Tavani S, Parente M, Puzone F, Corradetti A, Gharabeigli G, Valinejad M, Morsalnejad D, Mazzoli S (2018a) The seismogenic fault system of the 2017 Mw 7.3 Iran-Iraq earthquake: constraints from surface and subsurface data, cross-section balancing and restoration. Solid Earth Discuss 9:821–831. https://doi.org/10.5194/se-2018-21

Tavani S, Parente M, Vitale S, Iannace A, Corradetti A, Bottini C, Morsalnejad D & Mazzoli S (2018b) Early Jurassic rifting of the Arabian passive continental margin of the Neo-Tethys. Field evidence from the Lurestan region of the Zagros fold-and-thrust belt, Iran, Iran. Tectonics. https://doi.org/10.1029/2018TC005192

Trocme V, Albouy E, Callot J, Letouzey J (2011) 3D structural modelling of the southern Zagros fold-and-thrust belt diapiric province. Geol Mag 148:879–900

van Bellen RC, Dunnington HV, Wetzel R, Morton DM (1959) Stratigraphic lexicon of Iraq. Lexique Stratigraphique International. 03 10 Asie, (Iraq). CNRS Paris, 333 p

Van der Pluijm BA, Marshak S (2004) Earth structure: an introduction to structural geology and tectonics. WCB/Mc Graw-Hill, USA, pp 468–479

Verges J, Goodarzi MGH, Emami H, Karpuz R, Efstathiou J, Gillespie P (2011a) Multiple detachment folding in Pusht-e-Kuh arc, Zagros: role of mechanical stratigraphy. In: McClay K, Shaw JH, Suppe J (eds) Thrust fault-related folding, AAPG Memoir, vol 94, pp 69–94

Verges J, Saura E, Casciello E, Fernàndez M, Villaseñor A, Jiménez-Munt I, García-Castellanos D (2011b) Crustal-scale cross-sections across the NW Zagros belt: implications for the Arabian margin reconstruction. Geol Mag 148(5–6):739–761

Woodward NB, Boyer SE, Suppe J (1989) Balanced geological cross-sections: an essential technique in geological research and exploration. Short Course in Geology, Washington, DC. American Geophysical Union, v. 6, 132p

Yamada Y, McClay K (2004) 3-D analog modeling of inversion thrust structures. In: McClay KR (ed) Thrust tectonics and hydrocarbon systems, AAPG Memoir, vol 82, pp 276–301

Zebari M, Burberry CM (2015) 4D evolution of anticlines and implications for hydrocarbon exploration within the Zagros fold thrust belt, Kurdistan Region, Iraq. GeoArabia 20(1):161–188

Zebari M, Navabpour P, Grützner C, Ustaszewski (2018) Surface deformation related to the 12 November 2017 Iran-Iraq border earthquake (MW 7.3) and its aftershocks: insights from in SAR Data. 17th TSK International Conference, Jena-Germany
Acknowledgements
The authors thank the Ministry of Natural Resources of the Kurdistan Regional Government for providing a few seismic and a well data. The constructive review and useful comments of two anonymous reviewers that helped to improve the revised manuscript are sincerely acknowledged. The Arabian Journal of Geosciences' Assistant Editor Tavani Stefano is thanked for valuable suggestions on the manuscript.
About this article
Cite this article
Balaki, H.G.K., Omar, A.A. Structural assessment of the Bradost and Berat structures in Imbricate and High Folded zones—Iraqi Kurdistan Zagros belt. Arab J Geosci 12, 106 (2019). https://doi.org/10.1007/s12517-019-4251-1
Received:

Accepted:

Published:
Keywords
Bradost and Berat structures

Flower structure

Shortening estimation

Detachment surface

Structural relief

Duplex structure