Abstract
Groundwater plays a vital role in the development of human and agricultural activities in India. Assessing the groundwater potential zone is extremely important for the protection of water quality and the groundwater management system. In this view, the study is carried out to investigate the groundwater potential zones for the assessment of groundwater availability in NandiAru sub-basin, Tamilnadu, India, by using a multidisciplinary database. Integration of geophysical techniques and geoinformatics can provide a suitable platform for convergence of multi-disciplinary data from different sources of planning. Using geophysical techniques 27 Schlumberger vertical electrical sounding (VES) survey was carried out up to a depth of 150 m in the whole study area. The field data were interpreted by using IPI2WIN software to find out the earth subsurface thickness and resistivity of different layers. The spatial distributions of thematic layers were prepared from geophysical resistivity survey data and these integrated over geology, geomorphology, and lineament density by using Arc GIS 9.3. These thematic layers were used as parameters in analytic hierarchy process (AHP) method to derive the priority values of all thematic layers. The groundwater potential map has been prepared based on the priority values of each thematic features and the potential of groundwater classified as high, moderate, and low zones.
This is a preview of subscription content, log in to check access.
Access options
Buy single article
Instant access to the full article PDF.
US$ 39.95
Price includes VAT for USA
Subscribe to journal
Immediate online access to all issues from 2019. Subscription will auto renew annually.
US$ 99
This is the net price. Taxes to be calculated in checkout.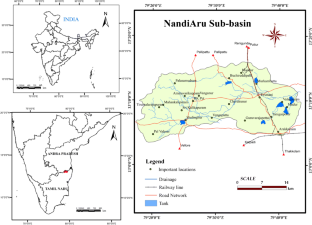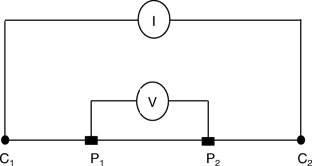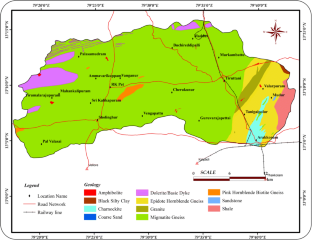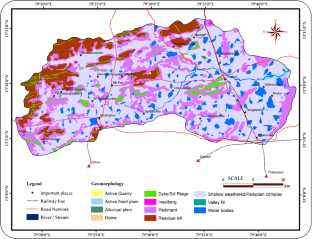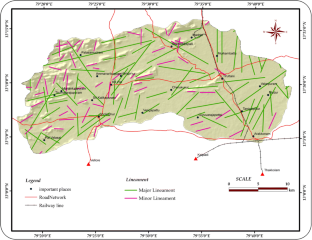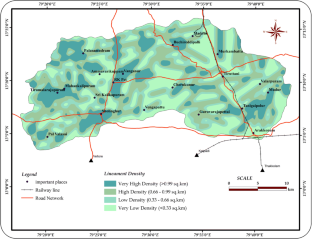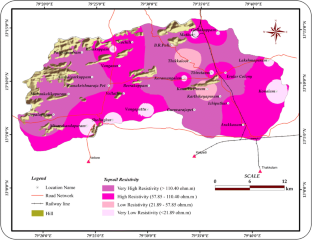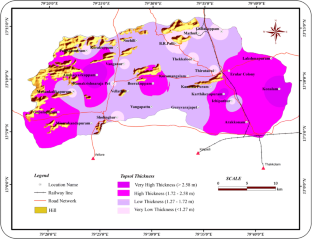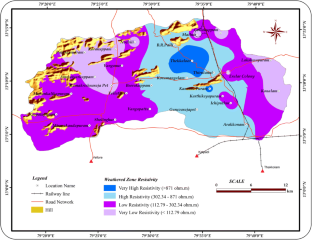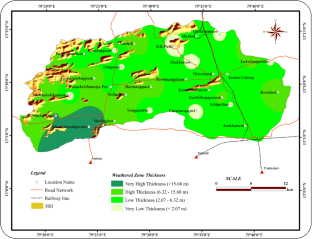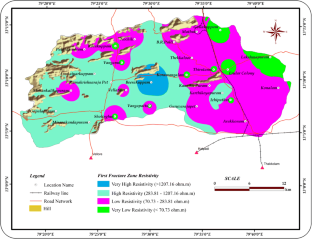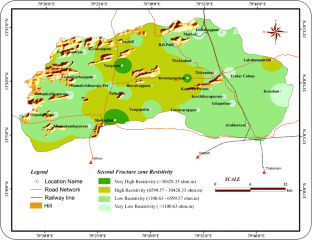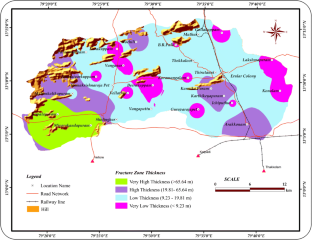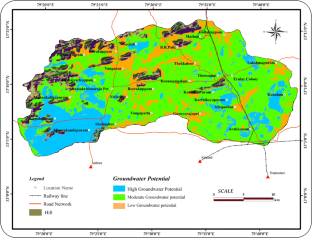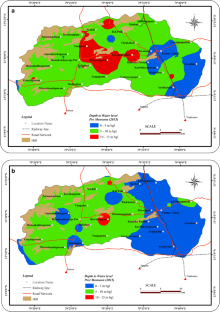 References
Ahmed S, Chandra S, Ram A, Dewandel B (2008) Estimation of hard rock aquifers hydraulic conductivity from geoelectrical measurements: a theoretical development with field application. J Hydrol (Amst) 357:218–227. https://doi.org/10.1016/j.jhydrol.2008.05.023.

Amanpreet Sing SN, Panda KS, Kumar CSS (2013) Artificial groundwater recharge zones mapping using remote sensing and GIS: a case study in Indian Punjab. Environ Manag 52:61–71. https://doi.org/10.1007/s00267-013-0101-1

Basudeo Rai A, Tiwari, Dubey VS (2005) Identification of groundwater prospective zones by using remote sensing and geoelectrical methods in Jharia and Raniganj coalfields, Dhanbad district, Jharkhand state. J Earth Syst Sci 114(5):515–522

Deepa S, Venkateswaran S, Ayyandurai R, Kannan R, Vijay Prabhu M (2016) Groundwater recharge potential zones mapping in upper Manimuktha sub basin Vellar River Tamil Nadu India using GIS and remote sensing techniques. Model Earth Syst Environ 2:137. https://doi.org/10.1007/s40808-016-0192-9

Edet AE, Okereke CS, Teme SC, Esu EO (1998) Application of remote-sensing data to groundwater exploration: a case study of the Cross River State, southeastern Nigeria. Hydrogeol J 6:394–404

ESRI (2009) ArcGIS 9.3.1. ESRI (Environmental Systems Research Institute), Redlands

Gupta RP (2003) Remote sensing geology, 2nd edn. Springer, Berlin, pp 460–477

Krishnamurthy NS, Chandra S, Kumar D (2008) Geophysical characterization of hard rock aquifers. In: Ahmed S, Jayakumar R, Salih A (eds) Groundwater dynamics in hard rock aquifers. Springer, Dordrecht, pp 64–86

Mahmoud SH (2014) Delineation of potential sites for groundwater recharge using a GIS-based decision support system. Environ Earth Sci, ISSN 1866-6280 72:3429–3442. https://doi.org/10.1007/s12665-014-3249-y

Musy A, Higy C (2011) Hydrology - a science of nature. Science Publishers, USA ISBN: 978-1-57808-709-9

OmidRahmati ANS, Reza MMH, Zeinivand PH (2014) Groundwater potential mapping at Kurdistan region of Iran using analytic hierarchy process and GIS. Arab J Geosci 8:7059–7071. https://doi.org/10.1007/s12517-014-1668-4

PrabuPothiraj, Rajagopalan B (2012) A GIS and remote sensing based evaluation of groundwater potential zones in a hard rock terrain of Vaigai sub-basin, India. Arab J Geosci 6:2391–2407. https://doi.org/10.1007/s12517-011-0512-3

Pradhan B, Youssef AM (2010) Manifestation of remote sensing data and GIS for landslide hazard analysis using spatial-based statistical models. Arab J Geosci 3(3):319–326. https://doi.org/10.1007/s12517-009-0089-2

Pradhan B, Singh RP, Buchroithner MF (2006) Estimation of stress and its use in evaluation of landslide prone regions using remote sensing data. Adv Space Res 37:698–709

Saaty, T.L. (1980) The analytic hierarchy process, New York: McGraw Hill. International, Translated to Russian, Portuguese, and Chinese, Revised editions, Paperback (1996, 2000), Pittsburgh: RWS Publications

Sharma KD, Sudhirkumar (2008) Hydrogeological research in India in managing water resources. In: Groundwater dynamics in hard rock aquifers. Springer, Dordrecht, pp 1–19

Singhal BBS (2008) Nature of hard rock aquifers: hydrogeological uncertainties and ambiguities. In: Groundwater dynamics in hard rock aquifers. Springer, Dordrecht, pp 20–39

Singhal BBS, Gupta RP (1999) Applied hydrogeology of fractured rocks. Kluwer Academic Publishers, Dordrecht 324 pp

Sree Devi PDS, Srinivasulu S, Raju KK (2001) Hydrogeomorphological and groundwater prospects of the Pageru river basin by using remote sensing data. Environ Geol 40:1088–1094. https://doi.org/10.1007/s002540100295

SubbaRao N, Chakradhar GKJ, Srinivas V (2001) Identification of groundwater potential zones using remote sensing techniques in and around Gunur town, Andhra Pradesh, India. J Indian Soc Remote Sens 29:69–78

Venkateswaran S, Anandha Prakash C, Vijay Prabhu M, Prithiviraj G, Kannan R (2016) Demarcation of potential groundwater recharge zones using GIS based AHP approach in Arjuna watershed, Tamilnadu, India. Int J Curr Sci Technol 4(8):248–259

Waikar ML, Nilawar AP (2014) Identification of groundwater potential zone using remote sensing and GIS technique. International Journal of Innovative Research in Science, Engineering and Technology 3(5):12163–12174
Acknowledgements
The authors would like to thank SRM Institute of Science & Technology and GRT Institute of Engineering & Technology for providing all necessary facilities and constant encouragement for doing this research work.
About this article
Cite this article
Kolandhavel, P., Ramamoorthy, S. Investigation of groundwater potential zones in NandiAru Sub Basin, Tamilnadu, India—an integrated geophysical and geoinformatics approach. Arab J Geosci 12, 105 (2019). https://doi.org/10.1007/s12517-019-4247-x
Received:

Accepted:

Published:
Keywords
Groundwater

Geophysical techniques

Vertical electrical sounding

IPI2WIN

Analytic hierarchy process