Abstract
The demand for freshwater supplies is progressively ascending owing to the increase of the population expansion and economic growth. Available water resources have been reduced by pollution and over-pumping. Groundwater modeling is a powerful tool for water resources management, groundwater protection, and remediation. The aim of this study is to develop a numerical groundwater flow model for the Quaternary aquifer in Samalut city, Minia Governorate, Egypt. The model is used to determine the hydrogeological conditions of the aquifer, the flow directions as well as calculating the rates of recharge and discharge between surface water and groundwater in the study area. Furthermore, scenarios were designed in the model to assess the response of the aquifer to increase the groundwater extraction in the future. The model was calibrated by trial and error; simulated results were compared to the observed head and contour maps, which were generally in good agreement. No typical steady-state condition is prevailed in the aquifer and groundwater flow directions are toward northeast direction. The River Nile acts as a drain in the study area, while El-Ibrahimiya Canal and Bahr Yusef act as a source of aquifer recharge. The proposed scenarios showed that surface water plays an important role in recharging the aquifer during increasing groundwater extraction. The results showed that the change in the aquifer storage will be decreased from + 48,125 m3/day in the current state (2013) to + 27,134 m3/day and − 869 m3/day when the groundwater extraction is increased by 25% and 50%, respectively.
This is a preview of subscription content, log in to check access.
Access options
Buy single article
Instant access to the full article PDF.
US$ 39.95
Price includes VAT for USA
Subscribe to journal
Immediate online access to all issues from 2019. Subscription will auto renew annually.
US$ 99
This is the net price. Taxes to be calculated in checkout.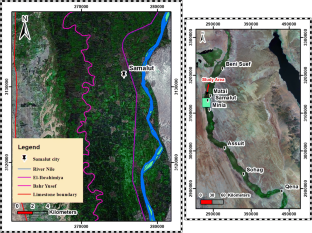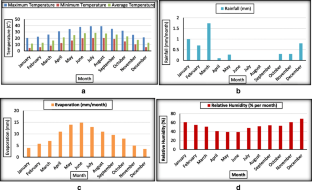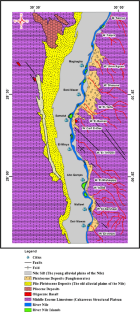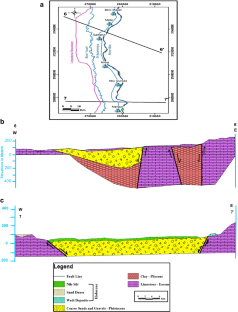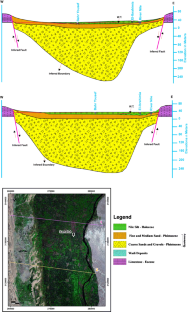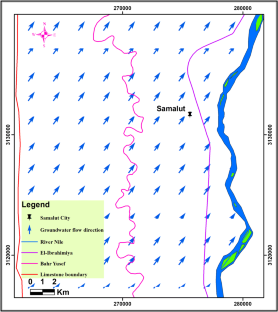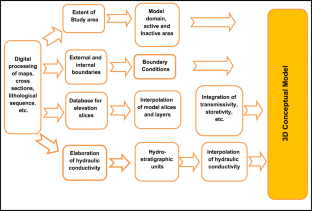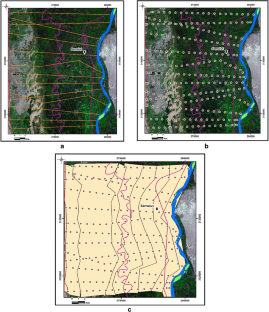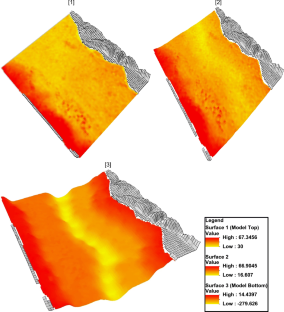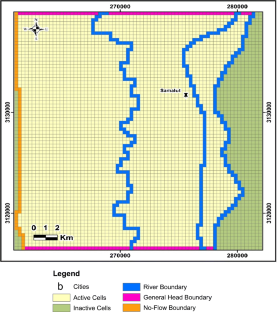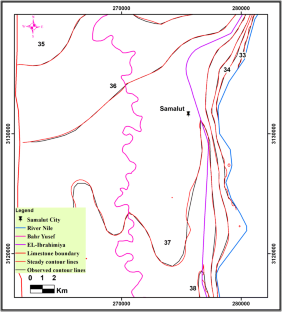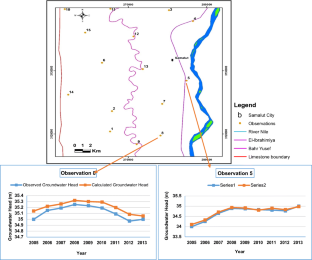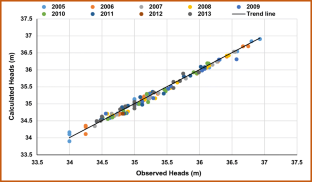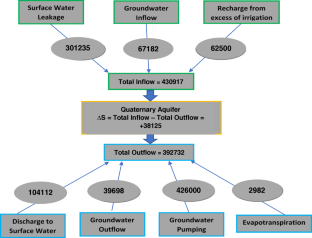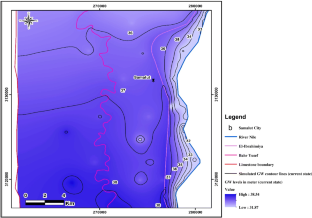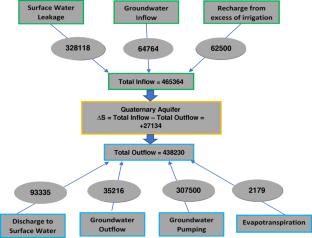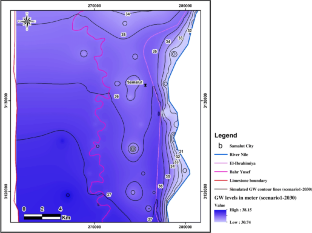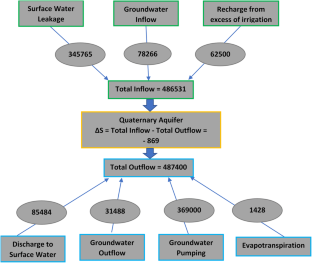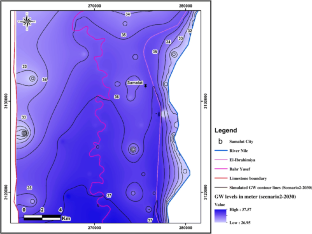 References
Baalousha H, Mckay G, Haik Y, Siddique A, Koç M, Francis L, Saleem J, Abdulrahim HKM, Al-Adwan A (2013) Fundamentals of groundwater modelling. Jordan J Appl Sci 15:347–360

CONOCO (1987) Geologic map of Egypt. Egyptian General Authority for Petroleum (UNESCO joint map project), 20 sheets, scale 1:500 000. Cairo, Egypt

Dawoud MA, Ewea HAR (2011) Sustainable development via optimal integration of surface and groundwater in arid environment: Nile River quaternary aquifer case study. J KAU 22:19

Egyptian Meteorological Authority, EMA (2016) Annual meteorological reports. Cairo, Egypt

El Kashouty M, El Sayed E, Kamel AA (2012) The hydrochemical characteristics and evolution of groundwater and surface water in the western part of the River Nile, El Minia district, upper Egypt. Arab J Geosci 5:637–652

El Sayed E (1987) Hydrogeological evaluation of the groundwater resources in Minia district, Egypt. M. Sc. thesis, Faculty of science, Minia University, Egypt

Esam E, El-Sayed E, Sakr S, Youssef E (2017) Characteristic of groundwater potentialities in West Nile Valley South, Minia Governorate. Egypt Arabian Journal of Geosciences 10:521

Gomma MA (1999) Remarks on the groundwater conditions in Minia area, east of the Nile River, Egypt. Bull Fac Sch Assuit Univ Egypt

Kresic N (2006) Hydrogeology and groundwater modeling. CRC press

McDonald MG, Harbaugh AW (1988) A modular three-dimensional finite-difference ground-water flow model US Geological Survey Reston, VA 6:1

Omara S, Philobbos E, Hanna S (1972) Contribution to the geomorphology and geology of the area east of Minia. Bull Soc Geogr Egypt 45:46

Omara S, Mansour H, Youssef M, Khalifa H (1977) Stratigraphy, paleoenvironment and structural features of the area east of Beni Mazar, upper Egypt. Bull Fac Sci Assiut Univ 6:171–197

Ouda S, Noreldin T and Hosney M (2016) Evapotranspiration under changing climate. Major Crops and Water Scarcity in Egypt, 1–23pp

Research Institute for Groundwater, RIGW (2015) Final technical report for the Nile valley regional model. Prepared for NWRP Project, Ministry of Water Resources and Irrigation, Cairo, Egypt

Sadek M (2001) Isotopic criteria for upward leakage in the alluvial aquifer in north Minia district, Egypt. The Egyptian Geological Survey and Mining authority, 19p

Said R (1981) The geological evolution of the River Nile. Elsevier publ. Co., Amsterdam, pp 1–11

Said R (1990) The geology of Egypt. Brookfield, Rotterdam

Salem A (2015) Hydrogeological studies on the shallow aquifers in the area west Samalut, Minia Governorate, Egypt. Egypt J Pure Appl Sci 53:49–60pp

Tantawy M (1992) Isotopic and hydrogeochemical applications to the surface and the groundwater assessments in El Minia district, Egypt. Ph. D. thesis, Faculty of Science, Minia University, Egypt

Thangarajan M (2007) Groundwater: resource evaluation, augmentation, contamination, restoration, modeling and management. Springer Science & Business Media

Wahaab RA, Badawy MI (2004) Water quality assessment of the River Nile system: an overview. Biomed Environ Sci 17:87–100pp
Additional information
This article is part of the Topical Collection on New Advances and Research results on the Geology of Africa
About this article
Cite this article
Abdelhalim, A., Sefelnasr, A. & Ismail, E. Numerical modeling technique for groundwater management in Samalut city, Minia Governorate, Egypt. Arab J Geosci 12, 124 (2019). https://doi.org/10.1007/s12517-019-4230-6
Received:

Accepted:

Published:
Keywords
Groundwater modeling

Groundwater management

Groundwater budget

MODFLOW