Abstract
Pile-raft foundation has been used to increase the bearing capacity of pile group. Most of the studies have been conducted on the pile group, and the effect of pile cap on the bearing capacity is largely neglected. The pile cap system plays an important role in increasing the bearing capacity of the cap group constructed on collapsible soils. In the present study, the collapsibility effect on settlement of pile-raft foundation based on water content and cap rigidity was taken into consideration using experimental procedures. These experiments were carried out on pile-raft, pile group, single flexible cap, and single rigid cap at different water contents. The results revealed that in unsaturated soils, increasing the water content led to decreasing the bearing capacity of the pile-raft system. Furthermore, in the saturation state, the portion of raft effect is negligible and the loads are completely tolerated by piles. The results also showed that decreasing the soil water content increased the efficiency of rigid and flexible cap, pile-raft, and free pile group. Moreover, the efficiency of the rigid pile-raft system is more than that of the flexible system, and the difference is insignificant when the water content reaches to saturation status. Finally, at similar water content and stress, the settlement of the flexible pile-raft system would be greater than that of the rigid pile-raft system.
This is a preview of subscription content, log in to check access.
Access options
Buy single article
Instant access to the full article PDF.
US$ 39.95
Price includes VAT for USA
Subscribe to journal
Immediate online access to all issues from 2019. Subscription will auto renew annually.
US$ 99
This is the net price. Taxes to be calculated in checkout.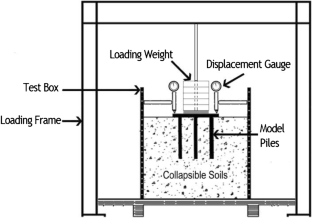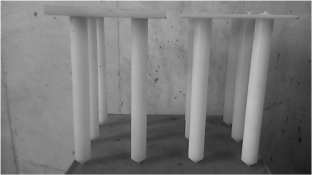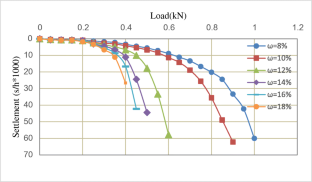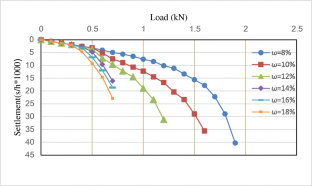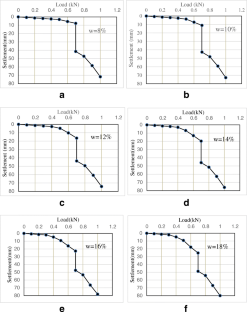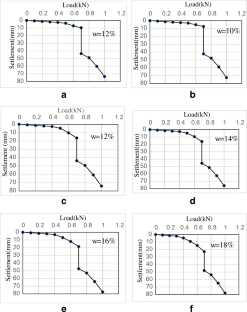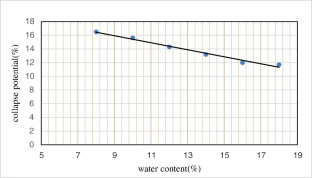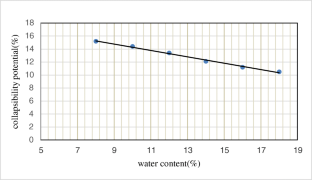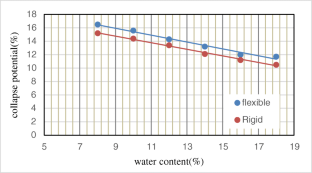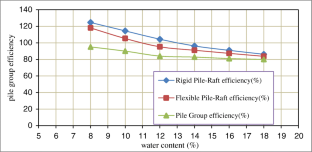 References
Abdrabbo FM, El-wakil AZ (2015) Behavior of pile group incorporating dissimilar pile embedded into sand. Alex Eng J 54:175–182

ASTM D (1994) Standard test method for measurement of collapse potential of soils. In Annual book of ASTM Standards, 5333-92

Bajad SP, Sahu RB (2008) An experimental study on the behavior of vertically loaded piled raft on soft clay. In: The 12th international conference of international association for computer methods and advances in geomechanics (IACMAG). pp 84–90

Barden Ll, McGown A, Collins K (1973) The collapse mechanism in partly saturated soil. Eng Geol 7:49–60

Bowles LE (1996) Foundation analysis and design. McGraw-hill, New York

Broms BB (1964) Lateral resistance of piles in cohesive soils. Journal of the Soil Mechanics and Foundations Division 90:27–64

Butterfield R, Banerjee K (1971) The problem of pile group and pile cap interaction. Geotechnics 21:135–142

Cho J, Lee J-H, Jeong S, Lee J (1978) The settlement behavior of piled raft in clay soils. Ocean Eng 53:153–163

Cho J, Lee J-H, Jeong S, Lee J (2012) The settlement behavior of piled raft in clay soils. Ocean Eng 53:153–163

Clemence SP, Finbarr AO (1981) Design considerations for collapsible soils. J Geotech Geoenviron Eng 107(3):305–317

Coduto DP (2001) Foundation engineering: principles and practices. Prentice-Hall, Upper Saddle River

Cooke RW (1986) Piled raft foundations on stiff clays†a contribution to design philosophy. Geotechnique 36:169–203

de Sanctis L, Mandolini A (2006) Bearing capacity of piled rafts on soft clay soils. J Geotech Geoenviron 132:1600–1610

Fredlund DG, Gan JKM (1995) The collapse mechanism of a soil subjected to one-dimensional loading and wetting. In: Genesis and properties of collapsible soils. Springer

Hain SJ, Lee IK (1978) The analysis of flexible raft pile system. Geotechnics 28:65–83

Hooper, JA. 1979. Review of behaviour of piled raft foundations. CIRIA, London

Horikoshi K, Randolph MF (1998) A contribution to optimum design of piled rafts. Geotechnique 48:301–317

Houston WN, Mahmoud HH, Houston SL (1993) Laboratory procedure for partial-wetting collapse determination. In: SL Houston and WK Wray (eds) Unsaturated Soils. pp. 54-63, Proceedings of the 1993 ASCE National Convention and Exposition

Jennings, J.E., Knight, K., 1975. A guide to construction on or with materials exhibiting additional settlement due to collapse of grain structure. In: Proceedings 6th Regional Conference for Africa on Soil Mechanics and Foundation Engineering, Durban, South Africa, pp. 99-105

Katzenbach R, Reul O (1999) Theme lecture: design and performance of piled rafts. In: Comptes rendus du quatorzième conférence internationale de Mécanique des sols et des travaux de fondation, Hambourg, 6–12 septembre 1997. CRC Press, p 2253

Katzenbach R, Turek J (2005) Combined pile-raft foundation subjected to lateral loads. In: PROCEEDINGS OF THE INTERNATIONAL CONFERENCE ON SOIL MECHANICS AND GEOTECHNICAL ENGINEERING, 2001. AA BALKEMA PUBLISHERS

Katzenbach R, Arslan U, Moormann C (2000) Piled raft foundation projects in Germany, vol 13. Design applications of raft foundations, p 323. https://doi.org/10.1680/daorf.27657.0013

Lee JH, Salgado R (1999) Determination of pile base resistance in sands. J Geotech Geoenviron 125:673–683

Maharaj DK (2004) Three dimensional nonlinear finite element analysis to study the effect of raft and pile stiffness on the load-settlement behaviour of piled raft foundations. EJGE 9

Mandolini A, Viggiani C (1997) Settlement of piled foundations. Geotechnique 47:791–816

Mandolini A, Russo G, Viggiani C (2005) Pile foundations: experimental investigations, analysis and design. In: PROCEEDINGS OF THE INTERNATIONAL CONFERENCE ON SOIL MECHANICS AND GEOTECHNICAL ENGINEERING. PUBLISHERS, AA BALKEMA, p 177

Poulos HG (1993) Piled rafts in swelling or consolidating soils. J Geotech Eng 119:374–380

Randolph, Worth (1979) An analysis of the vertical deformation of pile groups. Geotechnique 29:423–439

Zhou F, Lin C, Wang X-d, Chen J (2016) Application of deformation adjustors in piled raft foundations. Proceedings of the Institution of Civil Engineers - Geotechnical Engineering 169:527–540
Acknowledgements
This paper was established through a M.S. thesis at the Civil Engineering Department of Islamic Azad University, Estahban Branch. The author wishes to thank the University President and the Geotechnical Research Centre. The author's thanks also go to Zand Institute of Higher Education for their corporation regarding data processing.
About this article
Cite this article
Mokhberi, M., Rafieeian, S.A. The piled-raft behavior installed in unsaturated collapsible soils. Arab J Geosci 12, 49 (2019). https://doi.org/10.1007/s12517-018-4177-z
Received:

Accepted:

Published:
Keywords
Pile-raft

Collapsible

Piles

Settlement