Abstract
We generated clay mineral assemblage records on Late Cretaceous to Miocene-Pliocene rocks and on Holocene river sediments at Tarfaya Atlantic coastal basin in Morocco. Results show that illite, chlorite, kaolinite, smectite, and palygorskite originated from a continental source whereas corrensite formed within the basin. A very high kaolinite content and kaolinite/(illite+chlorite) ratio during the Turonian indicate a high chemical weathering which was coeval with a global weathering event during a warm and humid climate during that time. An increase in physical erosion during the Santonian as reflected by high (illite+chlorite) content and low kaolinite/(illite+chlorite) ratio was most likely associated with the early western Anti-Atlas uplift. Abundant (palygorskite+sepiolite) contents in Early Eocene rocks reflect the development of extremely dry and warm climatic conditions over the coastal regions of Tarfaya during that time. Dominant (illite+chlorite) and smectite clay minerals and a marked increase in sedimentation during the Miocene-Pliocene suggest an increase in physical erosion of the high-relief source region (western Anti-Atlas) which was mainly controlled by tectonic denudation. High kaolinite content and kaolinite/(illite+chlorite) ratio also occurred in the Holocene river sediments indicating warm and humid climate during that time. The abundant corrensite, however, indicates a basin depositional environment and suggests that oxic conditions were dominant in the Tarfaya basin during the Campanian and the Oligocene-Early Miocene.
Access options
Buy single article
Instant access to the full article PDF.
USD 39.95
Price includes VAT (USA)
Tax calculation will be finalised during checkout.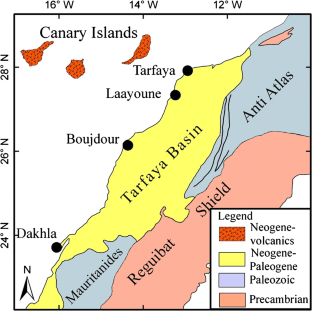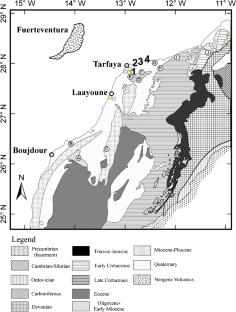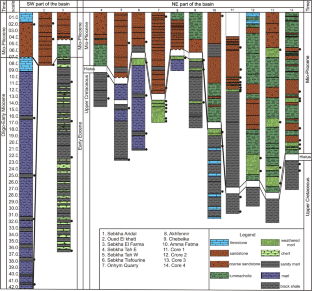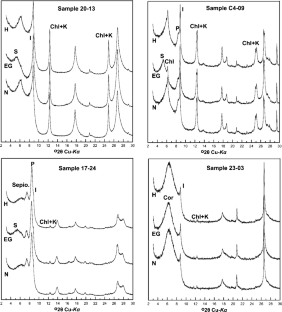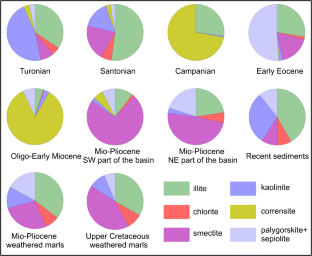 References
Algeo TJ, Morford J, Cruse A (2012) New applications of trace metals as proxies in marine paleoenvironments. Chem Geol 306–307:160–164

Ali S, Stattegger K, Garbe-Schönberg D, Frank M, Kraft S, Kuhnt W (2014a) The provenance of cretaceous to quaternary sediments in the Tarfaya basin, SW Morocco: evidence from trace element geochemistry and radiogenic Nd–Sr isotopes. J Afr Earth Sci 90:64–76

Ali S, Stattegger K, Garbe-Schönberg D, Kuhnt W, Kluth O, Jabour H (2014b) Petrography and geochemistry of Cretaceous to quaternary siliciclastic rocks in the Tarfaya basin, SW Morocco: implications for tectonic setting, weathering, and provenance. Int J Earth Sci 103:265–280

Ali S, Hathorne EC, Frank M, Gebregiorgis D, Stattegger K, Stumpf R, Kutterolf S, Johnson JE, Giosan L (2015) South Asian monsoon history over the past 60 kyr recorded by radiogenic isotopes and clay mineral assemblages in the Andaman Sea. Geochem Geophys Geosyst 16:505–521

Aquit M, Kuhnt W, Holbourn A, Chellai EH, Stattegger K, Kluth O, Jabour H (2013) Late Cretaceous paleoenvironmental evolution of the Tarfaya Atlantic coastal basin, SW Morocco. Cretac Res 45:288–305

Aquit M, Khunt W, Holbourn A, Chellai H, Lees JA, Kluth O, Jabour H (2017) Complete archive of late Turonian to early Campanian sedimentary deposition in newly drilled cores from the Tarfaya basin, SW Morocco. Geol Soc Am Bull 129:137–151

Berrenchea JF, Rodas M, Frey M, Alonso-Azcarate J, Mas JR (2000) Chlorite, corrensite and chlorite-mica in Late Jurassic fluvio-Lacustraine sediments of the Cameros basin of northeastern Spain. Clay Clay Miner 48:256–265

Calvert S, Pedersen T (1993) Geochemistry of recent oxic and anoxic marine sediments: implications for the geological record. Mar Geol 113:67–88

Chamley H (1989) Clay sedimentology. Springer-Verlag, Berlin

Debrabant P, Fagel N, Chamley H, Bout V, Caulet JP (1993) Neogene to Quaternary caly mineral fluxes in the Central Indian basin. Paleogeogr Paleoclimatol Paleoecol 103:117–131

Deconinck JF, Chamley H (1995) Diversity of smectite origins in Late Cretaceous sediments: example of chalks from northern France. Clay Miner 30:365–379

Esquevin J (1969) Influence de la composition chimique des illites surcristallinite. Bull Cent, Rech Rau SNPA 3:147–153

Frizon de Lamotte D, Leturmy P, Missenard Y, Khomsi S, Ruiz G, Saddiqi O, Guillocheau F, Michard A (2009) Mesozoic and Cenozoic vertical movements in the Atlas system (Algeria, Morocco, Tunisia): an overview. Tectonophysics 475:9–28

Gibson T, Bybell L, Mason D (2000) Stratigraphic and climatic implications of clay mineral changes around the Paleocene/Eocene boundary of the northeastern US margin. Sediment Geol 134:65–92

Hillier S (1993) Origin, diagenesis, and mineralogy of chlorite minerals in Devonian lacustrine mudrocks, Orcadian Basin, Scotland. Clay Clay Miner 41:240

Hong H, Li Z, Xue H, Zhu Y, Zhang K, Xiang S (2007) Oligocene clay mineralogy of the Linxia Basin: evidence of paleoclimatic evolution subsequent to the initial-stage uplift of the Tibetan Plateau. Clay Clay Miner 55:491–503

Hutcheon I, Oldershaw A, Ghent ED (1980) Diagenesis of Cretaceous sandstones of the Kootenay Formation at Elk Valley (Southeast British Columbia) and Mt. Allan (Southwest Alberta). Geochim Cosmochim Acta 44:1425–1435

Jenkyns HC (2010) Geochemistry of oceanic anoxic events. Geochem Geophys Geosyst 11

Kolla V, Kostecki J, Robinson F, Biscaye P, Ray P (1981) Distributions and origins of clay minerals and quartz in surface sediments of the Arabian Sea. J Sediment Res 51

Krumm S, Buggisch W (1991) Sample preparation effects on illite crystallinity measurements: grain size gradation and particle orientation. J Metamorph Petrol 9:671–677

Kuhnt W, Holbourn A, Gale A, Chellai EH, Kennedy WJ (2009) Cenomanian sequence stratigraphy and sea-level fluctuations in the Tarfaya Basin (SW Morocco). Geol Soc Am Bull 121:1695–1710

Kuhnt W, Holbourn AE, Beil S, Aquit M, Krawczyk T, Flögel S, Chellai EH, Jabour H (2017) Unraveling the onset of Cretaceous Oceanic Anoxic Event 2 in an extended sediment archive from the Tarfaya-Laayoune Basin, Morocco. Paleoceanography 32:923–946

Liu Z, Colin C, Trentesaux A, Blamart D, Bassinot F, Siani G, Sicre M-A (2004) Erosional history of the eastern Tibetan Plateau since 190 kyr ago: clay mineralogical and geochemical investigations from the southwestern South China Sea. Mar Geol 209:1–18

Liu Z, Colin C, Huang W, Le Phone K, Tong S, Chen Z, Trentesaux A (2007) Climatc and tectonic controls on weathering in South China and Indochina Peninsula: clay mineralogical and geochemical investigations from the Pearl, Red, and Mekong drainage basins. Geochem Geophy Geosy 8:Q05005. https://doi.org/10.1029/2006GC001490

Michard A, Sadiqi O, Chalouan A, Frizon de Lamotte D (2008) Continental evolution: the geology of Morocco. Springer-Verlag, Berlin, p 424

Millot G (1970) Geology of clays. Springer-Verlag, Berlin, p 499

Ranke U, von Rad U, Wissmann G (1982) Stratigraphy, facies, and tectonic development of on- and offshore Aaiun–Tarfaya Basin-a review. In: von Rad U, Hinz K, Sarnthein M, Seibold E (eds) Geology of the North West African Continental Margin. Springer-Verlag, Berlin, pp 86–104

Robert C, Chamley H (1991) Development of Early Eocene warm climates as inferred from clay mineral variations in oceanic sediments. Palaeogeogr Palaeoclimatol Palaeoecol 89:315–331

Robert C, Gauthier A, Chamley H (1984) Origine autochtone et allochtone des argiles recentes de haute altitude en Corse. Geol Meditter 11:243–253

Ruiz G, Sebti S, Negro F, Saddiqi O, Frizon de Lamotte D, Stockli D, Foeken J, Stuart F, Barbarand J, Schaer JP (2010) From central Atlantic continental rift to Neogene uplift – western Anti-Atlas (Morocco). Terra Nova 23:35–41

Sachse V, Heim S, Jabour H, Kluth O, Schumann T, Aquit M, Littke R (2014) Organic geochemical characterization of Santonian to =Early Campanian organic matter-rich marls (Sondage No. 1 cores) as related to OAE3 from the Tarfaya basin, Morocco. Mar Pet Geol 56:290–304

Suresh N, Ghosh SK, Kumar R, Sangode S (2004) Clay-mineral distribution patterns in late Neogene fluvial sediments of the Subathu sub-basin, central sector of Himalayan foreland basin: implications for provenance and climate. Sediment Geol 163:265–278

Thiry M (2000) Palaeoclimatic interpretation of clay minerals in marine deposits: an outlook from the continental origin. Earth Sci Rev 49:201–221

Tomadin L, Lenaz R, Landuzzi V, Mazzucotelli A, Vannuci R (1984) On wind-blown dusts over the central Mediterranean. Oceanol Acta 7:13–24

Von Strandmann PAP, Jenkyns HC, Woodfine RG (2013) Lithium isotope evidence for enhanced weathering during Oceanic Anoxic Event 2. Nat Geosci 6:668–672

Zachos JM, Gerald RD, Richard EZ (2008) An early Cenozoic perspective on greenhouse warming and carbon-cycle dynamics. Nature 451(7176):279–283
Acknowledgements
We thank ONHYM for supporting, organizing, and accompanying the field campaign in March–April 2009, and for drilling in September–December 2009. We also would like to thank many colleagues at the State Key Laboratory of Marine Geology, Tongji University, China, for measurement of clay minerals and suggestions to improve the manuscript. The authors are thankful to the AJGS Associate Editor for handling our manuscript. The authors are also grateful to two anonymous reviewers for critical reviews and constructive suggestions which have significantly improved the manuscript.
Funding
The authors received financial support from RWE Dea for this project.
About this article
Cite this article
Ali, S., Stattegger, K., Liu, Z. et al. Paleoclimatic and paleoenvironmental reconstruction at Tarfaya Atlantic coastal basin (Morocco) based on clay mineral records from Upper Cretaceous to Quaternary. Arab J Geosci 12, 6 (2019). https://doi.org/10.1007/s12517-018-4156-4
Received:

Accepted:

Published:
Keywords
Clay minerals

Chemical weathering

Physical erosion

Late Cretaceous to Miocene

Tarfaya basin

Morocco