Abstract
This paper tries to understand the soil erosion characteristics in a tropical plateau fringe region by the use of Revised Universal Soil Loss Equation (RUSLE). Soil loss estimation is an important phenomenon to understand the land degradation. An integrated method needs to be adopted in tropical plateau fringe region to estimate the soil loss. RUSLE has been adopted for the present study. The river in the basin under consideration sees its origin from a plateau top region and flows through the plateau fringe region of eastern Chotanagpur plateau, India. The present study area reflects undulated plateau fringe landform with gently sloping dissected plateau topography. The different factors like, rainfall erosivity factor (R), soil erodibility factor (K), topographic factor (LS), crop and management factor (C), and support and practice factor (P) have been enumerated using field and remote sensing data. Each factors result has also been verified with previous literature. All factors have been multiplied in GIS environment to estimate soil loss. High-magnitude soil loss region (> 10 t ha−1 year−1) covers 4.88% of the total area and extends up to the upper reaches of the watershed. Topographic and soil factors best represent this loss. Low-magnitude soil loss region (< 2.5 t ha−1 year−1) in the lower reaches of the watershed is a result of successful land management activity. Soil erosion is dominated process of land degradation in the upper reaches of the watershed and estimation of soil loss is an important input for land-use land-cover management. The study also inferred that RUSLE soil erosion model could be effectively used in tropical plateau fringe environment.
Access options
Buy single article
Instant access to the full article PDF.
US$ 39.95
Tax calculation will be finalised during checkout.
Subscribe to journal
Immediate online access to all issues from 2019. Subscription will auto renew annually.
US$ 79
Tax calculation will be finalised during checkout.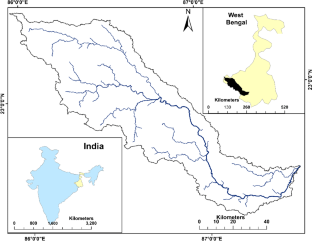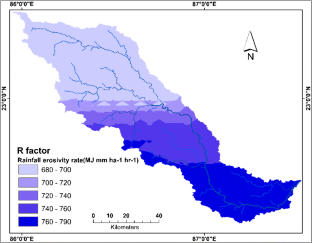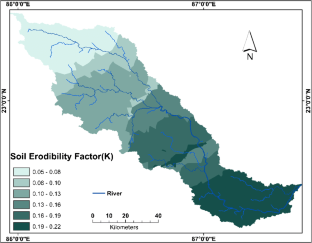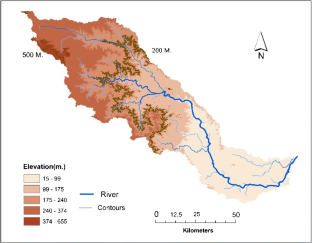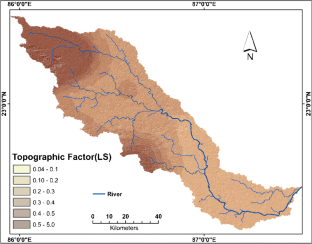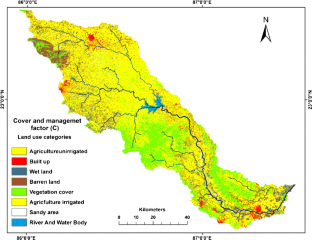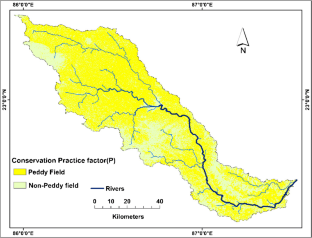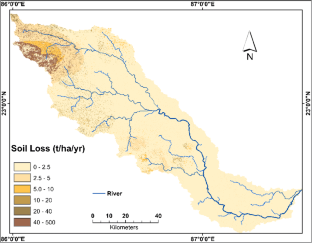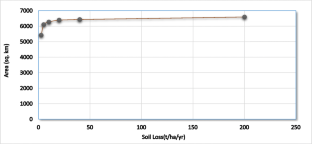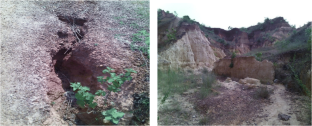 References
Adugna A, Abegaz A, Cerdà A (2015) Soil erosion assessment and control in Northeast Wollega, Ethiopia. Solid Earth Discuss 7(4):3511–3540

Arnold JG, Fohrer N (2005) SWAT2000: current capabilities and research opportunities in applied watershed modelling. Hydrol Process 19:563–572

Beskow S, Mello CR, Norton LD, Curi N, Viola MR, Avanzi JC (2009) Soil erosion prediction in the Grande River Basin Brazil using distributed. Catena 79(1):49–59

Bhandari KP, Aryal J, Darnsawasdi R (2015) A geospatial approach to assessing soil erosion in a watershed by integrating socio-economic determinants and the RUSLE model. Nat Hazards 75(1):321–342

Bhattarai R, Dutta D (2007) Estimation of Soil Erosion and Sediment Yield Using GIS. Water Resource Management 21:1635–1647

Biswas SS, Pani P (2015) Estimation of soil erosion using RUSLE and GIS techniques: a case study of Barakar River basin, Jharkhand, India. Model Earth Syst Environ 1(42):1–13

Bready NC, Well RR (2005) The nature and properties of soil. Singapore, Pearson Prentice Hall

Chakrabarty A, Chatterjee S (2008) IRS-LISS-IV data for cadastral level infrastructure mapping and land degradation study at PPSP Project Site-Ajodhya Hills, Purulia. Indian Journal of Geography and Environment 10:38–46

Chatterjee S, Krishna AP, Sharma AP (2013) Geospatial assessment of soil erosion vulnerability at watershed level in some sections of the Upper Subarnarekha river basin, Jharkhand. India. Environ Earth Sci 71(1):357–374

Choudhary JS, Shukla G, Prabhakar CS, Maurya S, Das B, Kumar S (2012) Assessment of local perceptions of climate change and coping strategies in Chotanagpur Plateau of Eastern India. J Prod Agric 3(1):8–15

Cunha ER, Bacani VM, Panachuki E (2017) Modeling soil erosion using RUSLE and GIS in a watershed occupied by rural settlement in the Brazilian Cerrado. Nat Hazards 85(2):851–868

Dolui G, Chatterjee S, Das Chatterjee N (2014) The importance of non-timber forest products in tribal livelihood: a case study of Santal community in Purulia District, West Bengal. Indian Journal of Geography and Environment 13:110–120

Ferreira V, Panagopoulos T, Cakula A, Andrade R, Arvela A (2015) Predicting soil erosion after land use changes for irrigated agriculture in a large reservoir of southern Portugal. Procedia 4:40–49

Fitzpatrick RW (2012) Land degradation processes. In: Mc Vicar TR, Li Rui WJ, Fitzpatrick RW, Liu C (eds) Regional water and soil assessment for managing sustainable agriculture in china and australia. ACIAR, Canbera, pp 119–129

Ganasri BP, Ramesh H (2015) Assessment of soil erosion by RUSLE model using remote sensing and GIS—a case study of Nethravathi Basin. Geosci Front 7(6):1–9

Ghosh D (2015) Mapping and monitoring of the impact of gully erosion in the district of Medinipur (West), West Bengal, India. International Journal of Novel Research in Humanity and. Soc Sci 2(4):73–89

Ghosh S, Guchhait SK (2015) Characterization and evolution of laterites in West Bengal: implication on the Geology of Northwest Bengal Basin. Transaction 37(1):93–119

Ghosh S, Guchhait SK (2017) Estimation of geomorphic threshold in permanent gullies of lateritic terrain in Birbhum, West Bengal India. Curr Sci 113(3):478–485

Ghosh S, Maji T (2011) PedoGeomorphic analysis of soil loss in the lateritic region of Rampurhat I block of Birbhum district, West Bengal and Shikaripara block of Dumka district. Jharkhand. International Journal of Environmental Sciences 1(7):1734–1751

Gibbs HK, Salmon JM (2015) Mapping the world's degraded lands. Applied Geography 57:12–21

González-Morales BS, Mayer A, Ramírez-Marcial N (2017) Assessment of soil erosion vulnerability in the heavily populated and ecologically fragile communities in Motozintla De Mendoza, Chiapas, Mexico. Solid Earth Discuss 1–24.

Gulati A, Rai SC (2014) Cost estimation of soil erosion and nutrient loss from a watershed of the Chotanagpur Plateau, India. Research Communications 107(4):670–674

Gupta SK, Ahmed M, Hussain M, Pandey AS, Singh P, Saini KM, Das SN (1998) Inventory of degraded lands of Palamau District, Bihar—a remote sensing approach. J Ind Soc Remote Sens 26(4):161–168

Heshmati M, Arifin A, Shamshuddin J, Majid NM (2012) Predicting N, P, K and organic carbon depletion in soils using MPSIAC model at the Merek catchment, Iran. Geoderma 175–176:64–77

Imani R, Ghasemieh H, Mirzavand M (2014) Determining and mapping soil erodibility factor (case study: Yamchi Watershed in Northwest of Iran). Open Journal of Soil Science 4:168–173

Indian Space Research Organisation (2007) Desertification and land degradation Atlas of India. Goverment of India, Space Application Center. https://www.isro.gov.in/desertification-and-land-degradation-atlas-released

Indian Space Research Organisation (2016) Desertification and land degradation Atlas of India. Goverment of India, Space Application Center. https://www.isro.gov.in/desertification-and-land-degradation-atlas-released

Jain MK, Kothyari UC (2000) Estimation of soil erosion and sediment yield using GIS. Hydrological Sciences Journal 45(5):771–786

Jain SK, Kumar S, Varghese J (2001) Estimation of soil erosion for a Himalayan watershed using GIS technique. Water Resour Manag 15(1):41–54

Jha VC, Kapat S (2009) Degraded lateritic soilscape and land use in Birbhum district, West Bengal, India. Sociedade & Natureza 21(2):141–158

Kalambukattu JG, Kumar S (2017) Modelling soil erosion risk in a mountainous watershed of Mid-Himalaya by integrating RUSLE model with GIS. Eurasian J Soil Sci 6(2):1–15

Kothayari UC, Jain SK (1997) Sediment yield estimation using GIS. Hydrological. Science 6:833–843

Kothyari UC, Jain MK, Raju KG (2002) Estimation of temporal variation of sediment yield using GIS/estimation. Hydrological Sciences Journal 47(5):693–706

Lal R (2001) Soil degradation by erosion. Land Degrad Dev 12(6):519–539

Lal R, Hall GF, Miller FP (1989) Soil degradation: I. Basic processes. Land Degradation & Development 1(1):51–69

Lane LJ, Renard KG, Foster GR, Laften JM (1992) Development and application of modern soil erosion prediction technology. Aust J Soil Res 30:893–912

Lenka NK, Mandal D, Sudhishri S (2014) Permissible soil loss limits for different physiographic regions of West Bengal. Research Communications 107(4):665–670

Lu D, Li G, Valladares GS, Batistella M (2004) Mapping soil erosion risk in Rondonia, Brazilian Amazonia: using RUSLE, remote sensing and GIS. Land Degrad Dev 15:499–512

Mahala A (2017) Processes and status of land degradation in a plateau fringe region of tropical environment. Environ Prog 4:663–682

McGregor D (1989) Land degradation: problems and policies. Land Degrad Dev 1(1):71–72

Meusburger K, Konz N, Schaub N, Alewell C (2010) Soil erosion modelled with USLE and PESERA using Quick Bird derived vegetation parameters in an alpine catchment. Int J Appl Earth Obs Geoinf 12(3):208–215

Millwarda AA, Merseyb JE (1999) Adapting the RUSLE to model soil erosion potential in a mountainous tropical watershed. Catena 38(2):109–129

Mondal S (2012) Remote sensing and GIS based ground water potential mapping of Kangshabati irrigation command area, West Bengal. Geography & Natural Disasters 1(1):1–8

Morgan RP, Quinton JN, Smith RE, Govers G, Poesen JW, Auerswald K, Styczen ME (1998) The European Soil Erosion Model (EUROSEM): a dynamic approach for predicting sediment transport from fields and small catchments. Earth Surf Process Landf 23:527–544

Moussa B, Nkonya E, Meyer S, Kato E, Johnson T, Hawkins J (2016) Economics of Land Degradation and Improvement in Niger. In: Nkonya E, Mirzabaev A, Von Braun J (eds) Economics of land degradation and improvement—a global assessment for sustainable development. Springer, Bonn, pp 499–539

National Remote Sensing Center (2011) Wastelands Atlas of India. NRSC, ISRO, GOI: Hyderabad. http://dolr.nic.in/dolr/wasteland_atlas.asp

Nkonya E, Anderson W, Kato E, Koo J, Mirzabaev A, Brau JV, Meyer S (2015) Global Cost of Land Degradation. In: Nkonya E, Mirzabaev A, Braun J (eds) Economics of land degradation and improvement—a global assessment for sustainable development. Springer, Bonn, pp 117–165

Oldeman LR, Van Engelen VW (1993) A world soils and terrain digital database (SOTER)—an improved assessment of land resources. Geoderma 60(1–4):309–325

Pan J, Wen Y (2014) Estimation of soil erosion using RUSLE in Caijiamiao watershed. China Nat Hazards 71(3):2187–2205

Pandey A, Chowdary VM (2007) Identification of critical erosion prone areas in the small agricultural watershed using USLE. GIS and remote sensing. Water Resource Management 21:729–746

Parveen R, Kumar U (2012) Integrated approach of Universal Soil Loss Equation (USLE) and geographical information system (GIS) for soil loss risk assessment in upper South Koel Basin Jharkhand. J Geogr Inf Syst 4:588–596

Prasannakumar V, Vijith H, Abinod S, Geetha N (2012) Estimation of soil erosion risk within a small mountainous sub-watershed in Kerala, India, using Revised Universal Soil Loss Equation (RUSLE) and geo-information technology. Geosci Front 3(2):209–215

Pulido J, Bocco G (2014) Local perception of land degradation in developing countries: a simplifi ed. analytical framework of driving forces, processes, indicators and coping strategies. Living Rev 8:4–21

Rahman M, Shi ZH, Chongfa C (2009) Soil erosion hazard evaluation—an integrated use of remote sensing, GIS and statistical approaches with biophysical parameters towards management strategies. Ecol Model 220:1724–1734

Renard KG, Foster GR, Weesles GA, Porter JP (1991) Revised universal soil loss equation. J Soil Water Conserv 46(1):30–33

Roo AP, Wesseling CG (1996) Lisem: a single-event physically based hydrological and soil erosion model for drainage basins: theory, input and output. Hydrol Process 10:1107–1117

Roy PK, Samal NR, Roy PM, Mazumdar A (2008) Soil carbon and nutrient accumulation under forest plantations in Jharkhand State of India. Clean – Soil. Air,Water 38(8):706–712

Sahu DB, Dash E (2011) Land degradation due to mining in India and its mitigation measures. Second International Conference on Environmental Science and Technology, Singapore, pp 1–5

Samanta RK, Bhunia GS, Shit PK (2016) Spatial modelling of soil erosion susceptibility mapping in lower basin of Subarnarekha river (India) based on geospatial techniques. Model Earth Syst Environ 2(99):1–13

Sarkar D, Gangopadhyay SK, Velayutham M (2001) Soil toposequence relationship and classification in lower outlier of Chhotanagpur plateau. Agropedology 11:29–36

Sarkar D, Mandal D, Halder A (2014) Soil maturity assessment along a toposequence in Chotanagpur Plateau, West Bengal using inorganic soil phosphorus based weathering index, soil taxonomy and other chemical indices: A comparative study. Agropedology 24(1):82–94

Shit PK, Maity R (2012a) Rill hydraulics—an experimental study on gully basin in lateritic upland of Paschim Medinipur, West Bengal, India. Journal of Geography and Geology 4(4):1–11

Shit PK, Maity RK (2012b) Mechanism of gully-head retreat—A study at Ganganir Danga, Paschim Medinipore, West Bengal. Ethiopian Journal of Environmental Studies and Management 5(4):332–342

Shit PK, Bhunia GS, Maity R (2013) Assessment of factors affecting ephemeral gully development in Badland Topography: a case study at Garbheta Badland (Pashchim Medinipur, West Bengal, India). Int J Geosci 4:461–470

Shit PK, Nandi AS, Bhunia GS (2015) Soil erosion risk mapping using RUSLE model on jhargram sub-division at West Bengal in India. Model Earth Syst Environ. 1(28):1–12

Thiombiano L, Tourino-Soto I (2007) Status and trends in land degradation in Africa. In: Sivakumar MV, Ndiang'ui N (eds) Climate and Land Degradation. Springer, Berlin, pp 33–53

Tirkey AS, Pandey AC, Nathawat MS (2013) Use of satellite data, GIS and RUSLE for estimation of average annual soil loss in Daltonganj Watershed of Jharkhand (India). Journal of Remote Sensing Technology 1(1):20–30

Vaezi AR, Bahrami HA, Sadeghi SH, Mahdian MH (2010) Spatial variability of soil erodibility factor (K) of the USLE in North West of Iran. J Agr Sci Tech. 12:241–252

Zhang L, Bai KZ, Wang MJ, Karthikeyan R (2016) Basin-scale spatial soil erosion variability: Pingshuo opencast mine site in Shanxi Province. Loess Plateau of China Nat Hazards 80(2):1213–1230
About this article
Cite this article
Mahala, A. Soil erosion estimation using RUSLE and GIS techniques—a study of a plateau fringe region of tropical environment. Arab J Geosci 11, 335 (2018). https://doi.org/10.1007/s12517-018-3703-3
Received:

Accepted:

Published:
Keywords
Tropical plateau fringe

RUSLE

Soil loss estimation

Land degradation

Chotanagpur plateau

Plateau topography

Land-use land-cover management