Abstract
The relative sea level rates of rise, and their likely accelerations, are estimated for China by analysing the measured relative sea level data of short-term Chinese and long-term worldwide tide gauges. The analysis accounts for the very well-known natural oscillations up to quasi-60 years while also factoring the subsidence of the instrument. It is found that the relative sea levels rose in China during the twentieth century and this part of the twenty-first century from − 1.2 to + 3.2 mm/year, on average + 1.4 mm/year. These results are partially explained by the differential subsidence and the different timings of start/stop of the relatively short records. Because the tide gauges of China are all too short to infer accelerations, the world average values of 0.001–0.003 mm/year2 for data sets of average rates of rise of + 1.3 to + 1.8 mm/year are taken as a likely guess. It is then expected that the sea levels may rise of 0–259 mm up to the end of the twenty-first century.
This is a preview of subscription content, log in to check access.
Access options
Buy single article
Instant access to the full article PDF.
US$ 39.95
Price includes VAT for USA
Subscribe to journal
Immediate online access to all issues from 2019. Subscription will auto renew annually.
US$ 99
This is the net price. Taxes to be calculated in checkout.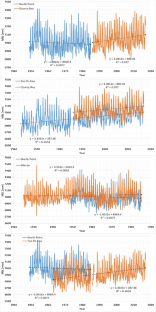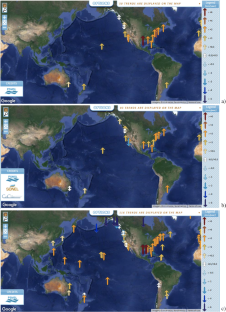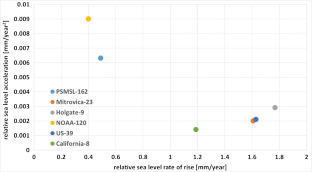 References
Baart F, Van Gelder PH, De Ronde J, Van Koningsveld M, Wouters B (2012) The effect of the 18.6-year lunar nodal cycle on regional sea-level rise estimates. J Coast Res 28(2):511–516

Chambers D, Merrifield MA, Nerem RS (2012) Is there a 60-year oscillation in global mean sea level? Geophys Res Lett 39(18)

Chen N, Han G, Yang J (2018) Mean relative sea level rise along the coasts of the China Seas from mid-20th to 21st centuries. Cont Shelf Res 152:27–34

Devlin AT, Jay DA, Zaron ED, Talke SA, Pan J, Lin H (2017) Tidal variability related to sea level variability in the Pacific Ocean. Journal of Geophysical Research: Oceans 122(11):8445–8463

Douglas B (1995) Global sea level change: determination and interpretation. Rev Geophys 33:S1

Douglas B (1997) Global Sea rise: a redetermination. Surv Geophys 18(2–3):279–292

Gervais F (2016) Anthropogenic CO2 warming challenged by 60-year cycle. Earth Sci Rev 155:129–135

Jevrejeva S, Moore JC, Grinsted A, Woodworth PL (2008) Recent global sea level acceleration started over 200 years ago? Geophys Res Lett 35:L08715

Knudsen MF, Seidenkrantz MS, Jacobsen BH, Kuijpers A (2011) Tracking the Atlantic Multidecadal Oscillation through the last 8,000 years. Nat Commun 2:178

Mörner NA (2013) Sea level changes past records and future expectations. Energy & Environment 24(3–4):509–536

Parker A (2014) Minimum 60 years of recording are needed to compute the sea level rate of rise in the Western South Pacific. Nonlinear Engineering 3(1):2–10

Parker A (2016) Sea level rise and land subsidence contributions to the signals from the tide gauges of China. Nonlinear Engineering 5(2):115–122

Parker A (2017) There is no indication that the extreme water levels in Rhode Island have strongly accelerated since the start of the 20th century. American Journal of Environment and Sustainable Development 2(4):37–42

Parker, A. (2018), Discussion of relative sea level rise along the coast of China from mid-20th to end of 21st centuries, submitted manuscript under revision

Parker A, Ollier CD (2017a) California sea level rise: evidence based forecasts vs model predictions. Ocean Coast Manag 149:198–209

Parker A, Ollier CD (2017b) Short term tide gauge records from one location are inadequate to infer global sea level accelerations. Earth Syst Environ 1:17

Schlesinger M, Ramankutty N (1994) An oscillation in the global climate system of period 65-70 years. Nature 367:723–726

Wessa P., (2017), Spectral analysis (v1.0.9) in Free Statistics Software (v1.2.1), Office for Research Development and Education, URL https://www.wessa.net/rwasp_spectrum.wasp/

Woodworth PL (2012) A note on the nodal tide in sea level records. J Coast Res 28(2):316–323

Yim WW-S (1993) Chapter 22 future sea level rise in Hong Kong and possible environmental effects. In: Warrick RA, Barrow EML, Wigley TML (eds) Climate and sea level change: observations, projections and implications. Cambridge University Press, Cambridge, pp 349–376

Yim WW-S (1995) Implications for sea-level rise for Victoria Harbour, Hong Kong. J Coast Res Spec Issue 14:167–189

Yim, W.W.-S. (2016), Hong Kong's sea-level record, https://doi.org/10.13140/RG.2.1.4229.0802

Zervas, C. (2009), NOAA technical report NOS CO-OPS 053, Sea Level Variations of the United States, 1854–2006
About this article
Cite this article
Parker, A. Relative sea level rise along the coast of China mid-twentieth to end twenty-first centuries. Arab J Geosci 11, 262 (2018). https://doi.org/10.1007/s12517-018-3620-5
Received:

Accepted:

Published:
Keywords
China

Tide gauge records

Sea level rise

Sea level acceleration

Measurements

Multi-decadal oscillations