Abstract
The relative rate of rise of the sea levels measured by a tide gauge is made of a sea and a land component. The first is usually restricted to the global short-term effect of melting icecaps and expansion of water mass due to global temperature change. The second is often limited to the regional long-term effects of glacial isostatic adjustment (GIA). Sometimes, the regional subsidence, due to compaction and ground water withdrawal, is considered. Here we show as this assumption of regional subsidence fails to represent the relative sea level patterns of Sandy Hook, NJ, and The Battery, NY, as well as of Venezia Punta Della Salute, Venezia II, Trieste and Trieste II. The subsidence of the tide gauge instrument may only be addressed by the precise monitoring of the tide gauge vs. a Global Navigation Satellite System (GNSS) antenna, even if the GNSS tracking is only recent and not yet very accurate. The relative sea level records are much more complicated than what is thought.
This is a preview of subscription content, log in to check access.
Access options
Buy single article
Instant access to the full article PDF.
US$ 39.95
Tax calculation will be finalised during checkout.
Subscribe to journal
Immediate online access to all issues from 2019. Subscription will auto renew annually.
US$ 99
Tax calculation will be finalised during checkout.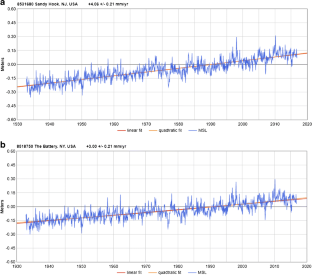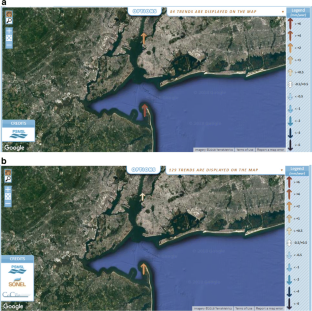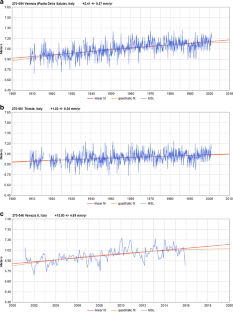 References
Dixon TH, Amelung F, Ferretti A, Novali F, Rocca F, Dokka R, Sellall G, Kim S-W, Wdowinski S, Whitman D (2006) Subsidence and flooding in New Orleans. Nature 441:587–588

Jones CE, An K, Blom RG, Kent JD, Ivins ER, Bekaert D (2016) Anthropogenic and geologic influences on subsidence in the vicinity of New Orleans, Louisiana. Journal of Geophysical Research: Solid Earth 121(5):3867–3887

Johnson CS, Miller KG, Browning JV, Kopp RE, Khan NS, Fan Y, Stanford SD, Horton BP (2018) The role of sediment compaction and groundwater withdrawal in local sea-level rise, Sandy Hook, New Jersey, USA. Quat Sci Rev 181:30–42

Mörner NA (2013) Sea level changes past records and future expectations. Energy & Environment 24(3–4):509–536

Parker A, Saad Saleem M, Lawson M (2013) Sea-level trend analysis for coastal management. Ocean & Coastal Management 73:63–81

Parker A (2015) Accuracy and reliability issues in the use of global positioning system and satellite altimetry to infer the absolute sea level rise, Journal of Satellite. Oceanogr Meteorol 1(1):13–23

Parker A, Ollier CD (2016) Coastal planning should be based on proven sea level data. Ocean Coast Manag 124:1–9
About this article
Cite this article
Parker, A. Geodetic observation crucial to sea level monitoring. Arab J Geosci 11, 239 (2018). https://doi.org/10.1007/s12517-018-3601-8
Received:

Accepted:

Published:
Keywords
Tide gauge records

Sea level rise

Sea level acceleration

Measurements

Computations