Abstract
The growing populations in urban areas are continuously changing the surrounding natural ecosystems. Jordan is a country with limited resources and witnessing rapid population growth rates and urban advancement towards their agricultural lands. The aim of this research is to investigate the spatial and temporal urban expansion on the agricultural lands of Greater Amman (GAM) and Greater Irbid (GIM) municipalities for the period 2003–2015. Geographic Information System and ENVI-supervised classification technique were used to classify Landsat images of municipalities' lands into urban, agricultural, and undeveloped lands. In 2015, the urban area of GIM land increased by 70% of that in 2003. The newly urbanized area represented 12% (39km2) of the total GIM land. The GIM land's conversion rate to urban area was 1% (3.24km2). In 2015, the urban area of GAM land represented 41% of the municipality's land where 16% (128km2) is the newly urbanized land with an annual land conversion rate of 1.3% (10.7km2). This sprawl was mainly on agricultural lands where 18 and 50% of the 2003 agricultural lands of GIM and GAM, respectively, were eliminated by 2015. The existed agricultural lands in GIM by 2015 represented 38% of the total municipality lands while only 14% of the total GAM land is agricultural land. The annual agricultural land recession rates in GIM and GAM were 1 and 1.1%; therefore, their agricultural lands are expected to be eliminated by 2053 and 2028, respectively. These rates of losing agricultural lands are alarming and need to be regulated through sustainable and recent urban planning approaches.
Access options
Buy single article
Instant access to the full article PDF.
USD 39.95
Price includes VAT (USA)
Tax calculation will be finalised during checkout.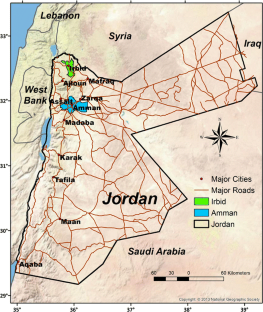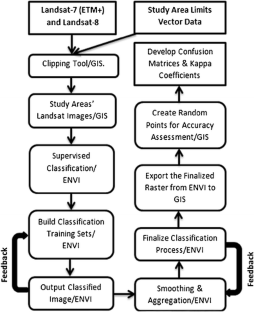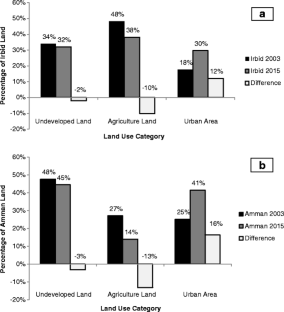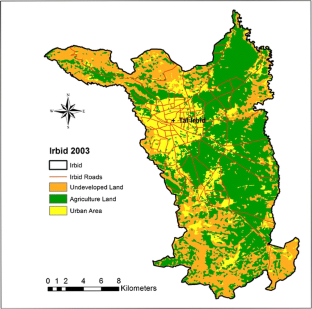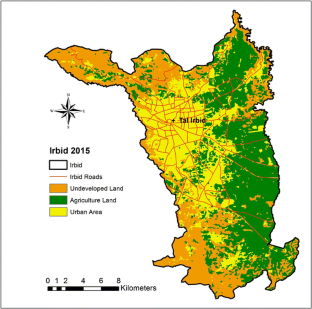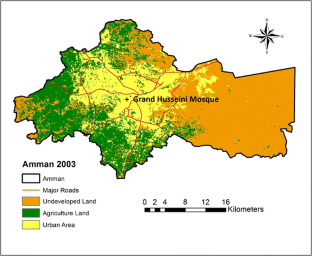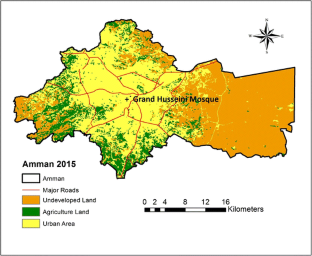 Notes
1.

"Irbid" or "Amman" city names were used in the context instead of Greater Irbid Municipality and Greater Amman Municipality lands, respectively.
References
Abu-Irmaileh BE, Afifi F (2000) Treatment with medicinal plants in Jordan. Dirasat 27:53–74

Adhikari H, Heiskanen J, Maeda EE, Pellikka PKE (2016) The effect of topographic normalization on fractional tree cover mapping in tropical mountains: an assessment based on seasonal Landsat time series. Int J Appl Earth Obs Geoinf 52:20–31. https://doi.org/10.1016/j.jag.2016.05.008

Al Rawashdeh S, Saleh B (2006) Satellite monitoring of urban spatial growth in the Amman area, Jordan. J Urban Plan D-ASCE 132(4):211–216. https://doi.org/10.1061/(ASCE)0733-9488(2006)132:4(211)

Al Tarawneh W (2014) Urban sprawl on agricultural land (literature survey of causes, effects, relationship with land use planning and environment) a case study from Jordan (Shihan municipality areas). J Environ Earth Sci 4(20):97–124

Al-Bakri JT, Duqqah M, Brewer T (2013a) Application of remote sensing and GIS for modeling and assessment of land use/cover change in Amman/Jordan. J Geogr Inf Syst 5(05):509–519. https://doi.org/10.4236/jgis.2013.55048

Al-Bakri JT, Salahat M, Suleiman A, Suifan M, Hamdan MR, Khresat S, Kandakji T (2013b) Impact of climate and land use changes on water and food security in Jordan: implications for transcending "the tragedy of the commons". Sustainability 5(2):724–748. https://doi.org/10.3390/su5020724

Al-Bilbisi HH (2012) A two-decade land use and cover change detection and land degradation monitoring in Central Jordan using satellite images. Jordan J Soc Sci 5(1):133–149

Al-Kofahi SD, Jamhawi MM, Hajahjah ZA (2017) Investigating the current status of geospatial data and urban growth indicators in Jordan and Irbid municipality: implications for urban and environmental planning. Environ Dev Sustain J. https://doi.org/10.1007/s10668-017-9923-y

Al-Kofahi S, Steel C, Van Leeuwen D, St. Hilaire R (2012) Mapping land-cover in urban residential landscapes of a desert city using fine resolution imagery. Urban Forest Urban Green J 11(3):291–303. https://doi.org/10.1016/j.ufug.2012.05.001

Alsaaideh B, Al-Hanbali A, Tateishi R (2011) Assessment of land use/cover change and urban expansion of the central part of Jordan using remote sensing and GIS. Asian J Geoinform 11(3)

Congalton RG, Green K (2009) Assessing the accuracy of remotely sensed data: principles and practices 2nd edition. CRC Press, Florida

DOS (2013) Estimated population by governorate, sex and population density (P/Km2) 2013. http://dos.gov.jo/dos_home_a/jorfig/2013/3_1.pdf. Accessed 12 July 2015

DOS (2015) Department of Statistics: Hashemite Kingdom of Jordan. Jordan in figures, Amman http://www.dos.gov.jo/dos_home_a/jorfig/2014/1.pdf. Accessed 4 Feb 2016

Doygun H (2009) Effects of urban sprawl on agricultural land: a case study of Kahramanmaras, Turkey. Environ Monit Assess 158(1-4):471–478. https://doi.org/10.1007/s10661-008-0597-7

Dridi H, Bendib A, Kalla M (2015) Analysis of urban sprawl phenomenon in Batna city (Algeria) by remote sensing technique. An Univ Oradea–Seria Geografie 2:211–220

Forman R (1995) Land mosaics: the ecology of landscapes and regions. Cambridge: Cambridge University Press. In: Zhi-qiang L, Fu-qiang D, Cheng S (2012). Evaluation of urban sprawl and urban landscape pattern in a rapidly developing region. Environ Monit Assess 184:6437–6448

Jiao S, Gao Q, Wei C et al (2012) Ecological suitability evaluation for urban growth boundary in red soil hilly areas based on fuzzy theory. J Cent South Univ 19(5):1364–1369. https://doi.org/10.1007/s11771-012-1151-x

Kamh S, Ashmawy M, Kilias A, Christaras B (2012) Evaluating urban land cover change in the Hurghada area, Egypt, by using GIS and remote sensing. Int J Remote Sens 33(1):41–68. https://doi.org/10.1080/01431161.2010.550331

Kim J, Muller J (2011) Tree and building detection in dense urban environments using automated processing of IKONOS image and LiDAR data. Int J Remote Sens 32(8):2245–2273. https://doi.org/10.1080/01431161003698237

Kumar M, Shaikh V (2013) Site suitability analysis for urban development using GIS based multicriteria evaluation technique. J Indian Soc Remote Sens 41(2):417–424. https://doi.org/10.1007/s12524-012-0221-8

Kurucu Y, Chiristina NK (2008) Monitoring the impacts of urbanization and industrialization on the agricultural land and environment of the Torbali, Izmir region, Turkey. Environ Monit Assess 136(1-3):289–297. https://doi.org/10.1007/s10661-007-9684-4

Long H, Liu Y, Hou X, Li T, Li Y (2014) Effects of land use transitions due to rapid urbanization on ecosystem services: implications for urban planning in the new developing area of China. Habitat Int 44:536–544. https://doi.org/10.1016/j.habitatint.2014.10.011

Makhamreha Z, Almanasyeha N (2011) Analyzing the state and pattern of urban growth and city planning in Amman using satellite images and GIS. Eur J Soc Sci 24(2):252–264

Mohammed K, Elhadary Y, Samat N (2016) Identifying potential areas for future urban development using GIS-based multi criteria evaluation technique. SHS Web of Conferences 23, 03001. https://doi.org/10.1051/shsconf/201623001. https://www.shs-conferences.org/articles/shsconf/pdf/2016/01/shsconf_psu2016_03001.pdf. Accessed 13 July 2017

Oloukoi J, Raphael O, Hubert Y (2014) Geospatial analysis of urban sprawl in Ile-Ife city, Nigeria. S Afr J Geomatics 3(2):128–144. https://doi.org/10.4314/sajg.v3i2.2

Omar N, Raheem A (2016) Determining the suitability trends for settlement based on multi criteria in Kirkuk, Iraq. Open Geospat Data Softw Stand 1(10):1–9

Park S, Jeon S, Kim S, Choi C (2011) Prediction and comparison of urban growth by land suitability index mapping using GIS and RS in South Korea. Landsc Urban Plan 99(2):104–114. https://doi.org/10.1016/j.landurbplan.2010.09.001

Quan RS, Liu M, Lu M, Zhang LJ, Wang JJ, Xu SY (2010) Waterlogging risk assessment based on land use/cover change: a case study in Pudong New Area, Shanghai. Environ Earth Sci 61(6):1113–1121. https://doi.org/10.1007/s12665-009-0431-8

Raddad S (2016) Integrated a GIS and multi criteria evaluation approach for suitability analysis of urban expansion in southeastern Jerusalem region-Palestine. Am J Geogr Inf Syst 5(1):24–31

Shalaby A (2012) Assessment of urban sprawl impact on the agricultural land in the Nile Delta of Egypt using remote sensing and digital soil map. Int J Environ Sci 1(4):253–262

Tarrad M (2014) Urban planning response to population growth in Jordanian cities (Irbid City as case study). Res J Appl Sci Eng Technol 7(20):4275–4280. https://doi.org/10.19026/rjaset.7.799

Tewfik M, Amr A (2014) Arbitrary land use policy in Jordan between legal brand and property control. Eur Int J Sci Technol 3(9):86–93

Zhi-qiang L, Fu-qiang D, Cheng S (2012) Evaluation of urban sprawl and urban landscape pattern in a rapidly developing region. Environ Monit Assess 184:6437–6448
Acknowledgements
The authors thankfully acknowledge the Hashemite University, GIS departments, in Greater Irbid and Greater Amman Municipalities for their support in terms of sharing some of the basic GIS data layer.
About this article
Cite this article
Al-Kofahi, S.D., Hammouri, N., Sawalhah, M.N. et al. Assessment of the urban sprawl on agriculture lands of two major municipalities in Jordan using supervised classification techniques. Arab J Geosci 11, 45 (2018). https://doi.org/10.1007/s12517-018-3398-5
Received:

Accepted:

Published:
Keywords
Agricultural land

Remote sensing

Undeveloped lands

Urban expansion