Abstract
Three mixtures (M1, M2, and M3) of the Eocene clay deposits were collected from Ain M'Dheker (Enfidha, Tunisia). These mixtures have been treated by hydrochloric acid in order to improve their physico-chemical characteristics. Optimum conditions for activation were conducted by varying several parameters such as the acid concentration, time, and temperature activation. The activation condition effect on surface area is studied. A representative raw (M3) and activated (AM3) mixtures were used in industrial application: Sunflower oil and Black 194 dyes (textile waste). M3 and AM3 were used to leach sunflower oil by varying the clay amount introduced. Results of the bleaching power of used samples were compared to that found by commercial bentonite imported from Germany (Tonsil), having a surface area of 725 m2/g. Indeed, an amount of 1% of AM3 gives a 60% decolorization similar to that found by commercial clay. Also, the ability of raw and activated clay to remove the dye (Acid Black 194) from effluent has been studied firstly at different pH and in second time by varying the adsorbent amount. Then, an amount of 0.025 g is sufficient to give a higher adsorption capacity for M3 than AM3. Consequently, Ain M'Dheker clay deposits can be use in other environmental application even without any treatment.
Access options
Buy single article
Instant access to the full article PDF.
US$ 39.95
Tax calculation will be finalised during checkout.
Subscribe to journal
Immediate online access to all issues from 2019. Subscription will auto renew annually.
US$ 79
Tax calculation will be finalised during checkout.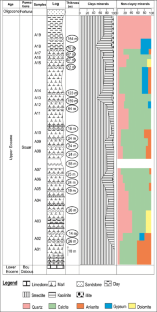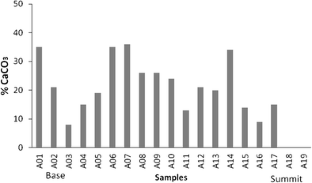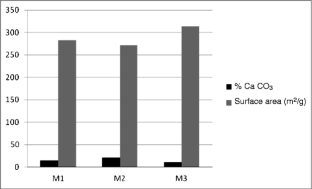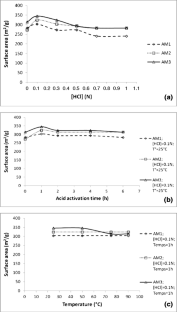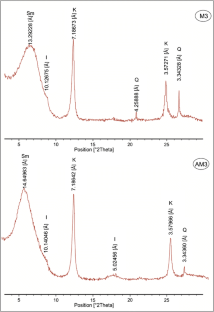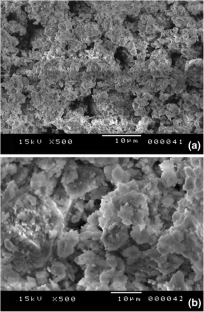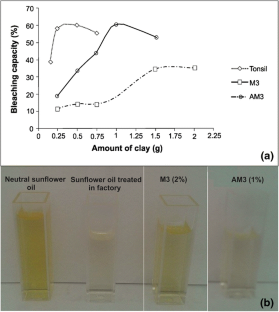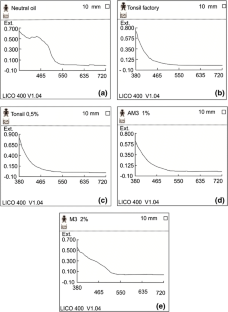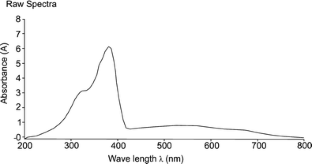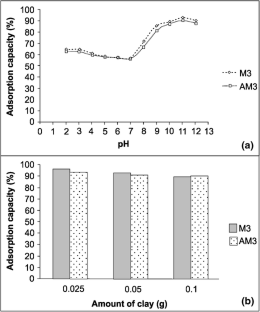 References
Ajbary M, Santos A, Morales-Florez V, Esquivias L (2013) Removal of basic yellow cationic dye by an aqueous dispersion of Moroccan stevensite. Appl Clay Sci 80–81:56–51. https://doi.org/10.1016/j.clay.2013.05.011

Bel Hajltaief H, Ben Zina M, Da Costa P, Galvez ME (2015) Heterogeneous TiO2-Fe-plate catalyst for the decolorization and mineralization of aqueous solutions of cationic and anionic dyes. Desalin Water Treat 57(29):13505–13517. https://doi.org/10.1080/19443994.2015.1059374

Bendou S, Amrani M (2014) Effect of hydrochloric acid on the structural of sodic-bentonite clay. J Min Mater Charact Eng 2(05):404–413. https://doi.org/10.4236/jmmce.2014.25045

Bennani A, Mounir B, Hachkar M, Bakasse M, Bakasse M, Yaacoubi A (2010) Elimination du colorant basique "Bleu de Méthylène" en solution aqueuse par l'argile de Safi. Rev sci eau 234(4):375–388. https://doi.org/10.7202/045099ar

Bergaya F, Theng BKG, Lagaly G (2006) Handbook of clay science, developments in clay science, Vol. 1, Elsevier Science, p 261

Biesekia L, Bertellab F, Treichelc H, Penhad FG, Sibele BCP (2013) Acid treatments of montmorillonite-rich clay for Fe removal using a factorial design method. Mater Res 16(5):1122–1127. https://doi.org/10.1590/S1516-14392013005000114

Chakroun S, Herchi M, Mechti W, Essghaier Gaied M (2017) Acid activation of upper Eocene Ca-bentonite for soybean oil clarification. Environ Sci Pollut Res 24(28):22557–22569. https://doi.org/10.1007/s11356-017-9803-x

Choudhury T, Misra NM (2011) Role of clay as catalyst in Friedel-Craft alkylation. Bull Mater Sci 34(6):1273–1279. https://doi.org/10.1007/s12034-011-0167-4

Didi MA, Makhoukhi B, Azzouz A, Villemin D (2009) Colza oil bleaching through optimized acid activation of bentonite. A comparative study. Appl Clay Sci 42(3-4):336–344. https://doi.org/10.1016/j.clay.2008.03.014

Eloussaief M, Benzina M (2010) Efficiency of natural and acid-activated clays in the removal of Pb (II) from aqueous solutions. Hazard Mater 178(1–3):753–757. https://doi.org/10.1016/j.jhazmat.2010.02.004

Eloussaief M, Kallel N, Yaacoubi A, Benzina M (2011) Mineralogical, spectroscopic characterization and potential environmental use of natural clay materials on chromate removal from aqueous solutions. Chem Eng J 168(3):1024–1031. https://doi.org/10.1016/j.cej.2011.01.077

Eloussaief M, Hamza W, Kallel N, Benzina M (2012) Wastewaters decontamination: mechanisms of Pb(II), Zn(II) and Cd(II) competitive adsorption on Tunisian smectite in single and multi-solute system. Environ Prog Sust Energy J 32(2):229–238. https://doi.org/10.1002/ep.11609

Emmanuel DW, Kamga R, Figueras F, Njopwoua D (2007) Acid activation and bleaching capacity of some Cameroonian smectite soil clays. Appl Clay Sci 37(1–2):149–156. https://doi.org/10.1016/j.clay.2006.12.008

Foletto EL, Volzone C, Porto LM (2003) Performance of an Argentinian acid-activated bentonite in the bleaching of soybean oil. Braz J Chem Eng 20(2):139–145. https://doi.org/10.1590/S0104-66322003000200007

Foletto EL, Colazzo GC, Volzone C, Porto LM (2011) Sunflower oil bleaching by adsorption onto acid-activated bentonite. Braz J Chem Eng 28(1):169–174. https://doi.org/10.1590/S0104-66322011000100018

Gulgonul I (2012) Evaluation of Turkish bentonite for removal of dyes from textile wastewaters. Physicochem Probl Miner Process 48:369–380. https://doi.org/10.5277/ppmp12204S

Gupta VK, Mittal A, Gajbe V (2005) Adsorption and desorption studies of water soluble dye, Quinoline Yellow, using waste materials. J Colloid Interface Sci 284(1):89–98. https://doi.org/10.1016/j.jcis.2004.09.055

Imran Khan M, Wu L, Mondal AN, Yao Z, Ge L, Xu T (2016) Adsorption of methyl orange from aqueous solution on anion exchange membranes: adsorption kinetics and equilibrium. Membr Water Treat 7(1):23–38. https://doi.org/10.1289/mwt.2016.7.1.023

Jamoussi F, Boukadi N, Bedir M, Kharbachi S, Zargouni F, Galindo L, Paquet H (2003) Répartition des minéraux argileux et contrôle tectonoeustatique dans les bassins de la marge Tunisienne. Clay mineralogical distribution and tecto-eustatic contol in the Tunisian margin basins. CR Geosci 335(2):175–183. https://doi.org/10.1016/S1631-0713(03)00014-2

Justnes H, Østnor T, De Weerdt K, Vikan H ( 2011) Calnined marl and clays as mineral addition for more sustainable concrete structures, Proceedings of the 36th International Conference on Our World in Concrete & Structures: 14–16 August, Singapore, p 10

Kirali EG, Laçin O (2005) Statistical modeling of acid activation on cotton oil bleaching by Turkish bentonite. J Food Eng 75:137–141. https://doi.org/10.1016/j.jfoodeng

Lalnunhlimi S, Krishnaswamy V (2017) Decolorization of azo dyes (Direct Blue 151 and direct Red 31) by moderately alkaliphilic bacterial consortium. Braz J Microbiol 47(1):39–46. https://doi.org/10.1016/j.bjm.2015.11.013

Mecabih Z (2017) Adsorption-desorption of BTX (benzene, toluene and O-xylene) on Fe, Fe-Al pillared clay. J Encapsul Adsorpt Sci 7(01):40–66. https://doi.org/10.4236/jeas.2017.71003

Meçabih Z, Rose J, Borschneck D (2014) Urban wastewater treatment by adsorption of organic matters on modified bentonite by (iron-aluminium). J Encapsul Adsorpt Sci 4(03):71–79. https://doi.org/10.4236/jeas.2014.43008

Mosbahi M, Tlili A, Khlifi M, Jamoussi F (2017) Basic activation of lower Eocene clay from Meknassy-Mezzouna basin (centerwestern Tunisia), synthesis of zeolite and clarification of soybean oils. Appl Clay Sci 138:1–11. https://doi.org/10.1016/j.clay.2016.12.011

Nguetnkam JP, Kamga R, Villieras F, Ekodeck GE, Razafitianamaharavo A, Yvon J (2005) Assessment of the surface areas of silica and clay in acid leached clay materials using concepts of adsorption on heterogeneous surfaces. J Colloid Interface Sci 29:104–115. https://doi.org/10.1016/j.jcis.2005.030.53

Nguetnkam JP, Kamag R, Villiéras F, Ekodek GE, Yvon J (2008) Assessing the bleaching capacity of some Cameroonian clays on vegetable olis. Appl Clay Sci 39(3–4):113–121. https://doi.org/10.1016/j.clay.2007.05.002

Novakovic T, Rozic L, Petrovic S, Rosic A (2008) Synthesis and characterization of acid-activated Serbian smectite clays obtained by statistically designed experiments. Chem Eng J 137(2):436–442. https://doi.org/10.1016/j.cej.2007.06.003

Onal Y, Akmil-Basar C, Eren D, Sarici-Ozdemir C, Depci T (2006) Adsorption kinetics of malachite green onto activated carbon prepared from Tuncbilek lignite. J Hazard Mater 128(2–3):150–157. https://doi.org/10.1016/j.jhazmat.2005.07.055

Petrovic S, Novakovic T, Rozic L (2009) Statistical design of experiments of acid activation of smectite clay from Serbia and its bleaching capacity. J Chem Technol Biotechnol 84(2):176–179. https://doi.org/10.1002/jctb.2019

Rossi M, Gianazza M, Alamprese C, Stanga F (2003) The role of bleaching clays and synthetic silica in palm oil physical refining. Food Chem 82(2):291–296. https://doi.org/10.1016/S0308-8146(02)00551-4

Sdiri A, Khairy M, Bouaziz S, El-Safty S (2016) A natural clayey adsorbent for selective removal of lead from aqueous solutions. Appl Clay Sci 126:89–97. https://doi.org/10.1016/j.clay.2016.03.003

Sebasttiano R, Contiello N, Senatore S, Pier Giorgio R, Citterio A (2012) Analysis of commercial Acid Black 194 and related dyes by micellar electrokinetic chromatography. Dyes Pigments 94(2):258–265. https://doi.org/10.1016/j.dyepig.2011.12.014

Srasra F, Bergaya H, van Damme H, Ariguib NK (1989) Surface properties of an activated bentonite—decolorisation of rape-seed oils. Appl Clay Sci 4(5-6):411–421. https://doi.org/10.1016/0169-1317(89)90019-7

Stavropoulos GG, Zabaniotou AA (2005) Production and characterization of activated carbons from olive-seed waste residue. Microporous Mesoporous Mater 82(1–2):79–85. https://doi.org/10.1016/j.micromeso.2005.03.009

Tahir SS, Naseem R (2006) Removal of cationic dye from aqueous solutions by adsorption onto bentonite clay. Chemosphere 63(11):1842–1848. https://doi.org/10.1016/j.chemosphere.2005.10.033

Trabelsi W, Tlili A (2017) Phosphoric acid purification through different raw and activated clay materials (Southern Tunisia). J Afr Earth Sci 129:647–658. https://doi.org/10.1016/j.jafrearsci.2017.02.008

Tsai WT, Hsu HC, Yi ST, Yu Lin K, Ming Lin C, Dai TH (2007) The adsorption of cationic dye from aqueous solution onto acid-activated andesite. J Hazard Mater 147(3):1056–1062. https://doi.org/10.1016/j.jhazmat.2007.01.141

Usman M.A, Ekwueme VI, Alaje TO, Mohammed AO (2012) Characterization, acid activation, and bleaching performance of Ibeshe clays, Lagos, Nigeria. Inter Scholarly Res Network, ISRN Ceramics. ID 658508, p 5. doi:https://doi.org/10.5402/2012/658508

Wang HL, Tang HQ, Liu ZT, Zhang X, Hao ZP, Liu ZW (2014) Removal of cobalt (II) ion from aqueous solution by chitosan–montmorillonite. J Environ Sci 26(9):1879–1884. https://doi.org/10.1016/j.jes.2014.06.021

Woumfo D, Kamga R, Figueras F, Njopwouo D (2007) Acid activation and bleaching capacity of some Cameroonian smectite soil clays. Appl Clay Sci 37(1–2):149–156. https://doi.org/10.1016/j.clay.2006.12.008

Zorica PT, Svetlana BA, Biljana MB, Vesna AP, Aleksandar RĐ, Svjetlana BC (2011) Modification of smectite structure by sulphuric acid and characteristics of the modified smectite. J Agri Sci 56(1):25–35. https://doi.org/10.2298/JAS1101025T
Additional information
This article is part of the Topical Collection on Water Resource Management for Sustainable Development
About this article
Cite this article
Chakroun, S., Mechti, W., Herchi, M. et al. Characterization of Ain M'Dheker clay deposits for sunflower oil and Acid Black 194 dye clarification. Arab J Geosci 11, 60 (2018). https://doi.org/10.1007/s12517-017-3335-z
Received:

Accepted:

Published:
Keywords
Tunisian clays

Acid activation

Characterization

Adsorption

Sunflower oil

Acid Black 194 dyes