Abstract
Availability of national land cover database plays a fundamental role in understanding environmental and socio-ecological issues under a constant state of changing climate and demography. However, systematic, compatible, and open access land use and land cover database at a high spatial resolution is not yet developed for Jordan. The overarching goal of this research is to build a decadal land cover database for Jordan at 30-m spatial resolution called the Jordan National Land Cover Database (JNLCD). This database encompasses four wall-to-wall land cover maps for the years 1980s, 1990s, 2000s, and 2015s. A total of 44 Landsat pathfinder satellite scenes were used to develop this database along with multiple ancillaries and field observation data sources. An unsupervised classification method along with accurate ancillary data was used to build a representative land use/cover timeline. The thematic accuracies of JNLCD were assessed using ground reference points at randomly stratified pixels. The overall mapping accuracies achieved were between 90 and 94%. The results show that nearly 5.3% of the pixels changed from one cover type to another at least once while 94% of the pixels did not change between dates. The most remarkable land cover changes were from rainfed agriculture to urban and from rainfed to open rangelands, indicating a progressive decrease in land productivity and high variation in rainfall distribution, most pursuant in the recent decades. In 35 years, Jordan's land surface had been transformed into a human-induced landscape and lost a vast area of its pristine landscape of ecological and sustainable significance. The JNLCD product will help in designing proper monitoring and management regimes at local to national levels. This offers a baseline for substantial advancement of landscape-based research for development in the country.
Access options
Buy single article
Instant access to the full article PDF.
US$ 39.95
Tax calculation will be finalised during checkout.
Subscribe to journal
Immediate online access to all issues from 2019. Subscription will auto renew annually.
US$ 79
Tax calculation will be finalised during checkout.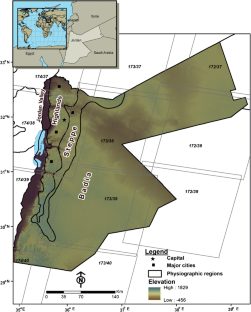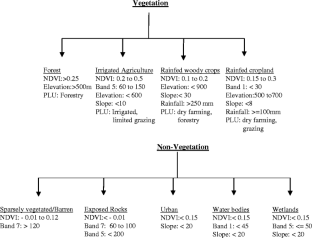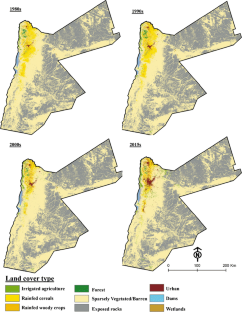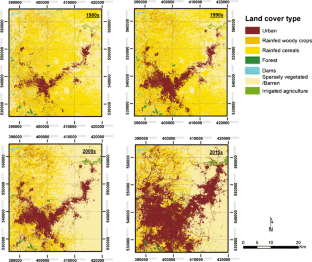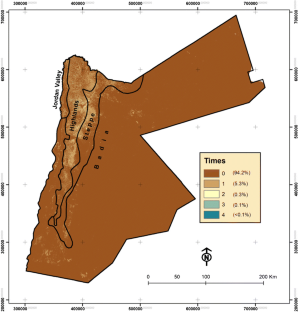 References
Ababsa M (2013) Jordan's land cover: a land of contrast. In: Ababsa M (ed) Atlas of Jordan: history, territories and society. Presses de I' Ifpo, Beyrouth, pp 40–41. http://books.openedition.org/ifpo/4858

Abahussain A, Abdu A, Al-Zubari W, El-Denn N, Abdul-Raheem M (2002) Desertification in the Arab region: analysis of current status and trends. J Arid Environ 51:521–545

Al-Bakri J, Taylor J, Brewer T (2001) Monitoring land use change in the Badia transition zone in Jordan using aerial photography and satellite imagery. Geogr J 167:248–262

Al-Bakri J, Salahat M, Suleiman A, Suifan M, Hamdan M, Khresat S, Kandakji T (2013a) Impact of climate and land use changes on water and food security in Jordan: implications for transcending "the tragedy of the commons". Sustainability 5:724–748

Al-Bakri J, Duqqah M, Brewer T (2013b) Application of remote sensing and GIS for modeling and assessment of land use/cover change in Amman/Jordan. J Geogr Inf Syst 5:509–519

Al-Bilbisi H (2013) Topography and morphology. In: Ababsa M (ed) Atlas of Jordan: history, territories and society. Presses de l'Ifpo, Beyrouth, pp 42–46 http://books.openedition.org/ifpo/4859

Alrababah M, Alhamad M (2006) Land use/cover classification of arid and semi-arid Mediterranean landscapes using Landsat ETM. Int J Remote Sens 27:2703–2718

Al-Tamimi S, Al-Bakri J (2005) Comparison between supervised and unsupervised classification for mapping land use/cover in Ajloun area. Jordan J Agric Sci 1:73–82

Anderson E (2000) The Middle East: geography and geopolitics. Routledge, London

Anderson J, Hardy E, Roach J, Witmer R (1976) A land use and land cover classification system for use with remote sensor data, Geological Survey Professional Paper. U.S. Geological Survey, Washington DC http://landcover.usgs.gov/pdf/anderson.pdf

Bender F (1974) Geology of Jordan. Gebruder Borntraeger, Berlin

Biradar C, Xiao X (2011) Quantifying the area and spatial distribution of double- and triple-cropping croplands in India with multi-temporal MODIS imagery in 2005. Int J Remote Sens 32:367–386

Boegh E, Soegaard H, Thomsen A (2002) Evaluating evapotranspiration rates and surface conditions using Landsat TM to estimate atmospheric resistance and surface resistance. Remote Sens Environ 79:329–343

Cihlar J (2000) Land cover mapping for large areas from satellites: status and research priorities. Int J Remote Sens 21:1093–1114

Congalton R, Green K (2009) Assessing the accuracy of remotely sensed data. CRC Press, Boca Raton

Coppin P, Jonckheer I, Nackaerts K, Muys B, Lambin E (2004) Digital change detection methods in ecosystem: a review. Int J Remote Sens 10:1565–1596

DeFries R, Foley J, Anser G (2004) Land-use choices: balancing human needs and ecosystem function. Front Ecol Environ 2:249–257

Diouf A, Lambin E (2001) Monitoring land-cover changes in semiarid regions: remote sensing data and field observations in the Ferlo, Senegal. J Arid Environ 48:129–148

Dube T, Mutanga O (2015) Evaluating the utility of the medium-spatial resolution Landsat 8 multispectral sensor in quantifying aboveground biomass in Mgeni catchment, South Africa. ISPRS J Photogramm Remote Sens 101:36–46

ESRI (2016) ArcGIS desktop: release 10.3. Environmental Systems Research Institute, Redlands

European Environment Agency (1995) CORINE Land Cover http://www.eea.europa.eu/publications/COR0-landcover Accessed 15 Feb 2017

Finlay H (1993) Jordan and Syria: a travel survival kit. Lonely Planet Publications, Hawthorn

Food & Agriculture Organization of the United Nations (2005) Grasslands of the world: 34 (FAO Plant Production and Protection Series)

Fry J, Xian G, Jin S, Dewitz J, Homer C, Yang L, Barnes C, Herold N, Wickham J (2011) Completion of the 2006 National Land Cover Database for the conterminous United States. Photogrammetric Engineering and Remote Sensing 77(9):858–864

Gilani H, Shrestha H, Murthy M, Phuntso P, Pradhan S, Bajracharya B, Shrestha B (2015) Decadal land cover change dynamics in Bhutan. J Environ Manag 148:91–100

Haddad N, Duwayri M, Oweis T, Bishaw Z, Rischkowsky B, Hassan A, Grando S (2011) The potential of small-scale rainfed agriculture to strengthen food security in Arab countries. Food Sec 3:163–173

Hansen M, Loveland T (2012) A review of large area monitoring of land cover change using Landsat data. Remote Sens Environ 122:66–74

Harper A (2008) Iraq's refugees: ignored and unwanted. Int Rev Red Cross 90:169–190 https://www.icrc.org/eng/assets/files/other/irrc-869_harper.pdf

Harris G (1958) Jordan: its people, its society, its culture. Harf Press, New Haven

Homer C, Fry J, Coan M, Hossain N, Larson C, Herold N, McKerrow A, VanDriel J, Wickham J (2007) Completion of the 2001 National Land Cover Database for the Conterminous United States. Photogramm Eng Remote Sens 73(4):337–341

Homer C, Dewitz J, Yang L, Jin S, Danielson P, Xian G, Coulston J, Herold N, Wickham J, Megown K (2015) Completion of the 2011 National Land Cover Database for the conterminous United States—representing a decade of land cover change information. Photogramm Eng Remote Sens 81:345–354

Ibanez J, Martinez J, Schnabel S (2007) Desertification due to overgrazing in a dynamic commercial livestock-grass-soil system. Ecol Model 205:277–288

Jawarneh R (2008) Spatial analysis of land cover and land use in evaluating land degradation in northwestern Al-Mafraq city, Jordan. Master's thesis, University of Arkansas

Karadsheh E, Akroush S, Mazahreh, S (2012) Land degradation in Jordan—review of knowledge resources. Oasis country report 1, ICARDA

Kerr J, Ostrovsky M (2003) From space to species: ecological applications for remote sensing. Trends Ecol Evol 18:299–305

Khresat S, Al-Bakri J, Tahhan R (2008) Impacts of land use/cover change on soil properties in the Mediterranean Region of Northwestern Jordan. Land Degrad Dev 18:1–11

Lambin E, Ehrlich D (1997) Land-cover changes in sub-Saharan Africa (1982–1991): application of a change index based on remotely sensed surface temperature and vegetation indices at a continental scale. Remote Sens Environ 61:181–200

Loveland T, Irons J (2016) Landsat 8: the plans, the reality, and the legacy. Remote Sens Environ 185:1–6

MacDonald B (2000) East of the Jordan: territories and sites of the Hebrew scriptures. American School of Oriental Research, Boston

Masek JG et al (2006) A Landsat surface reflectance dataset for North America, 1990-2000. IEEE Geosci Remote Sens Lett 3:68–72

MoA (Ministry of Agriculture, Jordan) (1995) The soils of Jordan: level 2 (semi detailed studies), Report of the National Soil Map and Land Use Project, volume 3. Ministry of Agriculture, Amman

Moridenejad A, Karimi N, Ariya P (2015) Newly desertified regions in Iraq and its surrounding areas: significant novel sources of global dust particles. J Arid Environ 116:1–10

Müller M, Yoon J, Goerlick S, Avisse N, Tilmant A (2016) Impact of the Syrian refugee crisis on land use and transboundry freshwater resources. Proc Natl Acad Sci U S A 113:14932–14937 http://www.pnas.org/content/early/2016/11/29/1614342113.full.pdf

NCARE (National Center for Agricultural Research and Extension) http://www.ncare.gov.jo/OurNCAREPages/NCAREPLANSMENU/RelatedPages/Strategy/Strategy.htm. Accessed 15 March 2017

Rogan J, Chen D (2004) Remote sensing technology for mapping and monitoring land-cover and land use change. Prog Plan 61:301–325

Stehman S, Czaplewski R (1998) Design and analysis for thematic map accuracy assessment: fundamental principles. Remote Sens Environ 64:331–344

Taimeh A (1990) Land resources in Jordan. Policies towards better uses, preservation and development. Requested by Ministry of Agriculture, Government of Jordan and sponsored by FAO

The digital archaeological Atlas of the Holy Land (2016) https://daahl.ucsd.edu/DAAHL/

Thenkabail P, Biradar C, Noojipady P, Dheeravath V, Li YJ, Velpuri M, Gumma M, Reddy G, Turral H, Cai XL, Vithanage J, Schull M, Dutta R (2009) Global irrigated area map (GIAM) for the end of the last millennium derived from remote sensing. Int J Remote Sens 30:3679–3733

Thunnissen H, de Wit A (2000) The national land cover database of the Netherlands. Int Arch Photogramm Remote Sens XXXIII:223–230

Troquer Y, Al-Oudah R (1999) From Kuwait to Jordan: the Palestinian's third exodus. J Palest Stud 28:37–51

Van Hear N (1995) The impact of the involuntary mass return to Jordan in the wake of the Gulf crisis. International Migration Review 29(2):352–374

Viedma O, Segarra J, Garcia-Haro J (1997) Modeling rates of ecosystem recovery after fires by using Landsat TM data. Remote Sens Environ 61:383–398

Vogelmann J, Sohl T, Howard S (1998) Regional characterization of land cover using multiple sources of data. Photogramm Eng Remote Sens 64:45–57

Vogelmann JE, Howard SM, Yang L, Larson C, Wylie B, Van Driel J (2001) Completion of the 1990's National Land Cover Data Set for the conterminous United States. Photogrammetric Engineering and Remote Sensing 67:650–662

Wickham J, Stehman S, Gass L, Dewitz J, Fry J, Wade T (2013) Accuracy assessment of NLCD 2006 land cover and impervious surface. Remote Sens Environ 130:294–304

World Bank (2017) http://data.worldbank.org/indicator/AG.LND.IRIG.AG.ZS? end=2013&locations=JO&start=1970. Accessed 30 March 2017

Xian G, Homer C, Fry J (2009) Updating the 2001 National Land Cover Database land Cover classification to 2006 by using Landsat imagery change detection methods. Remote Sens Environ 113:1133–1147

Yan D, de Beurs K (2016) Mapping the distribution of C3 and C4 grasses in the mixed-grass prairies of southwest Oklahoma using the Random Forest classification algorithm. Int J Appl Earth Obs Geoinf 47:125–138
Acknowledgements
Authors would like to acknowledge the funding support from International Center for Agricultural Research in Dry Areas (ICARDA) and its led CRP Dryland Systems.
About this article
Cite this article
Jawarneh, R.N., Biradar, C.M. Decadal National Land Cover Database for Jordan at 30 m resolution. Arab J Geosci 10, 483 (2017). https://doi.org/10.1007/s12517-017-3266-8
Received:

Accepted:

Published:
Keywords
Jordan

Landsat

JNLCD

Decadal dynamics

Land degradation

Unsupervised classification

Confused clusters separability