Abstract
The Ain Turck (Bouira) landslide, in north-center Algeria, is one of the numerous instabilities recorded along the Lakhdaria-Bouira section of the 1200-km-long east-west Algerian highway. The locality of Ain Turck is known for its unstable slopes characterized by a very rough morphology with steep slopes (20 to 25%). This slide threatens the inhabitants of the Ibournanen village, located down the unstable slope, where parts of some houses have fallen into ruin, while others are cracked. It is characterized by an active movement extending over a more or less important slope, of the order of a hundred meters. The land mobilized by this movement corresponds to the layer of shale clays and clays overlaid by a backfill, placed there following the east-west highway works. Geological, geomorphologic, and geotechnical analysis allows determining the soil instability probably related to earthworks during the construction of the highway section a few years earlier, followed by a particularly rainy season in 2012. Acquisitions of ambient seismic noise and H/V ratio processing, as well as the acquisition of an electrical resistivity profile at the instability site, have reinforced our preliminary interpretations of depth and geometry of the sliding surface.
Access options
Buy single article
Instant access to the full article PDF.
US$ 39.95
Tax calculation will be finalised during checkout.
Subscribe to journal
Immediate online access to all issues from 2019. Subscription will auto renew annually.
US$ 79
Tax calculation will be finalised during checkout.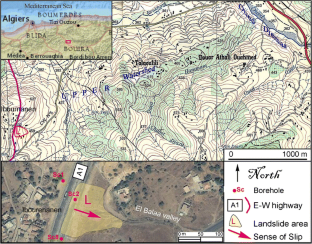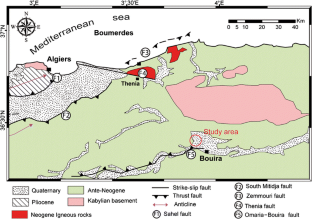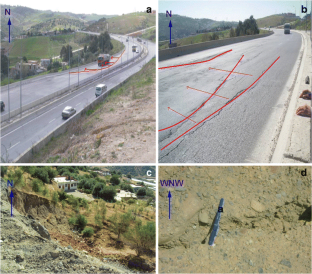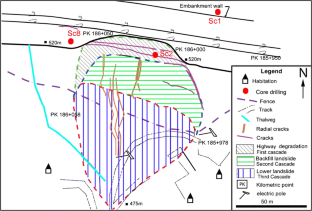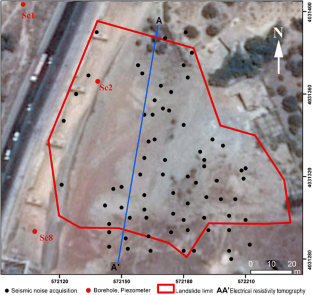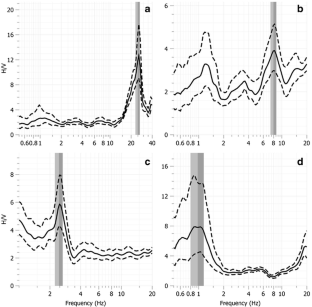 References
Abdul Nassir SS, Loke MH, Lee CY, Nawawi MNM (2000) Salt-water intrusion mapping by geoelectrical imaging surveys. Geophys Prospect 48(4):647–661. doi:10.1046/j.1365-2478.2000.00209.x

Abrahamson NA, Somerville PG (1996) Effects of the hanging wall and footwall on ground motions recorded during the Northridge earthquake. BSSA 86:S93–S99

BEGEC (2013) Rapport de compilation géotechnique Mise à Niveau Tronçon Autoroutier Lakhdaria Bouira Instabilité PK 186, Unpub

Beldjoudi H, Guemache MA, Kherroubi A, Semmane F, Yelles-Chaouche AK, Djellit H, Amrani A, Haned A (2009) The Laalam (Bejaıa, North-East Algeria) moderate earthquake (Mw = 5.2) on March 20, 2006. Pure Appl Geophys 166(4):623–640. doi:10.1007/S00024-009-0462-9

Benaissa A, Bellouche MA (1999) Propriétés géotechniques de quelques formations géologiques propices aux glissements de terrain dans l'agglomération de Constantine (Algérie). Bull Eng Geol Environ 57:301–310

Benaissa A, Cordary D, Giraud A (1989) Les mouvements de terrains dans la zone urbaine de Constantine (Algérie). Bull AIGI 740:85–90

Bièvre G (2010) Caractérisation de versants argileux instables dans des conditions hydrogéologiques hétérogènes. Approche géophysique. Ph.D. Thesis, Joseph Fourier University, Grenoble, p 209

Bonnefoy-Claudet S (2004) Nature du bruit de fond sismique: implications pour les études des effets de site. Ph.D thesis, Grenoble University, France, p 241

Bonnefoy-Claudet S, Cotton F, Bard PY (2006) The nature of noise wavefield and its applications for site effects studies. A literature review. Earth Sci Rev 79(3–4):205–227

Boudiaf A (1996) Etude sismotectonique de la région d'Alger et de la Kabylie: Utilisation des modèles numériques de terrain (MNT) et de la télédétection pour la reconnaissance des structures tectoniques actives: Contribution à l'évaluation de l'aléa sismique. Doct. Thesis, Montpellier, France, p 274

Boudiaf A, Ritz JF, Philip H (1998) Drainage diversions as evidence of propagating active faults: example of the El Asnam and Thenia faults, Algeria. Terra Nova-Oxford 10(5):236–244

Boudiaf A, Philip H, Coutelle A, Ritz JF (1999) Découverte d'un chevauchement d'âge quaternaire au sud de la grande Kabylie (Algérie). Geodin Acta 12(2):71–80

Bougdal R (2007) Urbanisation et mouvements de versants dans le contexte géologique et géotechnique des bassins néogènes d'Algérie du Nord. Phd thesis, FSTGAT/USTHB, p 195

Bougdal R, Belhai D, Antoine P (2006) Géologie de la ville de Constantine et de ses environs. Bull Serv Geol Algérie 18:3–23

Bougdal R, Larriere A, Pincent B, Panet M, Bentabet A (2013) Les glissements de terrain du quartier Belouizdad, Constantine, Algérie. Bull Eng Geol Environ 72:189–202

Bounif A, Dorbath C, Ayadi A, Meghraoui M, Beldjoudi H, Laouami N, Frogneux M, Slimani A, Alasset PJ, Kharroubi A, Ousadou F, Chikh M, Harbi A, Larbes S, Maouche S (2004) The 21 May 2003 Zemmouri (Algeria) Earthquake Mw 6.8: relocation and aftershock sequence analysis. Geoph Res Lett 31:L19606 1–4

Bourenane H, Bouhadad Y, Guettouche MS, Braham M (2015) GIS-based landslide susceptibility zonation using bivariate statistical and expert approaches in the city of Constantine (Northeast Algeria). Bull Eng Geol Environ 74(2):337–355. doi:10.1007/s10064-014-0616-6

Burjànek J, Gassner-Stamm G, Poggi V, Moore JR, Fäh D (2010) Ambient vibration analysis of an unstable mountain slope. Geophys J Int 180:820–828. doi:10.1111/j.1365-246X.2009.04451.x

Burjanek J, Moore JR, Yugsi Molina FX, Fah D (2012) Instrumental evidence of normal mode rock slope vibration. Geophys J Int 188:559–569

Chatelain JL, Gueguen P, Guillier B (2000) CityShark: a user-friendly instrument dedicated to ambient noise (microtremor) recording for site and building response studies. SRL. 171.66.125.217

Chatelain JL, Guillier B, Gueguen P, Fréchet J, Sarrault J (2012) Ambient vibration recording for single-station, array and building studies made simple: CityShark II. Int J Geosc 3:1168–1175

Coutelle A (1979) Géologie du Sud-Est de la Grande Kabylie et des Babors d'Akbou. Thèse Sciences, Univ. Bretagne Occidentale, France, p 567

Danneels G, Bourdeau C, Torgoev I, Havenith HB (2008) Geophysical investigation and dynamic modelling of unstable slopes: case-study of Kainama (Kyrgyzstan). Geophys J Int 175:17–34

Del Gaudio V, Wasowski J (2011) Advances and problems in understanding the seismic response of potentially unstable slopes. Eng Geol 122:73–83

Del Gaudio V, Wasowski J, Muscillo S (2013) New developments in ambient noise analysis to characterize the seismic response of landslide-prone slopes. Nat Hazards Earth Syst Sci 13:2075–2087

Del Gaudio V, Muscillo S, Wasowski J (2014) What we can learn about slope response to earthquakes from ambient noise analysis: an overview. Eng Geol 182:182–200

Demanet D, Renardy F, Vanneste K, Camelbeeck T, Meghraoui M (2001) The use of geophysical prospecting for imaging active faults in the Roer Graben, Belgium. Geophysics 66(1):78–89. doi:10.1190/1.1444925

Diaz-Segura EG (2016) Numerical estimation and HVSR measurements of characteristic site period of sloping terrains. Géotechnique Letters 6:176–181. doi:10.1680/jgele.16.00009

Djadia L, Machane D, Chatelain JL, Abtout A, Bensalem R, Guemache MA, Guillier B, Boudella A, Oubaiche EH (2010) Evidence for an underground runoff and soil permeability at the Ouled Fayet (Algiers, Algeria) subsurface landfill pilot project from geophysical investigations. Environ Earth Sci 59:1149

Djerbal L, Melbouci B (2012) Le glissement de terrain d'Ain El Hammam (Algérie):causes et évolution. Bull Eng Geol Environ 71:587–597. doi:10.1007/s10064-012-0423-x

Edwards LS (1977) A modified pseudosection for resistivity and induced polarization. Geophysics 42:1020–1036

El Khammari K, Najine A, Jaffal M, Aifa T, Himi M, Vasquez D, Andrieux P (2007) Combined geoelectrical-GPR mapping of underground cavities in the Zaouit Ech Cheikh city (Morocco). CR Geosciences 339(7):460–467

Ficheur E (1895) Carte géologique au 1/50 000 de Menerville. Feuille n° 22. Service géologique de l'Algérie

Ficheur E (1911) Carte géologique au 1/50 000 de Bouira. Feuille n° 66. Service géologique de l'Algérie

Galea P, D'Amico S, Farrugia D (2014) Dynamic characteristics of an active coastal spreading area using ambient noise measurements—Anchor Bay, Malta. Geophys J Int 199:1166–1175. doi:10.1093/gji/ggu318

Giocoli A, Stabile TA, Adurno I, Perrone A, Gallipoli MR, Gueguen E, Piscitelli S (2015) Geological and geophysical characterization of the southeastern side of the High Agri Valley (southern Apennines, Italy). Nat Hazards Earth Syst Sci 15(2):315–323

Guéguen P, Chatelain JL, Guillier B, Yepes H, Egred J (1998) Site effect and damage distribution in Pujili (Ecuador) after the 28 March 1996 earthquake. Soil Dynam Earthq Eng 17:329–334

Guemache MA, Machane D, Beldjoudi H, Gharbi S, Djadia L, Benahmed S, Ymmel H (2010) On a damaging earthquake-induced landslide in the Algerian Alps: the March 20, 2006 Laalam landslide (Babors chain, northeast Algeria), triggered by the Kherrata earthquake (Mw = 5.3). Nat Hazards 54:273–288

Guemache MA, Chatelain JL, Machane D, Benahmed S, Djadia L (2011) Failure of landslide stabilization measures: the Sidi Rached viaduct case (Constantine, Algeria). J Afr Earth Sci 59:349–358

Guirous L, Dubois L, Melbouci B (2014) Contribution to the study of the landslide of the city of Tigzirt (Algeria). Bull Eng Geol Environ 73:971–986. doi:10.1007/s10064-014-0624-6

Hack R (2000) Geophysics for slope stability. Surv Geophys 21:423–448

Hadji R, Boumazbeur A, Limani Y, Baghem M, Chouabi AM, Demdoum A (2013) Geologic, topographic and climatic controls in landslide hazard assessment using GIS modeling: a case study of Souk Ahras region. NE Algeria Quaternary International 302:224–237. doi:10.1016/j.quaint.2012.11.027

Hadji R, Rais K, Gadri L, Chouabi A, Hamed Y (2016) Slope failure characteristics and slope movement susceptibility assessment using GIS in a medium scale: a case study from Ouled Driss and Machroha municipalities, Northeast Algeria. Arab J Sci Eng. doi:10.1007/s13369-016-2046-1

Haskell NA (1960) Crustal reflection of plane SH waves. J Geophys Res 65:4147–4150

Havenith HB, Jongmans D, Faccioli E, Abdrakhmatov K, Bard PY (2002) Site effect analysis around the seismically induced Ananevo Rockslide, Kyrgyzstan. Bull Seismol Soc Am 92(8):3190–3209

Hellel M, Chatelain JL, Cheikh Lounis G, Machane D, Guillier B, Haddoum H (2013) Utilisation de la méthode h/v bruit de fond pour l'estimation rapide de la géométrie d'une zone instable: cas du glissement d'une route à Lakhdaria (Algérie). Bulletin du Service Géologique National 22(1):1–11

Hugonie G (2004) Les facteurs de l'instabilité des versants en Sicile. L'Information géographique 68(1):27–39

JICA and CGS (2006) Microzonage Sismique d'Alger. Final Report, Volume 2. Oyo International Corp. Nippon Koei Co., Ltd, Unpubl

Jongmans D, Garambois S (2007) Geophysical investigation of landslides: a review. Bull Soc Geol Fr 178(2):101–112

Jongmans D, Bièvre G, Renalier F, Schwartz S, Beaurez N, Orengo Y (2009) Geophysical investigation of a large landslide in glaciolacustrine clays in the Trièves area (French Alps). Eng Geol 109:45–56. doi:10.1016/j.enggeo.2008.10.005

Keefer DK, Wilson RC (1989) Predicting earthquake-induced landslides, with emphasis on arid and semiarid environments. In: Sadler PM, Morton DM (eds) Landslides in a semi-arid environment, vol 2. Inland Geological Society, USA, pp 118–149

Lachet C, Bard PY (1994) Numerical and theoretical investigations on the possibilities and limitations of Nakamura's technique. J Phys Earth 42:377–397

Laribi A, Walstra J, Ougrine M, Seridi A, Dechemi N (2015) Use of digital photogrammetry for the study of unstable slopes in urban areas: case study of the El Biar landslide, Algiers. Eng Geol 187:73–83

Lermo J, Chavez-Garcia FJ (1994) Site effect evaluation at Mexico city: dominant period and relative amplification from strong motion and microtremor records. Soil Dyn Earthq Eng 13:413–423

Loke MH (2012) Tutorial: 2-D and 3-D electrical imaging surveys. Geotomo Software Penang, Malaysia

Machane D (2001) Le Bassin occidental de la Soummam, évolution structurale, cadre post-orogénique et néotectonique. Magister thesis FSTGAT, USTHB, Alger, p 106

Machane D (2002). Analyse et gestion des risques de glissement de terrain dans la ville de Constantine (Algérie). Mémoire post-grad Univ Genève, Suisse, p 74

Machane D (2009) Fracturation néotectonique dans les Kabylies, potentiel sismique des failles actives et effets géologiques induits. Doctorat Thesis, FSTGAT, USTHB, Algiers, p 222

Machane D, Bouhadad Y, Oubaiche EH, Hellel M, Amrouche F, Abbes K, Messaoudi M, Cheikh Lounis G (2004) Les effets géologiques induits par le séisme de Boumerdes (Algérie) du 21 mai 2003 (Mw=6.8). Mémoire du Service Géologique National 12:133–146

Machane D, Bouhadad Y, Cheikh Lounis G, Chatelain JL, Oubaiche EH, Abbes K, Guillier B, Bensalem R (2008) Examples of geomorphologic and geological hazards in Algeria. Nat Hazards 45:295–308

Machane D, Guillier B, Chatelain JL, Bouillin JP, Haddoum H, Guemache MA, Zetoutou S, Aourari S, Djadia L, Benelhadj Z (2009) Le séisme (Mw= 5) de Laalam (Kabylie, Algérie) du 20 mars 2006: prospections géologiques et géophysiques (bruit vibratoire ambiant) et corrélations avec les dommages. Bulletin du Service Géologique National 20:3357–3373

Madera GA (1970) Fundamental period and amplification of peak acceleration in layered systems, Mass. Research report R 70–37, pp. 77. MIT Press, Cambridge

Mainsant G, Larose E, Brönnimann C, Jongmans D, Michoud C, Jaboyedoff M (2012) Ambient seismic noise monitoring of a clay landslide: toward failure prediction. J Geophys Res 117:F01030. doi:10.1029/2011JF002159

Marescot L, Chapellier D (2003) Resistivity surveying applied to hydrogeological characterisation of Quaternary paleo-valleys. Proceedings of the 9th EEGS-ES meeting, Prague, Czech Republic, August 31–September 4

Mari JL, Arens G, Chapellier D, Gaudiani P (1998) Géophysique de gisement et de génie civil. Books, Ed. Technips, p 468. ISBN 10: 2710807270

McCann DM, Forster A (1990) Reconnaissance geophysical methods in landslide investigations. Eng Geol 29:59–78

Meghraoui M (1988) Géologie des zones sismiques du nord de l'Algérie. Paléosismologie, tectonique active et synthèse sismotectonique. Thèse. Sci. Univ. Paris VI, p 356

Meghraoui M, Maouche S, Chemaa B, Cakir Z, Aoudia A, Harbi A, Alasset PJ, Ayadi A, Bouhadad Y, Benhamouda F (2004) Coastal uplift and thrust faulting associated with the Mw=6.8 Zemmouri (Algeria) earthquake of 21 May, 2003. Geophys Res Lett 31:L19605

Meric O (2006) Etude de mouvements de terrain par méthodes géophysiques. Ph.D. Thesis, Joseph Fourier University, Grenoble, p 249

Meric O, Garambois S, Jongmans D, Wathelet M, Chatelain JL, Vengeon JM (2005) Application of geophysical methods for the investigation of the large gravitational mass movement of Séchilienne, France. Can Geotech J 42:1105–1115. doi:10.1139/T05-034

Meric O, Garambois S, Malet JP, Cadet H, Guéguen P, Jongmans D (2007) Seismic noise-based methods for soft-rock landslide characterization. Bull Soc Géol Fr 178(2):137–148

Moulouel H, Bensalem R, Machane D, Bendaoud A, Gharbi S, Oubaiche EH, Ousalem H, Skendri W (2016) High resistant sand injected marl and low resistant damaged marl to locate and characterize the Thenia fault zone in Boumerdes City (North-Central Algeria). Pure Appl Geophys. doi:10.1007/s00024-016-1400-2

Naak M (1996) Du rifting téthysien au cadre alpino-méditerranéen d'un élément interne de l'orogène maghrébin: la Dorsale kabyle du Djurdjura, Algérie. Vers la prédiction du modèle transformant de cette évolution. Doctoral dissertation, Thèse de Doctorat d'État, université d'Alger, Algérie, p 260

Nakamura Y (1989) A method for dynamic characteristics estimation of subsurface using microtremors on the ground surface. Quarterly Report of the Railway Technical Research Institute 30(1):2–30

Nguyen F, Garambois S, Chardon D, Hermitte D, Bellier O, Jongmans D (2007) Subsurface electrical imaging of anisotropic formations affected by a slow active reverse fault, Provence, France. J Appl Geophys 62(4):338–353

Nogoshi M, Igarashi T (1971) On the propagation characteristics of microtremors. J Seismol Soc Jpn 23:264–280

Panzera F, D'Amico S, Lotteri A, Galea P, Lombardo G (2012) Seismic site response of unstable steep slope using noise measurements: the case study of Xemxija Bay area, Malta. Nat Hazards Earth Syst Sci 12(11):3421–3431

Papadopoulos GA, Plessa A (2000) Magnitude-distance relations for earthquake-induced landslides in Greece. Eng Geol 58(3–4):377–386

Perrone A, Lapenna V, Piscitelli S (2014) Electrical resistivity tomography technique for landslide investigation: a review. Earth Sci Rev 135:65–82

Piegari E, Cataudella V, Di Maio R, Milano L, Nicodemi M, Soldovieri MG (2009) Electrical resistivity tomography and statistical analysis in landslide modelling: a conceptual approach. J Appl Geophys 68:151–158

Pilz M, Parolai S, Bindi D, Saponaro A, Abdybachaev U (2014) Combining seismic noise techniques for landslide characterization. Pure Appl Geophys. doi:10.1007/s00024-013-0733-3

Pujari PR, Pardhi P, Muduli P, Harkare P, Nanoti MV (2007) Assessment of pollution near landfill site in Nagpur, India by resistivity imaging and GPR. Environ Monit Assess 131(1–3):489–500

Renalier F, Jongmans D, Campillo M, Bard PY (2010) Shear wave velocity imaging of the Avignonet landslide (France) using ambient noise cross correlation. J Geophys Res 115:F03032. doi:10.1029/2009JF001538

Semmane F (2005) Caractérisation de la source sismique à partir des données en champ proche. Application aux séismes de Tottori (Japon) et Boumerdes (Algérie). Thèse de doctorat de l'Université Joseph Fourier de Grenoble, France, p 178

Semmane F, Benabdeloued BYN, Beldjoudi H, Yelles-Chaouche AK (2015) The 22 February 2014 Mw 4.1 Bordj-Menaiel Earthquake, Near Boumerdes-Zemmouri, North-Central Algeria. Seismol Res Lett 15. doi: 10.1785/0220140196

SESAME (2004) Guidelines for the implementation of the H/V spectral ratio. Technique on ambient vibrations. Measurements, Processing and interpretation. Proj. No. EVG1-CT-2000-00026 SESAME, p 62

Slimi A (2008) Mouvements de terrain et ravinements dans le bassin supérieur de l'Oued Djemaa (versant sud du Djurdjura, Algérie) (Doctoral dissertation, Paris Est) p 308

Slimi A, Larue JP (2010) Risques de glissement et aménagements: l'exemple du glissement d'un remblai autoroutier à l'ouest de Bouira (Grande Kabylie, Algérie). Physio-Géo-Géographie Physique et Environnement 4:87–106. doi:10.4000/physio-geo.1147

Wasowski J, Del Gaudio V, Casarano D, Lollino P, Muscillo S (2013) Local scale seismic landslide susceptibility assessment based on historic earthquake records combined with accelerometer monitoring and ambient noise data. In: Ugai K, Yagi H, Wakai A (ed) Earthquake-induced landslides, Proceedings of the International Symposium on Earthquake-Induced Landslides, Kiryu (Japan), 7–9 November, 2012, Springer, pp 11–20. doi: 10.1007/978-3-642-32238-92.2013

Wells DL, Coppersmith KJ (1994) New empirical relationships among magnitude, rupture length, rupture width, rupture area, and surface displacement. Bull Seismol Soc Am 84:974–1002

Yalcinkaya E, Alp H, Ozel O, Gorgun E, Martino S, Lenti L, Bourdeau C, Bigarre P, Coccia S (2016) Near-surface geophysical methods for investigating the Buyukcekmece landslide in Istanbul, Turkey. J Appl Geophys 134:23–35

Yelles K, Lamali K, Mahsas A, Calais E, Briole P (2004) Co-seismic deformation of the May 21st, 2003, Mw= 6.8 Boumerdes earthquake, Algeria, from GPS measurements. Geophy Research Letters 31(13)

Yelles-Chaouche A, Boudiaf A, Djellit H, Bracene R (2006) La tectonique active de la région nord-algérienne. CR Geosciences 338:126–139
About this article
Cite this article
Meziani, B., Machane, D., Bendaoud, A. et al. Geotechnical and geophysical characterization of the Bouira-Algiers Highway (Ain Turck, Algeria) landslide. Arab J Geosci 10, 117 (2017). https://doi.org/10.1007/s12517-017-2926-z
Received:

Accepted:

Published:
Keywords
Landslide

Electrical resistivity tomography

HVSR ambient vibration

Clays

Algeria