Abstract
The Al-Ays Volcanic Area (AAVA) experienced a massive earthquake swarm in 2009 under the Harrat Lunayyir (HL). To examine the space distribution of basaltic lava flows in AAVA, we present here an analysis of satellite images. This has helped to identify three generations of lava flows within AAVA for the first time, their spatial extent and relationship to geological features. Various remote sensing treatments were applied to the Landsat 8 image: (a) color composites, (b) band ratioing, (c) principal component analysis, and (d) a mathematical index. Spectral analysis of the maps assists with charting the spatial configuration of the lava flows. Total area occupied by basalts is ~677 km2, of which the oldest lava flows occupy almost 52% (354 km2) and the lavas of intermediate age share 43% (295 km2) while the recent lava flows merely share 5% (28 km2), including 6.8 km2 referring to the volcanic cones. It should be noted that the generation of lava flows outlines a rather small area, of ≤20 km radius, circumventing the swarm epicenter zone. These maps may prove useful in volcanic hazard mapping for the rugged terrain.
Access options
Buy single article
Instant access to the full article PDF.
USD 39.95
Price excludes VAT (USA)
Tax calculation will be finalised during checkout.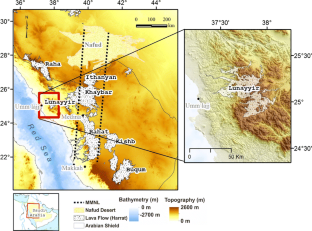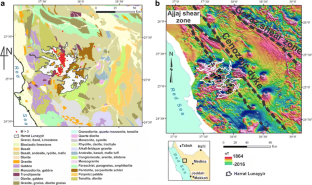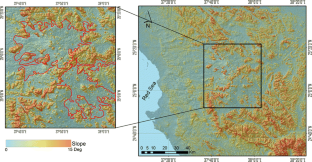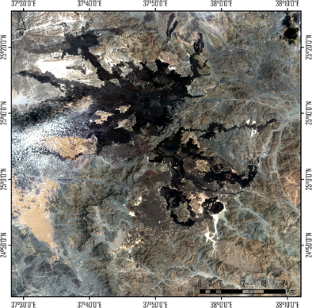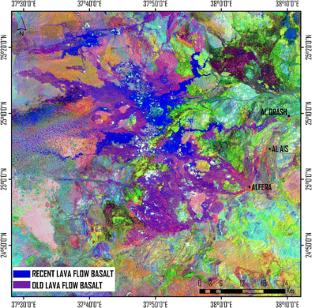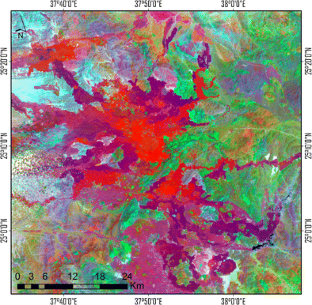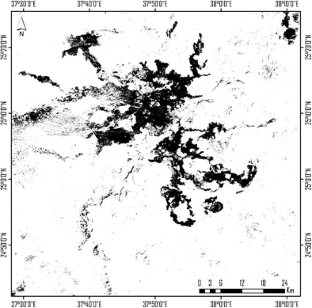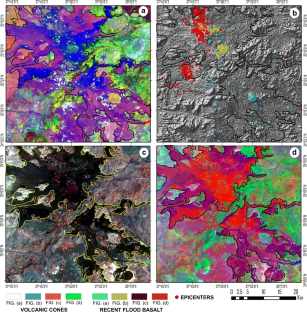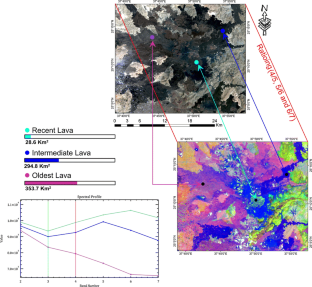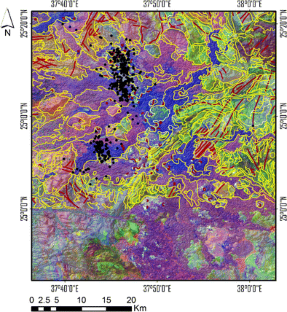 References
Al-Amri AM, Fnaism MS, Abdel-Rahman K, Mogren S, Al-Dabbagh M (2012) Geochronological dating and stratigraphic sequences of Harrat Lunayyir, NW Saudi Arabia. International Journal of Physical Sciences 7(20):2791–2805

Hansen SE, Deshon HR, Moore-Driskell MM, Al-Amri A (2013) Investigating the P wave velocity structure beneath Harrat Lunayyir, north western Saudi Arabia, using double-difference tomography and earthquakes from the 2009 seismic swarm. J. Geophys. Res.: Solid Earth 118(9):4814–4826

Irons JR, Dwyer JL, Barsi JA (2012) The next Landsat satellite: the Landsat data continuity mission. Remote Sens Environ 112:11–21

Johnson PR (1998) Tectonic map of Saudi Arabia and adjacent areas. Deputy Ministry for Mineral Resources Technical Report USGS-TR-98-3 (IR 948)

Li C et al (2014) Volcanic ash cloud detection from remote sensing images using principal component analysis. Comput Electr Eng 40:204–214

Mogren S, Mukhopadhyay M (2013) Gravity modeling for the rifted crust at the Arabian Shield margin—further insight into Red Sea spreading. Open Journal of Geology 3:28–33

Mukhopadhyay B, Mogren S, Mukhopadhyay M, Dasgupta S (2012) Incipient status of dyke intrusion in top crust-evidences from the Al-Ays 2009 earthquake swarm, Harrat Lunayyir, SW Saudi Arabia. Geomatics Natural Hazards and Risk:1–19

Pallister J et al (2010) Broad accommodation of rift-related extension recorded by dyke intrusion in Saudi Arabia. Nat Geosci 3:705–712. doi:10.1038/ngeo966

Prost GL (2014) Remote sensing for geoscientists: image analysis and integration, 3rd edn. CRC Press, Taylor & Francis Group, USA 674 p

Roy D, Wulder MA, Loveland TR, Woodcock CE, Allen RG, Anderson MC, Zhu Z (2014) Landsat-8: science and product vision for terrestrial global change research. Remote Sens Environ 145:154–172

Saadi N, Aboud E, Saibi H, Watanabe K (2008a) Integrating data from remote sensing, geology and gravity for geological investigation in the Tarhunah Area, Northwest Libya. International Journal of Digital Earth 1(4):347–366

Saadi N, Watanabe K, Imai A, Saibi H (2008b) Integrating potential fields with remotely sensed data for geological investigations in Eljufra area, Libya. Earth, Planets and Space 60(6):539–547

Saibi H, Gottsmann J, Mogren S, Mukhopadhyay M, Ibrahim E (2016) Subsurface imaging of the Harrat Lunayyir 2009 earthquake swarm zone, western Saudi Arabia. Paper in preparation for submission

Schroeder W, Oliva P, Giglio L, Quayle B, Lorenz E, Morelli F (2015) Active fire detection using Landsat-8/OLI data. Remote sensing of environment 10.1016/j.rse.2015.08.032

Tang Z, Jordi J, Zahran H, Martin MP (2016) The lithospheric shear-wave velocity structure of Saudi Arabia. Tectonophysics. doi:10.1016/j.tecto.2016.05.004

Xu W, Ruch J, Jonsson S (2015) Birth of two volcanic islands in the southern Red Sea. Nat Commun 6:7104. doi:10.1038/ncomms8104

Zaidi FK, Mukhopadhyay M (2015) Morphometric analysis of the scoria cones and drainage pattern for the Quaternary and older volcanic fields in parts of the Large Igneous Province, Saudi Arabia. J Afr Earth Sci 110:1–13
Acknowledgements
This research was funded by the National Plan for Science, Technology and Innovation (MAARIFAH), King Abdulaziz City for Science and Technology, Kingdom of Saudi Arabia, Award Number (12-SPA2872-02).
About this article
Cite this article
Mogren, S., Saibi, H., Mukhopadhyay, M. et al. Analyze the spatial distribution of lava flows in Al-Ays Volcanic Area, Saudi Arabia, using remote sensing. Arab J Geosci 10, 133 (2017). https://doi.org/10.1007/s12517-017-2889-0
Received:

Accepted:

Published:

DOI: https://doi.org/10.1007/s12517-017-2889-0
Keywords
Harrat Lunayyir

Remote sensing

Lava flows

Al-Ays Volcanic Area

Volcanic hazard mapping

Saudi Arabia