Abstract
In China's western coal mining area, the traditional room mining technology is facing coal pillar instability, mine earthquake, large-area roof subsidence in the goaf, surface subsidence, water and soil loss, vegetation deterioration, and other environmental problems. To solve the aforementioned problems and to improve coal recovery, the roadway backfill coal mining (RBCM) method was proposed as a solution and its technical principle and key equipment were presented in this paper. In addition, the microstructure and mechanical behavior (strain-stress relation in confined compressive test) of aeolian sand and loess backfill materials were studied for a rational backfill design for underground mines. Further, coal pillar stress, plastic zone change, and surface deformation of the RBCM schemes were studied using the FLAC3D numerical simulation software, and a reasonable mining scheme of "mining 7 m and leaving 3 m" was determined. The engineering application in Changxing Coal Mine shows that the RBCM method with loess and aeolian sand as backfill materials allows a stable recovery of coal pillars with a recovery ratio of more than 70 %. The maximum accumulated surface subsidence and the maximum horizontal deformation were measured to be 15 mm and 0.8 mm/m respectively, indicating that the targeted backfilling effect can help protect the environment and also control surface subsidence.
Access options
Buy single article
Instant access to the full article PDF.
USD 39.95
Price excludes VAT (USA)
Tax calculation will be finalised during checkout.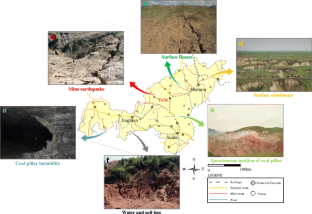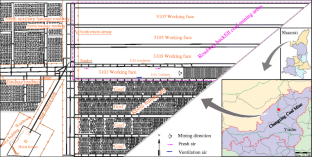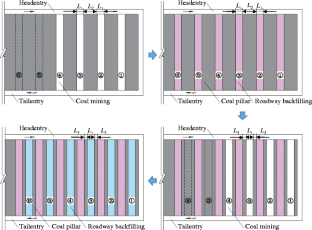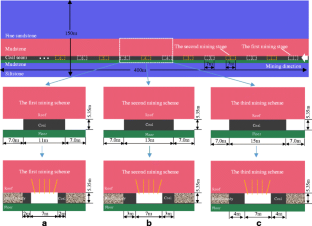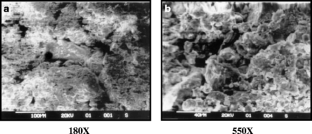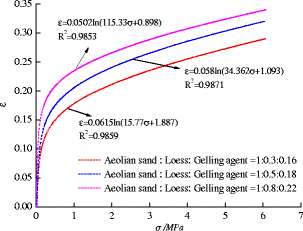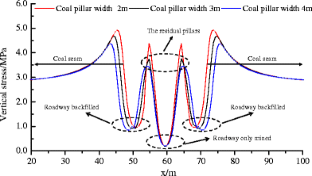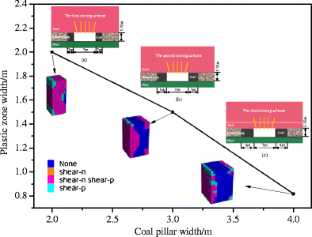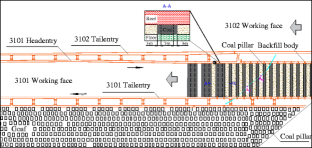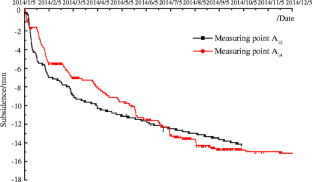 References
Adibee N, Osanloo M, Rahmanpour M (2013) Adverse effects of coal mine waste dumps on the environment and their management. Environ Earth Sci 70(4):1581–1592

An BF, Miao XX, Zhang JX, Ju F, Zhou N (2016) Overlying strata movement of recovering standing pillars with solid backfilling by physical simulation. Int J Min Sci Technol 26(2):301–307

Bell FG, Genske DD (2001) The influence of subsidence attributable to coal mining on the environment, development and restoration: some examples from western Europe and South Africa. Environ Eng Geosci 1:81–99

Bian ZF, Miao XX, Lei SG, Chen SE, Wang WF, Struthers S (2012) The challenges of reusing mining and mineral-processing wastes. Science 337:702–703

Dong SC, Samsonov S, Yin HW, Yao SP, Xu C (2015) Spatio-temporal analysis of ground subsidence due to underground coal mining in Huainan coalfield, China. Environ Earth Sci 73(9):5523–5534

Fan LM, Jiang ZQ, Guo WS (2006) Coal resource percentage in northern Shaanxi: current state and counter measures. Sci Technol Manag Land Res

Gbolo P, Lopez D (2013) Chemical and geological control on surface water within the shade river watershed in southeastern Ohio. J Environ Prot 4:1–11

Ghasemi E, Ataei M, Shahriar K (2014) Prediction of global stability in room and pillar coal mines. Nat Hazards 72(2):405–422

Huang YL, Zhang JX, Zhang Q, Nie SJ (2011b) Backfilling technology of substituting waste and fly ash for coal underground. Environ Eng Manag J 10:769–775

Huang Y, Tian F, Wang YJ, Wang M, Hu ZL (2014) Effect of coal mining on vegetation disturbance and associated carbon loss. Environ Earth Sci 73(5):1–14

Jiang HQ, Miao XX, Zhang JX, Liu SW (2016) Gateside packwall design in solid backfill mining—a case study. Int J Min Sci Technol 26(2):261–265

Kostecki T, Spearing AJS (2015) Influence of backfill on coal pillar strength and floor bearing capacity in weak floor conditions in the Illinois Basin. Int J Rock Mech Min Sci 76:55–67

Liu TF, Ren ZS (2009) The mine water treatment and development analysis in west mining area. Shaanxi Coal 28(1):11–13 (in Chinese)

Liu TF, Jiang DL, Wang Y (2010) Discussion on integration technology of mine water treatment for medium and small mines in west part of China. Coal Eng 11:81–83

McCarthy TS (2011) The impact of acid mine drainage in South Africa. S Afr J Sci 107(5/6):01–07

Miao XX, Zhang JX, Guo GL (2010b) Study on waste-filling method and technology in fully-mechanized coal mining. J China Coal Soc 35(1):1–6

Qian MG, Miao XX, Xu JL (2007) Green mining of coal resources harmonizing with environment. J China Coal Soc 1:1–7

Qian MG, Shi PW, Xu JL (2010) Ground pressure and strata control. China University of Mining and Technology Press, Xuzhou, pp. 198–199 (in Chinese)

Sun YC, Shang YJ (2009) Complementarities between green coal mining and sandy desertification control. J China Coal Soc 12:1643–1688

Sun QW, Zhou M, Chen J (2012) Effect of water reducer varieties and amounts on the gradual loss in slump and flow of the ready-mixed concrete. B Chin Ceram Soc 02:469–474

Sun Q, Zhang JX, Ju F, Li LY, Zhao X (2015) Research and application of schemes for constructing concrete pillars in large section finishing cut in backfill coal mining. Int J Min Sci Technol 25(6):915–920

Wang JA, Li DZ, Shang XC (2012) Creep failure of roof stratum above mined-out area. Rock Mech Rock Eng 45(4):533–546

Wu XG (2014) Ground control theory and application of solid dense backfill in coal mines. D, China University of Mining and Technology

Xie HP, Wang JH, Shen BH, Liu JZ, Jiang PF, Zhou HW, Liu H, Wu G (2012) New idea of coal mining: scientific mining and sustainable mining capacity. J China Coal Soc 37(7):1069–1079

Zeng Y (2001) Special coal types in Western China and their exploitation and utilization. J China Coal Soc 4:337–340

Zhang JX, An BF, Ju F, Jiang HQ, Wu Q (2012) Influence factors of solid material particles motion in the feeding system of fully mechanized coal mining and backfilling. J Min Saf Eng:312–316

Zhang JX, Huang YL, Zhang Q, Li M, Liu Z (2014a) Test on mechanical properties of solid backfill materials. Mater Res Innov 18(S2):S2-960–S2-965

Zhang JX, Jiang HQ, Deng XJ, Ju F (2014b) Prediction of the height of the water-conducting zone above the mined panel in solid backfill mining. Mine Water Environ 33(4):317–326

Zhang JX, Zhang Q, Sun Q, Gao R, Germain D, Abro S (2015) Surface subsidence control theory and application to backfill coal mining technology. Environ Earth Sci 74:4133
Acknowledgments
This work is supported by the State Key Laboratory of Coal Resources and Safe Mining, CUMT (SKLCRSM13X01), Qing Lan Project Foundation of Jiangsu Province (2014), and National Key Basic Research Program of China (2013CB227905). The authors gratefully acknowledge the financial support from the organizations mentioned above.
About this article
Cite this article
Zhang, J., Sun, Q., Zhou, N. et al. Research and application of roadway backfill coal mining technology in western coal mining area. Arab J Geosci 9, 558 (2016). https://doi.org/10.1007/s12517-016-2585-5
Received:

Accepted:

Published:

DOI: https://doi.org/10.1007/s12517-016-2585-5
Keywords
Room mining

Roadway backfill coal mining

Environment protection

Surface subsidence