Abstract
Management of groundwater resources requires modern techniques and scientific principles. Geographic information system (GIS)-based multi-criteria and analytic hierarchy approaches are implemented to identify promising areas for groundwater potential in Halabja city, Kurdistan region. A thematic map of each input factor was produced, derived from various sources including maps of geology, structure, and hydrogeology. The input layers were ranked according to their relative importance in controlling groundwater potential. Each factor is divided into classes based on hydrogeological properties. The classes then are weighted according to their relative importance to groundwater potential. The groundwater potential analysis reveals three distinct zones representing high, moderate, and low groundwater potential in the study area. The delineated groundwater potential map is finally verified using the available extraction rates of 95 wells. Results of such verifications proved that the groundwater potential zones identified by GIS and analytic hierarchy process (AHP) techniques are reliable and representative.
Access options
Buy single article
Instant access to the full article PDF.
US$ 39.95
Tax calculation will be finalised during checkout.
Subscribe to journal
Immediate online access to all issues from 2019. Subscription will auto renew annually.
US$ 79
Tax calculation will be finalised during checkout.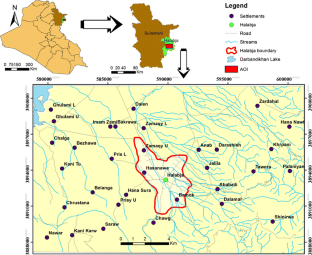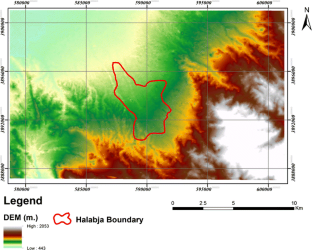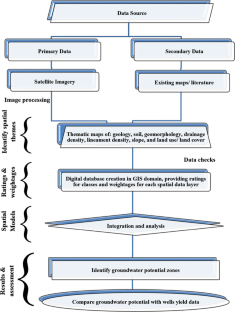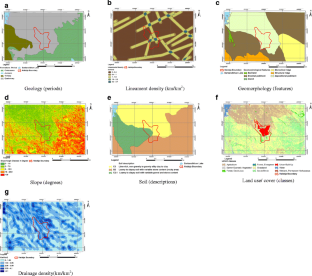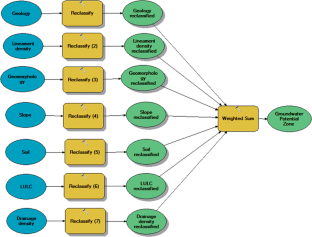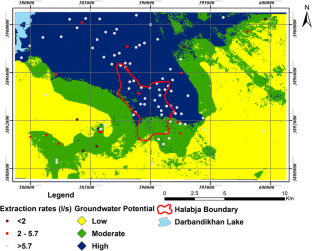 References
Al-Abadi A (2015) Modeling of groundwater productivity in Northeastern Wasit Governorate. Iraq using frequency ratio and Shannon's entropy models. Appl Water Sci. doi:10.1007/s13201-015-0283-1

Arkoprovo B, Adarsa J, Prakash SS (2012) Delineation of groundwater potential zones using satellite remote sensing and geographic information system techniques: a case study from Ganjam district, Orissa, India. Res J Recent Sci 1(9):59–66

Becker MW (2006) Potential for satellite remote sensing of groundwater. Groundwater 44(2):306–318

Chowdhury A, Jha MK, Chowdary VM, Mal BC (2009) Integrated remote sensing and GIS-based approach for assessing groundwater potential in West Medinipur district, West Bengal, India. Int J Remote Sens 30(1):231–250

Chowdhury A, Jha MK, Chowdary VM (2010) Delineation of groundwater recharge zones and identification of artificial recharge sites in West Medinipur District, West Bengal using RS, GIS and MCDM techniques. Environ Earth Sci 59(6):1209–1222

Chuma C, Oluwagbenga OI, Dumisani J, Hlatywayo, JO (2013) Application of remote sensing and geographical information systems in determining the groundwater potential in the crystalline basement of Bulawayo metropolitan area, Zimbabwe. Adv Remote Sens 2:149–1613. doi:10.4236/ars.2013.22019

Corgne S, Magagi R, Yergeau M, Sylla D (2010) An integrated approach to hydro-geological lineament mapping of a semi-arid region of West Africa using Radarsat-1 and GIS. Remote Sens Environ 114(9):1863–1875

Ekneligoda TC, Henkel H (2010) Interactive spatial analysis of lineaments. Comput Geosci 36(8):1081–1090

ENVI (2015) www.exelisvis.com/Learn/WhitepapersDetail/TabId/802/ArtMID/2627/ArticleID/9895/ENVI-Tools-for-ArcGIS174-and-ENVI-for-ArcGIS174-Server.aspx

Fashae OA, Tijani MN, Talabi AO, Adedeji OI (2014) Delineation of groundwater potential zones in the crystalline basement terrain of SW-Nigeria: an integrated GIS and remote sensing approach. Appl Water Sci 4(1):19–38

Fenta AA, Kifle A, Gebreyohannes T, Hailu G (2015) Spatial analysis of groundwater potential using remote sensing and GIS-based multi-criteria evaluation in Raya Valley, northern Ethiopia. J Hydrogeol 23(1):195–206

Genzebu W, Hassen N, Yemane T (1994) Geology of the Agere Mariam area (NB37-10)Ethiopian Institute of Geological Surveys. Addis Ababa 8:1–112

Hammouri N, El-Naqa A, Barakat M (2012) An integrated approach to groundwater exploration using remote sensing and geographic information system. J Water Resour Prot 4:717–724

Hoffmann J (2005) The future of satellite remote sensing in hydrogeology. Hydrogeol J 13(1):247–250

Jaiswal RK, Mukherjee S, Krishnamurthy J, Saxena R (2003) Role of remote sensing and GIS techniques for generation of groundwater prospect zone towards rural development: an approach. Int J Remote Sens 24(5):993–1008

Kumar PKD, Gopinath G, Seralathan P (2007) Application of remote sensing and GIS for demarcation of ground water potential zones of a river basin in Kerala, southwest coast of India. Int J Remote Sens 28(24):5583–5601

Lay Volunteers International Association (LVIA) and MAB Consult – Consulting Hydrogeologists and Engineers (2009) Groundwater potential zone mapping in Moyale-Teltele sub-basin at Dire, Arero, Yabelo and Teltele Woredas, Borena Zone of Oromia Regional State using GIS and remote sensing. Oromia Regional State

Lemacha G (2008) Groundwater potential for upper Tumet catchment, Merge and Komosha woredas, Benishangul-Gumuz region. Guide for GIS developers, WaterAid Ethiopia and Ripple www.rippleethiopia.org

Machiwal D, Jha MK, Mal BC (2011) Assessment of groundwater potential in a semiarid region of India using remote sensing, GIS and MCDM techniques. Water Resour Manag 25(5):1359–1386

Meijerink AMJ (1996) Remote sensing applications to hydrology: groundwater. Hydrol Sci J 41(4):549–561

Malczewski J (1999) GIS and multicriteria decision analysis. Wiley, Inc, New York

Rai B, Tiwar A, Dubey VS (2005) Identification of groundwater prospective zones by using remote sensing and geoelectrical methods in Jharia and Raniganj coalfields, Dhanbad district, Jharkhand state. J Earth Syst Sci 114(5):515–522

Rango A, Shalaby AI (1998) Operational applications of remote sensing in hydrology: success, prospects and problems. Hydrol Sci J 43(6):947–968

Rao YS, Jugran DK (2003) Delineation of groundwater potential zones and zones of groundwater quality suitable for domestic purposes using remote sensing and GIS. Hydrol Sci J 48(5):821–833

Rajkamal U, Kiruthika AM, Suresh Babu S (2014) Investigation of groundwater potential zones using RS & GIS in western part of Krishnagiri District. Int J Adv Res Sci Eng 3(3). http://www.ijarse.com IJARSE

Rose RS, Krishnan N (2009) Spatial analysis of groundwater potential using remote sensing and GIS in the Kanyakumari and Nambiyar basins, India. J Indian Soc Remote Sens 37(4):681–692

Saaty TL (1980) The analytic hierarchy process. McGraw-Hill, New York

Saraf AK, Choudhury PR (1998) Integrated remote sensing and GIS for ground water exploration and identification of artificial recharges sites. Int J Remote Sens 19(10):1825–1841

Sener E, Davraz A, Ozcelik M (2005) An integration of GIS and remote sensing in groundwater investigations: a case study in Burdur, Turkey. Hydrogeol J 13(5–6):826–834

Singhal BBS, Gupta RP (1999) Applied hydrogeology of fractured rocks. Kluwer Academic Publishers, Dordrecht

Solomon S (2003) Remote sensing and GIS: applications for groundwater potential assessment in Eritrea. Ph.D. thesis, Environmental and Natural Resources Information Systems. Royal Institute of Technology, Stockholm, Sweden

Stevanovic Z, Iurkiewicz A (2004a) Hydrogeology of Northern Iraq, general hydrogeology and aquifer system. vol. 2, 1st edn. Food and Agriculture Organization of the United Nations, Rome

Tanik A, Krantzberg G, Tanik A, Antunes do Carmo JS, Indarto A, Ekdal A (2010) Wastewater as a resource (chapter 2) In. Advances in water quality control. Scientific Research Publishing, USA

Tweed SO, Leblanc M, Webb JA, Lubczynski MW (2007) Remote sensing and GIS for mapping groundwater recharge and discharge areas in salinity prone catchments, southeastern. Australia Hydrogeol J 15(1):75–96
Acknowledgments
The authors gratefully acknowledge University of Sulaimani School of Science and Geology department and Kurdistan Institution for Strategic Studies and Scientific Research (KISSR) for their support. The authors also acknowledge the Sulaimani irrigation directorate/watershed management's department, especially Mr. Ari I. Amin, for providing reports and information about the surface water in the area of interest and directorates of Darbandikhan Dam, Sulaimani, and Bakrajo meteorological stations for providing climate information of the area of interest. Great appreciation goes to Dr. Alaa M. Atiaa and Mr. Arsalan A. Al-Jaf for their guidance and valuable comments.
About this article
Cite this article
Al-Manmi, D.A.M., Rauf, L.F. Groundwater potential mapping using remote sensing and GIS-based, in Halabja City, Kurdistan, Iraq. Arab J Geosci 9, 357 (2016). https://doi.org/10.1007/s12517-016-2385-y
Received:

Accepted:

Published:
Keywords
Potential map

GIS

AHP

Groundwater management

Halabja

Kurdistan