Abstract
Angström exponents (Å) and dust concentrations from the Barcelona Supercomputing Center-Dust REgional Atmospheric Model (BSC-DREAM) were used to infer the impact of long-range transported desert dust particles at the ground level and evaluate their role on the chemical composition of PM1 and PM10 samples. Å values were calculated from the scattering coefficients at 450 and 635 nm, retrieved from integrating nephelometer measurements. Nephelometer measurements were performed at a coastal site (Lecce, 40.33° N, 18.11° E) of south-eastern Italy from December 2011 till November 2012. Days characterized by Å daily mean values smaller than 0.95 and modelled daily dust concentrations larger than 0.1 μg m−3 at 86 m above the ground level were considered representative of days affected by African dust particles up to the ground level (dusty days). Both criteria have allowed identifying 86 dusty days during the investigated period. The analysis of 24-h simultaneously collected PM10 and PM1 samples revealed that the PM1 mass concentrations increased linearly with PM10 both in dusty and dust-free days, which were identified as the ones characterized by Å daily mean values larger than 1.3 and PM1/PM10 ratios larger than 0.35. These results suggested that the PM1 samples were also affected by desert particles on dusty days. In fact, chemical analyses revealed that the Al and Fe mean mass concentrations were larger in dusty day PM1 and PM10 samples. Then, we found that the crustal matter contribution was nearly twice and more than twice larger in dusty PM1 and PM10 samples, respectively, than in corresponding dust-free samples. Mass contributions of organic and elemental carbon, sulfates, and ammonium even if smaller in dusty samples than in dust-free PM1 and PM10 samples revealed the significant role of the anthropogenic pollution also on dusty days.
This is a preview of subscription content, log in to check access.
Access options
Buy single article
Instant access to the full article PDF.
US$ 39.95
Tax calculation will be finalised during checkout.
Subscribe to journal
Immediate online access to all issues from 2019. Subscription will auto renew annually.
US$ 99
Tax calculation will be finalised during checkout.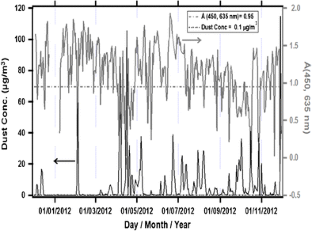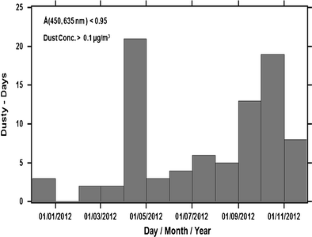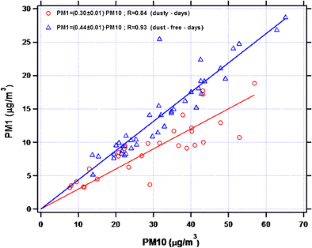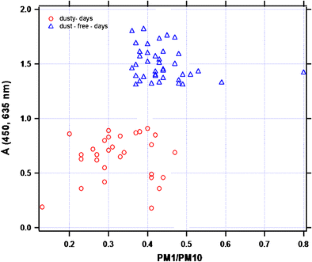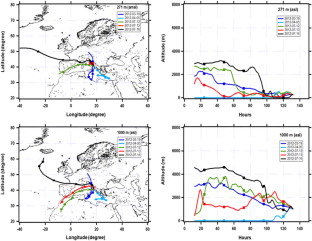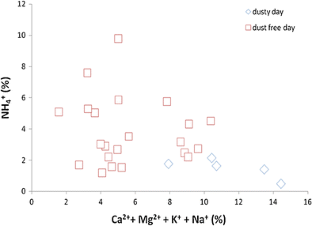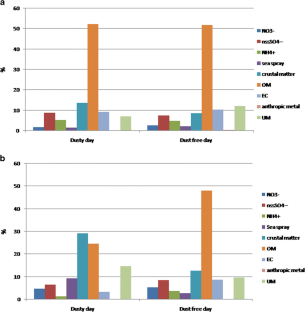 References
Bae M-S, Demerjian KL, Schwab JJ (2006) Seasonal estimation of organic mass to organic carbon in PM2.5 at rural and urban locations in New York state. Atmos Environ 40:7467–7479

Basart S, Perez C, Cuevas E, Baldasano JM, Gobbi GP (2009) Aerosol characterization in Northern Africa, Northeastern Atlantic, Mediterranean Basin and Middle East from direct-sun AERONET observations. Atmos Chem Phys 9:8265–8282

Birch ME, Cary RA (1996) Elemental carbon-based method for monitoring occupational exposures to particulate diesel exhaust. Aerosp Sci Technol 25:221–241

Blanco A, De Tomasi F, Filippo E, Manno D, Perrone MR, Serra A, Tafuro AM, Tepore A (2003) Characterization of African dust over southern Italy. Atmos Chem Phys 3:2147–2159

Cesari D, Contini D, Genga A, Siciliano M, Elefante C, Baglivi F, Daniele L (2012) Analysis of raw soils and their re-suspended PM10 fractions: characterization of source profiles and enrichment factors. Appl Geochem 27:1238–1246

Contini D, Genga A, Cesari D, Siciliano M, Donateo A, Bove MC, Guascito MR (2010) Characterization and source apportionment of PM10 in an urban background site in Lecce. Atmos Res 95 (1):40-54, ISSN: 01698095 DOI: 10.1016/j.atmosres.2009.07.010

Genga A, Baglivi F, Siciliano M, Siciliano T, Tepore M, Micocci G, Tortorella C, Aiello D (2012) SEM-EDS investigation on PM10 data collected in central Italy: principal component analysis and hierarchical cluster analysis. Chem Cent J 6(Suppl 2):S3

Gómez-Amo JL, Pinti V, Di Iorio T, Di Sarra A, Meloni D, Becagli S, Bellantone V, Cacciani M, Fuà D, Perrone MR (2011) The June 2007 Saharan dust event in the central Mediterranean: observations and radiative effects in marine, urban, and sub-urban environments. Atmos Environ 45:5385–5393

Guieu C, Bozec Y, Blain S, Ridame C, Sarthou G, Leblond N (2002) Impact of high Saharan dust input on dissolved iron concentrations in the Mediterranean Sea. Geophys Res Lett 29:17. doi:10.1029/2001GL014454

Larssen S, Sluyter R, Helmis C (1999) Criteria for EUROAIRNET, the EEA Air Quality Monitoring and Information Network. http://reports.eea.eu.int/TEC12/en

Marzaccan GM, Vaccaro S, Valli G, Vecchi R (2001) Characterization of PM10 and PM2.5 particulate matter in the ambient air of Milan (Italy). Atmos Environ 35:4639–4650

Müller T, Henzing JS, de Leeuw G, Wiedensohler A (2011) Design and performance of a three-wavelength LED-based total scatter and backscatter integrating nephelometer. Atmos Meas Tech 4:1291–1303

NIOSH: Method 5040 Cassinelli ME, O'Connor PF (Eds.) NIOSH: manual of analytical methods (NMAM) (fourth ed.) (1998) [Suppl. 2, Supplement to DHHS (NIOSH) Publication No. 94-113]

Perez L, Tobias A, Querol X, Kunzli N, Pey J, Alastuey A, Viana M, Valero N, Gonzalez-Cabre M, Sunyer J (2008) Coarse particles from Sahara dust and daily mortality. Epidemiology 19:800–807

Perrino C, Catrambone M, Dalla Torre S, Rantica E, Sargolini T, Canepari S (2014) Seasonal variations in the chemical composition of particulate matter: a case study in the Po Valley. Part I: macro-components and mass closure. Environ Sci Pollut Res 2:3999–4009

Perrone MR, Bergamo A (2011) Direct radiative forcing during Sahara dust intrusions at a site in the Central Mediterranean: anthropogenic particle contribution. Atmos Res 101:783–798

Perrone MR, Carofalo I, Dinoi A, Buccolieri A, Buccolieri G (2009) Ionic and elemental composition of TSP, PM10, and PM2.5 samples collected over South-East Italy. Il Nuovo Cimento B 124:341–356

Perrone MR, Piazzalunga A, Prato M, Carofalo I (2011) Composition of fine and coarse particles in a coastal site of the central Mediterranean: carbonaceous species contributions. Atmos Environ. doi:10.1016/j.atmosenv.2011.04.030

Perrone MR, Tafuro AM, Kinne S (2012) Dust layer effects on the atmospheric radiative budget and heating rate profiles. Atmos Environ 59:344–354

Perrone MR, Becagli S, Garcia Orza JA, Vecchi R, Dinoi A, Udisti R, Cabello M (2013) The impact of long-range-transport on PM1 and PM2.5 at a Central Mediterranean site. Atmos Environ 71:176–186

Perrone MR, De Tomasi F, Gobbi GP (2014a) Vertically resolved aerosol properties by multi wavelength lidar measurements. Atmos Chem Phys 14:1185–1204. doi:10.5194/acp-14-1185-2014

Perrone MR, Romano S, Orza JAG (2014b) Particle optical properties at a Central Mediterranean site: impact of advection routes and local meteorology. Atmos Res 145–146:152–167. doi:10.1016/j.atmosres.2014.03.029

Perrone M R, Dinoi A, Becagli S, Udisti R (2014c). Chemical composition of PM1 and PM2.5 at a suburban site in southern Italy. Intern J Environ Anal Chem 94:127–150. ISSN: 0306-7319. doi: 10.1080/03067319.2013.791978

Perrone M R, Genga A, Siciliano M, Siciliano T, Paladini F (2014d) Dust concentration in PM10 samples and comparison with model results. Conference Proceeding: 1° Int. Conf. on Atm. Dust-DUST2014. ProScience1 (2014c) 73-78. Doi: 10.14644/dust.2014.012

Perrone MR, Romano S, Orza JAG (2015) Columnar and ground-level aerosol optical properties: sensitivity to the transboundary pollution, daily and weekly patterns, and relationships. Environ Sci Pollut Res. doi:10.1007/s11356-015-4850-7

Pio C, Cerqueira M, Harrison RM, Nunes T, Mirante F, Alves C, Oliveira C, Sanches de la Campa A, Artinano B, Matos M (2011) OC/EC ratio observed in Europe: re-thinking the approach for apportionment between primary and secondary organic carbon. Atmos Environ 45:6121–6132

Putaud JP, Van Dingenen R, Alastuey A, Bauer H, Birmili W, Cyrys J, Flentje H, Fuzzi S, Gehrig R, Hansson HC, Harrison RM, Herrmann H, Hitzenberger R, Huglin C, Jones AM, Kasper-Giebl A, Kiss G, Kousa A, Kuhlbusch TAJ, Loschau G, Maenhaut W, Molnar A, Moreno T, Pekkanen J, Perrino C, Pitz M, Puxbaum H, Querol X, Rodriguez S, Salma I, Schwarz J, Smolik J, Schneider J, Spinder G, ten Brink H, Tursic J, Viana M, Wiedensohler A, Raes F (2010) European aerosol phenomenology-3: physical and chemical characteristics of particulate matter from 60 rural, urban, and kerbside sites across Europe. Atmos Environ 44:1308–1320

Schuster GL, Dubovik O, Holben BN (2006) Ångström exponent and bimodal aerosol size distributions. J Geophys Res 111, D07207. doi:10.1029/2005JD006328

Sciare J, Oikonomou K, Cachier H, Maenhaut W, Sarda-Estève R (2005) Aerosol mass closure and reconstruction of the light scattering coefficient over the Eastern Mediterranean sea during the MINOS campaign. Atmos Chem Phys 5(8):2253–2265

Turpin BJ, Lim HJ (2001) Species contributions to PM2.5 mass concentrations: revisiting common assumptions for estimating organic mass. Aerosol Sci Technol 35:602–610

Wedepohl KH (1995) The composition of the continental crust. Geochim Cosmochim Acta 59:1217–1232
Acknowledgments
This work was supported by the European Community through the ACTRIS Research Infrastructure Action under the 7th Framework Programme under ACTRIS Grant Agreement 262254. This research was supported by Project PON 254/Ric. Potenziamento del "Centro Ricerche per la Salute dell'Uomo e dell'Ambiente" Cod. PONa3_00334. The authors would like to acknowledge the Barcelona Super-Computing Centre for the provision of the DREAM dust profiles. The authors also gratefully acknowledge the NOAA Air Resources Laboratory (ARL) for the provision of the HYSPLIT model used in this publication.
Additional information
This article is part of the Topical Collection on DUST
About this article
Cite this article
Perrone, M.R., Genga, A., Siciliano, M. et al. Saharan dust impact on the chemical composition of PM10 and PM1 samples over south-eastern Italy. Arab J Geosci 9, 127 (2016). https://doi.org/10.1007/s12517-015-2227-3
Received:

Accepted:

Published:
Keywords
Desert dust

PM10

PM1

Angström exponents