Abstract
The Aynak-Logar Valley is located about 30 km south of Kabul in Afghanistan and contains the Aynak copper–cobalt deposit. Satellite remote sensing data obtained from Landsat Enhanced Thematic Mapper (ETM+) and DEM extracted from the Shuttle Radar Topography Mission (SRTM) were used to study the surface geology, while regional aeromagnetic data were used to identify the main magnetic sources in the region. The main magnetic anomaly appeared to originate at a depth of less than 1 km, although the coarse 1-km spacing of the gridded aeromagnetic data makes it difficult to be more precise. Other magnetic anomalies in the data were identified using a variety of edge-enhancement filters, 2.5D forward modeling, and 3D inversion model.
Access options
Buy single article
Instant access to the full article PDF.
USD 39.95
Price excludes VAT (USA)
Tax calculation will be finalised during checkout.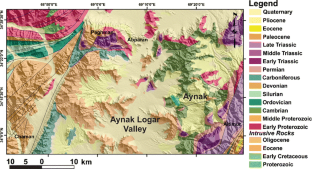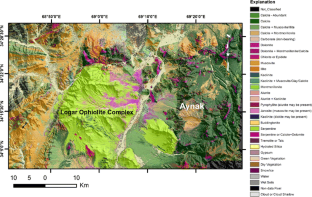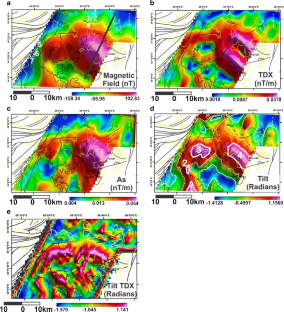 References
Abdullah S, Chmyriov VM (eds) (1977) Map of mineral resources of Afghanistan: Kabul, Ministry of Mines and Industries of the Democratic Republic of Afghanistan, Department of Geological and Mineral Survey, V/O Techno export U.S.S.R., scale 1:500,000

Ashan, Said, Hussain, Sardar, Kohistany AH, Shenwary GS, Mutty AS, Daud MA, Abraham JD, Anderson ED, Drenth BJ, Finn CA, Kucks RP, Lindsay CR, Phillips JD, Sweeney RE, Brozena JM, Ball DC, Childers VA, Gardner JM, Jarvis JL, Liang RT (2007) Aeromagnetic survey in Afghanistan: U.S. geological survey open-file report 2007–1247.

Benham AJ, Kovac P, Petterson MG, Rojkovic I, Styles MT, Gunn AG, McKervey JA, Wasy A (2009) Chromite and PGE in the Logar ophiolite complex, Afghanistan. Trans Inst Min Metall B Appl Earth Sci 118(2):45–58

Bosum W, Hahn A, Kind EG, Weippert D (1968) Airborne magnetometer survey in the Kingdom of Afghanistan, Geological Survey of the Federal Republic of Germany, p 46

Doebrich JL, Wahl RR, Ludington SD, Chirico PG, Wandrey CJ, Bohannon RG, Orris GJ, Bliss JD (2006) Geologic and mineral resource map of Afghanistan, U.S. geological survey open-file report 2006–1038

Ferreira FJF, de Souza J, Alessandra B, Bongiolo S, de Castro LG (2013) Enhancement of the total horizontal gradient of magnetic anomalies using the tilt angle. Geophysics 78(3):J33–J41

Jähne B (2005) Digital image processing, 6th edn. Springer, Berlin, 608 p

Kleimenev MA, Kamaev SV, Kelesnichenke VA (1974) Report on the results of geophysical investigations carried out in 1973–beginning of 1974 for solid minerals: part 1: Republic of Afghanistan Ministry of Mines and Industries Department of Geology and Mineral Survey, p 74

Kokaly RF (2011) PRISM: processing routines in IDL for spectroscopic measurements (installation manual and user's guide, version 1.0): U.S. geological survey open-file report 2011–1155, available at http://pubs.usgs.gov/of/2011/1155/

Kokaly RF, King TVV, Livo KE (2008) Airborne hyperspectral survey of Afghanistan 2007; flight line planning and HyMap data collection: U.S. geological survey open-file report 2008–1235, 14 p., available at http://pubs.usgs.gov/of/2008/1235/

Li X (2006) Understanding 3D analytic signal amplitude. Geophysics 71(2):13–16

Miller HG, Singh V (1994) Potential field tilt—a new concept for location potential field sources. J Appl Geophys 32:213–217

Nabighian MN (1984) Toward a three-dimensional automatic interpretation of potential field data via generalized Hilbert transforms: fundamental relations. Geophysics 49:957–966

Peters SG, Ludington SD, Orris GJ, Sutphin DM, Bliss JD, Rytuba JJ (2007) Preliminary non-fuel mineral resource assessment of Afghanistan: U.S. geological survey open-file report 2007–1214, p 822

Phillips JD (1998) Processing and interpretation of aeromagnetic data for the Santa Cruz Basin-Patagonia Mountains area, South-Central Arizona, U.S. geological survey open-file report 02–98

Salem A, Williams S, Fairhead J, Ravat D, Smith D (2007) Tilt-depth method: a simple depth estimation method using first-order magnetic derivatives. Lead Edge 26(12):1502–1505

Shenwary GS, Kohistany AH, Hussain, Sardar, Ashan, Said, Mutty AS, Daud MA, Wussow MD, Sweeney RE, Phillips JD, Lindsay CR, Kucks RP, Finn CA, Drenth BJ, Anderson ED, Abraham JD, Liang RT, Jarvis JL, Gardner JM, Childers VA, Ball DC, Brozena JM (2011) Aeromagnetic surveys in Afghanistan: an updated website for distribution of data: U.S. geological survey open-file report 2011–1055, p 8

USGS (2004) Project in Afghanistan. Data set accessed 2013 at http://afghanistan.cr.usgs.gov/geospatial-reference-datasets
About this article
Cite this article
Azizi, M., Saibi, H. & Cooper, G.R.J. Mineral and structural mapping of the Aynak-Logar Valley (eastern Afghanistan) from hyperspectral remote sensing data and aeromagnetic data. Arab J Geosci 8, 10911–10918 (2015). https://doi.org/10.1007/s12517-015-1993-2
Received:

Accepted:

Published:

Issue Date:

DOI: https://doi.org/10.1007/s12517-015-1993-2
Keywords
Aeromagnetic data

Anomaly

Aynak-Logar Valley

Afghanistan