Abstract
The pollen analysis of the sedimentary series of marine origin outlines the environmental and climatic context of the Northeastern Tunisia during the Lower to Middle Miocene. The analysis of the pollen sequence reveals a changing climate: (1) a subtropical climate during Burdigalian (importance of mega-mesothermal and mesothermal elements as Taxodium, Oleaceae, and Fagaceae) and (2) a tropical climate during the upper Langhian-lower Serravallian (megathermes elements (Avicennia and Acacia). This phase corresponds to the Miocene climatic optimum (MCO). The identified pollen associations helped organize the vegetation of the period in altitudinal levels (high areas, plain littoral environment, and river frontiers). As far as the inferior to middle Miocene is concerned, we noticed the existence of a diversified forest, which developed an average altitude with conifer trees of high reliefs. The plain which was dominated by Poaceae and Asteraceae was relatively small. The coastal environment is defined by the presence of Amaranthaceae-Chenopodiaceae and Ephedra. A correlation with known results for other Tunisian and Mediterranean regions, on the one hand, and a comparison with the current climate of Tunisia, on the other hand, have been completed.
Access options
Buy single article
Instant access to the full article PDF.
USD 39.95
Price excludes VAT (USA)
Tax calculation will be finalised during checkout.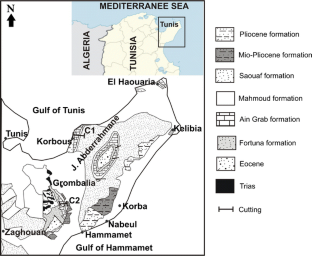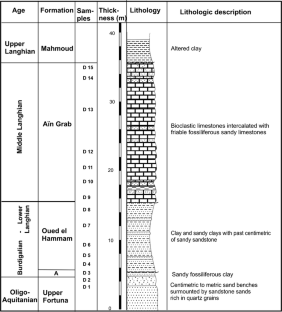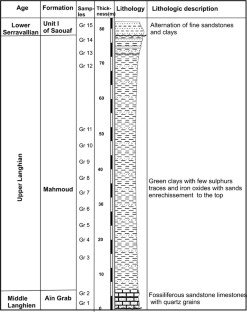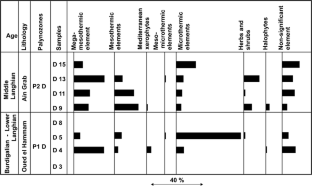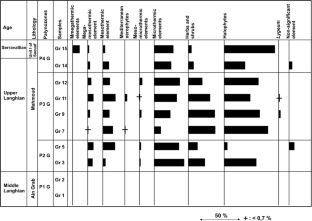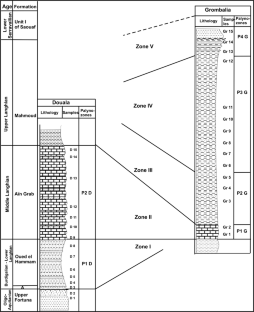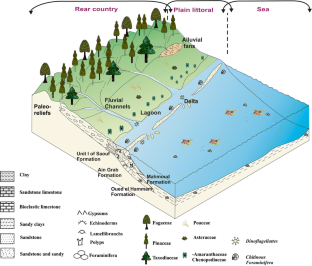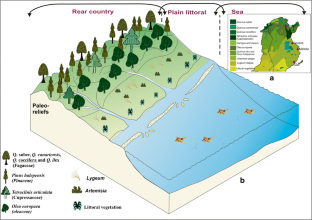 References
Ben Ismaïl-Lattrache K (1981) Etude micropaléontologique et biostratigraphique des séries paléogènes de l'Anticlinal de Jebel Abderrahman (Cap Bon Tunisie Nord-oriental). Thèse 3ème cycle Fac Sci Tunis 229:12

Ben Moktar N (2013) Analyse palynologique et sédimentologique des séries du Miocène moyen de la Tunisie Centro-orientale et nord-orientale: évolution climatique et reconstitution des paléoenvironnements et des paléopaysages végétaux. Université de Tunis El Manar, Faculté des Sciences de Tunis, Tunisie, 208 p

Ben Moktar N, Mannaï-Tayech B (2011) Reconstitution locale de la végétation et du climat durant le Miocène dans le bassin de Saouaf (Tunisie centro-nord orientale). Geophys J R Astron Soc 34(2):445–456

Ben Moktar N, Mannaï-Tayech B (2014) Palynology and sedimentology of the Miocene series in the north-east of Tunisia: the climatic and eustatic signature. Arab J Geosci 7(1):385–396

Bessedik M (1984) The early Aquitanian and upper Langhian-Lower Serravallian environments in the Northwestern Mediterranean region: Mediterranean Neogene continental paleoenvironments and climatic evolution. Paléobiol Continentale XIV 2:153–179

Bessedik M (1985) Reonstitution des environnements miocènes des régions nord-ouest méditerranéennes à partir de la palynologie. Thèse de 3ème cycle l'Université des Sciences et Techniques du Languedoc, France, p 162

Biely A, Rakus M, Robinson P, Salj J (1972) Essai de corrélation des formations miocènes du Sud de la dorsale tunisienne. Note serv Géol Tunisie Tunis 38:73–92

Billups K, Schrag DP (2002) Palaeotemperatures and ice volume of the past 27 Myr revisited with paired Mg/Ca and 18O/16O measurements on benthic foraminifera. Paleoceanography 17:1–11

Blondel T (1991) Les séries à tendance régressive marine du Miocène inférieur à moyen en Tunisie centrale. Thèse, Genève, 487p

Hooyberghs HJF (1973) Les foraminifères planctoniques de la formation de l'oued Hammam, une nouvelle unité lithologique en Tunisie d'âge langhien inférieur. Ann Mines Géol Tunis 26:319–335

Hooyberghs HJF (1977) Stratigraphie Van de Olig–Mio–en Pliocène afzettigen in het N.E. Van Tunesie, met een Bijzondere Studie Van de planktonische Foraminiferen. Thèse Katholicke Universiteit te Leuven, Vol.1: Stratigraphie, Vol.2. Systematik

Jiménez-Moreno G (2005) Utilizacion del analisis polinico para la reconstruccion de la vegetacion, clima y estimacion de paleoaltitudes a lo largo del arco alpino en Europeo durante el Mioceno (21-8 Ma). Thèse de l'Université de Grenade (Espagne) et de l'Université de Lyon 1, France, p 311

Jiménez-Moreno G, Suc JP (2007) Middle Miocene latitudinal climatic gradient in Western Europe: evidence from pollen records. Palaeogeogr Palaeoclimatol Palaeoecol 253:224–241

Jiménez-Moreno G, Rodriguez-Tovar FJ, Pardo-Iguzquiza E, Fauquette S, Suc JP, Müller P, Jiménez-Moreno G, Rodriguez-Tovar FJ, Pardo-Iguzquiza E, Fauquette S, Suc JP, Müller P (2005) High-resolution palynological analysis in late early-middle Miocene core form the Pannonian basin, Hungary: climatic changes, astronomical forcing and eustatic fluctuations in the central paratethys. Palaeogeogr Palaeoclimatol Palaeoecol 216:73–97

Jiménez-Moreno G, Abdul Aziz H, Rodríguez-Tovar FJ, Pardo-Igúzquiza E, Suc JP (2007a) Palynological evidence for astronomical forcing in early Miocene lacustrine deposits from Rubielos de Mora Basin (NE Spain). Palaeogeogr Palaeoclimatol Palaeoecol 252:601–616

Jiménez-Moreno G, Fauquette S, Suc JP, Abdul-Aziz H (2007b) Early Miocene repetitive vegetation and climatic changes in the lacustrine deposits of the Rubielos de Mora Basin (Teruel, NE Spain). Palaeogeogr Palaeoclimatol Palaeoecol 250:101–113

Jiménez-Moreno G, Fauquette S, Suc JP (2010) Miocene to Pliocene vegetation reconstruction and climate estimates in the Iberian Peninsula from pollen data. Palaeobot Palynol 162(3):403–415

Mannaï-Tayech B (2004) A propos de la problématique des corrélations des séries miocènes en Tunisie: une ébauche de solution. Terre et eau, Proceeding 4p

Mannaï-Tayech B (2006a) Les séries silico-clastiques miocènes du NE au SW tunisien: une mise au point. Geobios 39:71–84

Mannaï-Tayech B (2006b) Réponse de la flore et de la faune continentales aux facteurs climatiques, eustatiques et tectoniques au cours du Miocène en Tunisie: reconstitution du Paléoclimat, du paléoenvironnement et de la paléogéographie. Habilitation Universitaire. Université de Tunis El Manar, Faculté des Sciences de Tunis, Tunisie, p 94

Mannaï-Tayech B (2009) The lithostratigraphy of Miocene series from Tunisia, revisited. J Afr Earth Sci 54:53–61

Méon H, Tayech B (1986) Etudes palynologique dans le Miocène du Cap Bon (Tunisie). Essai d'établissement d'écozones et de reconstitution Paléogéographique. Geobios 19(5):601–626, Fig. 6, Lyon

Miller KG, Feigenson MD, Wright JD, Clement BM (1991) Miocene isotope reference section, DSDP Site 608: an evaluation of isotope and biostratigraphic resolution. Paleoceanography 6:33–52

Paul HA, Zachos JC, Flower BP, Tripati A (2000) Orbitally induced climate and geochemical variability across the Oligocene/Miocene boundary. Paleoceanography 15:471–485

Plante ME (2006) Géographie et Territoire. WAT Workshop_atelier/terrain Mahdia, Tunisie

Quezel P, Medail F (2003) Ecologie et biogéographie des forêts du bassin méditerranéen. Elsevier, France, 571 pp

Reille M (1992) Pollen et spores d'Europe et d'Afrique du Nord- Tome 1 (1992) et Supplément 1 (1995). Lab. Bot, Marseille, France

Roth-Nebelsick A, Utescher T, Mosbrugger V, Diester-Haass L, Walther H (2004) Changes in atmospheric CO2 concentrations and climate from the late Eocene to early Miocene: palaeobotanical reconstruction based on fossil floras from Saxony, Germany. Palaeogeogr Palaeoclimatol Palaeoecol 205:43–67

Sanz de Siria Catalán A (1993) Datos sobre la paleoclimatología y paleoecología del Neógeno del Vallès-Penedès según las macrofloras halladas en la cuenca y zonas próximas. Paleontologia i Evolució 26–27:281–289

Suc JP (1984) Origin and evolution of the Mediterranean vegetation and climate in Europe. Nature 307:429–432

Tayech B (1984) Etude palynologique dans le Néogène du Cap Bon (Tunisie). Universitaire Lyon I, Lyon, p 121, Fig. 42, pl. 7, Tab. 3

Utescher T, Mosbrugger V, Ashraf A (2000) Terrestrial climate evolution in Northwest Germany over the last 25 million years. Palaios 15:430–449

Zachos JC, Pagani M, Sloan L, Thomas E, Billups K (2001) Trends, rhythms, and aberrations in global climate 65 Ma to present. Science 292:686–693
Acknowledgments
We would like to thank A. Bertini for the authorization of pollen analysis in her palynology laboratory at the Degli Studi University in Florence, Italy. Her remarks and comments were very valuable and rewarding. We also wish to thank the two anonymous reviewers for their valuable comments on the text. Their constructive comments and suggestions have greatly improved the quality of the text.
About this article
Cite this article
Ben Moktar, N., Mannaï-Tayech, B. Palynological reconstruction of climate and paleoenvironment during the lower to middle Miocene in northeast Tunisia. Arab J Geosci 8, 11149–11159 (2015). https://doi.org/10.1007/s12517-015-1963-8
Received:

Accepted:

Published:

Issue Date:

DOI: https://doi.org/10.1007/s12517-015-1963-8
Keywords
Palynology

Flora

Climate

Northeast Tunisia