Abstract
The Early Permian (Sakmarian) in the Dalgan area of South Lut Block in Central Iran is more than 85 m thick and includes thick sequences of conglomerate, shale, quartzarenite, dolomite, sandy limestone, and limestones. One assemblage of smaller foraminifers are first distinguished and described from section of the Lut tectonic Block, Central Iran. The assemblage that have been studied are correlated with some assemblages from the East European platform, Cis-Urals, Darvaz, Northern Pamir, Central Iran (Kalmard Block) and some other regions of the Tethyan realm. The results of correlation and available data on fusulinids occurring in association with smaller foraminifers are used for dating the assemblages whose distribution ranges span the stratigraphic interval from the Sakmarian.
This is a preview of subscription content, log in to check access.
Access options
Buy single article
Instant access to the full article PDF.
US$ 39.95
Price includes VAT for USA
Subscribe to journal
Immediate online access to all issues from 2019. Subscription will auto renew annually.
US$ 99
This is the net price. Taxes to be calculated in checkout.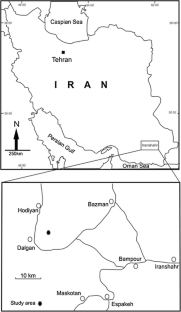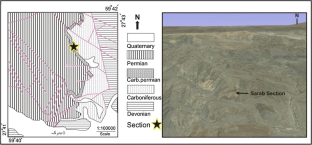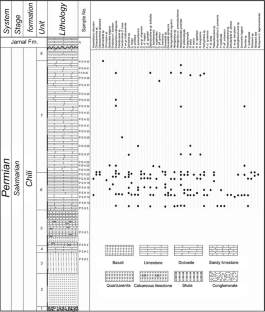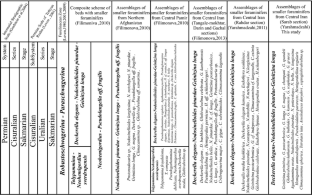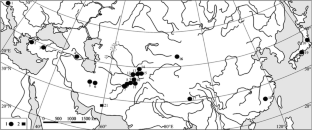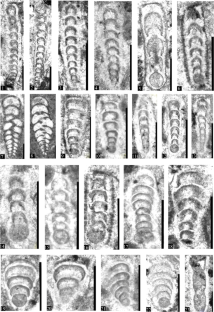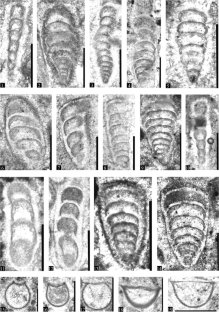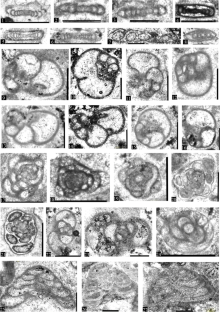 References
Aghanabati A 2004 Geology of Iran. Geological survey of Iran. 606 pp. (in Persian)

Alavi M (1991) Sedimentary and structural characteristics of the Paleotethys remnants in northeastern Iran. Geol Soc of Amer Bull 103:983–992

Alipour Z, Hosseni-Nezhad SM, Vachard D, and Rashidi K 2012 The latest Carboniferous–Early Permian Dorud Group of the eastern Alborz (Iran): biostratigraphy and taxonomy of smaller foraminifers. Published online in Wiley Online Library. doi:10.1002/gj.2457

Baryshnikov VV, Zolotova VP, and Kosheleva VF 1982 New Species of Artinskian Foraminifers from the Permian of Cis-Urals, Akademiya Nauk SSSR, Uralskii Nauchnyi Tsentr, Institut Geologiii Geokhimii, Preprint, 1–54 (in Russian)

Berberian M and King GCP 1981 Toward a paleogeography and tectonic evolution of Iran, In: M. Berberian (ed.), Continental deformation in the Iranian plateau: Geol. Surv. Iran, Rep. No. 52, pp. 502-530

Brady HB (1873) On Archaediscus Karreri a new type of Carboniferous foraminifera. Ann Mag Nat Hist 4(12):286–290

Chang LH (1963) Upper Carboniferous fusulinids of Kelpin and adjacent area of Sinjiang. Acta Paleontol Sin 11(1):36–70, In Russian with English translation

Chernysheva N 1948 Ob Archaediscus iblizkikh knemuforma khiznizhnego Karbona SSSR (On Archaediscus and related forms from the Early Carboniferous of the USSR). Akademiya Nauk SSSR, Trudy Instituta Geologicheskikh Nauk, 62, geologiska yaseriya 19, 150–158 (in Russian)

Davydov VI 1988 Archaediscidae in the Upper Carboniferous and Lower Permian. Revue de Paléobiologie, volume spécial n_ 2, Benthos' 86, 39–46

Davydov VI, Arefifard S (2007) Permian fusulinid fauna of Peri-Gondwanan affinity from the Kalmard region, East-Central Iran and its significance for tectonics and paleogeography. Palaeontol Electron 10(2):1–40

Ernst A, Yarahmadzahi H, Gorgij MN (2010) Sakmarian bryozoa from the Dalgan area (Sarab section), Southeastern Iran. Paleontology, Stratigraphy, facies(18). Freib Forsch C 536:75–89

Filimonova TV 2008 Smaller Foraminifers from Sakmarian Deposits of Northern Afghanistan. in News in Regional Geology of Russia and Nearby Countries (RGGRU, Moscow), pp. 81–84 [in Russian]

Filimonova TV (2010) Smaller foraminifers of the lower Permian from western Tethys. Stratigr Geol Correl 18(7):687–811

Filimonova TV 2011 Based on Small Foraminifers Correlation of Sakmarian Deposits of Central Pamir and Central Iran in Evolyutsiya organicheskogo mira v paleozoe i mezozoe. Sb. nauchn. rabot (Evolution of Organic World in Paleozoic and Mesozoic. Collected Works), St. Petersburg: Izd. Mamatov, [in Russian]

Filimonova TV (2013) Smaller foraminifers from the Permian sections of Central Iran. Stratigr Geol Correl 21(1):13–30

Forke HC, Kahler F, and Krainer K 1998 Sedimentology, microfacies and stratigraphic distribution of foraminifers of the lower Pseudoschwagerina Limestone (Rattendorf Group, Late Carboniferous),Carnic Alps (Austria/Italy), Senckenbergiana lethaea 78 Pt.1/2, 1–39

Gaillot J, Vachard D (2007) The Khuff Formation (Middle East) and time-equivalents in Turkey and South China: biostratigraphy from Capitanian to Changhsingian times (Permian), new foraminiferal taxa, and palaeogeographical implications. Coloquios Paleontol 57:37–223

Gorgij MN 2002 Biostratigraphy and sequence stratigraphy of Carboniferous deposits in Central Iran, Ph.D thesis, Isfahan University (in persian)

Groves JR, Wahlman GP (1997) Biostratigraphy and evolution of Late Carboniferous and Early Permian smaller foraminifers from the Barents Sea (oVshore Arctic Norway). J Paleont 71:758–779

Kahler F, and Kahler G 1937 Beiträge zur Kenntnis der Fusuliniden der Ostalpen: Die Pseudoschwagerinen der Grenzlandbände und des Oberen Schwagerine nkalkes. Palaeontographica, 87, Abt. A, 1–42

Krainer K, Vachard D, Lucas SG (2003) Microfacies and microfossil assemblages (Smaller foraminifers, algae, pseudoalgae) of the Hueco Group and Laborcita Formation (Upper Pennsylvanian- Lower Permian), South-central New Mexico, USA. RivistaItaliana Paleontol Stratigr 109:3–36

Krainer K, Sanders D, Schaffhauser M (2009) Early Permian shelf margin retreat and carbonate deposition, Zweikofel massif, Carnic Alps (Austria). Aus J Earth Sci 102(2):134–148

Leven EYA (1971) Les Gisements Permiens et les Fusulinides de l'Afghanistan du nord. Notes et Memoires sur le Moyen-Orient. Mus Natl D'Histoire Nat 12:3–25

Leven EYA 1997 Permian Stratigraphy and Fusulinids of Afghanistan with Their Paleogeographic and Paleotectonic

Leven EYA, Gorgij MN (2009) Section of Permian Deposits and Fusulinids in the Halvan Mountains, Yazd Province, Central Iran. Stratigr Geol Correl 17(2):155–172

Leven EYA, Gorgij MN (2011) The Kalaktash and halvan assemblage of Permian Fusulinids from the Padeh and Sang-Variz Section (Halvan Mountains, Yazd Provice, Central Iran). Stratigr Geol Correl 19(2):141–159

Leven EYA, Scherbovich SF (1980) Sakmarian fusulinid assemblage of Darvas. Quest Micropaleontol 23:71–85 (In Russian)

Leven EJA, Leonova TB, Dmitriev VYU (1992) The Permian of Darvaz–Transalai Zone in Pamir. Fusulinids, Ammonoids, stratigraphy, Tr. PIN RAN 253:1–197 [in Russian]

Lin XS (1990) Foraminiferal Fauna from Late Carboniferous and Early Permian of West Fujian. Acta Micropaleontol Sin 29(6):716–733

Lipina OA (1949) Smaller foraminifers of buried Massifs of Bashkiria. Tr Geol Inst Akad Nauk SSSR 105:198–235

Mamet B, Pinard S (1996) Nodosinelloides potievskayae, nomennovum (foraminifère). Rev Micropaleontol 39:223

Miklukho-Maklay AD (1963) Upper Paleozoic of Central Asia. Leningrad State University, Leningrad, 329 p. (In Russian)

Morozova VG (1949) Species of Families Lituolidae and Textulariidae from Upper Carboniferous and Artinskian Deposits of the Bashkirian Cis_Urals. Tr GIN Akad Nauk SSSR 105:244–275 [in Russian]

Pinard S, Mamet B (1998) Taxonomie des petits foraminiféres du Carboniféresupérieur-Permieninferieur du basin de Sverdrup, Arctiquecanadien. Palaeontogr Can 15:1–253

Potievskaya PD 1962 Species of Some Families from the Lower Permian in Northwestern Margin of the Donetsk Basin, in Data on Upper Paleozoic Fauna from the Donetsk Basin. Akad. Nauk USSR, Kiev,pp. 49–94 [in Russian]

Reichel M (1946) Sur quelques foraminifères nouveaux du Permien mèditerranèen. Eclog Geol Helvet 38(2):524–560

Reitlinger EA (1950) Foraminifers from the Middle Car_boniferous Deposits in Central Part of the Russian Platform (Excluding Fusulinidae). Tr GIN Akad Nauk SSSR, Ser Geol 47:1–127 [in Russian]

Ruttner A, Nabavi M, Hajian J (1968) Geology of the Shirgesht area (Tabas area, East Iran). Geol Surv Iran Rep 4:1–133

Schubert RJ (1909) Zur Geologie des österreichischen Velebit. Jahrbuch der Geol Reichanstalt 58:345–386

Sosnina MI 1978 O foraminiferakh Chandalazskogo gorizonta pozdnei permi Yuzhnogo Primorya (On foraminifers from Chandalask horizon of Late Permian in southern Primorye). In: Verkhnii Paleozoi severovostochnoi Azii. Akademiya Nauk SSSR, Dalnevostochnyi Nauchniyi Tsentr, Institut Tektoniki i Geofiziki, 24–42 (in Russian)

Spandel E (1901) Die Foraminiferen des Permo-Karbon von Hooser, Kansas. Nord Amerika Festschrift der naturhistorische Gesellschaft in Nürnberg 175–194

Staff H, Wedekind R (1910) Der oberkarbonische Foraminiferen Sapropelite Spitsbergen. Bull Geol Inst Univ Upps 10:81–123

Stocklin J, Eftekhar-Nezhad J, Hushmand-Zadeh A (1965) Geology of the Shotory Range (Tabas Area, East Iran). Rep Geol Surv Iran 1965(3):1–69

Suleimanov IS 1949a Novye vidy fuzulinid podsemeystva Schubertellinae Skinner iz kamennougol'nykh i nizhnepermskikh otlozheniy bashkirskogo Priural'ya (New species of fusulinids from the sub-family Schubertellinae Skinner fromthe Carboniferous and Lower Permian of the Preural Bashkir). Akademiya Nauk SSSR, Trudy Instituta Geologicheskykh Nauk, 105, seriya geologicheskaya 35, 22–43 (in Russian)

Suleimanov IS (1949b) Some smaller foraminifers from Upper Paleozoic deposits of Bashkiria. Tr GIN Akad Nauk SSSR 105:236–243

Vachard D, Krainer K (2001a) Smaller foraminifers of the Upper Carboniferous Auernig group, Carnic Alps (Austria/Italy). Riv Ital Paleontol Stratigr 107:147–168

Vachard D, Krainer K (2001b) Smaller foraminifers, characteristic algae and pseudo-algae of the latest carboniferous/Early Permian Rattendorf Group, Carnic Alps (Austria/Italy). Riv Ital Paleontol Stratigr 107:169–195

Vachard D, Moix P (2011) Late Pennsylvanian to Middle Permian revised algal and foraminiferan biostratigraphy and palaeobiogeography of the Lycian Nappes (SW Turkey): palaeogeographic implications. Rev Micropaleontol 54:141–174

Yarahmadzahi H 2011 Fusulinids Biostratigraphy and sequence stratigraphy of Lower Permian deposits in Central Iran (Isfahan, Shareza, Abadeh and Yazd areas), Ph.D thesis, Science and Research Branch, Islamic Azad University, Tehran, Iran.,pp.1-263

Zolotova VP, Baryshnikov VV 1980. Foraminifery kungurskogo yarusa stratotipicheskoi mestnosti (foraminifers from Kungurian stage stratotype locality). In: Biostratigrafiya artinskogo i kungurskogo yarusov Urala (Biostratigraphy of Artinskian and Kungurian stages of Urals), Rauzer-Chernousova, D.M., Chuvashov, B.I. (eds). Akademiya Nauk SSSR, Uralskii Nauchnyi Tsentr., 72–109 (in Russian)
Acknowledgments
We are sincerely grateful to Dena Hashemizadeh for graphics and the investigations were carried within the frame of the research project "14-11-1-10397" supported by Islamic Azad University of Zahedan Branch.
About this article
Cite this article
Yarahmadzahi, H., Vachard, D. & Gorgij, M.N. First record of Sakmarian smaller foraminifers from the Sarab section (South Lut Block in Central Iran). Arab J Geosci 8, 3119–3127 (2015). https://doi.org/10.1007/s12517-014-1431-x
Received:

Accepted:

Published:

Issue Date:
Keywords
Stratigraphy

Smaller foraminifers

Permian system

Central Iran

Dalgan area