Abstract
The Tellian system in the north of Algeria results from the convergence of the African and Eurasian plates which began in the Late Cretaceous. The strong tangentional tectonics at the origin of the emplacement of nappes in its external domain occurred mainly during the Early Miocene. This major tectonic episode was followed by another important compressive deformation-oriented NNE-SSW and NNW-SSE during the Pliocene and the Quaternary, respectively. The Ouarsenis culminating zone is part of the Tellian domain and is characterized by an altogether distinct orographical structure made up of: (i) Jurassic formations which overthrust Cretaceous terrains; (ii) completely upturned series; diversely oriented faults (N40°, N70°, N120°, and N160°) of different kinds (thrust, reverse, normal, and shear faults). Triassic gypsum crops out along some of these faults. Microtectonic data analysis has shown alternation of two main compressive stresses, NW-SE and NE-SW oriented. The more recent stress, probably of Pliocene age, ∼N56° oriented, is responsible for the current face of the culminating zone. It highlights a major ∼N120° sinistral shear fault-generated deformation especially in its central part, affecting ductile material represented by Albo-Aptian turbidites. This fault also generated secondary shears accommodated according to a Riedel deformation model. The central part of this area has a complex tectonic structure squeezed between two massifs composed of hard material, along the sinistral shears. It has been extruded towards the north and has evolved as a positive "flower structure."
This is a preview of subscription content,
to check access.
Access this article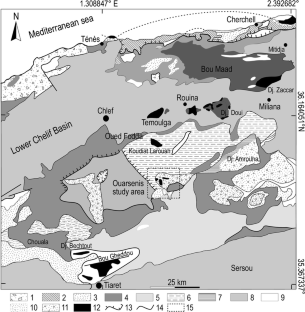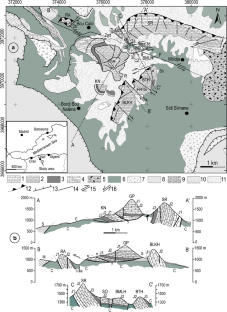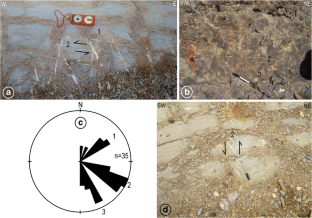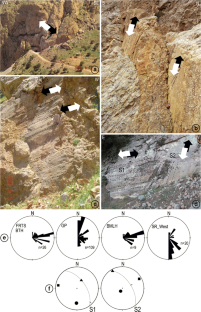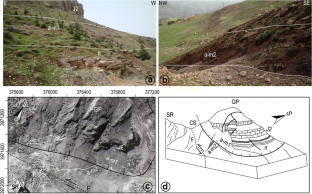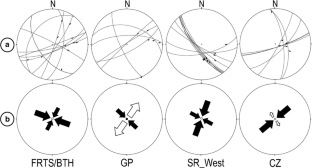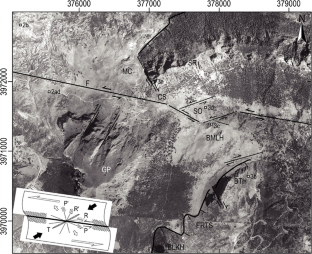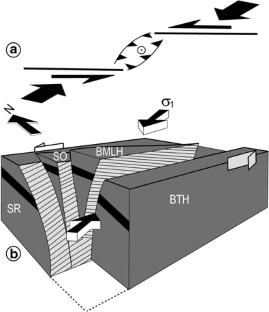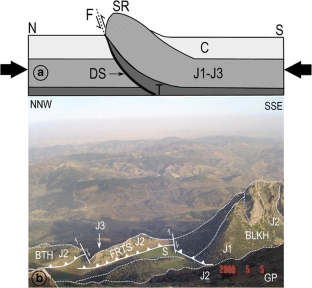 References
Ahlgreen AS (2001) The nucleation and evolution of Riedel shear zones as deformation bands in porous sandstone. J Struct Geol 23:1203–1214

Aïte MO (1994) Analyse de la micro-fracturation et paléocontraintes dans le Néogène post-nappe de Grande Kabylie (Algérie). PhD thesis, Université du Mans, France, 166p

Allmendinger RW, Marrett RA, Cladouhos T (1994) FaultKin V. 4.3.5. A program for analyzing fault-slip data on a macintosh computer. © Absoft Corp., 1988–2004

Angelier J (1994) Fault slip analysis and palaeostress reconstruction. In: Hancock PL (ed) Continental deformation. Pergamon, Tarrytown, NY, pp 53–100

Argus DF, Gordon RG, de Mets C, Stein S (1989) Closure of the Africa-Eurasia-North America plate motion circuit and tectonics of the Gloria fault. J Geophys Res 94:5582–5602

Atrops F, Benest M (1994) Les formations à ammonites du Malm dans le bassin tellien, au Nord de Tiaret: Leur importance pour les corrélations avec les séries de l'avant-pays de l'Ouest algérien. Geobios 27:79–91

Atrops F, Benest M, Almeras Y, Benosman B (1991) Découverte et dynamique d'une transgression au Callovien sur le socle tardi-hercynien dans le domaine sud-tellien (Ouarsenis, Algérie). Compt Rendus Acad Sci Paris 313(13):1555–1562

Benaouali-Mebarek N, Frizon de Lamotte D, Roca E, Bracène R, Faure JL, Sassi W, Roure F (2006) Post-Cretaceous kinematics of the Atlas and Tell systems in central Algeria: early foreland folding and subduction-related deformation. CR Geoscience 338:115–125

Benhamou M (1996) Evolution tectono-eustatique d'un bassin de la Téthys maghrébine: l'Ouarsenis (Algérie) pendant le Jurassique inférieur et moyen. Thèse de Doctorat ès Sci., Université d'Oran, 434p

Benhamou M, Elmi S, Alméras Y (2000) Age et contexte dynamique des calcaires à brachiopodes téthysiens (Zeilleriidés multiplissés) du Grand Pic de l'Ouarsenis (Tell algérien). C R Acad Sci 331:717–723

Bouillin JP (1986) Le bassin maghrébin: une ancienne limite entre l'Europe et l'Afrique à l'Ouest des Alpes. Bull Soc Geol Fr 8(2):547–558

Bousquet JC, Phillip H (1981) Les caractéristiques de la néotectonique en Méditerranée occidentale. In: CF Wezel (ed) Sedimentary basins of the Mediterranean margins. CNR, It. Proj. Oceanogr.,Technoprint, Bologne, Italy, pp. 389–405

Bracene R, Frizon de Lamotte D (2002) The origin of intraplate deformation in the Atlas system of western and central Algeria from rifting to Cenozoic-Quaternary inversion. Tectonophysics 357:207–226

Calembert L (1952) Etude géologique du Massif culminant de l'Ouarsenis. Bull Serv Carte Géol Algérie 2(23):184p

Dabo M, Aïfa T (2010) Structural styles and tectonic evolution of the Kolia-Boboti sedimentary Basin, Kédougou-Kéniéba inlier, eastern Senegal. Compt Rendus Geosci 342:796–805

Dalloni M (1936) Matériaux pour l'étude géologique du massif de l'Ouarsenis. Bull Serv Géol Algérie, Alger 2(13):41p

Delvaux D, Moeys R, Stapel G, Petit C, Levi K, Miroshnichenko A, Ruzhich V, San'kov V (1997) Paleostress reconstructions and geodynamics of the Baikal region, Central Asia, Part 2. Cenozoic rifting. Tectonophysics 282(1–4):1–38

Dewey JE, Helman ML, Turco E, Hutton DHW, Knott D (1989) Kinematics of the western Mediterranean. In: Coward, MP, Dietrich, D, and Park, RG (eds.) Alpine tectonics. Geological Society Special Publication 45:265–284

Durand-Delga M (1969) Mise au point sur la structure du NE de la Berbérie. Publ Serv Géol Algérie 39:89–131

Elmi S, Alméras Y, Benhamou M, Mekahli L, Marok A (2003) Biostratigraphie des brachiopodes et âge Carixien (Pliensbachien inférieur) des calcaires à grands bivalves en Algérie occidentale. Geobios 36(6):695–706

Farès Khodja F (1968) Contribution à l'étude stratigraphique et micropaléontologique du jurassique du Tell algérien (massif culminant de l'Ouarsenis, Oued Fodda et les massifs de la plaine du Chélif-Babor). Thèse 3ème cycle, Faculté des Sciences de Paris, 166p

Gélard JP (1979) Géologie du nord-est de la Grande Kabylie; un segment des zones internes de l'orogène littoral maghrébin. Thèse de Doctorat ès Sci., Université de Dijon, 335p

Glangeaud L (1951) Interprétation tectonophysique des caractères structuraux et paléogéographiques de la Méditerranée occidentale. Bull Soc Geol Fr 6(1):735–762

Groupe de recherche néotectonique de l'arc de Gibraltar (1977) Histoire tectonique récente (Tortonien au Quaternaire) de l'arc de Gibraltar et des bordures de la mer d'Alboran. Bull Soc Geol Fr XIX(3):575–614

Guiraud R (1977) Sur la néotectonique des régions ouest-constantinoises. Bull Soc Geol Fr 3:42–645

Hernandez J, Lepvrier C (1979) Le volcanisme calco-alcalin Miocène de la région d'Alger (Algérie): pétrologie et signification géodynamique. Bull Soc Geol Fr 7:73–86

Katz Y, Weinberger R, Aydin A (2004) Geometry and kinematic evolution of Riedel shear structures, Capitol Reef National Park, Utah. J Struct Geol 26:491–501

Kireche O (1993) Evolution géodynamique de la marge tellienne des Maghrébides d'après l'étude du domaine parautochtone schistosé (massifs du Chélif, d'Oranie, Bou Maâd, des Babors et des Bibans). Thèse de Doctorat, Université d'Alger, 316p

Letouzey J, Trémolières P (1980) Paleostress around the Mediterranean since the Mesozoic from microtectonic: Comparison with plate tectonic data. Rock Mech 9:173–192

Mattauer M (1958) Etude géologique de l'Ouarsenis oriental (Algérie). Bull Des Serv Géol Algérie. Monographie Régionale 17:534p

Mauffret A, El Robrini M, Gennessaux M (1987) Indice de la compression récente en mer Méditerranée: un bassin losangique sur la marge nord-algérienne. Bull Soc Geol Fr 3(6):1195–1206

Meghraoui M (1982) Etude néotectonique de la région NE d'El-Asnam: relation avec le séisme du 10 octobre 1980. Thèse 3ème Cycle, Université Paris 7, 210p

Meghraoui M, Pondrelli S (2012) Active faulting and transpression tectonics along the plate boundary in North Africa. Ann Geophys 55(5), doi:10.4401/ag.4970

Meghraoui M, Cisternas A, Philip H (1986) Seismotectonics of the lower Chéliff Basin: structural background of the El-Asnam (Algéria) earthquake. Tectonics 5(6):809–836

Meghraoui M, Morel JL, Andrieux J, Dahmani M (1996) Tectonique Plio–Quaternaire de la chaine tello-rifaine et de la mer d'Alboran; une zone complexe de convergence continent-continent. Bull de Soc Géol de Fr 167:141–157

Neurdin-Trescartes J (1992) Le remplissage du bassin néogène du Chélif. Modèle de référence de bassin intramontagneux. Thèse de Doctorat ès Sciences, Université de Bordeaux, France, 605p

Ouyed M, Meghraoui M, Cisternas A, Deschamps A, Dorel J, Fréchet J, Gaulon R, Hazfeld D, Philip H (1981) Seismotectonics of the El Asnam earthquake. Nature 292:26–31

Perrodon A (1957) Etude géologique des bassins néogènes sublittoraux de l'Algérie occidentale. Bull Serv Carte Géol Algérie, 382p

Philip H (1987) Plio-Quaternary evolution of the stress field in Mediterranean zones of subduction and collision. Ann Geophys B Terr Planet Phys 5:301–319

Philip H, Thomas G (1977) Détermination de la direction de raccourcissement de la phase de compression Quaternaire en Oranie (Algérie). Rev Géogr Phys Géol Dynam XIX(4):315–324

Polvèche, J (1960) Contribution à l'étude géologique de l'Ouarsenis oranais. Bull Serv Carte Géol Algérie, 24:577p

Ramsay JG, Huber MI (1987) The techniques of modern geology: folds and fractures. Academic Press, London 2:392p

Riedel W (1929) Zur Mechanik Geologischer Brucherscheinungen. Zentralbl Für Mineral Geol Und Paleontol B, 354-368

Scholz CH (1977) Transform fault systems of California and New Zealand: similarities in their tectonic and seismic styles. J Geol Soc Lond 133:215–229

Sylvester AG (1988) Strike-slip faults. Geol Soc Am Bull 100:1666–1703

Tapponnier P (1977) Evolution tectonique du système alpin en Méditerranée: poinçonnement et écrasement rigide-plastique. Bull Soc Geol Fr 19(3):437–460

Tchalenko JS (1968) The evolution of kink-bands and the development of compression textures in sheared clays. Tectonophysics 6:159–174

Tchoumatchenco P (1986) Répartition paléoécologique des brachiopodes jurassiques dans les Monts de Tiaret et l'Ouarsenis occidental (Algérie). In Racheboeuf PR, Emig CC (eds) Les brachiopodes fossiles et actuels. Biostratigraphie du Paléozoïque 4:389–398

Tchoumatchenco P (1994) Brachiopodes jurassiques du Kef Sidi Amar - massif culminant de l'Ouarsenis (Algérie du Nord). Geol Balc 24(1):25–61

Tchoumatchenco P, Khrischev K (1992a) Le Jurassique dans les Monts de Tiaret et de l'Ouarsenis occidental (Algérie). I. Stratigraphie. Geol Balcanica 22(5):29–59

Tchoumatchenco P, Khrischev K (1992b) Le Jurassique dans les Monts de Tiaret et de l'Ouarsenis occidental (Algérie). II. Evolutions paléogéographique et paléotectonique. Geol Balcanica 22(6):53–63

Tchoumatchenco P, Nikolov T, Kozhukharov D, Benev B, Gochev P, Katzkov N, Khrischev K, Moev M, Nicolov Z, Slavov I, Tzankov T, Zidarov N (1995) Le Crétacé inférieur dans le massif de l'Ouarsenis et les Monts de Tiaret (Algérie du Nord). Geol Balc 25(2):27–59

Thomas G (1979) Sur l'existence d'une compression intra-miocène post-nappe dans le Tell méridional oranais (Algérie). C R Somm Soc Géol France 2:56–59

Thomas G (1985) Géodynamique d'un bassin intra-montagneux, le bassin du bas Chéliff occidental (Algérie) durant le Mio-Plio-Quaternaire. Thèse de Doctorat ès Sci., Université de Pau, 594p

Twiss RJ, Moores EM (1992) Structural geology. W.H. Freeman & Company, N.Y., 592p

Villa JM (1980) La chaîne alpine d'Algérie orientale et des confins algéro-tunisiens. Thèse Doctorat ès Sci., Université de Paris 6, 663p

Wildi W (1983) La chaîne tello-rifaine (Algérie, Maroc, Tunisie): structure, stratigraphie et évolution du Trias au Miocène. Rev Géogr Phys Géol Dynam 3:201–299

Woodcock NH (1986) The role of strike-slip fault systems at plate boundaries. Philos Trans R Soc Lond A317:13–29

Woodcock NH, Fischer M (1986) Strike-slip duplexes. J Struct Geol 8(7):725–735
Acknowledgments
The authors are indebted to the anonymous reviewer for the constructive remarks which helped improve the final version of the manuscript. One of the authors (M.D.) gratefully acknowledges the financial support granted by a Profas grant (National Ministry of higher Education and Scientific Research through Crous-Rennes). The authors also would like to thank Liliane Fleurian for her help in the English wording.
About this article
Cite this article
Aïfa, T., Zaagane, M. Neotectonic deformation stages in the central Ouarsenis culminating zone, Northwestern Algeria. Arab J Geosci 8, 2667–2680 (2015). https://doi.org/10.1007/s12517-014-1385-z
Received:

Accepted:

Published:

Issue Date:

DOI: https://doi.org/10.1007/s12517-014-1385-z
Keywords